The depths of Scotland's lochs have been compared to some of the world's most iconic landmarks – including The Golden Gate Bridge and The Shard.
In a bid to demonstrate the scale of how deep Scottish inland waters are, VisitScotland has created a guide which puts their sizes into perspective.
The Sir Walter Scott monument in Edinburgh, at 200ft, does not even come close to the depths of the country's top five deepest lochs.
The tourism organisation hopes the campaign will shine light on just how deep the bodies of water truly are and educate visitors on the importance of water safety when exploring any of the 30,000 lochs found across Scotland.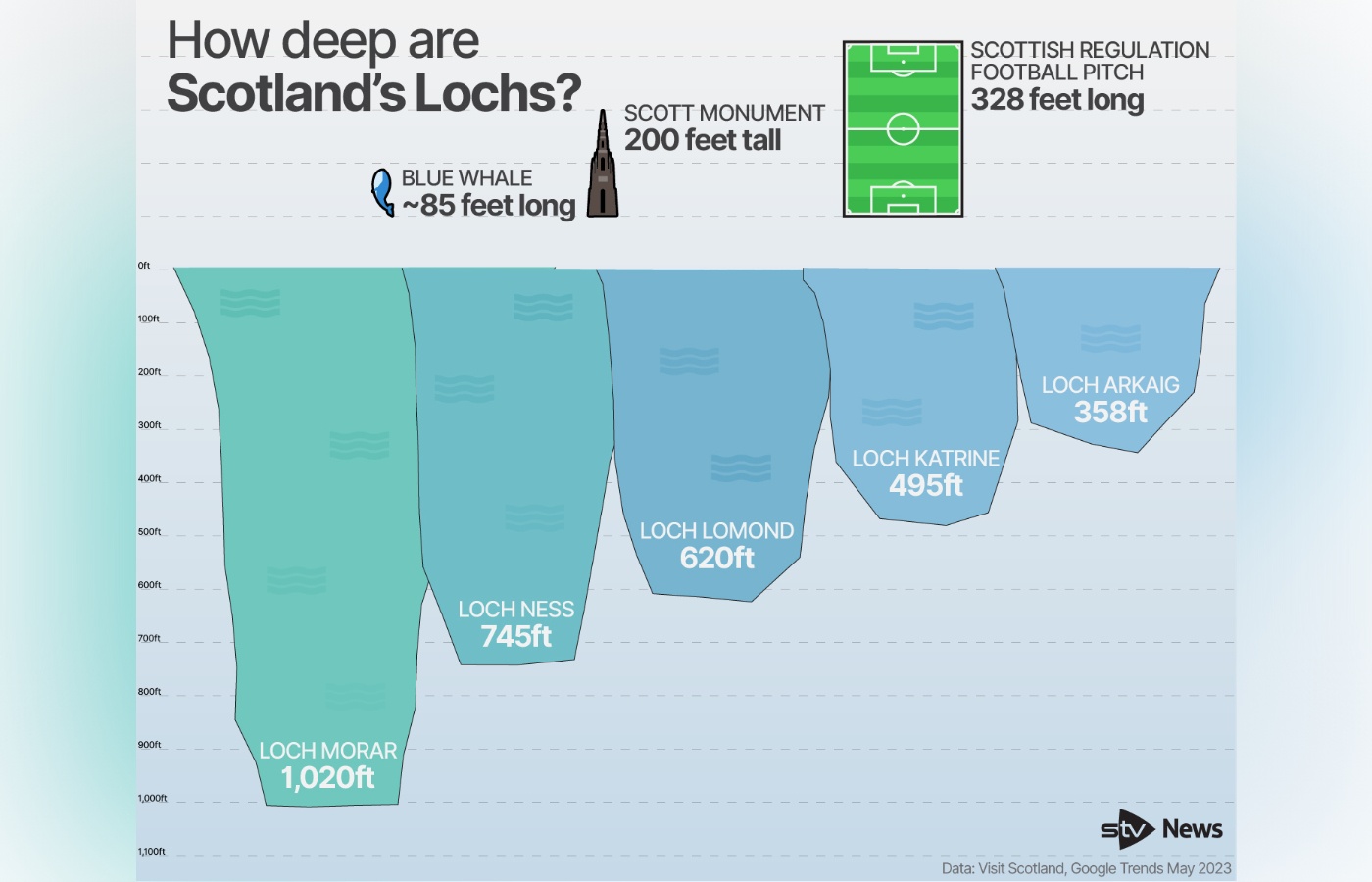 Loch Morar which takes the crown for the deepest loch in Scotland, and the third deepest in Europe, has been compared to The Shard – the tallest skyscraper in the UK.
The 72-storey London building, which stands at 1,016ft, is smaller than the depth of the freshwater Lochaber loch.
At its deepest point, Loch Morar reaches depths of around 1,020ft – deeper than most of the seabed off Scotland's west coast and around the same height as 69 great white sharks stacked from nose to tail.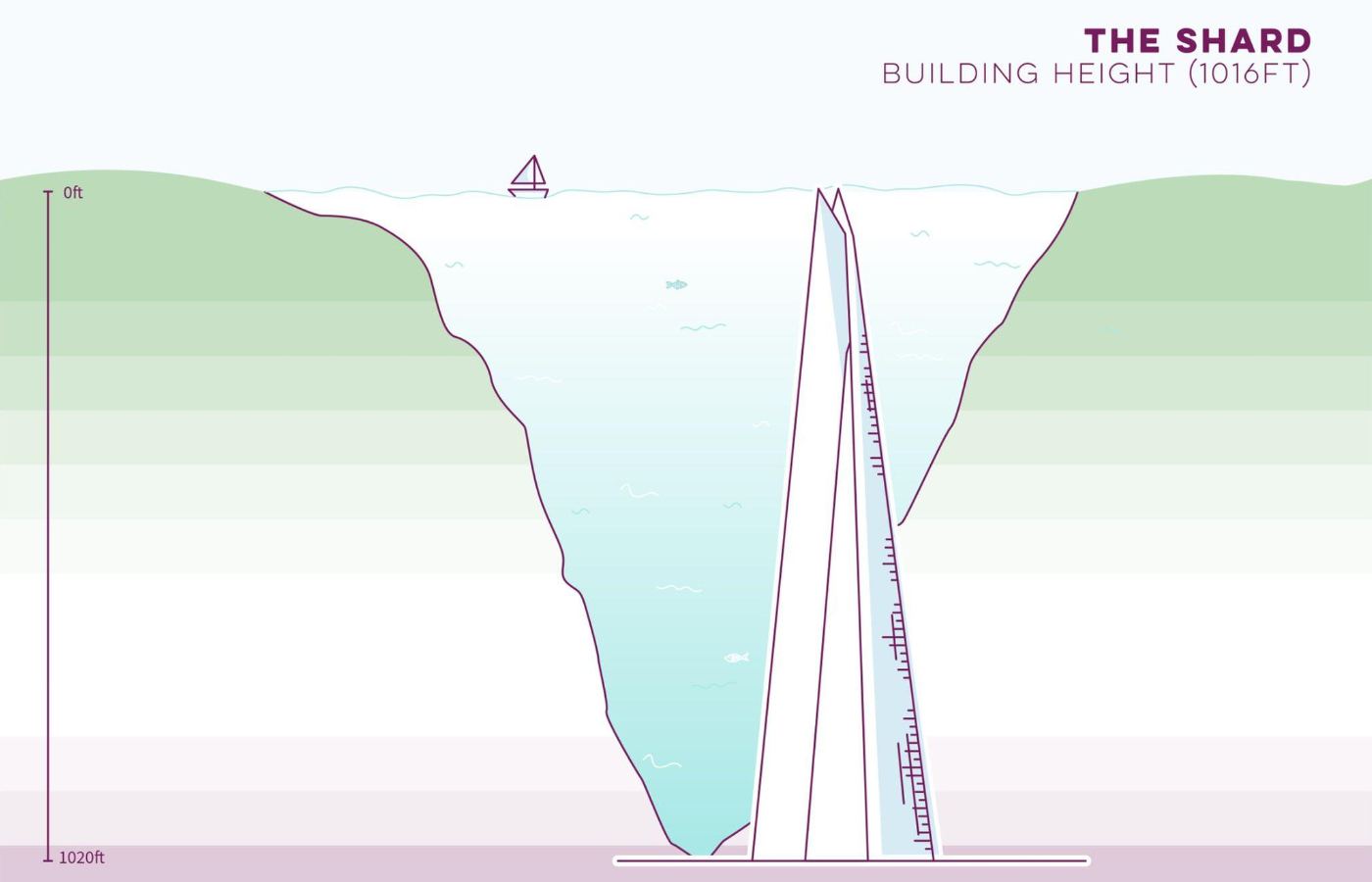 Loch Ness, the second deepest in Scotland, is about 745ft at its deepest point – almost the same as The Golden Gate Bridge in San Francisco at 746ft.
The famous loch is also the country's biggest by volume and contains more freshwater than all the lakes in England and Wales combined.
It's depth can also be compared to 65 adult African elephants, with an average size of 3.5m each, stacked one on top of the other.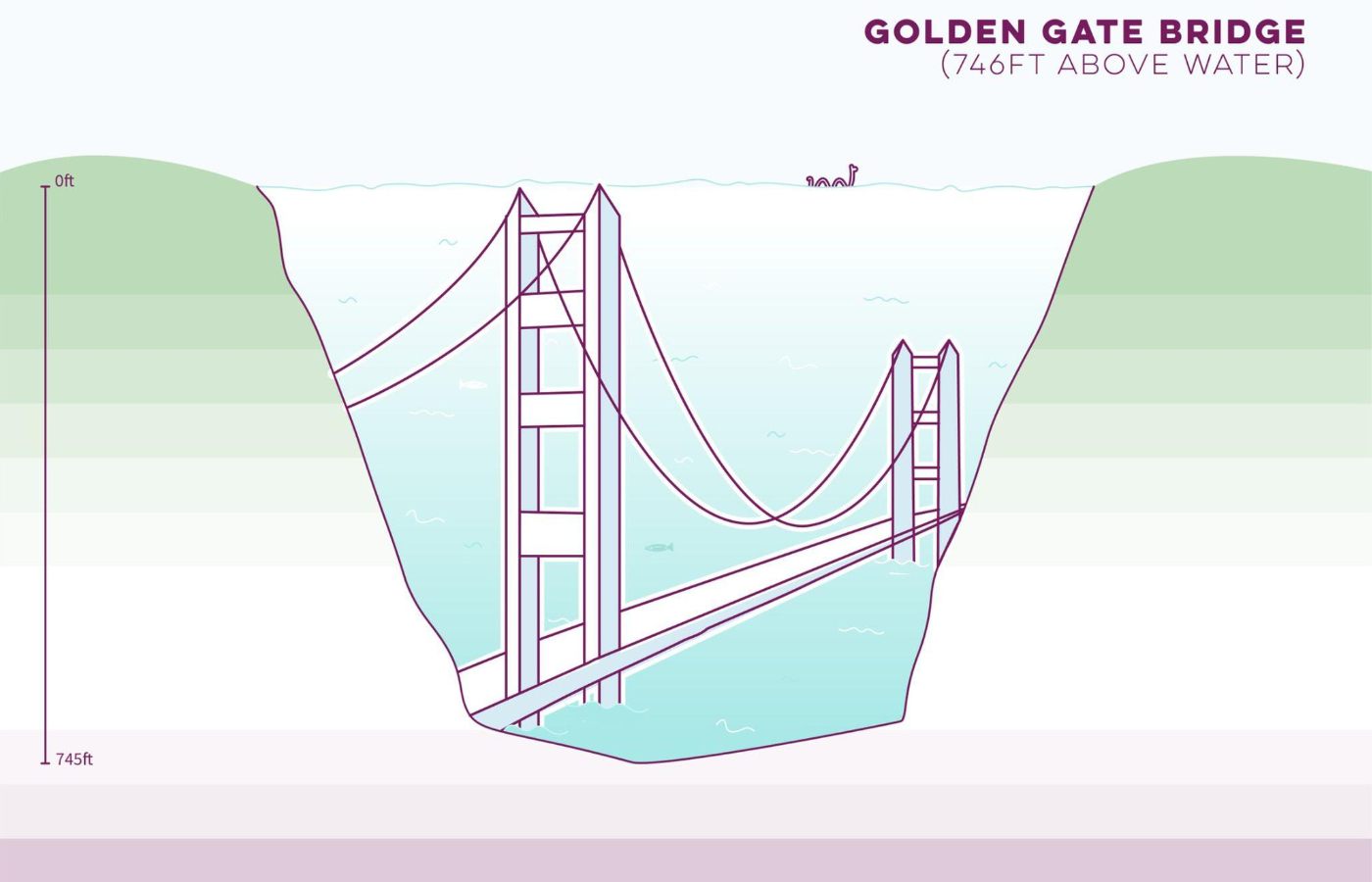 Meanwhile, Loch Lomond, the third deepest loch in Scotland at 620ft, is twice as deep as the Statue of Liberty in New York City which stands at 305ft.
Loch Lomond is also the biggest loch in the UK by surface area, spanning a whopping 71 sq km and 24 miles long.
It can also be compared to 190 average-sized washing machines stacked on top of each other.
The new illustrations have been created ahead of Water Safety Week, which runs from June 18 to 25.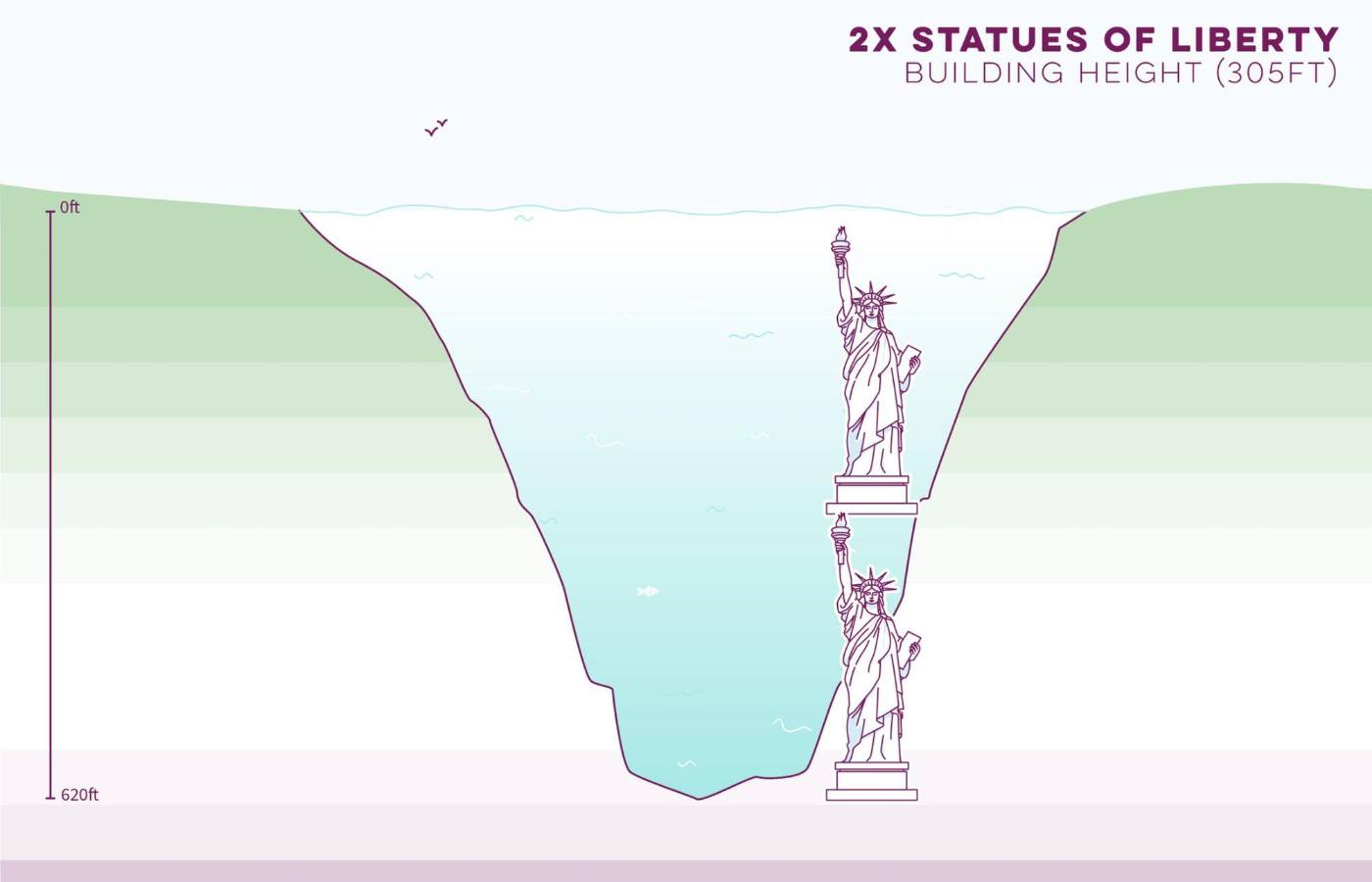 It comes as wild swimming in the UK has increased in popularity threefold since 2019, with searches soaring by 242% in just the past month alone.
Scotland's lochs are some of the most popular destinations in the UK for summer activities including paddleboarding, kayaking and wild swimming.
Scottish Water, in connection with The Royal Life Saving Society UK and Scottish Fire and Rescue Service, have been issuing warnings to ensure waters can be enjoyed safely this summer.
While Scotland's lochs may seem calm on the surface, they are full of crevices, underwater currents and sharp drops.
Visit Scotland aim to raise better awareness of the true magnitude of the bodies of water with the latest campaign.
Loch Lochy, also located in Lochaber, stands at 531ft and is compared to four Boeing 737-800 planes (at around 130ft each) stacked from tail to nose.
While Perthshire-based Loch Ericht, which reaches depths of about 512ft, is around the same as height of the Blackpool Tower, which is 519ft tall, or a total of 54,167 £1 coins stacked on top of each other.
Others include Loch Katrine in Loch Lomond and The Trossachs National Park, which reaches 495ft – as deep as the iconic Spring Temple Buddha statue in China is tall. 
Loch Tay in Perthshire is deeper than two Taj Mahal buildings on top of each other at 490ft and Loch Rannoch, at 440ft, is almost as deep as the London Eye is tall.
Loch Shiel, near Glenfinnan, is deeper than Glasgow Tower is tall at 420ft, while Loch Maree in the north west Highlands is as deep as the height of two Leaning Towers of Pisa at 374ft.
Loch Arkaig, in Lochaber, plunges to depths of roughly 358ft and is as deep as the Forth Rail Bridge at its highest point above water. 
Vicki Miller, VisitScotland director of marketing and digital said: "Our research has shown the positive influence water can have on wellbeing and in recent years we've seen an increase in popularity of activities embracing this such as wild swimming and paddleboarding.
"Through this campaign we wanted to bring to life the majesty of these waters and show that while our lochs offer plenty of opportunities, there is a need to remain safe when enjoying them. Fortunately, our lochs are home to many fantastic businesses and operators who can help visitors experience the water safely and responsibly."
James Sullivan, chair of Water Safety Scotland added: "Lofty Lochs is a thought-provoking campaign that visibly highlights the extreme depths of Scotland's lochs.
"The breathtaking beauty of Scotland's lochs makes them very alluring, but it is important that people are aware of the inherent dangers posed by their extremes in both depth and temperature.
"Individuals should make themselves aware of the risks and take the appropriate precautions to ensure these areas of great outstanding beauty can be enjoyed safely and responsibly.
"We encourage everyone to familiarise themselves with the water safety code and also more specific advice from WSS, which can be found on our website."