Scotland's First Minister has insisted the Yes campaign would win "comprehensively" if a second referendum on independence was held tomorrow.
Despite several polls putting support for independence at less than 50%, Humza Yousaf made the claim as he published the latest paper from the Scottish Government to make the case for leaving the UK.
The document proposes an independent Scotland would adopt a similar system for citizenship as Ireland, allowing people born elsewhere to apply to become Scottish citizens if they have a Scottish grandparent.
The paper also proposes that EU citizens living in Scotland or the UK before December 31, 2020 would be entitled to receive settled status in Scotland, and children born in Scotland after independence would automatically be a Scottish citizen if at least one of their parents is a Scottish, British or Irish citizen, or has settled status in Scotland.
Yousaf, who described himself as a "proud Scottish Pakistani", said the "welcoming" and "inclusive" approach being set out could attract more people to Scotland and help tackle the demographic challenge the country faces, with an increasingly elderly population and fewer people of working age.
The First Minister said: "We know that one of the biggest challenges we face is that demographic challenge, and therefore having more people of working age coming here contributing, living, studying, working in Scotland, I think is a good thing."
He insisted: "If there was a referendum tomorrow, we would win it and win it comprehensively.
"That's also part of the reason why of course I'm publishing these papers, because they help to make the argument, give people the information they need to make that informed decision about independence."
He also insisted he is "confident" the Scottish Government will be able to continue to publish papers in favour of independence, despite Simon Case, the Cabinet Secretary and head of the Civil Service, revealing earlier this month that civil servants north of the border could be issued with new guidance on such work within weeks.
The First Minister said: "I'm confident in our position in terms of the publication of these papers.
"But I think it also speaks volumes that those who oppose independence are trying to shut down the debate instead of bringing forward their proposals for maintaining the union. They're more obsessed with trying to shut down our case."
Scottish Conservative constitution spokesman Donald Cameron said: "People across Scotland will be appalled that Humza Yousaf is focusing on yet another self-indulgent paper touting independence. It is the wrong priority at the worst possible time."
He branded the paper a "blatant misuse of public money and resources".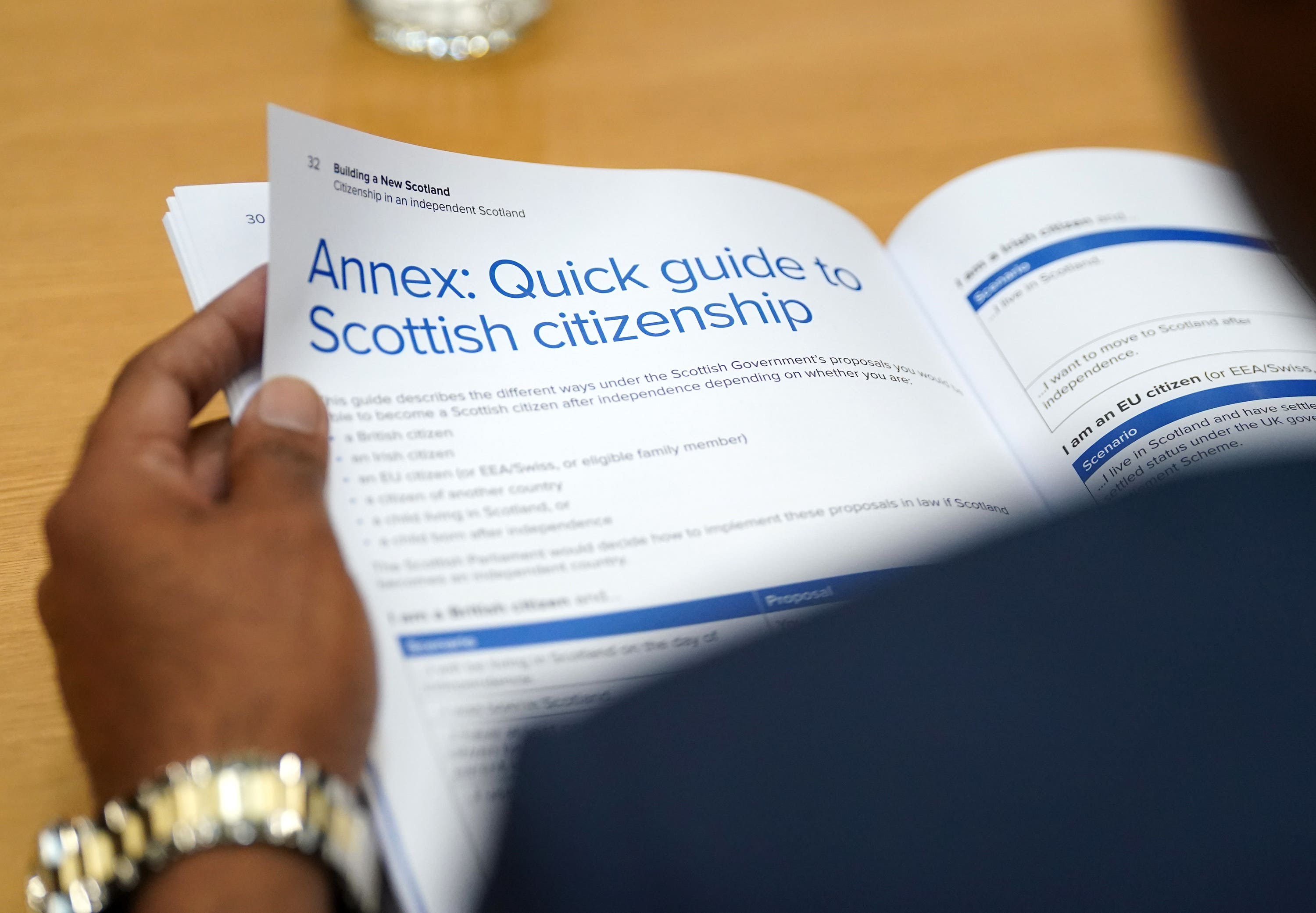 Cameron said: "Rather than wasting taxpayers' money and civil servants' time on pushing a divisive, party political agenda, a strong First Minister would be concentrating on Scots' real priorities – cost-of-living difficulties, unacceptable NHS waiting times and the ferries crisis."
Scottish Labour constitution spokesman Neil Bibby said the latest paper comes while the "NHS is in chaos and people are struggling to make ends meet during the worst cost-of-living crisis in decades".
He said the Scottish Government is being "distracted" from dealing with these issues by its "constitutional obsession", and he declared: "Humza Yousaf is completely out of touch with Scotland's priorities and bereft of new ideas."
But Yousaf insisted that independence was "inherent" to tackling issues such as the cost-of-living crisis.
He said: "Because we don't have independence, we're suffering austerity from a Westminster Government that we didn't elect. We're suffering from a hard Brexit that we did not vote for. We're suffering from a cost-of-living crisis that has been imposed upon us.
"So independence actually is central to the cost-of-living crisis."