Tatiana Talalaiko is one of more than 20,000 Ukrainians who have arrived in Scotland over the last year.
Ten months ago, the mother of two fled Kyiv, leaving home, her friends and her husband behind in the pursuit of safety for her children.
"I was happy in Ukraine," she says. "I have a lot of family, I was married 20 years and I am a happy woman. I have two beautiful sons, I have a brother and sister. I had a good career, I had my own flat, I had a car, I had a lot of friends, and I was really happy."
But with the full-scale Russian invasion of Ukraine came huge risk to everyone living there.
Tatiana travelled to be close to her elderly parents – inadvertently moving her family closer to the fighting.
"We came near Kharkiv to my parents, which was a mistake as it's near a military airport and it was bombed every day," she tells STV's Scotland Tonight.
"After ten days, we went to Lviv in the west of Ukraine and every time my husband called me, he said 'Tanya, you have to go abroad'.
"I have to protect my children, they have to be safe. When the Homes for Ukraine programme opened and Scotland was a super sponsor, I had to try it."
Tatiana her two boys, Danill and Kirill, have been joined by her two nieces and between them they are trying to build a life here. But reminders of the conflict are everywhere and conversations with their family back home are hard – especially with her husband, who is serving in the army.
"He is protecting our motherland, he protects me and my sons," she says.
"Every adult man understands 'today it's me, tomorrow it will be my sons or daughter' – it's awful but it's true.
"When people ask me, 'why are you not happy here, it's safe, it's friendly?', it's because I am alone here. We are not a whole family so how can I be happy?"
After fleeing conflict and settling here, the family is facing another crisis.
For the last six months, they've been living in a flat in Edinburgh donated by a local landlord. They are massively grateful, but they've now been told they need to move on.
In an already overcrowded and competitive rental market, Tatiana is at the bottom of the ladder.
She wants to work, but has no job and she can't get a guarantor or put-up months of rent as a deposit.
"She (her landlord) was very upset to tell us that we have to look for a new flat," Tatiana said. "I am very thankful for her.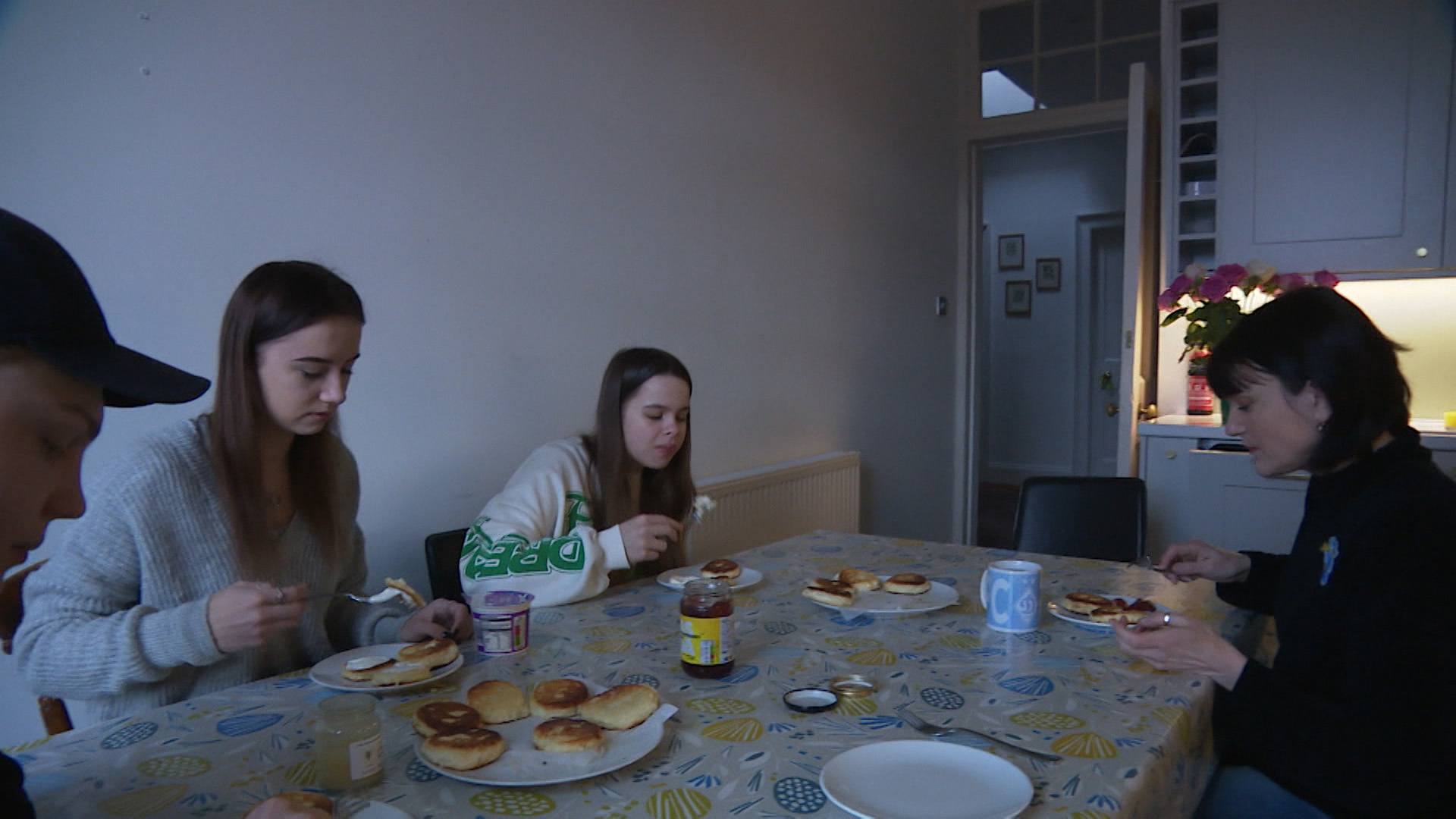 "I went with these questions to the council and they told me I have to find a private rental.
"I speak with some people about social housing – they told me to forget it because a lot of people want social housing in Edinburgh. It's a scary situation."
Edinburgh City Council leader Cammy Day said there were housing options which could be explored.
But he added: "In Edinburgh we're experiencing housing pressures like nowhere else in Scotland, with the lowest proportion of social housing in the country and the most buoyant and expensive rents.
"Edinburgh remains the lowest-funded council in Scotland and addressing these challenges needs a national approach."
'We left while my baby was sane'
Kateryna Duvarci is originally from Luhansk and already knew the pain of war with Russia – her home city was occupied by Moscow-backed forces in 2014.
"I was always sure they would try to invade the whole of Ukraine. In the summer of 2021, I was reading the news and understood I needed to do something.
"Me and my daughter were living in the eastern part of Ukraine, just two hours by car to the Russian airbase, so you can imagine how quickly bombs can get to our city."
In December 2021, two months before the invasion, she moved with her five-year-old daughter to western Ukraine, near Poland, in the hope they would be safe.
"We had prepared big bags with things we would need in bomb shelters, but when you actually need to wake up in the night and go with your child to the shelter, it's different.
Choking back the tears, Kateryna explains the moment she knew he had to flee.
"My daughter is five and at first she was okay," she says. "It was like a game for her, she loved to build forts from pillows and umbrellas. She sat inside and said 'this is my bomb shelter, I will live here, I don't want to go out'.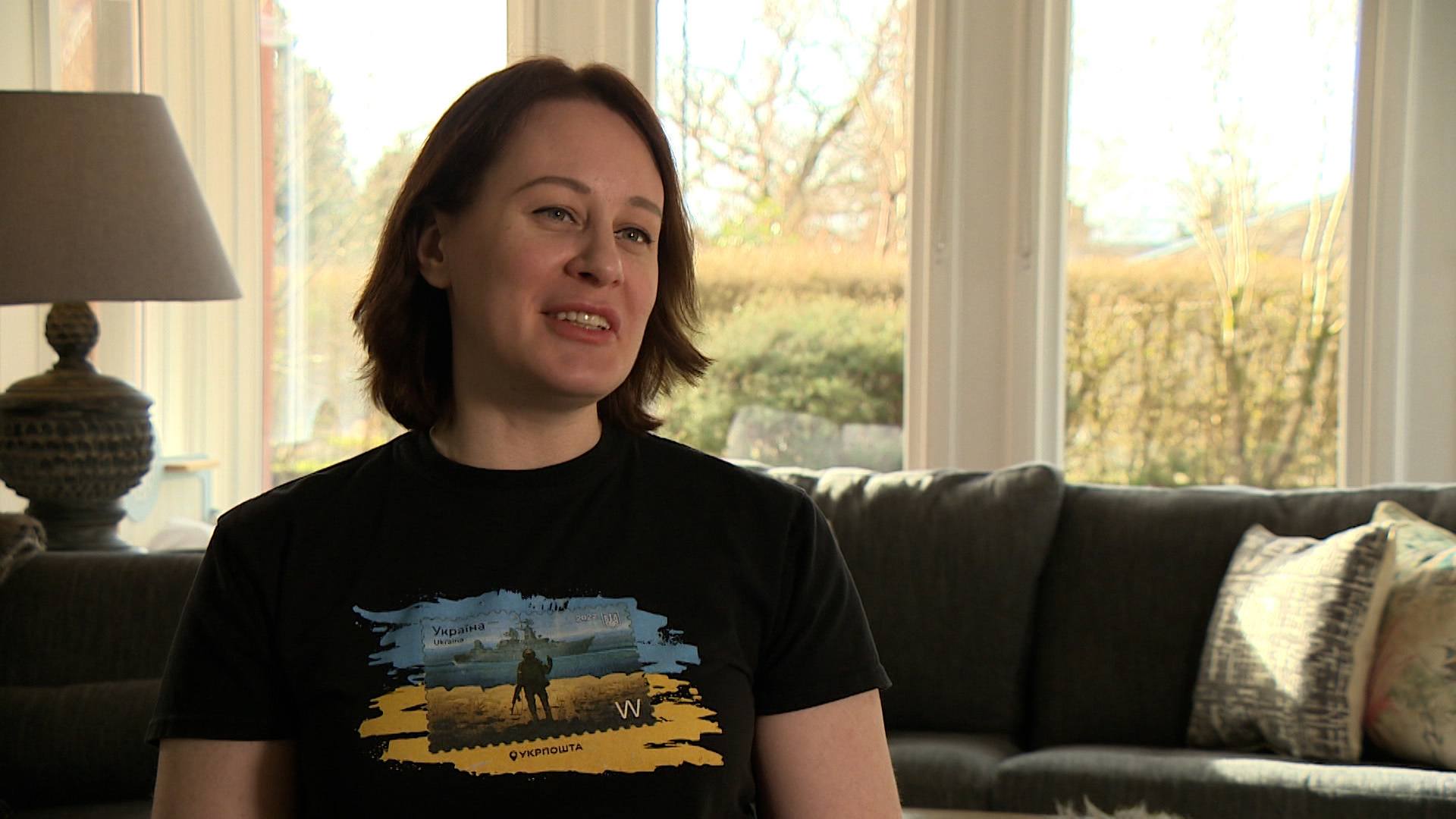 "At that stage, I understood we were not going to make it in Lviv, that we should leave Ukraine whilst my baby is still sane."
After successfully applying for the Homes for Ukrainian scheme, she's currently staying in a hotel in Dunblane.
But Kateryna, who was a journalist in Ukraine, says her new life in Scotland is one she has learned to love.
"We don't feel like refugees, we feel as guests. I never felt unwanted, everybody is trying to help.
"For her (daughter), it is a lot of fun, she loves her school, she loves her teacher, she loves everything and already found some friends.
"We will be in Scotland for two more years, until my visa expires, but after the war is finished, we will go to Ukraine to celebrate the victory and I want to invite all Scottish people.
"We have a beautiful country and our spirit is the same."
Neil Gray, the Scottish Government minister with special responsibility for refugees from Ukraine, said work was ongoing to make sure people had homes.
He said: "I'm incredibly proud of not just the Scottish Government's response to Russia's illegal war in Ukraine and the humanitarian response that we've had to step up.
"People across Scotland have opened the doors, opened their hearts to 23,000 people who have arrived from Ukraine in a very short period of time.
"There's more work to do. We are still working hard to ensure that we continue to offer that level of support that people expect. But thus far I'm incredibly proud of the work that's gone on."
Scotland Tonight is on STV and the STV Player at 8.30pm on Thursday, February 23.