Farmers have accused supermarkets of leaving them short-changed and putting the industry's future at risk.
Despite the major chains making multi-billion pound profits, food producers are pocketing only a tiny percentage of what customers spend in stores.
On average, the sale of a block of cheese or a four-pack of beef burgers leaves farmers with less than a penny.
Meanwhile, they earn around just 3p every time someone buys a kilogram of apples.
Supermarket giant Tesco, however, usually makes more than £2bn in pre-tax profit every year, while Sainsbury expects to have banked £690m in 2022.
A recent report by consumer watchdog Which? found that some supermarkets had increased prices for butter, cheese and milk by up to 30% in a year.
But with no extra cash for farmers, David Barron, who runs Nether Aden in Aberdeenshire, fears for the future of the land he's ploughed with his wife for 31 years.
"There is a future, but part of me thinks, what kind of future will it be?" he told STV's Scotland Tonight.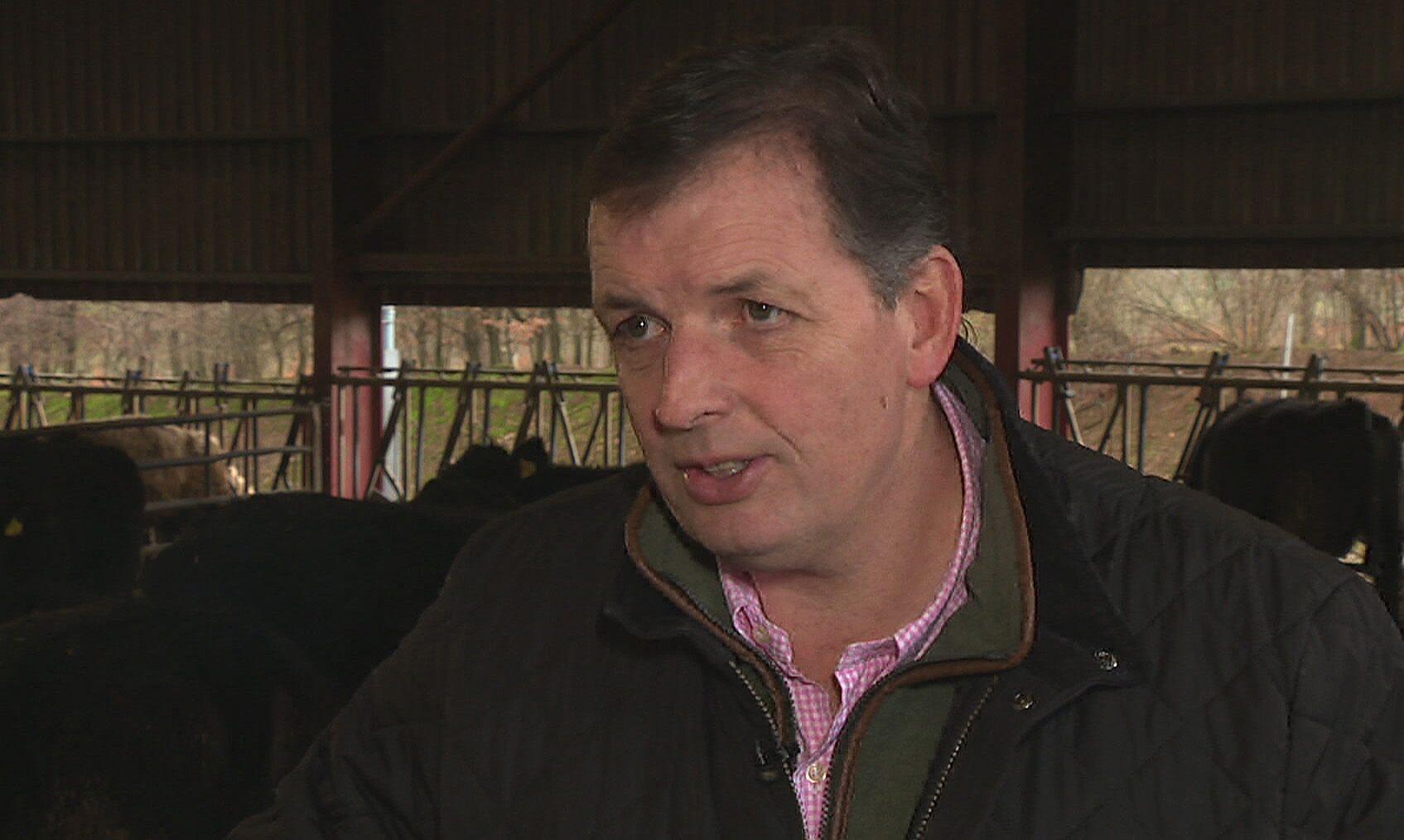 "Will it be good enough? Will it be a good standard of living? Or will we just have to give up because there's not enough money in it?"
Nether Aden Farm is home to around 400 cattle, including 150 Aberdeen Angus cows.
"I love doing this job, this is a nice office and I'm very proud of what I've achieved, but 30 years ago there would have been five or six families on this farm," David said.
"There were eight or nine men working, and now there is one full-time employee and some family help.
"I don't think we're working any less, we're probably working harder because it's harder to make a living."
Farmers are facing a string of other challenges – such as rising costs, post-Brexit staffing shortages and the war in Ukraine.
David said vital products such as fertiliser and feed were now four times more expensive than they were two years ago.
"It's virtually impossible to get into farming – it's more or less a closed shop because our costs are so expensive," he said.
"I bought a farm 30 years ago for £1,000 an acre. A local farm came up last year and sold for £10,000 an acre. So, if you want to buy 100 acres, it's a million pounds. It's very difficult to make any sort of return."
'Farmers not appreciated'
Like most beef farmers, David's customers are supermarkets and butchers.
But although he sells his products to them, he doesn't get to dictate the price on the shelves.
Over the past 20 years, there has been a 28 per cent drop in the number of beef cows across the country – close to a herd a week.
"I don't want to be a moaner, but I don't think farmers are appreciated," said David.
"A lot of people have been used to food being so cheap that they don't appreciate how much it takes to produce.
"We've always been told to tighten our belt – well, I'm wearing braces now because the belt is so small.
"We just need a better price for a product, a fair price."
'Big blow to industry'
The National Farmers' Union's biggest ever survey recently reported concerns over market prices and government plans to support the sector.
Members also bemoaned the rising cost of food production and lack of labour.
Castleton in Laurencekirk, one of the biggest soft-fruit farms in Scotland, is struggling with staffing shortages.
From there, UK retailers are supplied with around nine million pallets of fruit every year – grown in poly tunnels across 480 acres.
"At the peak of activity here, more than 500 people worked on the site, but getting them to come here in the wake of Brexit and the war in Ukraine is proving challenging," owner Ross Mitchell told Scotland Tonight.
"We've lost a lot of access to [staff from] European countries and that has made it very challenging.
"We've had so many new people and fewer coming back, it means productivity has dropped.
"We were employing 70% of our workforce from Ukraine before the war – that was a big blow to the whole industry."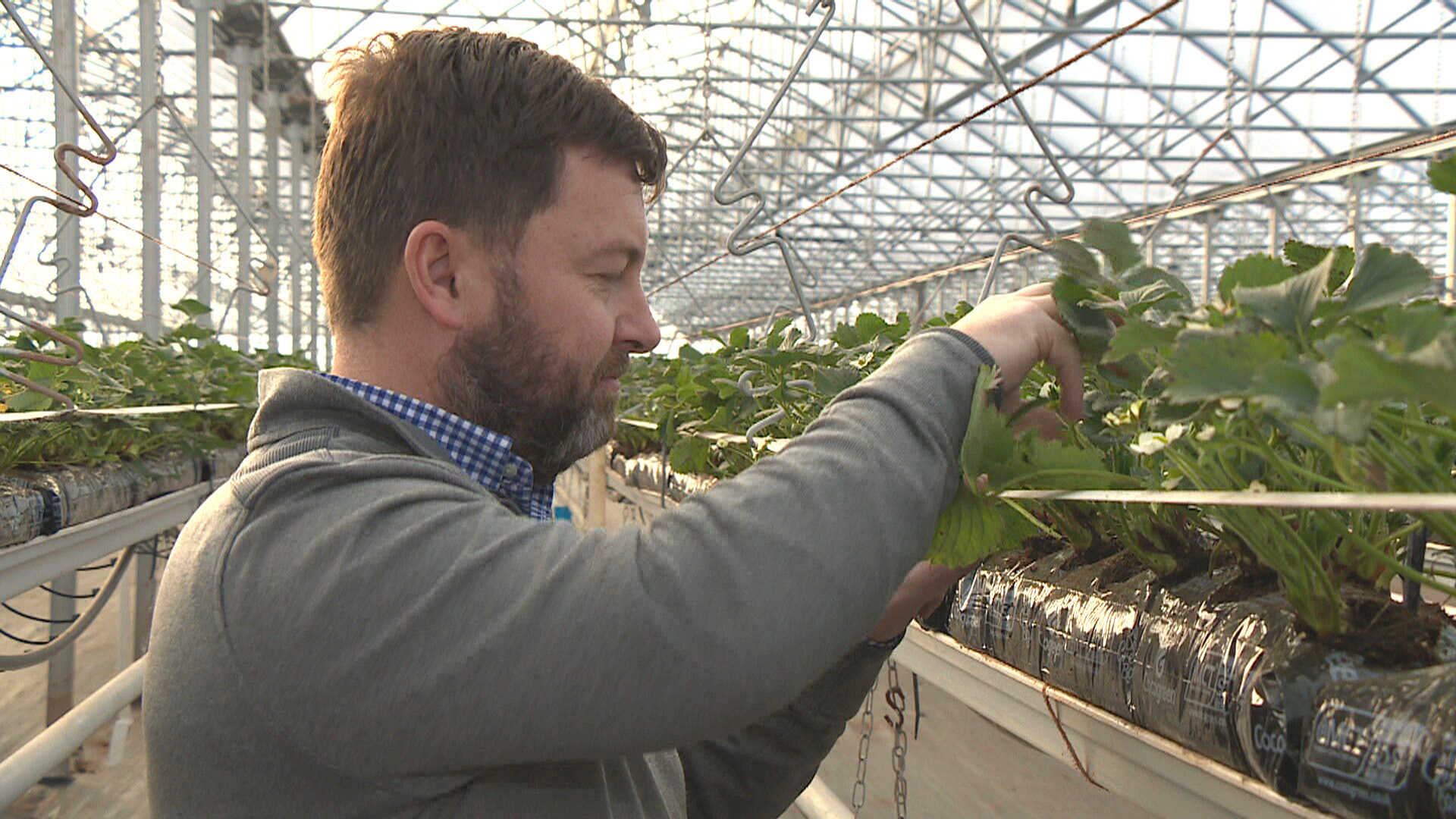 Ross also feels a deep disconnect with retailers and warned that if nothing changed, Castleton would have to produce less.
In many other industries when costs go up, businesses pass them onto customers, but farmers are unable to do that.
"We can't keep losing money," said Ross. "We're not getting a sustainable return on our investment.
"We're trying to negotiate price increases, but it's very difficult to see that coming through.
"The current outlook for a long-term business plan is to not grow fruit. We can't continue to have loss-making profit margins, it's unsustainable."
Scotland Tonight asked nine major supermarkets – Aldi, Asda, Co-op, Lidl, Waitrose, Tesco, Sainsbury, Marks and Spencer and Iceland – to respond.
Only Tesco replied, with a spokesperson saying: "We are champions of Scottish agriculture and are proud to be their biggest purchaser.
"We are continually looking at ways we can source more Scottish produce and are working with our suppliers to respond to the challenges that the industry currently faces. 
"We source Scottish produce for our Scottish stores whenever possible. For example, in our Scottish stores, all our own brand eggs are produced in Scotland.
"We stock Scottish-grown produce, including potatoes, carrots and berries when in season and Scottish dairies make up a key part the supply through our Tesco Sustainable Dairy Group."
Catch up with Scotland Tonight on the STV Player.