Scots are being warned to brace for another cold snap this week.
The Met Office has issued a yellow weather alert for snow and wind.
The worst of the weather, hot on the heels of last week's Storm Eunice, is expected to last from 1pm on Wednesday until 3pm on Thursday.
The warning stretches across most of the country, including parts of the Lothians and Borders, Ayrshire, Lanarkshire, Glasgow, Renfrewshire, Argyll and Bute, Stirlingshire, Falkirk, Fife, Clackmannanshire, Perthshire, the Highlands and Western Isles.
An additional yellow warning for wind has also been issued for parts of the Scottish Borders, with strong gusts expected between 6am and 3pm on Wednesday.
Wednesday weather warning
Yellow weather warning for wind and snow: 1pm on Wednesday until 3pm on Thursday.
Yellow weather warning for wind: 6am until 3pm on Wednesday
Thursday weather warning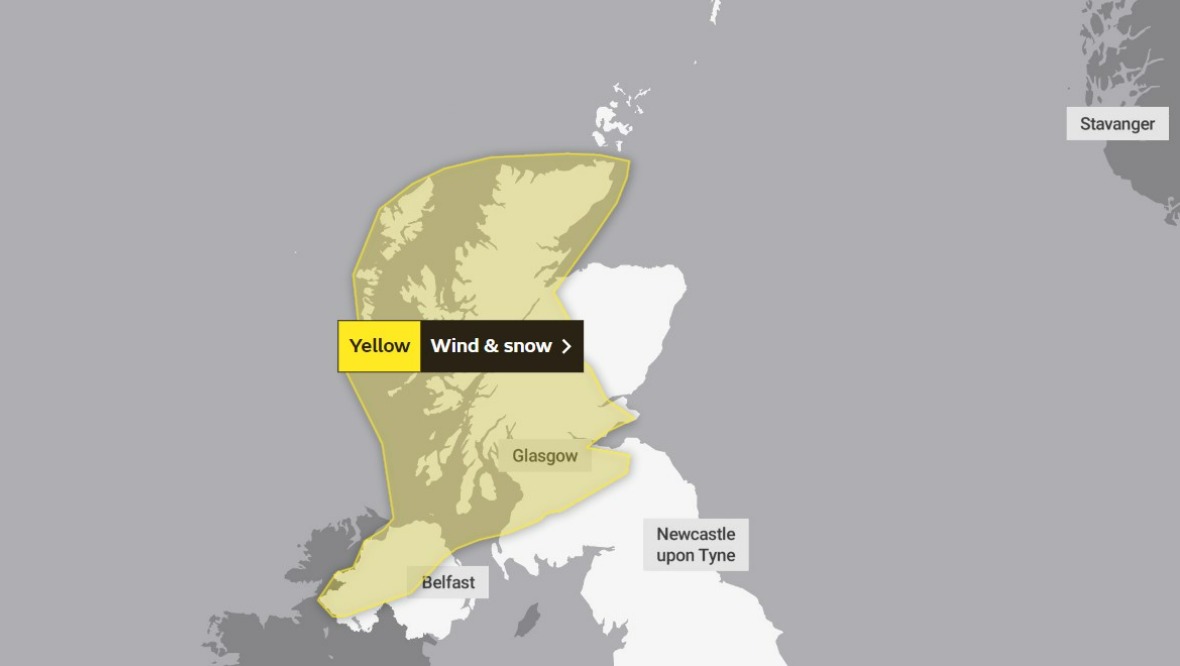 Yellow weather warning for wind and snow: 1pm on Wednesday until 3pm on Thursday.
Experts said to expect heavy snow showers, gusty winds and frequent lightning in some places.
The Met Office said as well as damage to buildings, there is a "small chance" of "injuries and danger to life" from flying debris.
The bad weather could also lead to power cuts, travel delays, and cancellations to rail, air and ferry services.
As well as the possible stranding of vehicles, there is also a "slight chance" that some rural communities could become cut off.
Insight: STV Weather presenter Philip Petrie
STV Weather presenter Philip Petrie said the week has got off to a settled start, but that is soon to change.
He said: "We will start to see winds strengthening quite quickly through the early hours of Wednesday morning, particularly around eastern coasts where we hold onto lively gusts through the day."
Philip expects to see gusts peaking at 60mph in the warning area, but there could be winds of between 30-40mph across the rest of the country as the next system begins to approach from the north-west.
He added: "This system will bring with it a band of organised rain, heavy at times, but on the back edge of this system it will turn increasingly to sleet and snow."
Philip said the worst of the snow will come overnight between Wednesday and Thursday.
He noted: "At the moment there are no further warnings out, but we could see some ice warnings for Wednesday night and Thursday morning as a very frosty night could lead to some icy patches where we've had any falling snow.
"Looking ahead, Friday looks set to be a much calmer day thankfully, thanks to a ridge of high pressure.
"But onwards there is the potential of some further stormy conditions moving in on Monday to start next week.
"It seems we aren't quite out of the storm season just yet."