A weather warning has been issued for the majority of Scotland as snow showers and lightning strikes could leave homes without electricity.
The Met Office said the country can expect dangerous conditions as 'thundersnow' is set to sweep in later this week causing potential travel chaos and damage to power supplies.
The yellow warning is set to be in place at 8pm on Thursday until 11am on Friday and will affect areas in the Highlands and Islands, Central, Tayside and Fife, the south-west, Strathclyde, Lothian and Borders.
Grahame Madge, spokesman at the Met Office, said: "We have got an area of high pressure across the UK, that will remain in situ until the early hours of tomorrow morning.
"Then we will start to see the weather front coming in.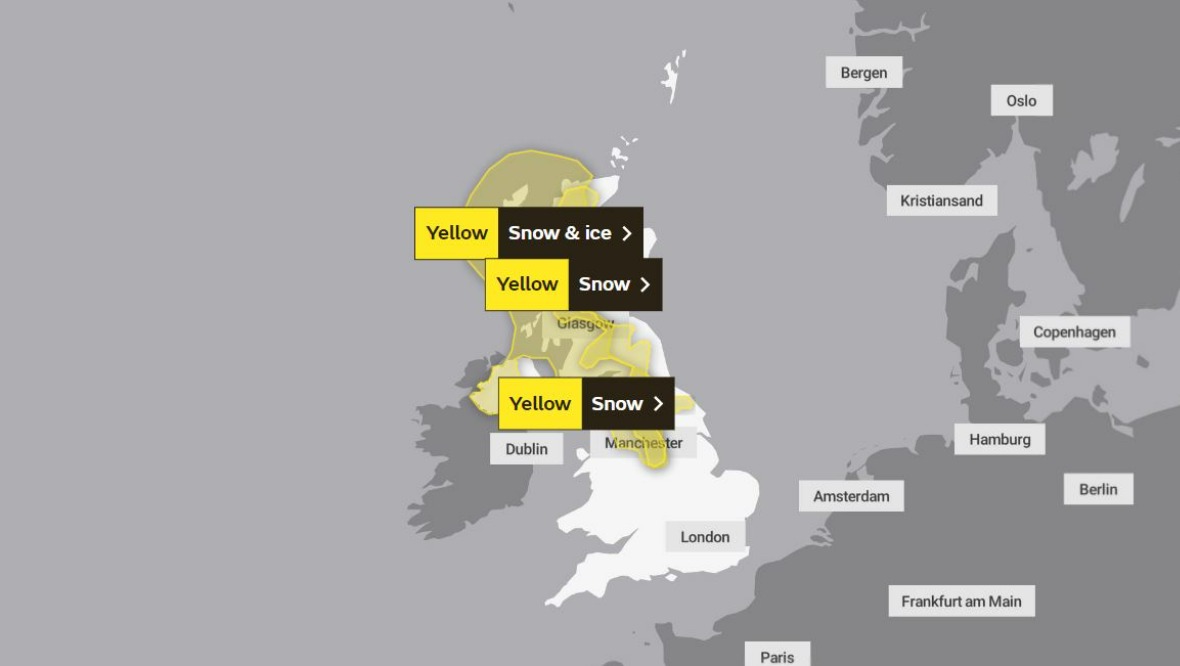 "As conditions get cold tonight, we're seeing temperatures drop down to freezing quite widely.
"As we get the cold air, that will bring the temperatures right down, we've got the weather front coming in from the west and that moisture is going to bump into the cold air and where you get that you will get snow."
The forecaster added that the prospect of thundersnow was driven by the same conditions which cause thunder in the summer, the difference in temperature between the ground and the air surrounding it.
He said: "Because you have got that differential it's possible, quite easily, for warm air at ground level when it heats up to start to rise very quickly up through the cold air and that's what creates the potential for thunderstorms, so we are likely to see along with the other wintery showers, likely to see hail and snow."
Nithsdale Police issued a warning ahead of the wintry conditions urging drivers to take care on icy roads.
A spokesperson said: "Early warning of the risk of #snow & #ice affecting our area from midnight to 10am on Friday.
"Difficult driving conditions may be experienced. Plan ahead & leave time for your journey. #DriveSafely & to the conditions. @trafficscotland@SWTrunkRoads have updates on road issues."