There will be rolling strike action in schools across Scotland as the largest union representing council workers rejected the latest pay offer.
Unison members voted overwhelmingly to reject COSLA's pay offer, with nine in ten workers (89.92 %) voting against the deal in a consultative ballot that saw a turnout of 52.27%
The union said there would be a rolling programme of action in schools, and early years establishments linked to schools, across Scotland.
Dates will be announced in the coming days, Unison said, but action will close schools in November and December.
The strikes follow industrial action by Unison in 24 local authorities last month, leading to school and nursery closures across much of the country.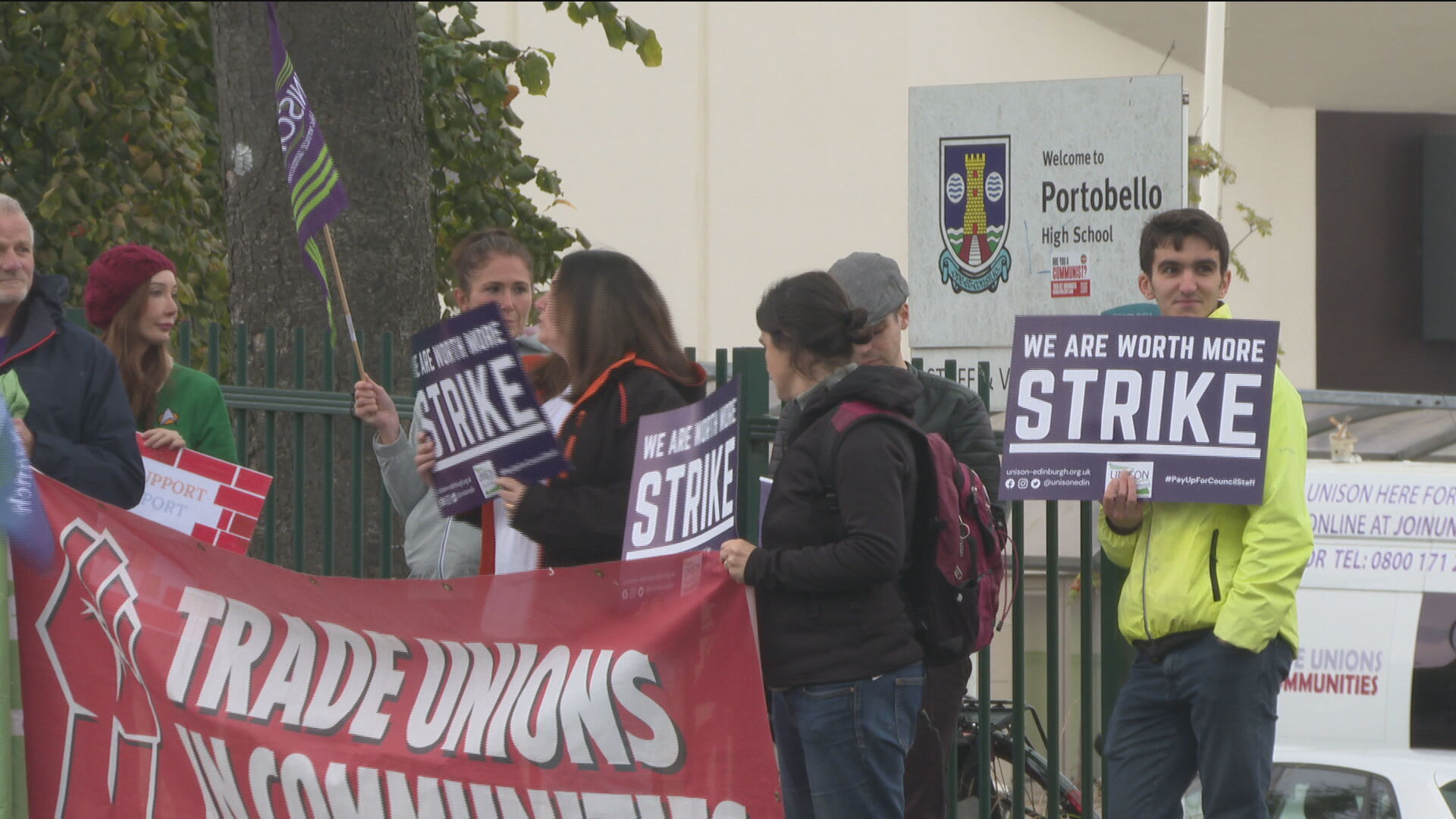 "No one takes industrial action lightly," said Unison's Scottish secretary Lilian Macer.
"It's a very difficult decision for anyone, but as much as this is about pay, it's also about standing up for local services.
"Workers are taking action because they want children to be educated in well-resourced, well-staffed schools. They want to start trying to reverse years of cuts and under-investment in the workforce and services."
Ms Macer said COSLA and the Scottish Government had the power to end the industrial action.
"They have it within their gift to end the strike, but they are showing no sign of wanting to do so," she said.
"That's a terrible shame for everyone affected."
Non-teaching staff took part in three days of industrial action in September which saw hundreds of schools across 24 local authorities close.
Unison said 21,000 members walked out across 1,868 schools.
The action involved non-teaching staff, including support assistants, catering staff, cleaners and janitors.
COSLA's pay offer – made after the Scottish Government freed up £80m – would see the wages of the lowest-paid workers rise by around £2,000 a year.
Two other unions – Unite and GMB – last month suspended planned strikes while they consulted members on the offer, but Unison said it would continue with its plans, labelling COSLA's deal "too little too late" .
It is understood there was correspondence between the two parties over the weekend, but no new offer was made.
Unison also wrote to COSLA and the Scottish Government warning that any future walk-outs are likely to be even bigger as it reported a surge in members.
What is the latest pay offer?
Essential school staff are some of the lowest-paid local authority workers and have been embroiled in a pay dispute with COSLA over a pay increase.
A new offer represents a minimum wage increase of £2,006 for those on the Scottish Government's living wage and a minimum increase of £1,929 for workers who are earning above the living wage.
The living wage of £10.85 will rise to £11.89 under the new offer, equivalent to a 9.6% increase – but Unison has said the revised pay offer remains a "real-terms pay cut" and "below the rate of inflation".
What are councils saying about the strikes?
Councillor Katie Hagmann, COSLA resources spokesperson, said: "Obviously this ballot result from Unison is very disappointing given the strength of the offer on the table. I would like to make the following points:
"Firstly, Scotland's council leaders value their workforce.
"Secondly, we have listened to our trade unions, met all their asks and worked with Scottish Government to put an incredibly strong half a billion pound pay package on the table – which we hope the other trade union members will vote to accept.
"Finally, offering almost 10% or a £2,006 pay increase for our lowest paid workers, which the unions specifically asked for, and £1,929 or at least 5.5% for everyone else is as far as local government can go without impacting service and jobs."
STV News is now on WhatsApp
Get all the latest news from around the country
Follow STV News
Follow STV News on WhatsApp
Scan the QR code on your mobile device for all the latest news from around the country