While coronavirus caused the closures of schools and indoor childcare across Scotland, parents, carers and playmakers were forced to come up with alternatives – in the great outdoors.
Outdoor play has been in decline for some time, an area of concern identified by academics and the Scottish Government.
However the pandemic provoked adaptation, including in the rise of forest schools and the use of outdoor spaces.
Sally York, education policy advisor at Scottish Forestry, said: "This is where Covid has helped shift the thinking – with Covid, being outdoors is far safer.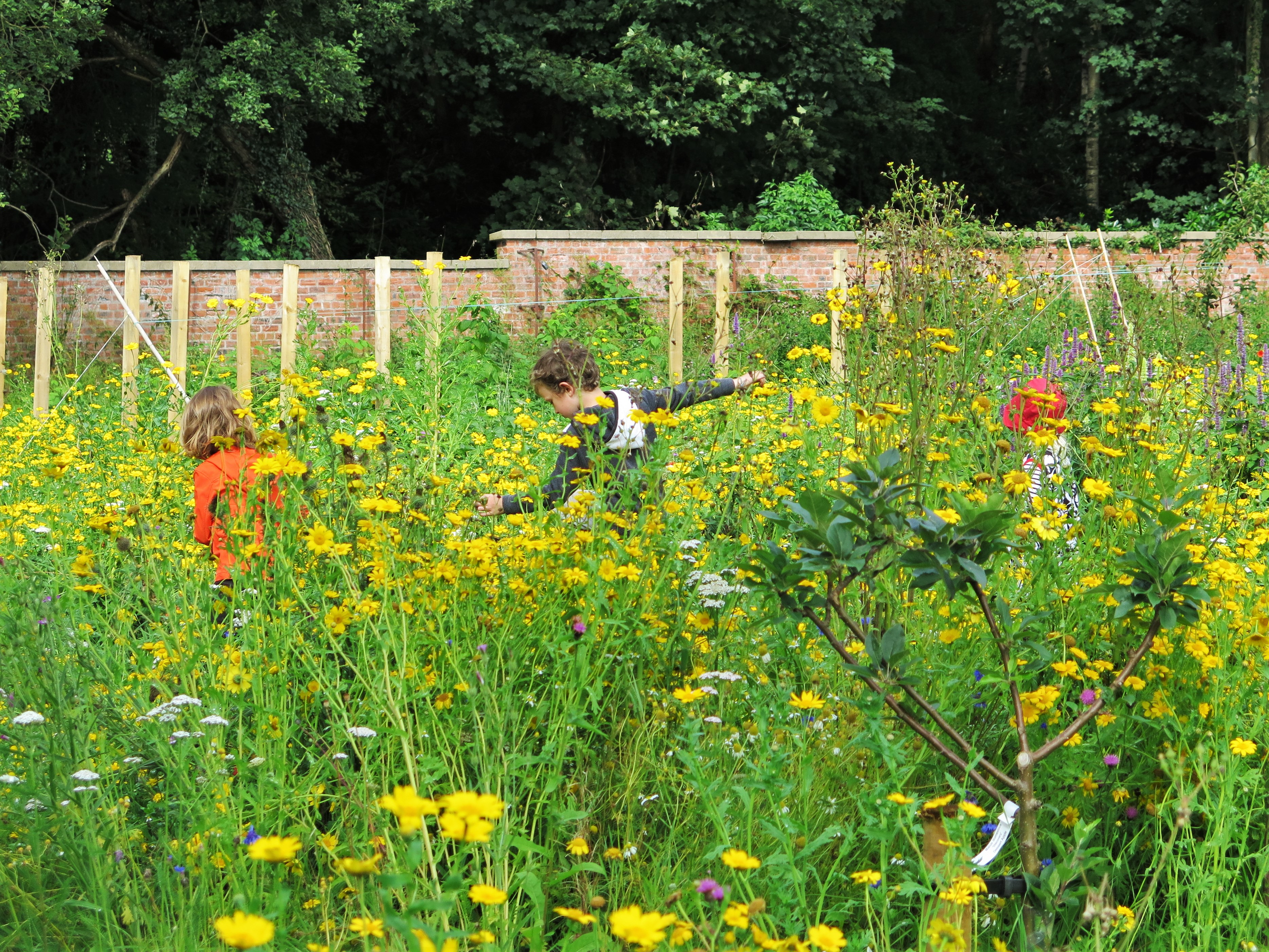 "Therefore if we can get the kids outdoors to play, we can have them learning. So many people think that going outdoors is just play, but certainly, as far as I'm concerned, the more playful learning is, the better it's going to be."
A report by national charity Play Scotland explains how fundamental play is for children's emotional and physical wellbeing. For children, play is not only exercise, it is also how they process their emotions, including their fears, and has been shown to help children deal with adversity.
A consultation undertaken by Play Scotland in early 2021 found children were trying to express feelings about freedom.
Marguerite Hunter Blair, CEO of Play Scotland, said: "Children had never understood what that concept meant before, but they understood it when it was denied."
The overwhelming response was for a return to play and more of it.
'These safety concerns are conveniently countered with lots of 'safe' things for children to do indoors, mostly in front of screens.'

Professor John Reilly, University of Strathclyde
Following the initial lockdown, evidence was presented to the government showing that the risks of transmitting the virus among children under 12 years old was very low.
It was decided they did not need to follow the same rules as older children or adults, meaning they did not count towards the number of people who could meet up or have to obey social distancing.
This, Play Scotland said, was a lifeline that prevented the most harmful factor in deprivation of play – the duration of such restrictions.
But with tighter guidelines still imposed on regulated childcare services, those falling outside of the Care Inspectorate's remit were given the opportunity to adapt and thrive.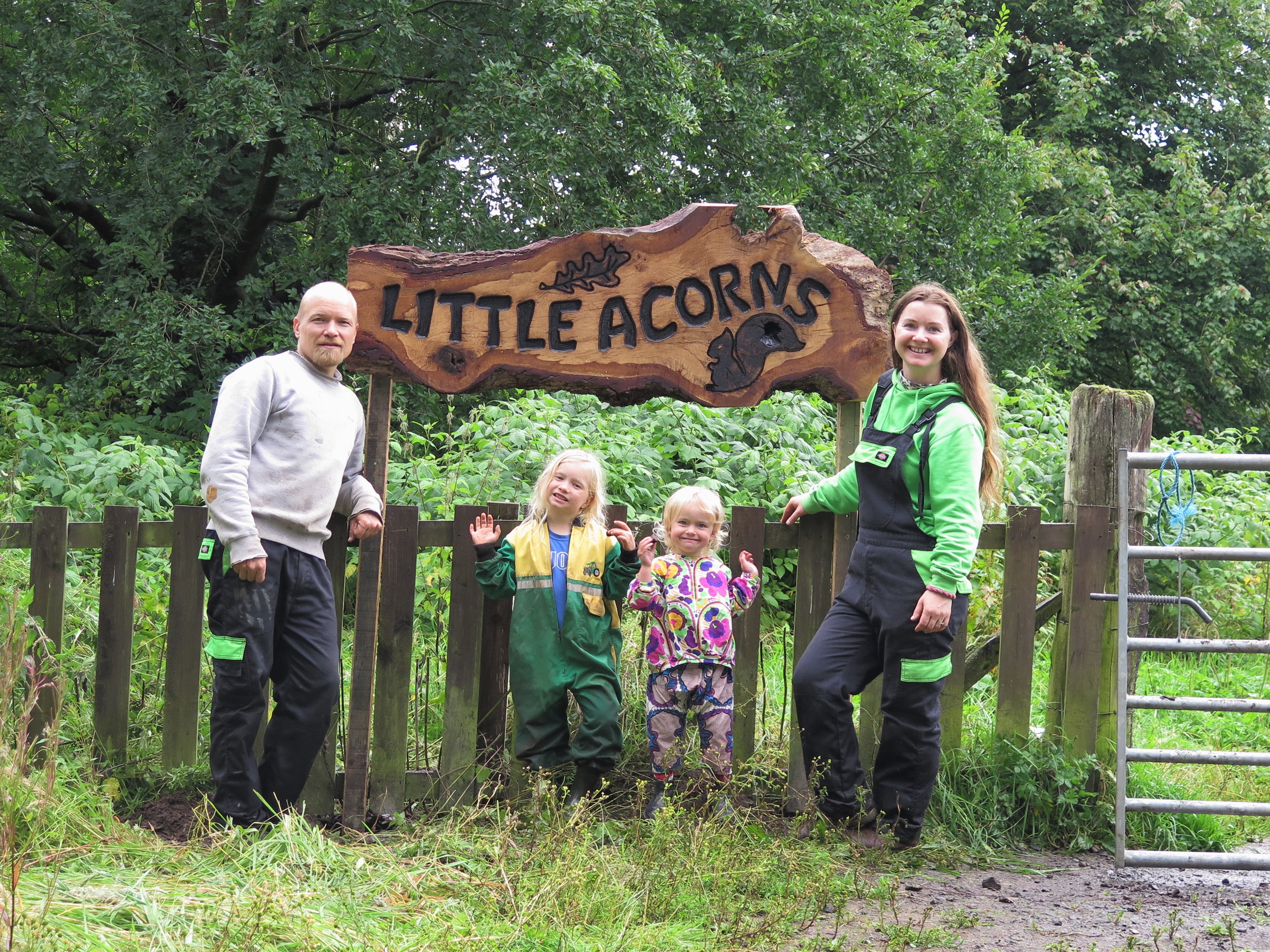 Emily Dawn Hamalainen and her husband Antti started forest schooling on a small scale in 2019. But early last year they began talking with a local landowner and were eventually offered use of land at the Auchincruive countryside estate in South Ayrshire.
"With the lockdown we just spent all our time in the woods and developed this forest school from scratch. From August we started to take kids and it's just been non-stop ever since."
"Previously children who were very busy with traditional clubs and groups; ballet, football, rugby, they haven't been running and the parents have thought they need to give them something."
Little Acorns went from having 60 kids a week in November 2019, to 200 in March 2021.
The Scandinavian forest school model puts the focus on facilitating children in their own learning. For the Hamalainen family, with their two kids Aurora, 3, and Ella-Rose, 6, forest school is part of a wider alternative approach to education.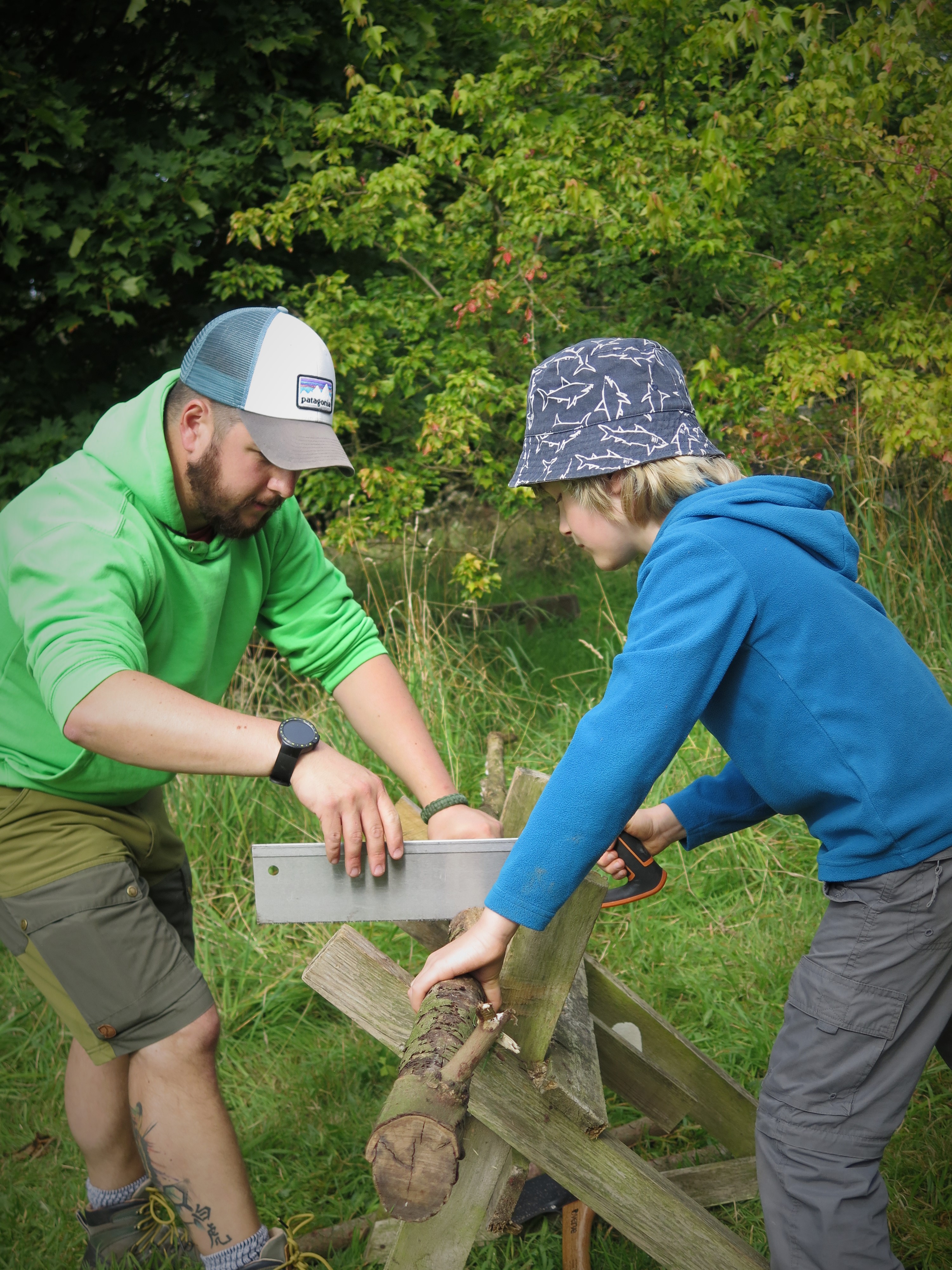 "It's a way for children to simply be children in the most authentic sense," said Ms Hamalainen.
"Your fondest childhood memories are outdoors. We use that when we aspire to create experiences for these children.
"Even my own daughter has anxiety about the pandemic. Forest school is about supported risk taking, understanding the benefits of discovering something and exploring it.
"A lot of what we do, what we try to pass on to parents, are the tools of how we talk about that risk."
'There is no one better than playworkers to adapt and thrive.'

Marguerite Hunter Blair, CEO Play Scotland
There is a struggle between challenging the traditional idea of indoors as the default venue for education and the risks presented by venturing outside into a less predictable space.
The pandemic took away opportunities children had to play outdoors but playing outside was already in decline in Scotland.
Professor John Reilly, of the University of Strathclyde, has found the reasons fewer kids are enjoying less time outside are varied but include fear of children hurting themselves or getting dirty, stranger-danger, sunburn, insect stings, bad weather and darkness.
In an article on the subject he writes: "These safety concerns are conveniently countered with lots of 'safe' things for children to do indoors, mostly in front of screens."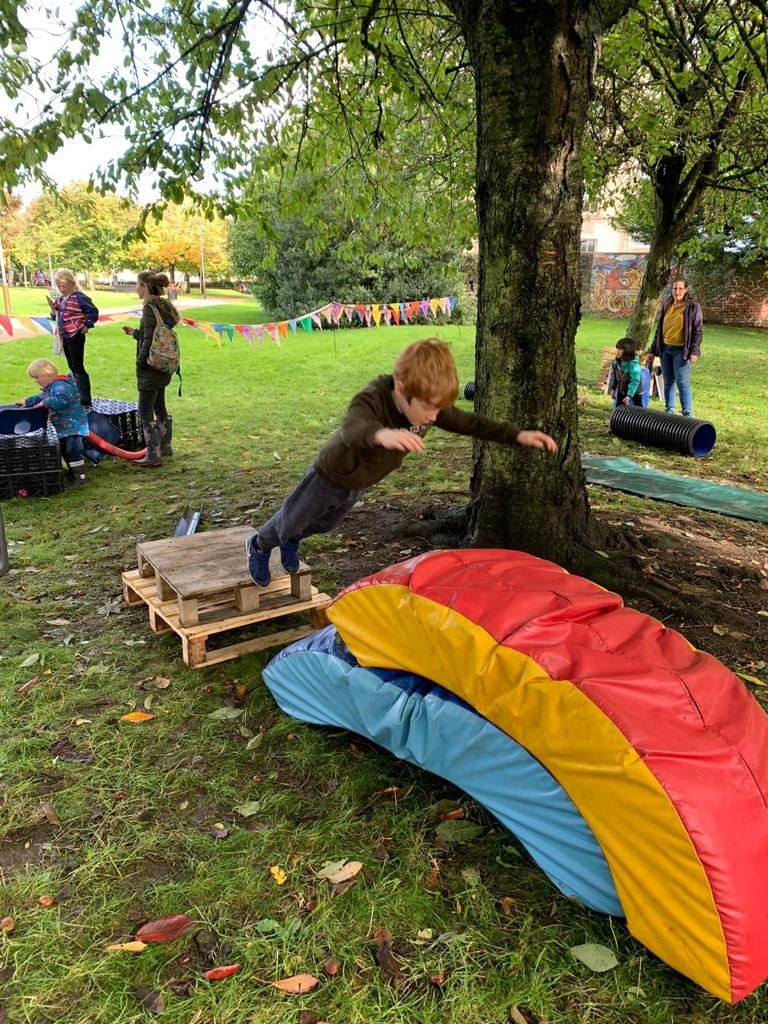 On February 10, 2020, a little over a month before the UK went into its first lockdown, the Scottish Government published new guidance for early learning and childcare practitioners on how to harness outdoor spaces for learning.
It was a demonstration of an understanding of the benefits of playing outside for children's wellbeing. Then the pandemic took away the freedom of normal life including the closing of play parks.
Ms Hunter Blair said: "The kind of people that work as playworkers are always improving and finding ways to facilitate play. I think that's what the play sector did. There is no one better than playworkers to adapt and thrive."
Play Scotland took a determined approach to show that imaginative play was still possible under Covid.
The charity ran a pilot project in Dundee with ScrapAntics, a community interest company, to develop a loose parts play toolkit – play using everyday objects that can be used in an endless number of ways.
It demonstrated how the sessions could be organised in a Covid-safe way, limiting contact between adults but giving the kids as much freedom as possible. Transforming the outdoors into playful spaces.
The toolkit has been rolled out in Hong Kong, New Zealand and all over Europe.
The sessions, which extended into parks across the city, ran all through winter. There was just one weekend when the weather was too extreme.
'We have to remember that for Britain and Scotland we were one of the first industrialized nations…creating generations removed from the land.'

Sally York, education policy advisor at Scottish Forestry
In a survey, nearly two thirds of adults in Scotland said being close to nature improves their mood but one in ten found it difficult to access it.
GPs piloted prescribing spending time outdoors to patients in Shetland in 2017, before it was rolled out across the island. A pilot for nature prescriptions launched in Edinburgh last year.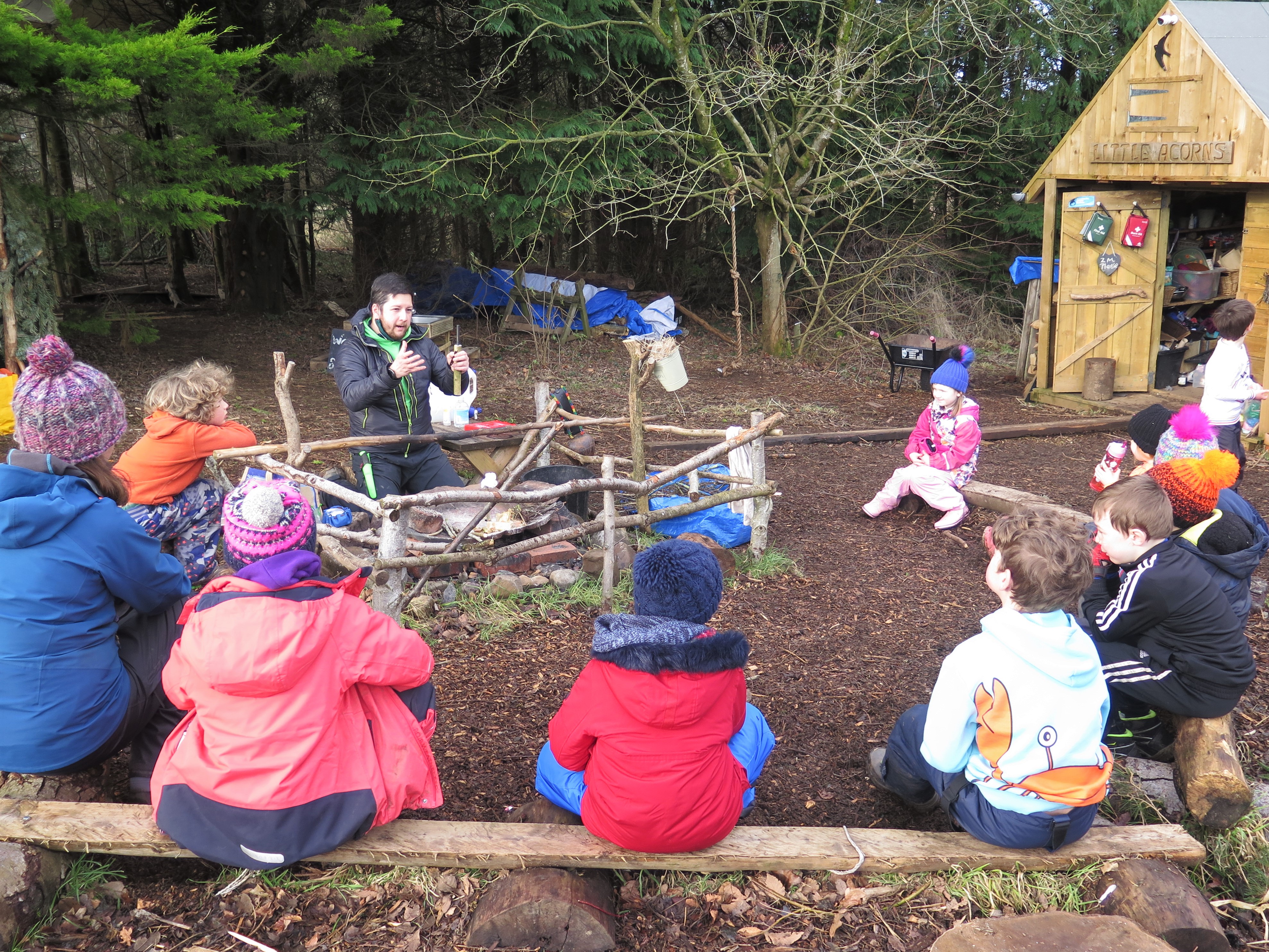 "We have to remember that for Britain and Scotland we were one of the first industrialized nations", Ms York said, "Probably the first where people moved from farming into towns, creating generations removed from the land.
"When you then start talking about connection to nature, you realise a lot of people aren't comfortable with being outdoors, because they don't know how to be outdoors."
Ms York suggests that for people who remember spending their own childhoods outdoors that there was usually a significant adult there to guide you through the natural world. To teach you the basics of interacting with all the things you come across.
"You don't have to be able to climb a Munro or canoe in the sea. It is going out to the playground or local park or woodland.
"It's about how you use your knowledge to teach your children a little about that space. That's outdoors, and that's how you develop your skills up to the point you feel comfortable."