Scotland's history is full of incredible people and events and STV News wants to hear from you about the amazing stories you would like to see shared. Send the team a message on Facebook, Instagram or Twitter, or email at STV.News@stv.tv
More than 150 years ago, history was made when Glasgow recorded one of its worst ever disasters after a flour mill explosion caused the deaths of 18 people.
At around 4pm on July 9, 1872, day shift workers at the Matthew Muir & Sons Flour Mill, a five-storey building on King Street (now Kingston Street), were getting ready to head home – when disaster struck.
A small explosion filled the factory with flour, before a larger explosion blew out the front and back of the building and the mill was engulfed in flames.
Firefighters were then dispatched from all but one of the city's stations, in an effort to stop the ever-growing blaze from spreading to nearby buildings such as the Bridge Street railway station.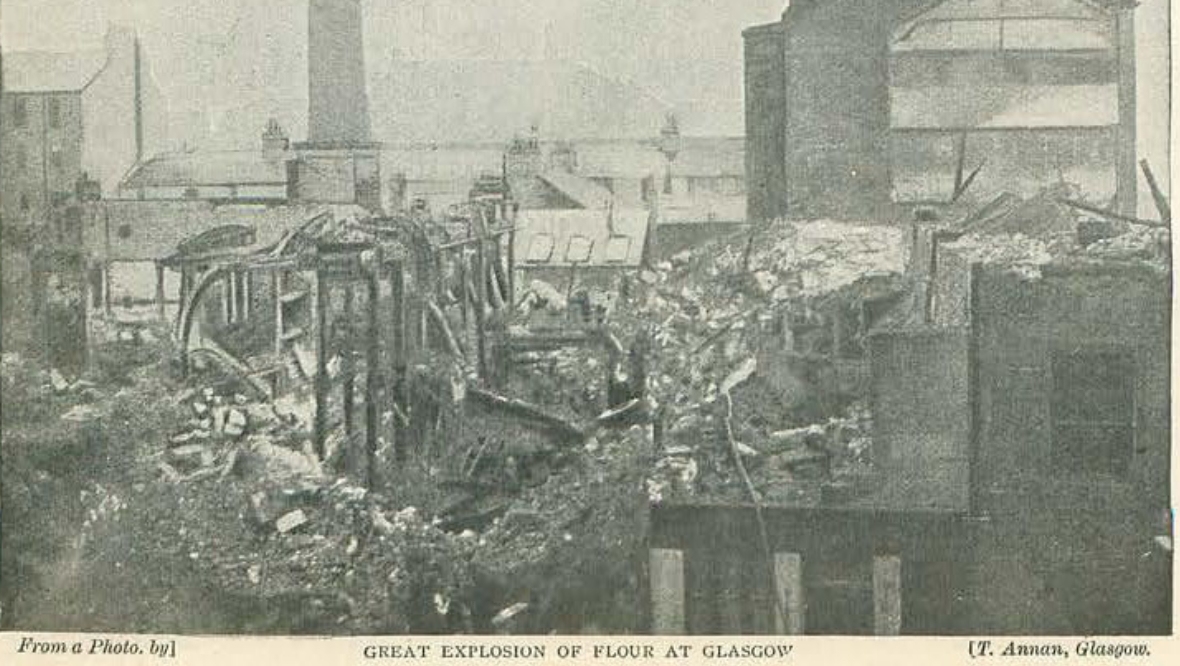 'Shattered windows'
Upon their arrival, firefighters found that the station's windows had been shattered by the blast and after a few hours, the roof of the mill collapsed, and the remains of the wall fell down.
The fire was considered to be under control by 11pm – almost five hours later.
In the aftermath, work to recover corpses continued for almost a month and the total death toll was found to be 18 – three were local residents, one was an employee of the Bute Hotel, and 14 worked at the mill.
At least sixteen others were seriously injured.
At the time, The Falkirk Herald reported: "Persons have lost their lives by being struck by falling stones and buried in the debris, and about as many have been severely burned. Immediately after the explosion, men were observed to crawl out into the street from among the ruins of the mill.
"They were conveyed to houses near at hand, and their injuries attended to by surgeons who were soon in attendance."
Investigating the aftermath
A civil engineering professor from Glasgow University, Macquorn Rankine, and a chemistry lecturer from the Royal College of Surgeons, Dr Stevenson Macadam, were asked by an insurance company to investigate the cause of the explosion.
In their findings, published in a report on August 9, 1872, they theorised that it was caused by a spark from a pair of millstones igniting the finely ground flour in the air.
The pair made recommendations that changed the history of mills forever, by proposing that exhaust boxes outside mill buildings be designed 'ready to be blown to pieces' – so that if a similar explosion happened, it would be drawn out of the building.