The transition that asylum seekers go through to become refugees can be a very long and complicated process. When their claims are approved people find themselves in a race against the clock.
Their financial support stops and they have to move on from asylum accommodation within 28 days. Pair that with a lack of social housing and an increase in approved claims and it creates the perfect storm.
Right now, there are more than 5,000 asylum seekers in Scotland. Around 90% of them live in Glasgow.
Most of these people have fled wars and threats to their lives and although they are grateful to be in Scotland they face yet another challenge on arrival; applying for refugee status.
While claiming asylum, people are put up in temporary housing, and receive a small sum of money each week for essentials. They aren't allowed to work.
When the Home Office approves a refugee application, it should be a cause for celebration, but it means their situation changes very quickly.
Once a refugee application is approved, the person should receive a letter telling them so. They should also be sent a Biometric Residence Permit (BRP), which gives them the right to study, live and claim benefits in the UK.
After receiving their acceptance letter, the refugee will also get a "discontinuation letter", which tells them their financial support will end in 28 days. Following that they should be sent an eviction letter from their accommodation provider. Legally they can be told to move out within seven days.
Savan Qadir, who works for charity Refugees For Justice, said: "I think the problem is the clock is ticking whenever you get your refugee status, the letter of approval. Before, your clock started ticking when you received your BRP card.
"So nowadays it's not like that. At the minute you get your status, then you have to prepare yourself to leave the accommodation, literally in seven days."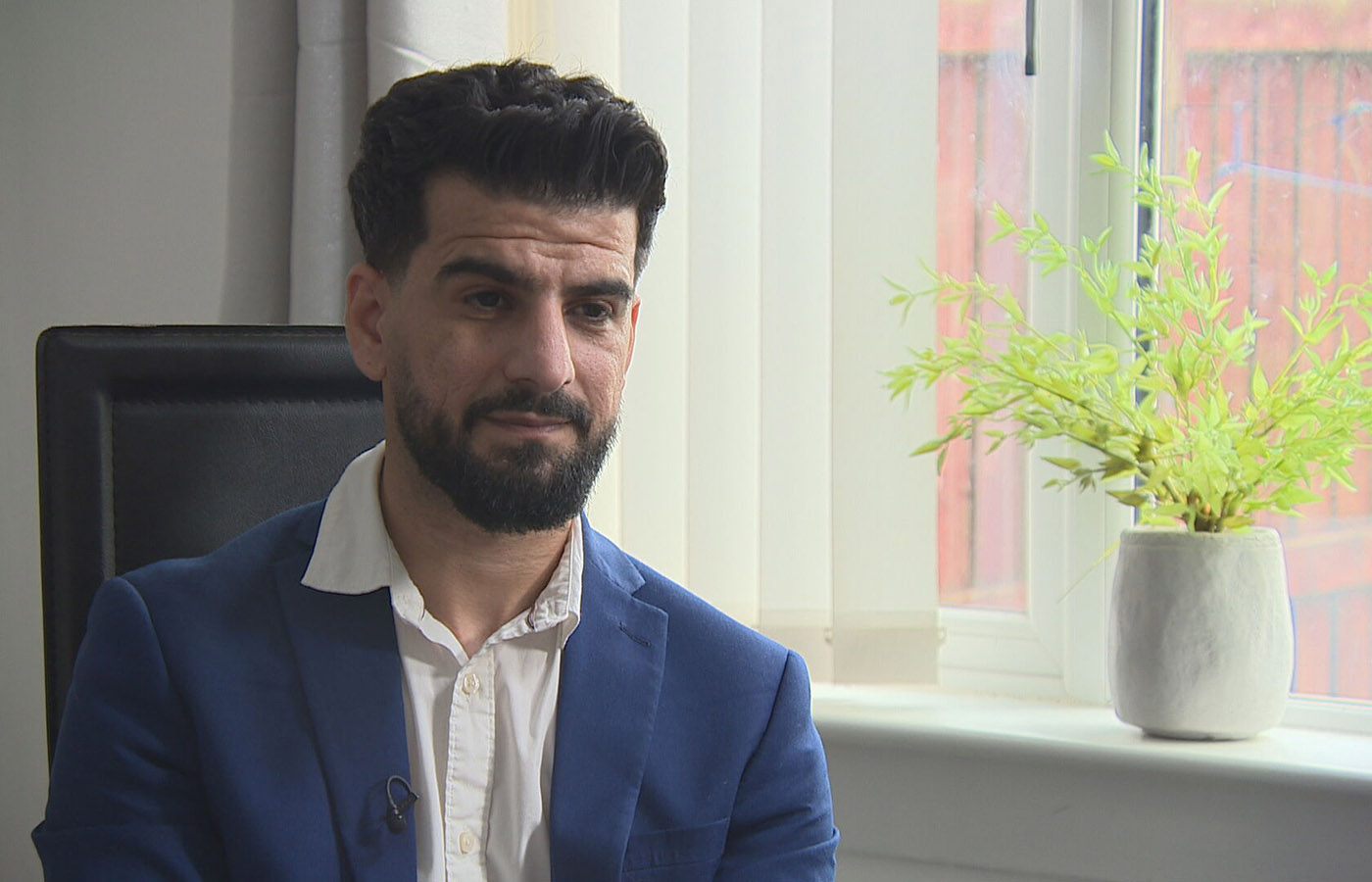 Glasgow City Council says around 2,500 asylum claims are expected to be processed locally from now until the end of the year as the Home Office attempts to clear a backlog of applications.
Around 1,800 of those are expected to be successful and will likely lead to around 1,400 people needing help with housing. But there's already a shortfall of more than 1,600 social housing properties.
Mr Qadir added: 'It's very difficult to find houses. There's no social housing available for, frankly, nobody and not just asylum seekers and refugees. And imagine in that scenario, you are someone who has never been working, you don't know the system. And you've been waiting, you're an asylum seeker, you just became a refugee, and you have a language barrier.
"We hear so many times that the system is broken, right? And I don't think the way to fix it is to put more people into a situation they cannot handle.
"It is alarming and particularly for organisations that are supporting asylum seekers and refugees. At the moment, the home office and in some way, the local authorities are relying on the charity of the organisations, but we have limits and other organisations have limits. We won't be able to, you know, to help 1,400 people in a matter of a month or two.'
Scotland Tonight spoke to a young man in his twenties, a mother and son, and a woman who fled here alone – all of whom have recently received refugee status – to find out what the transition is like.
'You don't know what your life will be like the next day'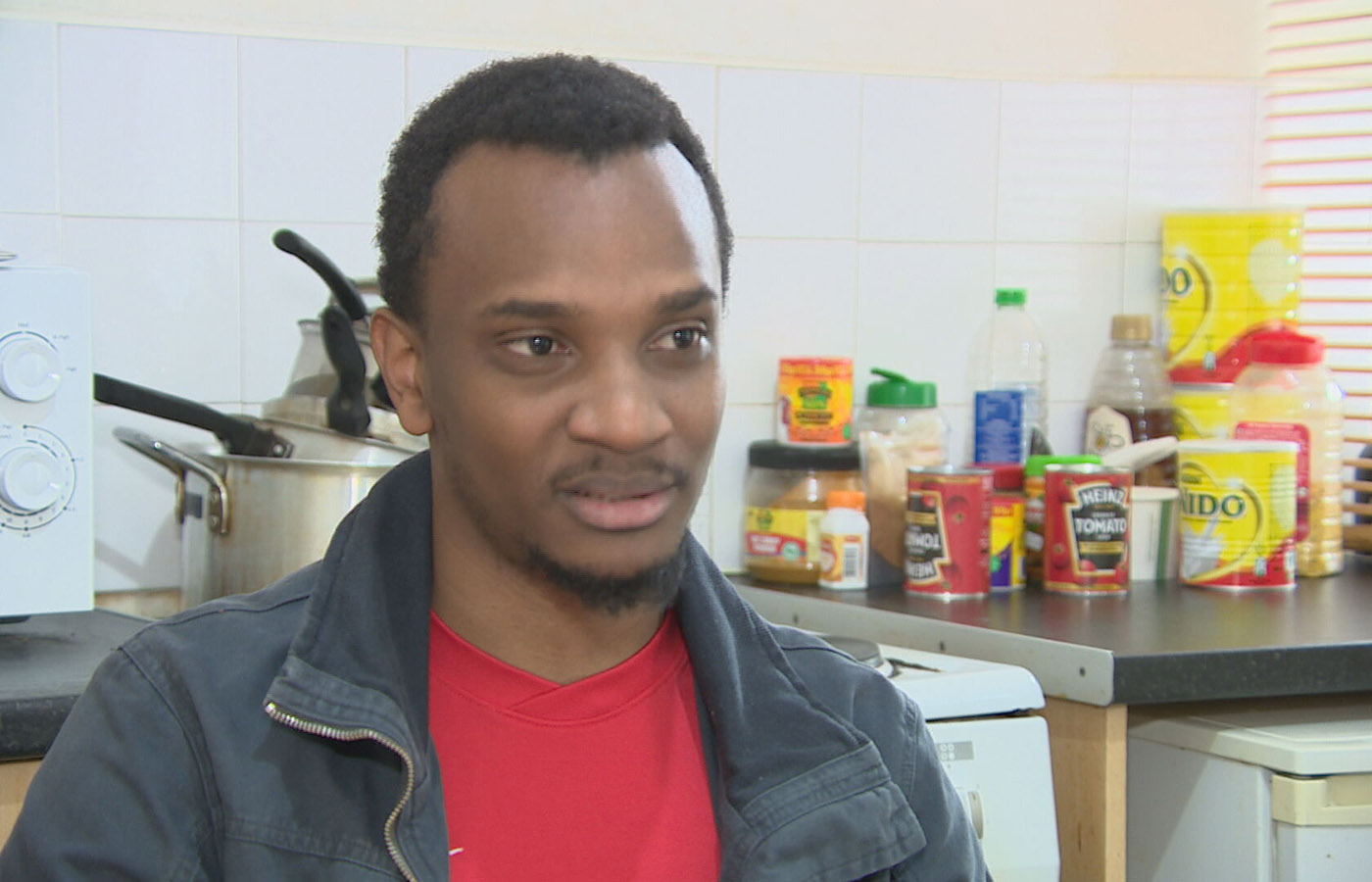 Reagan fled to Scotland on his own three years ago. At the time he was 25 and studying to become a journalist, but he had to leave for safety reasons.
"It is very painful and stressful, but tough times call for tough measures, and circumstances can be hard. No-one looks for destitution or refuge unless they need it," Reagan said.
Over the past few years he has been in and out of overcrowded accommodation and his mental health has taken a hit because he hasn't been allowed to work.
"I've been moved from place-to-place. I lived in a hotel, I lived in accommodation with more than five people in the room in the house.
"First of all you have nothing you can do. You don't know what's happening tomorrow and what's going to be in your life. So yeah, going out was not something that I did much. I used to be in the room so much, and being in the house alone is something that is very painful and stressful."
Reagan, who speaks multiple languages and volunteers his time helping others like himself, has recently been granted refugee status.
"When you first get a positive result, you're first happy for yourself, forget about the problems you have. And I think I'm still in the process of understanding who I am, where I come from, and how I feel safe in Scotland.
"I'm creating places and friends and spaces where I feel safe, and even helping other people if I can. I'm working with Refugees For Justice and Citizens UK to reach out to other people, and make sure our refugees are okay in this country."
Although Reagan has received his refugee status, he's still waiting to be evicted from the temporary housing that he's living in. In preparation for being evicted he is trying to find somewhere else to live but his search has been unsuccessful. But he knows once the eviction letter arrives he'll have seven days to get out – and if that letter arrives tomorrow he'll be in strife.
"The process is not as straightforward as it's supposed to be, it's not seven days, so you can't get a flat in seven days, a temporary flat in seven days, so you're in a situation where you're in sleeping in a hotel, or you're sleeping on the street, and that's not a good position to be in as a refugee.
"You're thinking about what to eat, how to get yourself a job, how to move on, and you're also thinking about where you're going to put your head. That's a very big challenge, and I'm scared of being homeless.
"I've had two or three friends who got that decision (eviction), and then were thrown out of their flat and had nowhere to stay. Some were lucky enough to go to charities, sleep in churches, and all that, but not everyone gets that lucky, not everyone has that information."
'We were almost evicted because of spelling errors'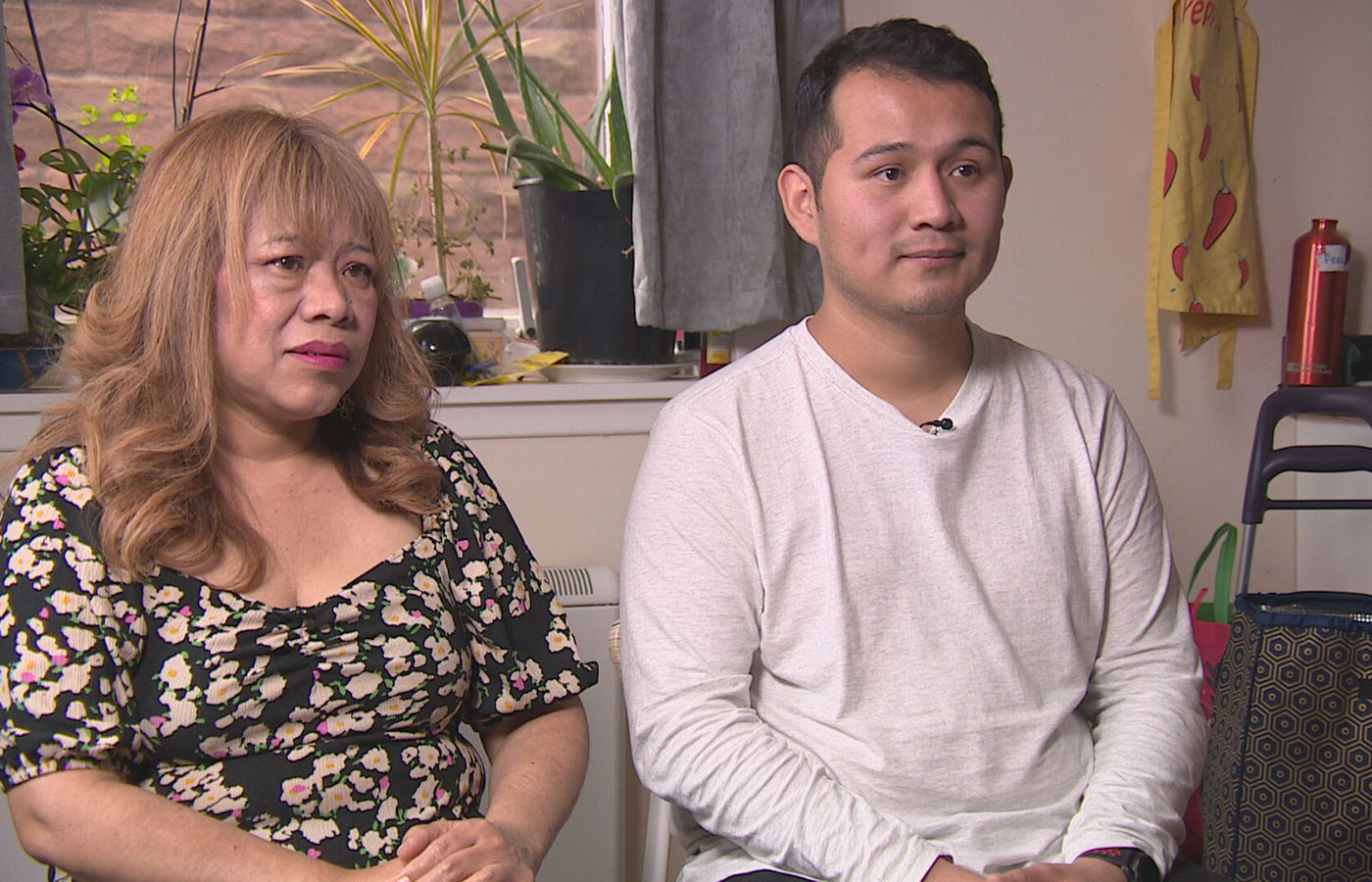 Susy and Gerardo Cruz sleep next to boxes filled with their belongings. They are concerned that at any minute they will be evicted from their property.
The Cruz's family refugee status was granted a few months ago but they weren't able to get everything sorted within the 28-day time frame.
This came down to delays in paperwork and spelling errors on official documents. Charities have stepped in to ensure they weren't evicted from their temporary housing, but the help can only last for so long.
Gerardo told Scotland Tonight: "My brother got a call, we got an eviction letter, but you've just got eight days to move, and I was like wow, eight days is not enough to find a new flat.
"Because before that we couldn't find a new flat easily, because we weren't considered homeless. We tried to get in touch with the Refugee Council, just to try to get another letter to say we're homeless now, but not on purpose, it's because we're getting evicted, so that should help now to get a new flat, it should speed up the process to get in."
As they wait for social housing, Susy and Gerardo's lives are in limbo.
"For me, it took like almost a month until I got my BRP, then my mum was a month and a half, and my brother was over two months. Basically without your BRP you cannot do anything, if you go for a job, they ask you for your documents, you cannot work without them."
Gerardo, who was studying medicine in El Salvador before his family had to leave, is now looking for jobs where he can make money quickly, after so long out of employment.
He said: "El Salvador has a lot of problems with gangs, and there was a point where our business was doing very well. So these gangs were asking us for 'protection money' – protection from them. And then at some point we decided our lives were in danger, so we decided to leave."
"It was very difficult, because that was my dream, having a business," explained Susy. "But we had to leave everything, to start again in another country."
Gerardo added: 'So for now, just doing a bit of music, I was talking to a friend yesterday and we're planning to make a wee studio, make some music, and I'm hoping next year I can start going back to university again."
'I was arrested in Scotland while trying to save my life in America'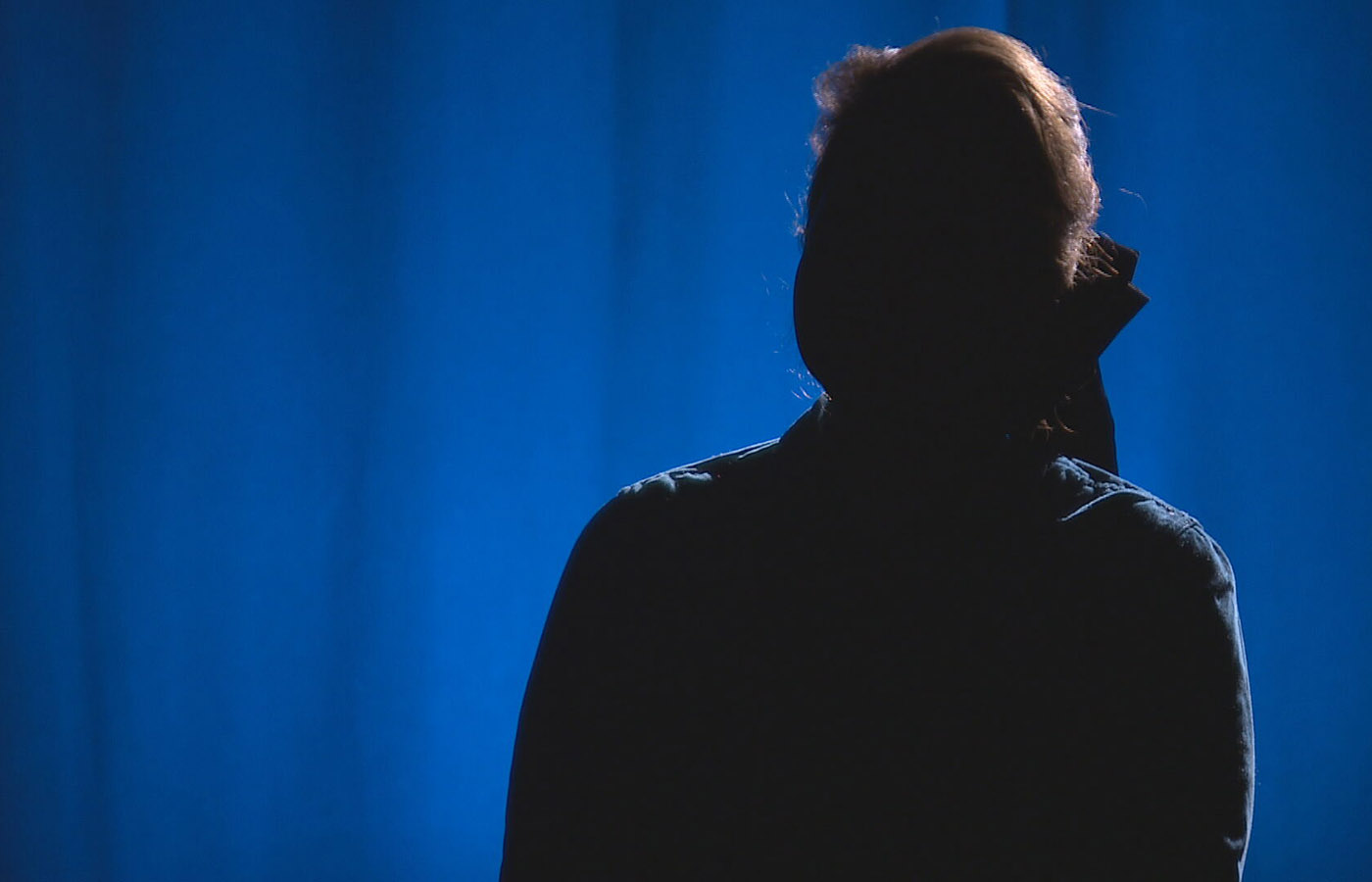 Nina (not her real name) left Iran two years ago after threats to her life were made.
"I changed my religion, I had to escape. That's why I'm here," she told Scotland Tonight, speaking on condition of anonymity.
"It's illegal for people to change their religion. We have to be Muslim, we are born Muslim. It's something forced, and we have no choice. When it's by force, then we don't have any choice, and if people change their religion, they will be hanged, and for sure they will be killed in Iran."
Nina had to leave behind her husband and teenage son. She tried to go to America but was arrested at Edinburgh Airport and was given a choice – either claim asylum here or be deported back to Iran. Not long after arriving she had a miscarriage.
"I was so depressed and I didn't know what to do.
"It was so difficult, I didn't want to be an asylum seeker, but I didn't have any other choice. If I could go to America I wouldn't be an asylum seeker there. I could work for my cousin, and apply to bring my husband and son. And I could work there, but here I could not work."
Like Reagan, Susy and Gerardo, Nina now has refugee status. Her eviction notice has arrived and she has to be out in a week. She hasn't been able to find anywhere to live and like the others, because she hasn't been allowed to work, she has no money.
"I can't sleep at all, because I'm so worried, and it's like a panic attack for me.
"We don't have any options. Any choice, and we just need to obey the rules. If we had more time, more than 28 days, maybe people can go to find a job, they can open their bank accounts, they can ask for any opportunities for work, and maybe they can go to housing associations in the area that they feel free and happy with, to ask for any temporary house, but in this short period of time, I couldn't do anything.
"Unfortunately there is not enough space for refugees here. The Home Office claims it doesn't have enough houses, and maybe it will send us to the villages nearby, and we will not have a choice. That's why I'm so worried about that."
Asylum system 'under increasing pressure'
A Home Office spokesperson said: "The pressure on the asylum system has continued to grow, with hotel accommodation costing millions of pounds a day.
"We encourage individuals to make their onward plans as soon as possible after receiving their decision, whether that is leaving the UK following a refusal, or taking steps to integrate in the UK following a grant.
"Individuals will still get at least 28 days to move on from accommodation and where an individual has not had a Biometric Residence Permit card issued within the 28-day notice period, they remain on support until it is issued."
For the full story, please tune into 'Scotland Tonight: The Battle To Belong', which airs at 8:30pm on Thursday night on STV, or catch up on the STV Player.
STV News is now on WhatsApp
Get all the latest news from around the country
Follow STV News
Follow STV News on WhatsApp
Scan the QR code on your mobile device for all the latest news from around the country