Records have been broken as places across the east of Scotland have seen a month's worth of rainfall in a matter of days.
Amid amber and yellow weather warnings, torrential rainfall has flooded homes and roads leaving people stranded.
Dangerous conditions have forced police to urge people to not travel unless necessary, as councils act to deal with impassable roads and damage to buildings.
STV's meteorologist Sean Batty said the rain over Thursday and into Friday has been "extreme".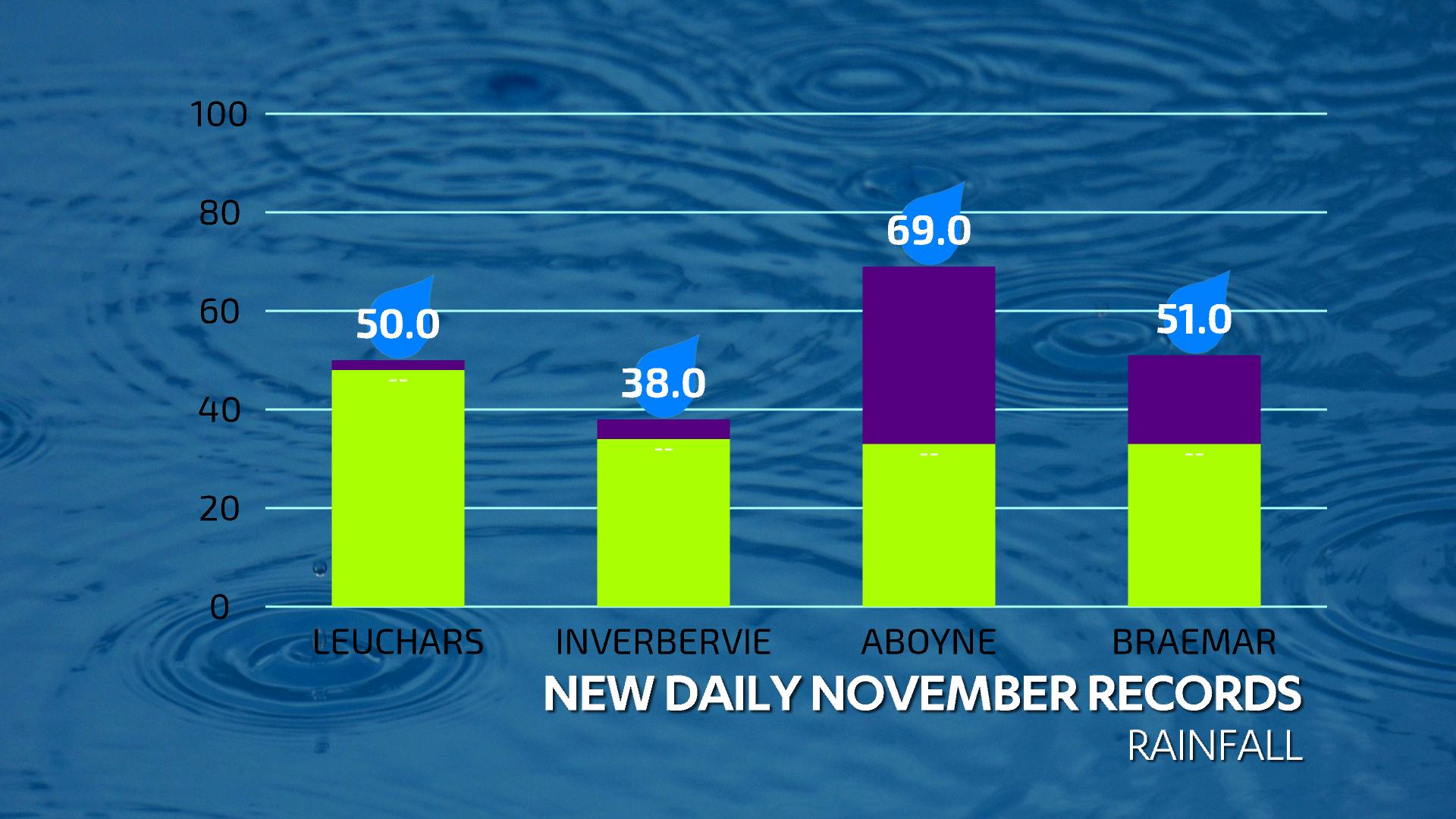 "Aboyne has been the wettest spot with 69mm of rain falling through Thursday, which is not far off a month's worth of rain, with the average for November at 86mm," he said.
"That's equivalent to three weeks' worth of rain falling in the village in just 24 hours. This figure also makes it Scotland's second wettest day of the year, with the top spot still currently held by Achnagart in the Highlands which had 116mm of rainfall on November 10.
"Aboyne thrashed its previous November record of 33mm recorded on November 1 2009. One of the most significant records is Leuchars. Even though they only beat their previous rainfall record by 2mm, the records here go back 100 years."
Braemar also smashed its previous record of 33mm, recorded in 2009, with a total of 51mm on Thursday.
"This all comes off the back of a very wet autumn so far, with Renfrewshire and South Uist having their wettest October on record and it now looks like parts of the east will be heading in that direction for November, along with the Western Isles," said Sean.
"More heavy rain will fall on Friday, especially around Aberdeenshire and Angus, which will continue to add to our monthly values in the worst affected areas in the past few days."
But, Sean said, the good news is the rain will ease off throughout the weekend with just a few millimetres forecast for Saturday and slightly more on Sunday.
However, the south of Scotland could see heavier rain return on Monday.
"The changeable and wet weather looks like it will continue on and off throughout the rest of November," said Sean.
"Any settled spells look short-lived over the next few weeks, although there are some hints of drier conditions into December. However, I'm going to caveat that, as weather models have been indicating a settling of the weather for weeks now which has not come to fruition yet."