A quarter of people in Scotland say they want England 'to do badly' in the World Cup, according to a new survey.
That number rises to a third among football fans in the country, with 36% actively backing against Gareth Southgate's men.
The YouGov poll found just 2% want the same outcome for Wales who are in the same group as England, Iran and USA, rising slightly to 4% among football fans.
Scotland failed to qualify yet again as the 24-year wait for a place at the top table continues.
However just 9% of Scots said they will be supporting our closest neighbours in the Tartan Army's absence, with an even lower percentage of 8% backing the Welsh.
With only football fans being taken into consideration, the number supporting England rises to 17% with 15% backing Rob Page's side.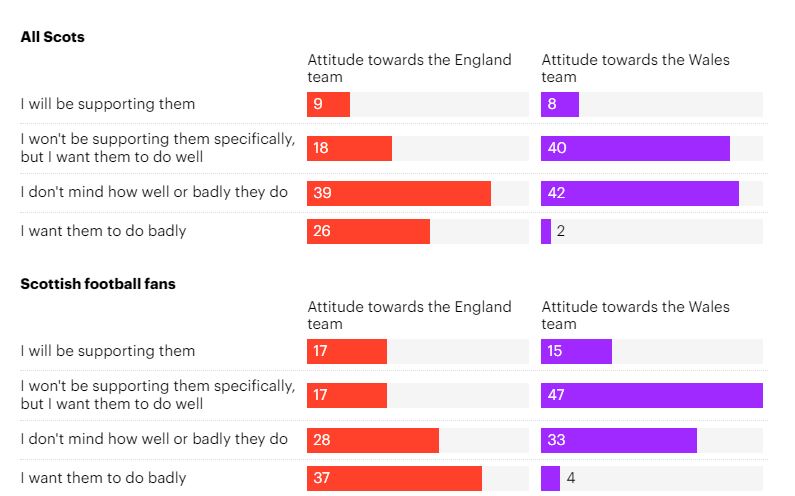 YouGov released the figures on Thursday ahead of the tournament's opening game between Qatar and Ecuador on Sunday.
On Monday, England will kick-off their tournament against Iran as Wales face the USA.
The poll of 1,002 people across Scotland were given four options between supporting, hoping they do well, don't care and wanting them to do badly.
It also found 18% said they won't specifically be supporting England but will be hoping they do well, and 39% say they don't care either way.
But when it comes to Wales, 40% said they want them to do well and 42% said they don't care either way.
When only self-identified football fans were asked the same question, 17% said they will be hoping England do well without supporting them and 28% won't be fussed regardless.
On Wales, just under half of those questioned said they hoped Gareth Bale's team do well and 33% don't care.
Scotland last appeared at a World Cup in France 98 when they lost to Brazil and Morocco and drew with Norway.