Campaigners surrounded the Glasgow office of energy regulator Ofgem in protest at the soaring price cap rise.
A demonstration took place at the Commonwealth House offices on Albion Street in Merchant City on Friday morning.
It comes as Ofgem announced the energy price cap would increase to £3,549 for the average household in October.
Elinor Mckenzie, 79, from Glasgow has loved ones in Ireland and Wales and told STV News she won't be able to afford to have her family come to stay.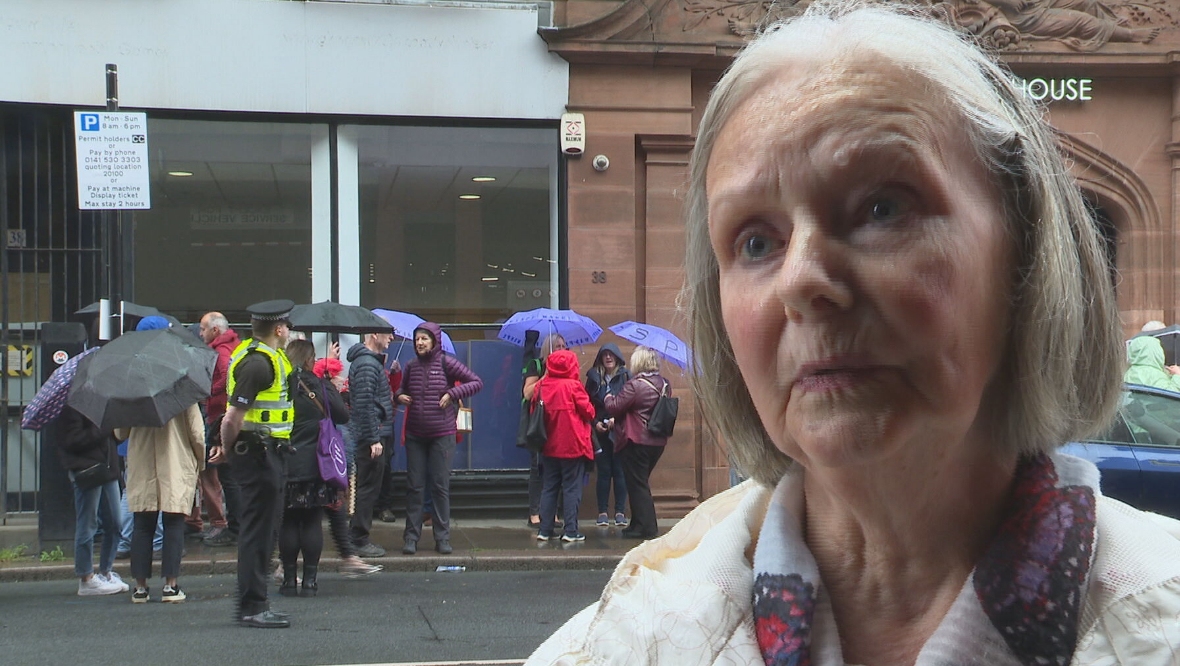 She's part of the Scottish Pensioners Forum and fears the energy price cap increase will cause her to become more isolated.
She told STV News: "I'll be cutting back on things like visits from my family to my home.
"They come to see if I'm alright and help keep me going and they don't have spare cash. I don't have spare cash for treats for them and their families when they come.
"Am I going to have to say to them don't come because I can't afford to heat the house when you come? I can't afford to buy extra food when you come?"
Elinor has admitted she is scared her health will "deteriorate" due to the alterations she is having to make to her day to day life.
She added: "Generally my life is being altered dramatically.
"I don't even watch TV as much as I used to because I can't sit down. I've become a potter and I've never been a potter.
"I'm afraid my general health will deteriorate.
"I'm also afraid when I keep putting out lights in the house and I'll trip which can be dangerous for me given my age and I have an eye condition which takes me a while for my eyes to adjust and distinguish between light and dark."
Friday's energy price cap announcement means millions of people will see a huge rise in the amount they pay for their energy from the start of next month.
Those on default tariffs paying by direct debit will see an increase of £1,578 – from £1,971 to £3,549 per year.
The 4.5 million pre-payment meter customers, who are often the most vulnerable and already in fuel poverty, will see an even more punishing increase, with their average annual bill set to go up to £3,608.
There are fears that soaring household bills could leave people across the UK in severe financial difficulty.
Activists and political leaders including Keir Starmer and Nicola Sturgeon has called for the cap to be frozen.
Power to the People, the campaign group organising Friday's demonstration, has demanded action to stop the rise.
Earlier this month, the group protested outside the Glasgow headquarters of Scottish Power over rising energy costs.
People in Glasgow and across Scotland are being encouraged by the group to join them in protesting.
Following the establishment of the Glasgow group, Power to the People committees were also set up in Liverpool and Dundee.
Matt Kerr, a Glasgow Labour councillor who co-founded the group, argued that forcing people into fuel poverty is a "political choice" that is being made.
"This increase could be stopped tomorrow- it's within the government's gift – they have 35 days to get off their backsides and do their jobs," said Kerr.
"Forcing millions of people into fuel poverty is a political choice – if those in power at all levels refuse to act, they need to get out of the way or reap the whirlwind."
Former Glasgow MSP Frances Curran, group co-founder, indicated there would be mass protest if there is not a freeze on the cap.
"This is the second protest we have organised to demand an energy price freeze. We have given them fair warning that half of the families in this country can't pay their bills," she said.
"Our government and the energy companies are walking into a future where they face mass non-payment by default.
"There is more wealth in this country than at any time in history. A price freeze or mass protest. It's the government's move."
Jess Galloway, a Power To The People activist, added: "One household in fuel poverty is too many, but three in every four households? That's a provocation.
"Imagine what that will look like for you and your neighbours.
"Everyone I bump into at the moment is talking about the energy bills. Everyone I know is angry, and that's why this campaign is something everyone can get behind.
"We all need to turn our words into actions and come together because this is a fight we can't afford to lose."