Frontline responders from two of Scotland's emergency services have demanded the Scottish Government implement new pay rises and roll back planned cuts as forces are "stretched to the limit".
Workers represented by the Scottish Police Federation (SPF) held a demonstration in Edinburgh over their fight for an 8.5% pay uplift, while in Glasgow the Fire Brigades Union (FBU) gathered in George Square to protest against £11m worth of cuts to "meet immediate financial challenges".
Both forces have warned the plans would compromise the safety of the public, stating it would either lead to current workers leaving the sector or key equipment not being purchased or replaced.
Police Scotland officers are being urged not to report for duty when they should not be working as part of the action.
The SPF which represents the vast majority of the force's 16,600 officers, said pay has fallen 15% since 2006.
It is looking to secure an 8.5% pay rise – similar to that given to teachers and firefighters – following a 5% increase last year.
They have also requested that future pay for police is linked to an average pay index from April 1, 2024 as opposed to annual negotiations.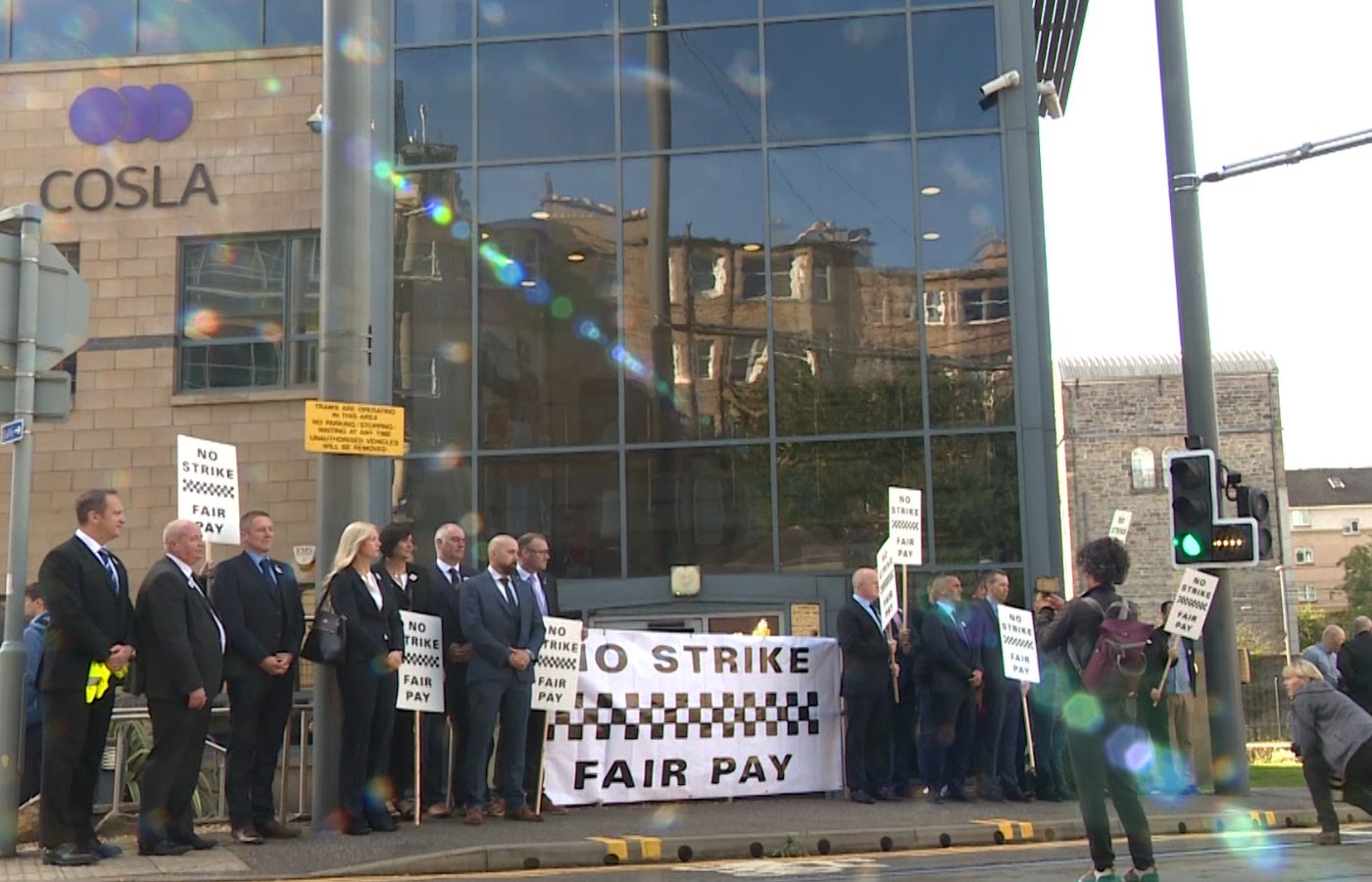 However, David Threadgold, the union's chairman, called for "transparency" over pay increases as he urged the Government to back their promises of community safety with investment.
"What we want is a fair pay deal from the government that acknowledges the role that we have," he told STV News.
"It's very easy to talk about how much of a priority the police are when it comes to delivering services and community safety. But what we now need to see is that talk being translated into a fair pay deal for police officers this year.
"There is clear evidence across the public sector in Scotland that when bodies put their initial pay claim, the first response says there is no money.
"When they either threaten to, or take industrial action miraculously extra money is provided by the government to settle those pay deals to prevent their staff walking out."
Mr Threadgold added: "We don't want to be here today. We want to be serving the communities in Scotland, but we need fairness and we need transparency and openness from the government and we need a response to this pay claim."
In its operational changes information pack 2023-2024, the Scottish Fire and Rescue Service (SFRS) said it would make a total of £11.07m worth of cuts this year following a "decreasing real terms budget allocation" from the Scottish Government.
Those cuts would be followed by a further £11.3m in 2024 – 2025; £7.3m in 2025-2026 and £6.9m in 2026-2027.
The FBU's Scottish secretary, John McKenzie, said the proposals had been met with "anger" from the service and cautioned they could "put lives at risk".
He added: "They are really angry at the level of cuts that the SFRS, had since 2013 and the cuts that are outlined to come over the next four years and they're here to show their opposition to that.
"The reality is any time there are cuts to the fire service anywhere within the UK and doubtlessly the world, if you reduce the budget, you reduce number of firefighters. If you're reducing the number of firefighters, response time goes up. If response time goes up, people will inevitably lose their lives who otherwise would live."
A Scottish Government spokesperson said negotiations on police pay are continuing.
They added: "Police Scotland is a vital service, which is why, despite difficult financial circumstances due to UK Government austerity, we have increased police funding year-on-year since 2016-17, investing more than £11.6bn since the creation of Police Scotland in 2013, and there are over 350 more officers than in 2007 and around 1,280 new recruits have joined Police Scotland in the last 18 months.
"Scotland also continues to have more police officers per capita than England and Wales."