Scotland's police officer numbers are at their lowest level since 2008, new figures have shown.
The Police Officer Quarterly Strength report found that there were 16,610 full-time equivalent (FTE) police officers in Scotland on June 30, 2022.
This figure is the lowest it's been since the third quarter of 2008, when the force recorded 16,526 FTE officers in its employment.
It is also a decrease of 195 from the previous quarter, from March 31, and a decrease of 679 FTE officers when compared to the same quarter last year.
In contrast, Police Scotland reported the highest number of officers in seven years two years ago – just before the pandemic kicked off.
Since then, the force has seen its officers reach "critical" stress levels, with officers burning out and beginning to fail.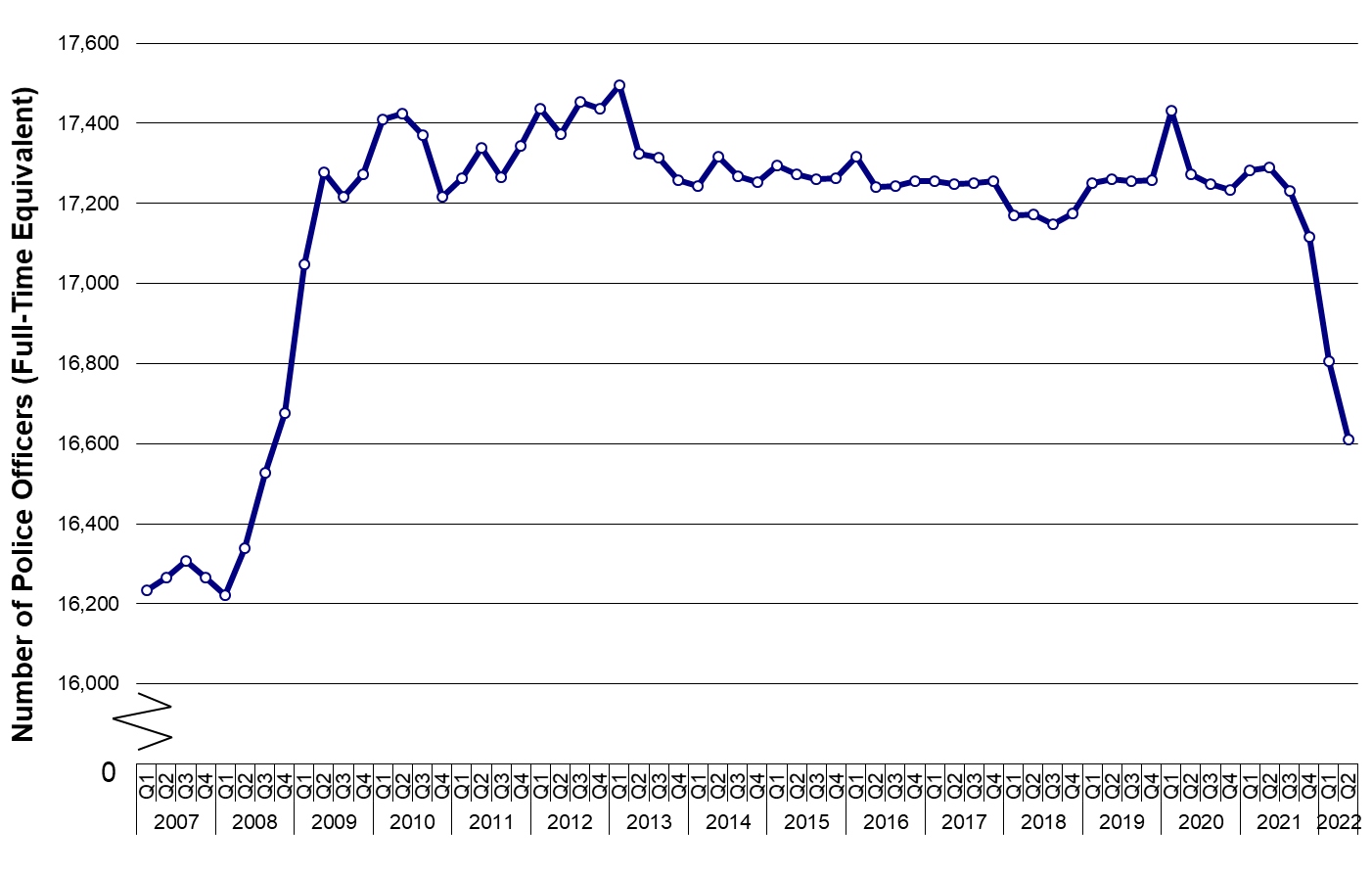 One anonymous officer told 1919 magazine: "Morale is beyond rock bottom. Police are leaving in droves."
Another added: "Burn-out is a real risk. I find myself taking longer and longer to recover from incidents and my mood is often up and down."
A freedom of information (FOI) request last month also showed over one million hours of overtime completed by police in 2021/22 – the equivalent of 123 years.
This is more than double the amount of extra work taken on by police in the previous year, and represents more than three percent of total hours worked.
Figures released early last month also showed that the number of applications for new recruits dropped by more than 50% last year.
The force received 2,237 job applications in the 2021/22 financial year – down from 5,611 in the previous 12 months and 4,228 in 2019/20.
In a review of Police Scotland's Strategic Workforce Plan, the HM Inspectorate of Constabulary in Scotland (HMICS) outlined fundamental cultural and strategic issues which must be addressed – including the idea that at least 17,234 police officers are required to provide a policing service in Scotland.
HM chief inspector of constabulary in Scotland, Craig Naylor, said: "Since inception, Police Scotland has been required to maintain this number.
"HMICS has long maintained it is not supported by evidence. Scotland may need more, or fewer, police officers or, indeed, a different workforce split between warranted and non-warranted officers.
"The commitment to maintain 17,234 is a blunt instrument and, given the workforce makes up around 86% of the policing budget, effective workforce planning should replace it to allow the service to balance resource levels against the budget available."
The HMICS review also stated that the service needed to implement a reshaped approach to have "the right people, in the right place, at the right time, with the right skills" to effectively deal with demand within the available budget.
Mr Naylor added: "Effective strategic workforce planning will allow Police Scotland to deliver a policing service within a defined budget, prioritise resources to meet current and predicted service demand and expectations and address a level of ad hoc pressure.
"It is a difficult task, requiring strong leadership and prioritisation to ensure clear decision making on the resources and skills required for the future and a plan to achieve it. Hard choices have to be made and carefully managed to ensure public confidence in policing is not impacted."
The review stated that while the force had clearly demonstrated its ability to respond to short and medium term challenges like Covid-19, it needs to embrace predictive models, deal with uncertainty and be more transparent about long-term planning.
Justice secretary Keith Brown said: "National police numbers remain higher than at any time during the previous administration. Our officer numbers are also favourable relative to elsewhere in the UK – with around 31 officers per 10,000 population in Scotland compared to around 24 in England and Wales as at March 2022.
"Officer numbers continue to reflect the impact of COP26 and Covid restrictions, which reduced capacity to train new recruits at the Scottish Police College. This is combined with the impact of recent pension changes which I know Police Scotland is alert to and managing, and there has been a decrease in officers numbers over the quarter to 30 June.
"I welcome the fact around 300 new police officers took the oath of office in April and around a further 300 last week – a vocational choice no doubt influenced by the basic starting salary for a constable in Scotland – which is currently approximately five thousand pounds more than that paid to equivalent officers in England and Wales.
"We will continue to support the force to deliver sustainable excellence by investing over £1.3bn in policing in each of the next four years."
Sir Iain Livingstone, Scotland's chief constable, said: "Officer numbers are lower as a result of restricted recruitment because of Covid-19, the COP26 climate change summit, and increased retirals resulting from changes to pension arrangements. We are recruiting and I welcomed 300 new probationary Constables last week.
"I have been clear the funding arrangements set-out in the Scottish Government's spending review, if progressed, will mean difficult decisions for policing in Scotland – for example a far smaller workforce.
"Workforce planning can assist in understanding how to best meet the increasingly complex policing needs of our communities. But this will be a challenge, particularly as policing in Scotland already delivers around £200m of annual savings compared to legacy arrangements.
"I am grateful to Her Majesty's Inspector of Constabulary for his report, which contributes to our focus on workforce planning while also underlining the complexity of the issue for policing and other sectors."
STV News is now on WhatsApp
Get all the latest news from around the country
Follow STV News
Follow STV News on WhatsApp
Scan the QR code on your mobile device for all the latest news from around the country