Many people with disabilities are still unable to access public transport to get around, STV News has been told, with calls for greater action to boost accessibility.
Concerns have been raised over a lack of accessibility on certain travel routes, whilst a reduction in ScotRail services amidst driver shortages has led to fewer options for people travelling in Scotland.
Campaigners have also highlighted a lack of ramp access at stations, with few alternatives available.
Scottish Labour MSP Pam Duncan-Glancy said that there is a "long way to go on public transport".
"NASA had advertised to put a disabled person on the moon recently and we can't even get a disabled person from one side of the city of Glasgow to the other on the subway because it's not accessible," she told STV News.
"It should not be rocket science to sort this, yet still many, many, many disabled people can't access public transport to get around."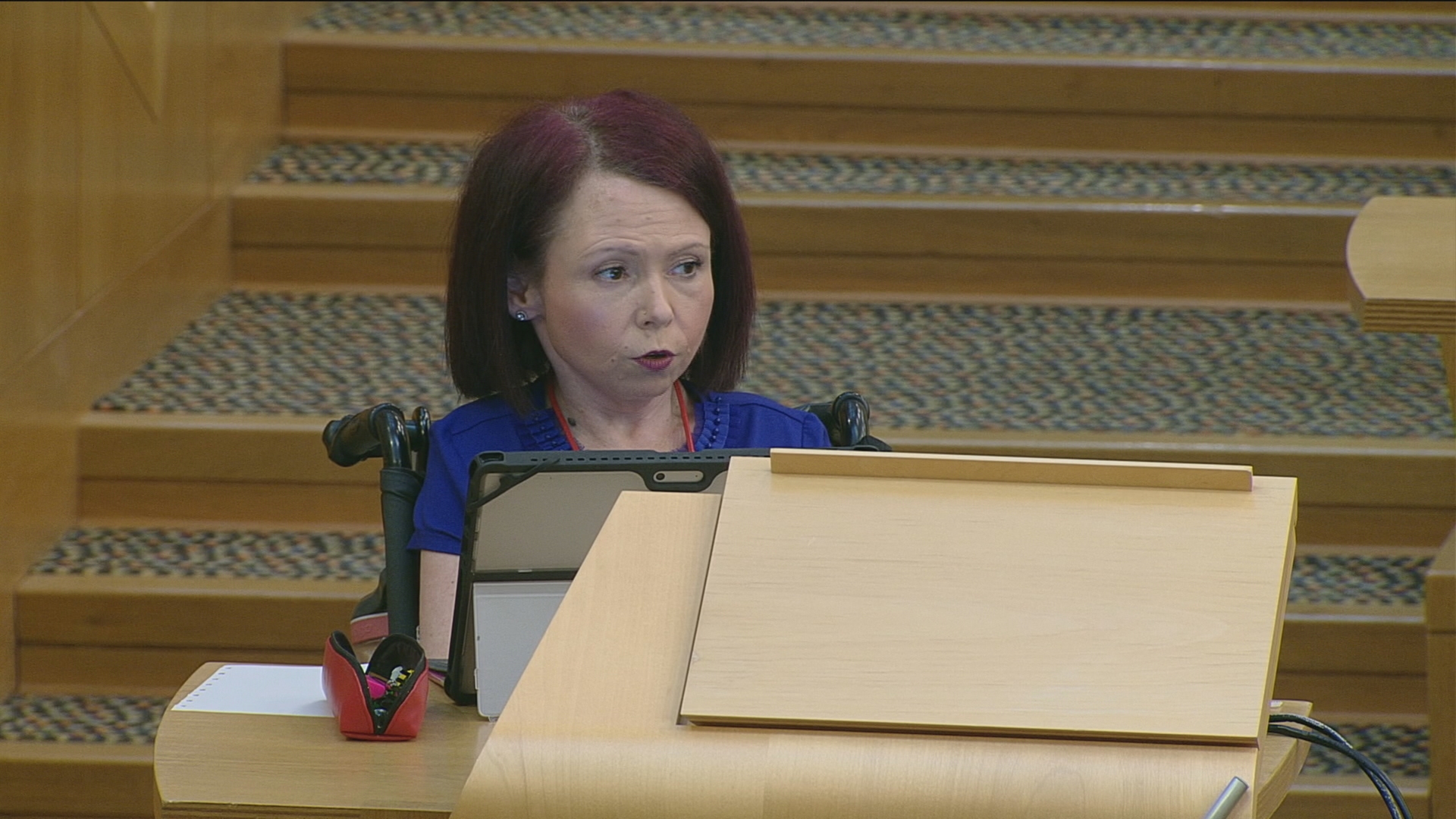 Duncan-Glancy outlined the concerns of travellers as hundreds of ScotRail services were axed.
She said: "The reductions in the timetable have meant that is one possible form of accessible transport that isn't available to disabled people now.
"They can't access the replacement buses where they're available, of course they're not available on all routes.
"They can't access the subway as an alternative, and in some cases, only one wheelchair user or one pram can access a bus so you could be waiting for three or four buses, or more even, before you could use them.
"So, we've got a long way to go on public transport."
The Scottish Labour MSP, who was diagnosed with juvenile idiopathic arthritis at 18-months-old, explained that people living with chronic pain can also be badly impacted when travelling.
"For people with juvenile idiopathic arthritis, or other conditions that cause chronic pain, travelling on public transport can be really, really hard," she said.
"So, potholes on roads when you're on a bus and in a lot of pain can really cause a lot of harm and a lot of pain to people.
"And also waiting about on transport that never comes, or if you don't have a reliable bus service because you can't tell when it's going to turn up, then as someone with arthritis, you might be outside in the cold longer than you need to be.
"That can have a huge impact on your joints and whether or not you're well enough to do something the next day.
"So, all of these things matter. And then of course, there's the distance between when you enter, for example, a train station and get on a train.
"If you're struggling to walk, so many people with arthritis won't use wheelchairs, they'll be able to walk about, but they might need a break.
"And if there isn't any benches or seating areas for people to have a seat on, then that can cause significant problems for people with mobility issues and who are living in chronic pain."
"It's not an ideal situation really, it's difficult."

Geraldine Clayton, Get Glasgow Moving campaigner
Geraldine Clayton, a campaigner for Get Glasgow Moving, highlighted those who have difficulty using trains because of a lack of access.
"Apart from the city centre stations, there are very, very few stations with ramps or access without stairs," she said.
"There are some, but there are many without which means people with disabilities, the elderly, people with pushchairs, find it very, very difficult to get the train."
Ms Clayton also suggested that bus drivers have struggled when helping wheelchair users to get on board.
She said: "I've noticed even on the more modern buses, what usually happens is that the bus driver, when there's a wheelchair, has to get off the bus, has to go around to the front of the bus and physically ramp up, and often they struggle with the ramp to allow the wheelchair to go on.
"Which must be awful for the wheelchair user because it's not just a quick, seamless access, everybody's being held up and you're aware that people are looking at you.
"It's not an ideal situation really, it's difficult."
Phil Campbell, ScotRail's head of customer operations, pointed to the free assistance made available by the train operator to passengers who need it.
"ScotRail is dedicated to making sure that all rail users have equal access, and we'll continue to work with our stakeholders at all levels to ensure that everyone can travel on Scotland's Railway with confidence," he said.
"We already have an 'Accessible Travel Service' where we provide free assistance to customers who need it most.
"Our Assisted Travel team can be contacted at scotrail.co.uk/accessible-travel or by calling 0800 046 1634."
Campbell indicated that ScotRail is reviewing its temporary timetable regularly and making improvements for customers.
"We're sorry to our customers for the disruption they are facing as a result of the reduction in services, and we share their frustrations," he continued.
"However, it's only right that we provide greater certainty and reliability for those travelling.
"We are reviewing the temporary timetable regularly and we're making improvements for our customers."
A Transport Scotland spokesperson acknowledged there is "still work to do" to deliver on accessible travel.
They also said that Transport Scotland continues to engage with organisations representing disabled people.
"We are committed to removing barriers and improving access to travel, including ensuring disabled people feel comfortable and safe using public transport," they said.
"This work is guided by the Accessible Travel Framework for Scotland, which was developed through collaborative engagement with disabled people, their representatives, transport operators and wider transport stakeholders.
"Since the Framework was published in 2016 we have made significant progress in addressing key issues through close work with the Mobility and Access Committee for Scotland, Disability Equality Scotland and our Accessible Travel Steering Group. This progress has been reported since 2019 in our Annual Delivery Plans.
"We do recognise there is still work to do to fully deliver the ambitions within the ten year framework, which is why we continue to engage with disabled people organisations.
"We have recently completed a stakeholder engagement exercise allowing us to identify ways in which the pandemic has impacted access to travel, with a view on responding to this appropriately through our ongoing work."
A spokesperson for SPT has said that it regularly consults with disability groups on order to better understand the challenges being faced and to look for practical solutions.
"SPT fully recognises the difficulties of disability access on public transport and we consider it a priority to ensure that barriers to public transport are, where possible, removed for as many people as possible who wish to travel," they said.
"We have introduced raised kerbs at bus stops to enable level access onto buses, improved bus shelters, and real time travel information offers passengers the most up to date bus arrival and departure times.
"We consult regularly with disability groups so we can better understand the challenges being faced and look for practical solutions to assist.
"In addition, SPT funds the MyBus service specifically for those with reduced mobility, which provides a much more tailored service, and all vehicles are low floor for easier access. This service can be booked via our website or by calling our contact centre."
The spokesperson said that improvements are being made as part of modernising the Subway.
"As part of our Subway modernisation programme, where we have been able to make improvements for those with disabilities we have," they continued.
"This includes introducing tactile paving on platforms in all stations and tactile maps at key stations; introducing 30-point colour contrast stair nosings and adding corduroy tactile strips at the top and bottom of each staircase to assist those with visual impairments transit through our stations.
"In addition, all ticket offices have induction loops for customers with hearing difficulties. We have also installed lifts at Govan and St Enoch's stations to assist those with mobility issues."
They added that the age of the Subway system places constraints on what can be practically achieved.
"Unfortunately, while we are striving to make public transport as inclusive as possible, challenges do remain, the 125-year-old Subway system places a number of constraints on what we can practically achieve," the spokesperson said.
"The Victorian legacy leaves us with severe restrictions and we are not able to provide wheelchair access lifts at all our stations.
"However, where there is a technically feasible solution, SPT remains fully committed and prepared to work to achieve fully accessible integrated transport for all."