The scrapping of peak train fares will save passengers a "huge" amount of money, as well as helping to protect the planet, according to the Scottish Greens.
It comes after John Swinney announced that peak fares on ScotRail services will be removed as part of a six-month pilot.
The move will see ticket prices being lowered during busier times of the day.
A peak-time return ticket between Glasgow and Edinburgh would usually cost around £27.60 for passengers.
However, an off-peak day return ticket for the same journey is significantly cheaper at £14.20.
The six-month pilot is expected to cost the Scottish Government £15m, with a further announcement on the detail of the scheme anticipated in early 2023.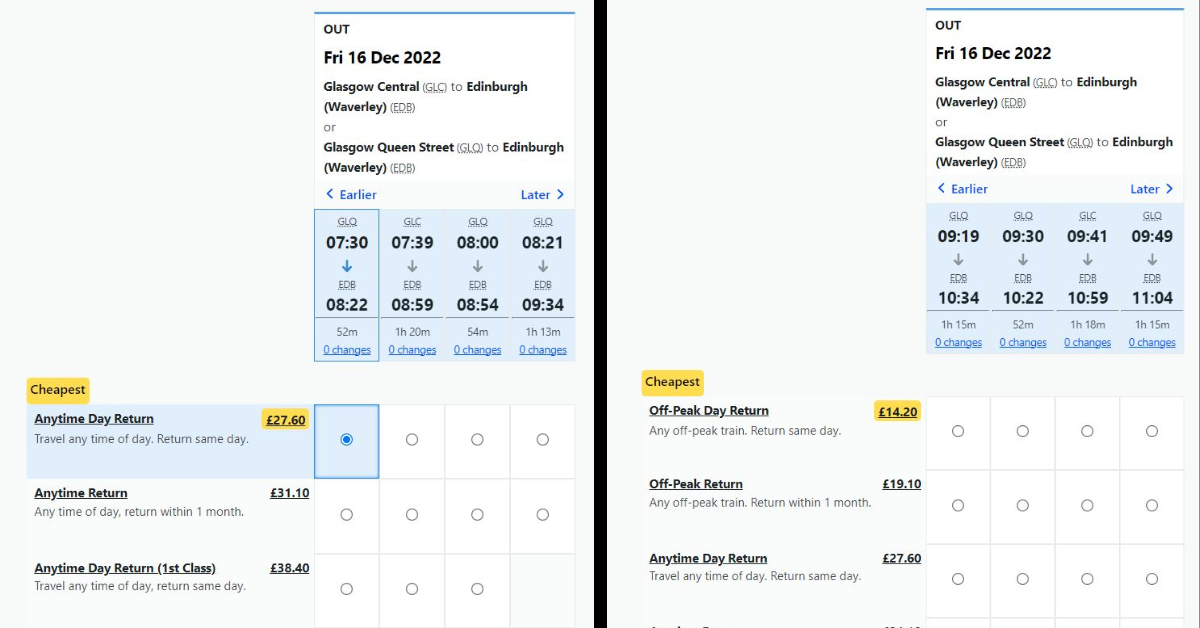 Train drivers' union ASLEF had previously called for peak rail fares to be scraped, having described them as a "tax on workers".
Ross Greer, the Scottish Greens' finance spokesperson, said the move would "open up" the country's railways and make it easier for people to leave their cars at home.
"I am delighted that we have been able to deliver this longstanding Green policy, one which will save rail users a huge amount of money during the cost of living crisis and which will help Scotland meet its climate ambitions," he said.
"This builds on the success of the free bus travel scheme which Greens introduced for everyone under 22 earlier this year. It will play a vital role in ensuring that public transport is an affordable, attractive choice for travellers.
"Removing peak fares will take away the two tier system which currently punishes those who have no choice over when they need to travel to work or study.
"It will open up our railways to all and in doing so, make it cheaper and easier to leave the car at home."
Greer pointed to a number of active measures announced in the budget as he said it was the "Greenest" in Scotland's history.
He continued: "Getting more commuters to travel by bus or train fast tracks the kind of transformational action that will benefit people not only now, but also future generations for whom this becomes the norm.
"No peak fares, free bus travel for people under 22 and record new investment for walking, wheeling and cycling are just some of the reasons why this is the Greenest budget in Scotland's history."
Gavin Thomson, transport campaigner at Friends of the Earth Scotland, also welcomed the move to remove peak-fare pricing.
He said: "It's great news that peak pricing is being removed to help more people to take journeys by train rather than by car.
"Peak fares are currently much more expensive than regular fares and stop people from being able to make this choice, so it's a step in the right direction.
"The move demonstrates how public ownership can keep fares from getting even higher, benefitting passengers and helping support the necessary shift away from cars.
Thomson added: "Transport is Scotland's biggest source of climate emissions, so we need an affordable, accessible, high-quality public transport network to make it possible to get around without cars.
"We need to start thinking of public transport as an essential service, like education or health. It should be available to everyone and free at the point of use."