Two days after the hottest day in the UK's history, rail passengers, apprehensive about what lies ahead, snake their way to platforms and on to trains.
Then starts the lottery of where they will end up and how long it will take. Assuming, that is, they get on a train at all.
Cancellations, often at the last minute, are racking up unplanned for hotel bills, ruining holidays and making a return to work impossible if you are one of the stranded.
Tuesday was the hottest day, a clear sign that the not fit-for-purpose rail infrastructure was going to warp, melt, fail to function and, in so doing, unleash misery on the tens of thousands trying to navigate the UK by train.
So, what happened on that day? This is my diary of the day from hell.
I turned up at Euston Station in London for the 10.30am service to Glasgow Central. Avanti, the train operator, had sent a text to say that the journey time would be longer than the usual four-and-a-half hours. That was pretty much to be expected.
The train was delayed, not by much, but delayed nonetheless. It departed Euston at approximately 10.55am.
The train manager, in one of his many announcements, warned that the indicative arrival times at each station should be taken with a pinch of salt. I thought, 'strap yourself in, this could be an interesting ride'.
An hour in and the first problem emerged. Some carriages had little or no air conditioning. This was travel by oven on wheels. The train manager announced that they would try and reset the computer system to try and get the air con working.
As we hit Crewe we ground to a complete halt as they tried to get the air conditioning system fully operational. The delay was just over half an hour on top of late departure and the occasional hirple up the line, which meant that even a guess at an arrival time was a waste of energy.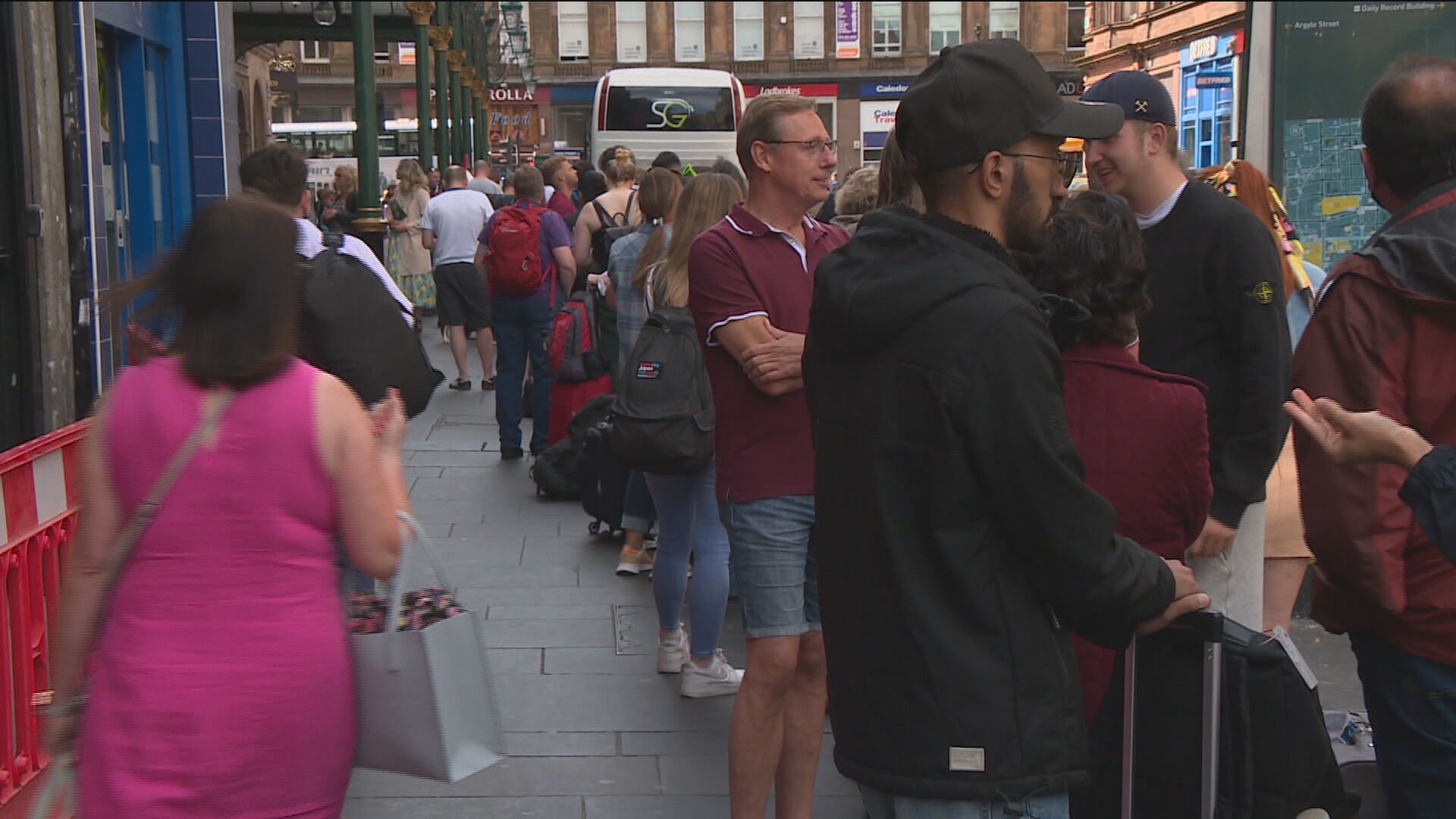 We were off again but not for long. As we arrived at Preston, we ground to another halt only this time for good. The train manager apologised repeatedly for the delays. He was being kept in the dark so everyone on the train was in the dark too.
He announced that the issue was an overhead cable problem at Carlisle. We had no option but to wait until he received more information.
I stopped looking at my watch, but the delay was comfortably an hour and a half.
Then the announcement that all west-coast train services heading north were suspended for the day. Would we leave the train and go to the front of the station to await transport to continue with our journey.
'What followed was chaos'
Chaos that threatened the health and wellbeing of passengers, chaos that was grossly unfair on the beleaguered Avanti staff that had been left in an impossible situation.
Hundreds congregated outside Preston station. The mid-afternoon heat was suffocating. There was no system of order, how could there be? Hundreds had departed a train expecting a fleet of buses only to form a disorderly queue.
Pensioners looked punch drunk. Children became irritable. Passengers got frustrated about the lack of information and even more frustrated at the lack of transport. Two nuns comforted a disabled girl in their care.
Taxis arrived and Avanti staff started to put passengers into them. It was clear that even if every taxi in Preston was on hand it would not be enough. There was no sign of any buses.
The throng of people stretched back into the station. Shouted announcements relating to what was not happening were inaudible. Staff handed out bottles of water to those that they could see, which was a fraction of those who had disembarked the train.
After about an hour, it was suggested that those going north should get on an Edinburgh train that was waiting to depart and was in the station. This appeared odd as the stalled Glasgow train was full of Edinburghers who had booked because the east-coast line was closed.
Get on the Edinburgh train and get off at Oxenholme where hopefully buses will be arranged, was the advice. Most people couldn't hear this advice, so when those who did made their way back inside the station, jostling ensued. Those who couldn't hear asked what was announced.
The result was a stampede for the Edinburgh train, which by this time was rammed. Bewildered passengers who could not get a seat simply slumped to the floor.
I was not keeping a note on time at this point, but the train remained at Preston for some time.
Then a debate ensued among the passengers. Should we get off at Oxenholme on the chance we might get a bus to Glasgow or simply stay on this train to Edinburgh and then travel west?
The consensus: let's stay on this train.
It left Preston but just after Oxenholme, an emergency stop, something to do with signals not working. We waited again. Then we were off, but not for long. Just shy of Penrith, a problem with the track this time. After another 40-minute delay we hirpled into Carlisle.
At this point I thought, clearly the earlier issue at Carlisle has been resolved, so why was the Glasgow service terminated at Preston?
From Carlisle, the train sped to Edinburgh without further delays. Glasgow passengers were told to alight at Haymarket to get the next train west. This involved a wait of 50 minutes.
I eventually arrived in the dear green place at 11.05pm, having arrived at Euston at 10am that morning. It had taken 13 hours to get to Glasgow.
'Questions to answer'
A number of points are obvious from the experience.
One, the rail infrastructure is not fit for purpose. Second, the chaos was not only foreseeable but predictable on the hottest day of the year. Third, Avanti had no plan in place to deal with the chaos, absolutely none.
The train operator has been quick to offer a full refund, but they have more basic questions to answer.
This was foreseeable; it was not a high-risk possibility but a near probability.
Avanti should have cancelled all their services on Monday, Tuesday and Wednesday in good time to allow passengers to make alternative arrangements by air, bus or hired car.
Instead, they soldiered on and have cost passengers hundreds of pounds in additional expense and perhaps even thousands if holidays have been lost.
They have risked the health of passengers by putting them on trains where the air conditioning appears to cut out once the temperature hits 28 degrees.
They seriously risked the health of passengers by having them wait in searing heat outside a station.
It would have been more safety conscious to keep passengers on the train and have them disembark in groups depending on their destination to prevent the chaos at Preston.
I hate when train staff are abused, even when passenger frustration is understandable.
Avanti added to the problems of their own employees by deploying inadequate numbers and by keeping train managers in the dark. Their inactions amounted to a risk to the wellbeing of their own staff.
If this was predictable, why did they not have buses on standby at key points along the route?
I spoke with Avanti employees at Euston, Preston and Edinburgh. They all told me the same story. Avanti put profit above all else and that includes the wellbeing of passengers and their own employees.
I have rarely heard such exasperation from staff against their employer. All said the same, 'it's the passengers we feel for'. They told me of people off with stress, of a system under the cosh even when the weather doesn't wreak havoc.
A final word. Three cheers for these workers. They did their best in an impossible situation. They are in no way to blame for inadequate planning. That responsibility rests with their highly paid bosses who should be red faced and not just from too much sun.
What is Avanti saying?
A spokesman said: "The safety of our customers as well as staff is of paramount importance to us and is untrue to suggest otherwise. As a result of the unprecedented, extreme heat on July 18 and 19, we ran a much reduced timetable for essential journeys only as a result of imposed speed restrictions.
"The planned travel advice to customers from Network Rail and all UK rail operators was to 'travel only if necessary' and was issued in advance of the heatwave on our customer communications channels.
"In the afternoon on 19 July, where peak temperatures were reaching 40C, we saw multiple incidents on the West Coast Main Line which closed the railway in to London Euston.
"As a result, we stopped running trains across our network issuing advice for people not to travel and not to come to the station."
STV News is now on WhatsApp
Get all the latest news from around the country
Follow STV News
Follow STV News on WhatsApp
Scan the QR code on your mobile device for all the latest news from around the country