A "pupil" of one of the most dangerous internet sexual predators ever investigated by the National Crime Agency (NCA) has admitted a raft of blackmail and online sex offences against children and adults.
Anthony 'Danny' Burns, 39, worked with notorious online child sex offender Adbul Elahi, who was jailed for 32 years in December 2021 after targeting 2,000 people globally to commit sadistic online abuse.
Two of the victims were from Scotland at the time of offending.
Between May 2018 and March 2021, Burns used "sugar daddy" websites to trap dozens of unsuspecting females into performing sexual and degrading acts under the threat of blackmail.
One of his 39 victims was an eight-year-old girl in the US, who was abused by her mother following sustained coercion by Burns.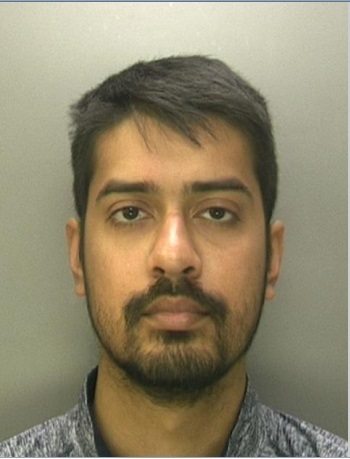 Burns attempted to contact approximately 600 people around the world with the intention of sexually exploiting them.
The NCA said that work is ongoing by international partners to identify any further victims.
Elahi, who was described by one of his teenage victims as a "cancerous polyp of a human", "tutored" Burns on the psychology of blackmail, including techniques such as scripted wording to help gain the trust of victims, and provided instruction on how they would respond to threats and what to say to them.
Burns, originally from Lowestoft but of no fixed abode, used multiple online personas to ensnare his victims, including posing as the head of a model agency searching for clients. He also pretended to be an NCA officer on one occasion.
Once Burns had gained the trust of his victims, he moved them to WhatsApp which is protected by end to end encryption.
Once his messages had been read, Burns was able to delete them from his and his victims' phones, thereby removing visible evidence.
All the victims were ordered to film themselves carrying out sexual acts in the belief they would be paid £600, but the money was never transferred to them.
When he had received enough explicit material, Burns threatened to expose the pictures to the victims' families and friends unless they sent more increasingly depraved photographs and videos.
The severity and nature of the demands became more degrading at the point that Burns had entrapped the victims through the threat of exposure.
Burns blackmailed the mother of the American girl, who he coerced into sexually assaulting her daughter on two occasions.
NCA officers arrested Burns in February 2019. His mobile phone and computers were seized and forensically examined.
NCA operations manager Robert Slater said: "Anthony Burns showed remorseless cruelty in controlling and coercing his victims, including very young children, into acts which have left them severely traumatised.
"The NCA is determined to identify and pursue the most harmful child sexual offenders, including those who exploit technology to hide their activities and target large numbers of victims, no matter where they are.
"Anyone being pressured or threatened into sending sexual images or videos online, should remove themselves immediately from the conversation, not respond further to any contact, and report the matter to police.
"You are not alone, you are not to blame and there is always help available."
If you are concerned about your safety online, visit www.getsafeonline.org or call the Samaritans on 116 123 for confidential support.
Child protection charity The Lucy Faithfull Foundation also runs the Stop It Now! helpline – 0808 1000 900 – which offers confidential advice to anyone concerned about their own or someone else's behaviour towards children.