As Christmas rounds the corner, families across the country will be looking forward to the big day.
While little ones may be eager to see what Santa is bringing this year, spending time together as a family is an excellent reminder of what the season is truly about.
Whether it's a fun day out at a pantomime, painting decorations or singing your favourite carols, take a look at our handy guide for some fun festive ideas all the family can enjoy.
Get baking
Christmas just wouldn't be Christmas without some sweet treats to snack on, so why not crank up the festive tunes and enjoy a sugar-filled day in the kitchen? Get the whole family involved by making a homemade gingerbread house, or use a pre-made kit for a helping hand. Go crazy with icing and sweets or take on the challenge of recreating your own home or even one from a festive film such as Home Alone.
Grandparents and neighbours will appreciate a homemade hamper of treats, so bags of tablet, fudge and iced biscuits tied with a bow will go down well as thoughtful gifts. And of course, Santa would be delighted with some homemade mince pies to elevate his December 24 plate alongside Rudolph's carrot.
Make homemade ornaments
Festive themes for Christmas trees are all well and good, but nothing beats a homemade ornament made with love adorning the branches. A simple salt dough made with two parts plain flour, one part water and one part salt is the perfect way to get the whole family involved. Cut out shapes using biscuit cutters and add a hole at the top for the string before baking or get crafty making model snowmen, angels and even Santa himself. Decorate to your heart's content once cool but make sure to varnish afterwards to keep decorations looking good as new year after year.
If you're looking to make memorable keepsakes, non-toxic clay is a great option for pets and small children. Press paws, hands or feet into pre-cut clay shapes then bake before decorating with the date. For little ones with less attention span, let them go wild with a pack of cheap baubles, PVA glue and lots of glitter.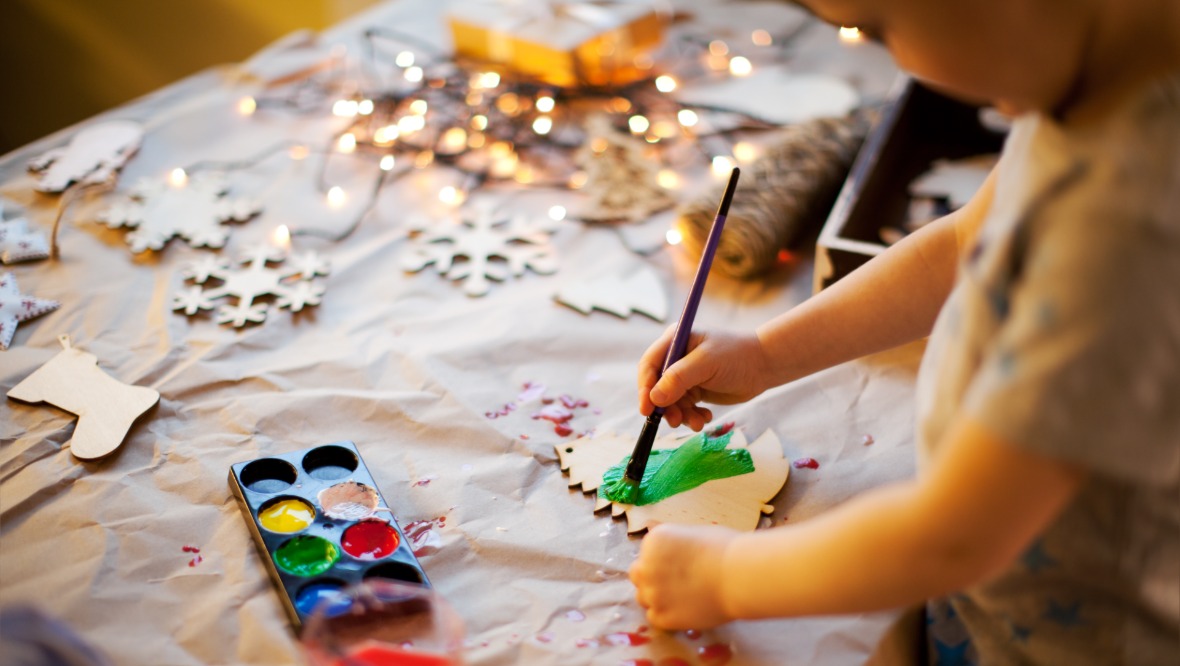 Enjoy a pantomime
Last year the traditional trip to the pantomime was cancelled due to the pandemic, however shows are back with a bang for 2021. Stars such as Elaine C Smith and Gary Tank Commander are returning to the stage in Glasgow for Cinderella and Aladdin respectively, while Jordan Young, Allen Stewart and Grant Stott star in Sleeping Beauty in Edinburgh alongside the late Andy Gray's daughter Clare.
However if in-person performances aren't for you just yet, there are plenty online shows you can take part in for some festive fun. Panto Live are streaming two shows this year for families to enjoy from the comfort of their own living room. For a set price, families can tune in to classic panto Cinderella or a unique Santa show in the run up to Christmas. Interactive buttons will allow audience members to cheer their favourites and boo the baddies, with an activity pack also available to download as part of the price.
Make a life-sized Santa drawing
For a fun activity on a dreary day in the run up to Christmas, grab a large roll of paper or leftover wallpaper and draw around the outline of a willing adult with pencil. Neaten up the edges and then add Santa's outfit, beard and hat before letting kids go wild with paints, colouring pencils or felt-tip pens. For a festive touch, stick cotton wool balls onto his beard, hat and coat trim using PVA glue then once dry, cut out Santa and use him to decorate a doorway that needs a Christmassy touch.
Get your skates on
Bundling up with scarves and strapping on skates is one of the most festive things you can do over the Christmas period and this year sees the return of a number of outdoor rinks. In Glasgow, the front of Kelvingrove Museum has been transformed with a fully-covered outdoor rink and light display, with a cafe serving hot chocolate and marshmallows and The Candy Bar offering festive food and drink. A silent snow disco is also on offer for those looking to dance the night away.
Meanwhile in Edinburgh, an ice rink has popped up on George Street for the festive season, which is wheelchair accessible and offers double-bladed skates for little ones as well as skating aids to help them find their feet. And at Aberdeen's Christmas Village, the outdoor rink has returned for 2021 on Broad Street set against the backdrop of Marischal College. A relaxed skating session with low music and no strobe lighting is also planned for December 23 for a more inclusive experience.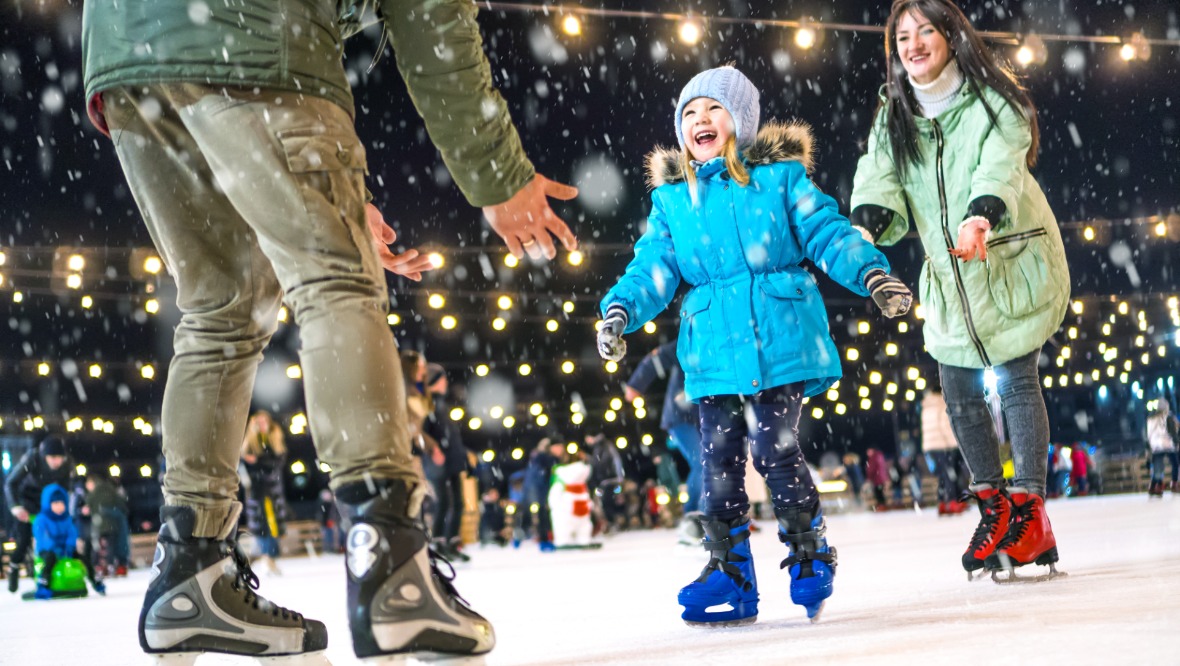 Host a family festive quiz
If lockdown hasn't given you zoom quiz fatigue, then a puzzling 'pub' quiz is a great way to get the whole family together in the run up to Christmas without resorting to movie marathons. Gather a mix of festive questions that will suit the gathered age group and designate a quiz master to host the evening. To extend the fun, family members can guess which Christmas song is playing in a music round, act out the titles of famous carols in a charades section and guess which chocolate they've been given in a blind taste test with tins of festive favourites.
Organise a family Christmas concert
Sadly some families missed out on seeing little ones perform in plays and pageants this year due to ongoing restrictions, but that doesn't mean you can't host your own from the comfort of your own home. Children can spend time designing tickets and programmes printed with the lyrics before practising their favourite songs and carols. Giving everyone a job will make the proceedings feel more formal, so make sure to have refreshments ready and someone on the 'door' to hole punch tickets.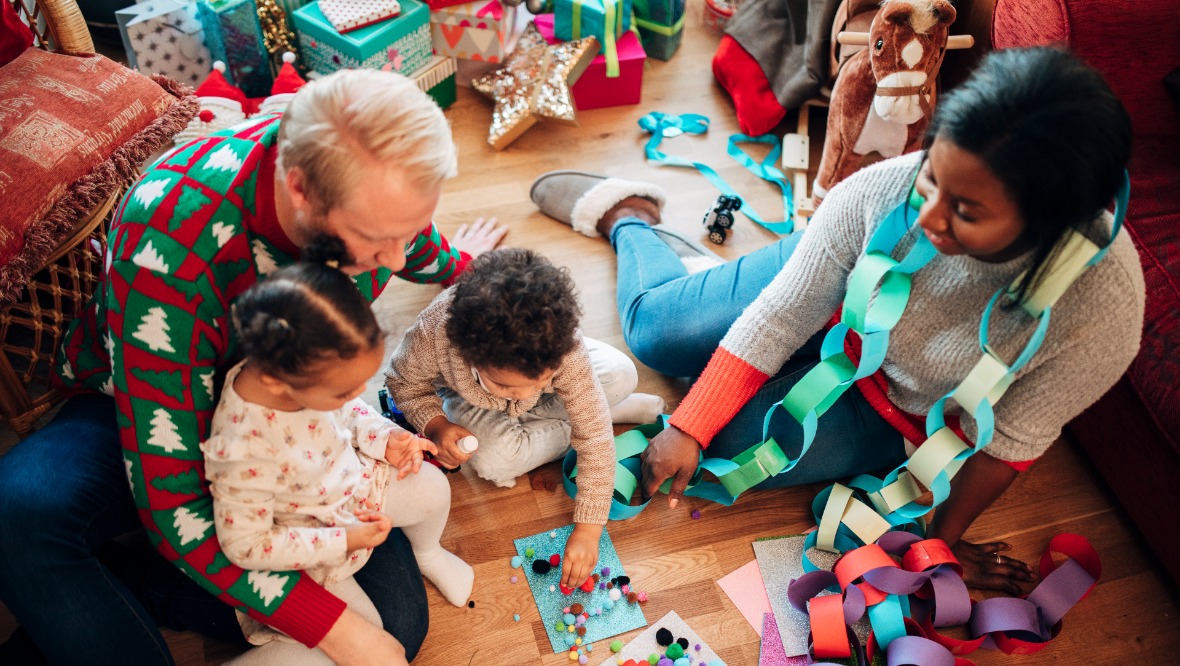 Make paper decorations
They may seem a little chintzy, but there's something rather nostalgic about homemade decorations made with little more than sheets of paper, a little glue and some crafty work with scissors. Paper chains are a classic and can easily be strung together using glue dots, glue sticks, sellotape or stickers. Use brightly coloured paper strips to decorate children's bedrooms or choose a more subtle theme to decorate the tree. Paper snowflakes can look incredibly festive strung in front of windows, so why not stick on a festive movie and cut shapes from folded paper circles as a chilled evening activity.
Go for a winter walk
There's nothing better than getting out for a long walk to blow away the cobwebs after Christmas and one too many pigs in blankets. Choose a local park with smooth surfaces for children to play with new scooters and roller blades or pick a wooded area for a long ramble with flasks of tea and hot chocolate to warm up with afterwards. Check out the Visit Scotland website for route ideas, as they've pulled together some of the best walking trails in Scotland this winter.