Nicola Sturgeon has announced she is writing a memoir.
The former first minister announced her book will be published by Pan MacMillan after a reportedly a nine-publisher auction.
The book will chart how she went from a "shy child from a working class family in Ayrshire" to "the steps of Bute House as Scotland's first female and longest serving First Minister".
"The result will be a deeply personal and revealing memoir from one of Britain's most significant political leaders of recent times," the publisher says.
Announcing the news on social media, Sturgeon said she has always had the "ambition to write".
However, she added that the announcement was "bittersweet" as she is due to attend the funeral of her uncle, journalist Iain Ferguson.
She wrote: "Very excited to be doing this. I've always had an ambition to write.
"It is slightly bittersweet today, though, as I head to the funeral of my uncle, the journalist Iain Ferguson. This is something that I always hoped we might work together on some day.
"Instead, it will be a book I dedicate to him."
The as-yet-untitled memoir will be published on the Macmillan imprint in hardback, e-book and audio in 2025.
Mike Harpley, Pan MacMillan's non-fiction publishing director, said: "As well as spending her career in frontline politics, Nicola is a lifelong avid reader, lover of literature and a keen supporter of bookshops and the wider book trade.
"As a result, it is no surprise that the extracts she has already written are notable for their wit, honesty and excellent writing. We are very much looking forward to working with her on this book."
Sturgeon stated: "I am thrilled to be working with Pan Macmillan, a globally-renowned publisher with proud Scottish roots.
"I have loved my life in politics, but ever since I was a child I have harboured an ambition to write.
"Embarking on this book is therefore exciting, if also daunting.
"I aim to chronicle key events of the past three decades of Scottish and British politics and take the reader behind the scenes to describe how it felt to be 'in the room', who else was there, the relationships involved and how decisions were arrived at.
"I will talk about what I am proud of and be frank about my regrets.
"I will reflect on the challenges of being a woman in politics and reveal more about the person behind the politician.
"I will also draw on my 35 years of experience to offer some thoughts on the future of Scotland, the UK and democracy in general."
Nicola Sturgeon – a timeline
1999-2014 – Rising star to deputy leader
Nicola Sturgeon has been a long-standing supporter of independence since her teenage years, campaigning for the SNP while at university studying law.
She became the youngest ever parliamentary candidate in Scotland aged 21 in 1992 for Glasgow Shettleston, but was defeated by Scottish Labour by a margin of 15,000 votes.
At the opening of the Scottish Parliament, she won a seat for Glasgow on the regional list in 1999 aged 29 and took up shadow roles for education and health.
She quickly rose through the ranks of the SNP, serving as the party's deputy leader from 2004 to 2014.
November 2015 – Scotland's first female First Minister
Alex Salmond resigned as First Minister the day after losing the independence referendum in 2014, and Sturgeon was soon elected as Scotland's first female leader.
Six months into her role she oversaw a historic landslide for her party in the UK's general election in 2015, winning 56 of 59 seats.
May 2016 – SNP falls short on majority in Scottish election
In 2016, the SNP lost six seats and the party's overall majority as the Scottish Conservatives made gains with 31 seats.
The party continued as a minority government with 63 MSPs and often relied on the Scottish Greens to pass budgets and other legislation.
June 2016 – Brexit and a mandate for Scottish independence
Later that year, the UK voted to leave the European Union in a referendum dubbed Brexit by 52% to 48%.
Around 62% of Scottish voters backed remaining in the European bloc.
The First Minister said a second Scottish independence referendum was "highly likely" in the event of a hard Brexit.
March 2017 – Section 30 order
The following year, MSPs voted by 69 to 59 to allow the Scottish Government to discuss a Section 30 order, which would hand Holyrood devolved powers to hold another vote.
June 2017
After the SNP lost 21 seats in the General Election, Sturgeon announced intentions to put another referendum on hold.
Jan 2018 – Two female colleagues make complaints over Salmond
In 2018, Sturgeon became involved in a high-profile legal case related to allegations of sexual assault against her predecessor and mentor Salmond.
Two female staff members of the SNP lodged formal complaints to the Scottish Government about Salmond's conduct in December 2013 while he was serving as first minister, prompting an internal investigation.
Salmond denied the allegations and launched legal proceedings against the Scottish Government, alleging that the investigation was flawed.
In 2019, the Scottish Government admitted the investigation had been mishandled, and the case against Salmond was dropped.
A separate criminal case was brought against the former first minister and in March 2020, he was acquitted of all charges.
March 2018
Salmond is made aware of the investigation and Sturgeon is brought into a meeting with former chief of staff Geoff Aberdein to discuss the allegations.
The SNP leader claims she has forgotten about the meeting until "late January/early February" 2019 in evidence given to a committee investigating the handling of the complaints in 2020.
April 2018
Salmond tells Sturgeon he is under investigation in a meeting at her Glasgow home. She claims she believed at the time the meeting was related to party business, but that it touched upon the ongoing case.
Salmond claimed in written evidence to the inquiry that the First Minister "suggested that she would intervene in favour of a mediation process at an appropriate stage" but later decided against it.
August 2018
The Crown Office passes on complaints about Salmond to police. Salmond lodges a judicial review at the Court of Session in Edinburgh.
September 2018
Police confirm that a separate investigation is under way into the complaints made against Salmond.
January 2019
Sturgeon denies any wrongdoing and refers herself for an independent investigation over whether she breached the ministerial code in her meetings with Salmond.
In 2021, the Scottish parliamentary committee concludes Sturgeon did not breach the ministerial code in relation to the Salmond case, but criticises her for giving an "incomplete narrative" to Parliament.
December 2019
The SNP clawed back seats in the 2019 General Election, returning 48 MPs – which sees the First Minister renew calls for a second independence referendum.
March 2020 – Alex Salmond walks free from court
In March 2020, Salmond is acquitted of all 13 charges at the High Court in Edinburgh.
March 2020 – First Covid case recorded in Scotland
Sturgeon's leadership through Covid was supported by the vast majority of Scots, with the leader addressing the public in daily coronavirus briefings.
Her cautious and evidence-based approach and daily briefings saw an increase in her approval ratings, which had been gradually declining before Covid hit.
The first case of coronavirus was reported in Tayside, Scotland in March 1 and three weeks later, the First Minister announced Scotland would go into a full lockdown.
She received criticism in some quarters for the lockdown's impact on the economy, from sectors such as businesses and hospitality.
Sturgeon was also forced to defend her handling of the care homes scandal, where 1,300 people were discharged from hospitals into care homes without receiving a negative test for the virus.
The sector claimed it was "let down" at the beginning of the pandemic.
February 2021 – Parliamentary investigation over Salmond case
In early 2021, Salmond gave evidence to a Holyrood committee set up to investigate the handling of the sexual misconduct complaints.
He asserted that Sturgeon broke ministerial rules and misled MSPs over his investigation, which she denied.
March 2021 – Calls for FM to resign
The Scottish Conservatives called on the First Minister to resign after the Scottish Government published legal advice relating to the botched investigation.
Deputy first minister John Swinney agreed to hand over the legal advice under threat of a no-confidence vote, and acknowledged "reservations were raised" by government lawyers about the way allegations about Salmond were investigated.
A spokesman for the First Minister branded the call for a vote of no confidence in the middle of a pandemic, before hearing the First Minister's evidence, "utterly irresponsible."
Sturgeon gave evidence to the committee asserting that she did not intervene in the investigation and described Salmond's claims of a plot against him as "absurd."
She was then cleared of breaching the ministerial code on March 22 in an independent report by judge James Hamilton QC.
On March 2023, Sturgeon was found to have "misled MSPs" over her accounts of her April 2018 meeting with Salmond by the Committee on the Scottish Government Handling of Harassment Complaints.
MSPs noted there was a "fundamental contradiction" in her evidence on whether she told Salmond she would intervene in a Scottish Government harassment inquiry on his behalf – which amounted to a potential breach of the ministerial code.
The findings stopped short of ruling Sturgeon misled parliament "knowingly."
She survived a vote of no confidence by 65 to 31 with 27 abstentions.
May 2021 – SNP's fourth consecutive Holyrood victory
The SNP won 64 seats in the 2021 Holyrood election, with the First Minister announcing she was in talks with the Scottish Greens over a co-operation agreement.
August 2021 – History-making co-operation between SNP and Greens
The co-operation agreement between SNP and Scottish Greens was announced three months later, formalising a pro-independence majority in parliament.
October 31 2021 – COP26 opens in Glasgow
COP26 arrived in Glasgow later that year, with the First Minister meeting with foreign dignitaries at the global environmental conference.
May 2022 – Sturgeon becomes longest-serving FM
In May 2022, Sturgeon broke the record of seven years and 185 days to become the longest-serving First Minister for Scotland.
June 2022 – Sturgeon sets date for indyref2
The following month, Sturgeon set out the route map for holding an independence vote on October 19, 2023.
She announced she had written a letter to Prime Minister Boris Johnson to negotiate a Section 30 order granting Holyrood powers to hold the vote.
If the referral from Scotland's top lawyer, the Lord Advocate, was blocked by the Supreme Court, she announced that the next general election would serve as a de facto referendum.
September 2022 – Government under fire over Calmac ferry fiasco
The Scottish Government came under fire over delays and overspends of two Calmac ferries after leaked documents revealed the state-owned Ferguson shipyard received preferential treatment in the procurement process.
Ferguson Marine was awarded the contract for two vessels in 2015, but later cost estimates would put the price of the ferries at more than £240m.
She later said any suggestion the contract represented "jobs for the boys" was categorically untrue and that she was not aware of any impropriety, though she branded the allegations "serious."
She said: "I don't believe that there was any intention to mislead, not least because it would have been very obvious to anybody who had any knowledge of this."
November 2022 – Supreme Court blocks indyref2
The Supreme Court ruled in November 2022 that the law does not allow Holyrood to legislate for an independence referendum without Westminster's agreement.
Sturgeon said she was disappointed but accepted the decision with a view to discuss a de facto referendum in the new year.
She said: "Today's ruling blocks one route to Scotland's voice being heard on independence – but in a democracy our voice cannot and will not be silenced.
"The case for Scotland becoming independent is more compelling and urgent than ever."
December 2022- Gender reform bill passes through Scottish Parliament
Plans to reform how a transgender person changes their sex on their birth certificate passes in Scotland following marathon debates around more than 150 amendments.
It was passed with 86 against 39 voting in favour of the reforms.
The Scottish Government insisted that the Bill will not introduce new rights for trans people, but is about "improving" the way that trans people gain legal recognition.
Sturgeon defended her Government's Gender Recognition Reform Bill, describing the need for a medical diagnosis as "one of the most intrusive, traumatic and dehumanising parts of the current system" and added: "I will never apologise for trying to spread equality, not reduce it, in our country."
The Bill was vetoed by Westminster in January in a move which Sturgeon described as "a full-frontal attack on our democratically elected Scottish Parliament."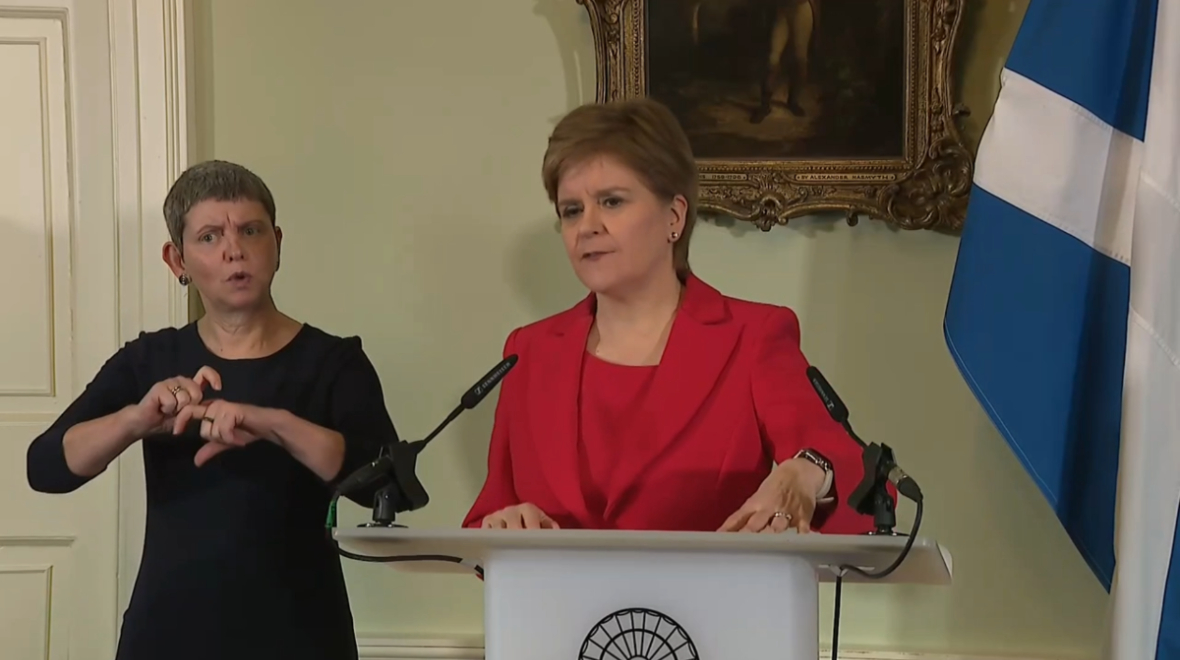 February 2023
Sturgeon said she had "freed the SNP" after announcing her intention to resign as the First Minister of Scotland.
The SNP leader said she could "no longer give the job everything it deserved" more than eight years after taking office in an emotional press conference at Bute House in Edinburgh.
The FM said she had "wrestled" with the decision for a considerable period, but added there was a greater "intensity and brutality" of life as a leading politician in the modern era, citing the "physical and mental impact" on her as a major factor.
Sturgeon, who will remain in office until her successor is announced, added the move was not a reaction to "short-term pressures," but rather to allow the party the best opportunity to pursue independence "without worrying about the perceived implications for [her] leadership".
March 2023
In her last weeks as First Minister, the SNP was plunged into turmoil as candidates vying to succeed her faced-off in bruising leadership debates.
Then it was revealed the party had suffered huge membership losses with around 30,000 members leaving in the last two years.
The party's communications director, Murray Foote, quit after being told "false information" over the number of people eligible to vote in the leadership contest.
Then Sturgeon's husband Peter Murrell resigned as chief executive of the SNP after being threatened with a vote of no confidence.
In his resignation letter, Murrell said responsibility for the disclosure – which had been questioned by several journalists – "ultimately fell on [him]," though said he had intended to stand down at the end of the leadership contest regardless of who was victorious.
In the week before the winner of the contest was due to be announced, Sturgeon carried out her last duties as First Minister as well as making an appearance on Loose Women.
In one of her final acts as First Minister, Sturgeon fought back tears as she formally apologised to women in Scotland who were forced to give up their babies for adoption.
The recognition was the first official apology in the UK to tens of thousands of unmarried mothers "shamed" and "coerced" into having their babies adopted.
Then, on Thursday, March 23, held back tears as she made her last speech as First Minister following her final FMQs.
She said nothing in her life will ever come close to the "profound honour".
Humza Yousaf was then elected as her successor.