After months of denials and delays in this long running extradition case, finally a decision. 
From the man at the centre of this bizarre case, there was one last parting shot.
Rape suspect Nicholas Rossi claimed to be too unwell to come to court to hear the sheriff's decision.
The 35-year-old did appear via video link from Saughton Prison and slumped over in his wheelchair, he hid his face from the camera.
"Are you Nicholas Rossi? Also known as Arthur Knight? " asked the clerk. There was no reply. When his lawyer then tried to have his client excused, in an angry outburst Rossi claimed he had been brought before the court by "physical force" and called Sheriff Norman McFadyen "a disgrace to justice." The video connection was cut.
Sheriff McFadyen went on to conclude there is no legal barrier to extradition. Rossi, he said, "was as dishonest and deceitful as he is evasive and manipulative. "
Rossi's antics in court came as no surprise to myself and others have been following the twists and turns of this case as it has slowly made its way through the Scottish courts since his arrest in Glasgow in Dec 2021.
Rossi repeatedly moaned during his latest hearing about the media circus surrounding him but it is one he attempted to orchestrate soon after his first appearances before a sheriff.
"I am considering offers," wheezed the man wearing an oxygen mask.
I have covered legal cases for many years but had never before left a courtroom to find the accused, sitting in a wheelchair, requesting business cards from assembled reporters.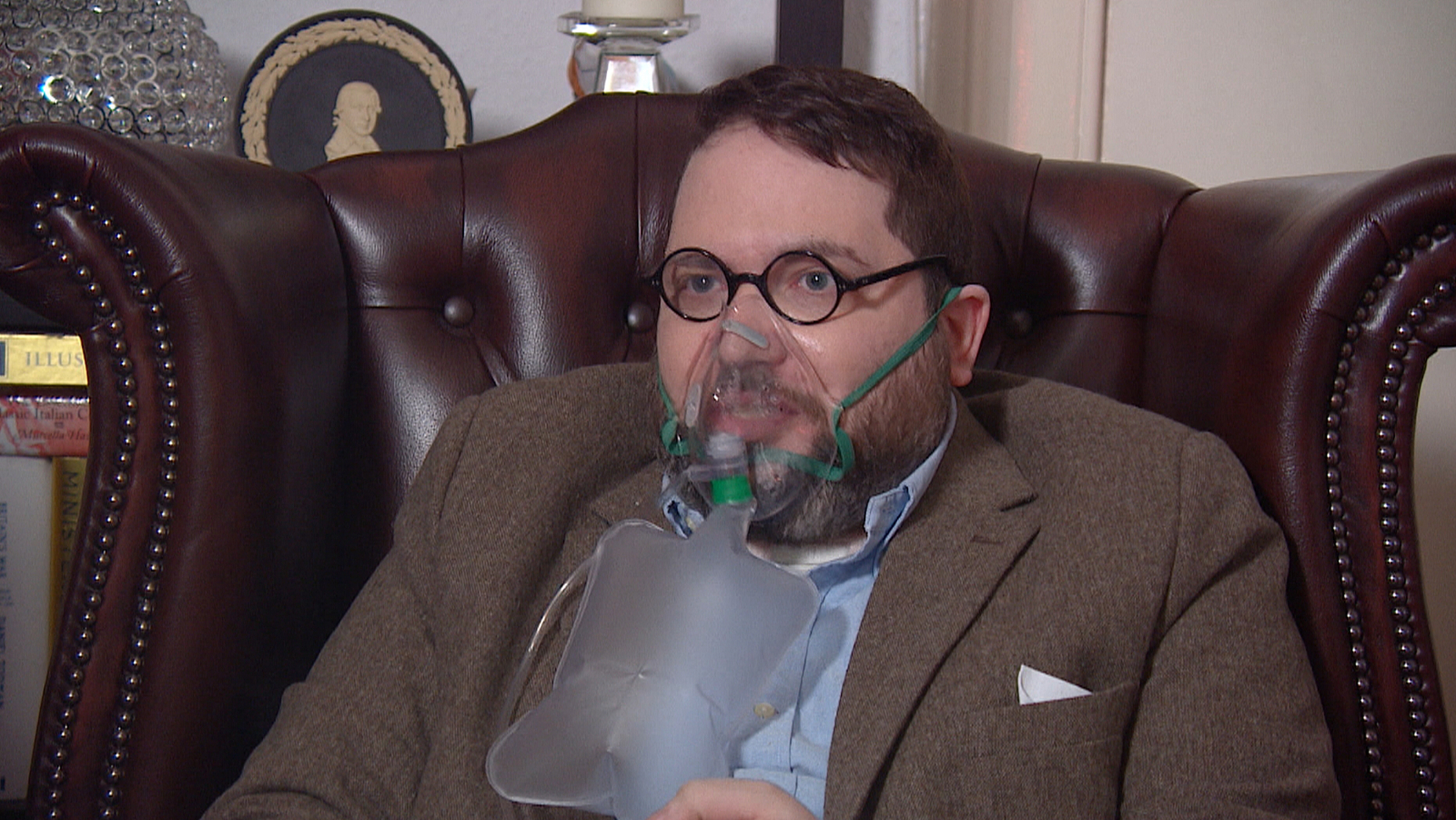 The man calling himself Arthur Knight had already made quite an entrance at Edinburgh Sheriff court in February 2022, arriving in a wide rimmed hat, dark glasses, a three-piece suit and an oxygen mask. His wife trailed behind with the trolley holding the cylinder attached to her husband.
Days later, I found myself inside 'Arthur's' flat in Glasgow's Woodlands and what followed is the strangest interview of my career.
"Who are you?"  In any other interview situation, it is a simple opening question. Over three minutes later, I was still listening to a rambling explanation for various aliases.
An extraordinary tale of an Irish orphan who had changed his name from Nicholas to his middle name, Arthur because of "night terrors" due to childhood bullying. After his marriage to Miranda, he said he went by "Arthur Knight Brown," a surname later shortened to Knight.
I was shown a marriage certificate and a special license from the Archbishop of Canterbury but nothing dated before 2020. Promises were made that "irrefutable proof" would be sent on to me. This email never arrived.
Others including the Scottish court service were also left waiting to see any real documentation such as a birth certificate.
Rossi avoided questions about his childhood and upbringing. In his ruling Sheriff McFayden said: "I conclude because that is a canvas on which he has not yet chosen to paint."
Back in the Glasgow flat last year, I was shown the couple's wedding photo and snaps taken in London and on a steam train.
"I must be the worst fugitive in the world if I'm going to Westminster Abbey and having my photograph taken there," quipped "Arthur," who then went on to claim "corrupt US prosecutors" had hacked his wife's phone to gain access to the photographs included in the Interpol notice.
In the 2022 interview, he continued to try and plant the seeds of a story he later repeated in court. A version of events dismissed as "implausible and fanciful" by the sheriff.
He claimed his fingerprints and DNA had been taken illegally from while he was treated for Covid in a Glasgow hospital by a medic called Patrick.
For a man who insisted he is the victim of mistaken identity, he knew a lot of detail about Nicholas Rossi – or Rosey – as he pronounced it.
The convicted sex offender is wanted in Utah in connection with two rapes and a sexual assault. Listing off details from the fugitive's criminal record, the man sitting in Glasgow claimed he needed to know this level of knowledge to properly fight the case in the states.
Rossi had distinctive tattoos, but "Arthur" became tired when asked by several reporters to reveal his arms. He later claimed in court he was tattooed while unconscious in intensive care.
Ahead of his earlier hearings, Rossi arranged press conferences in hotels claiming to have "bombshell revelations" and fumed when our cameras failed to turn up. He arrived once for a hearing with his own recording equipment, stating he would be "the one asking the questions."  Following another court appearance, his oxygen tank detached and rolled away down the street. He appeared not to notice.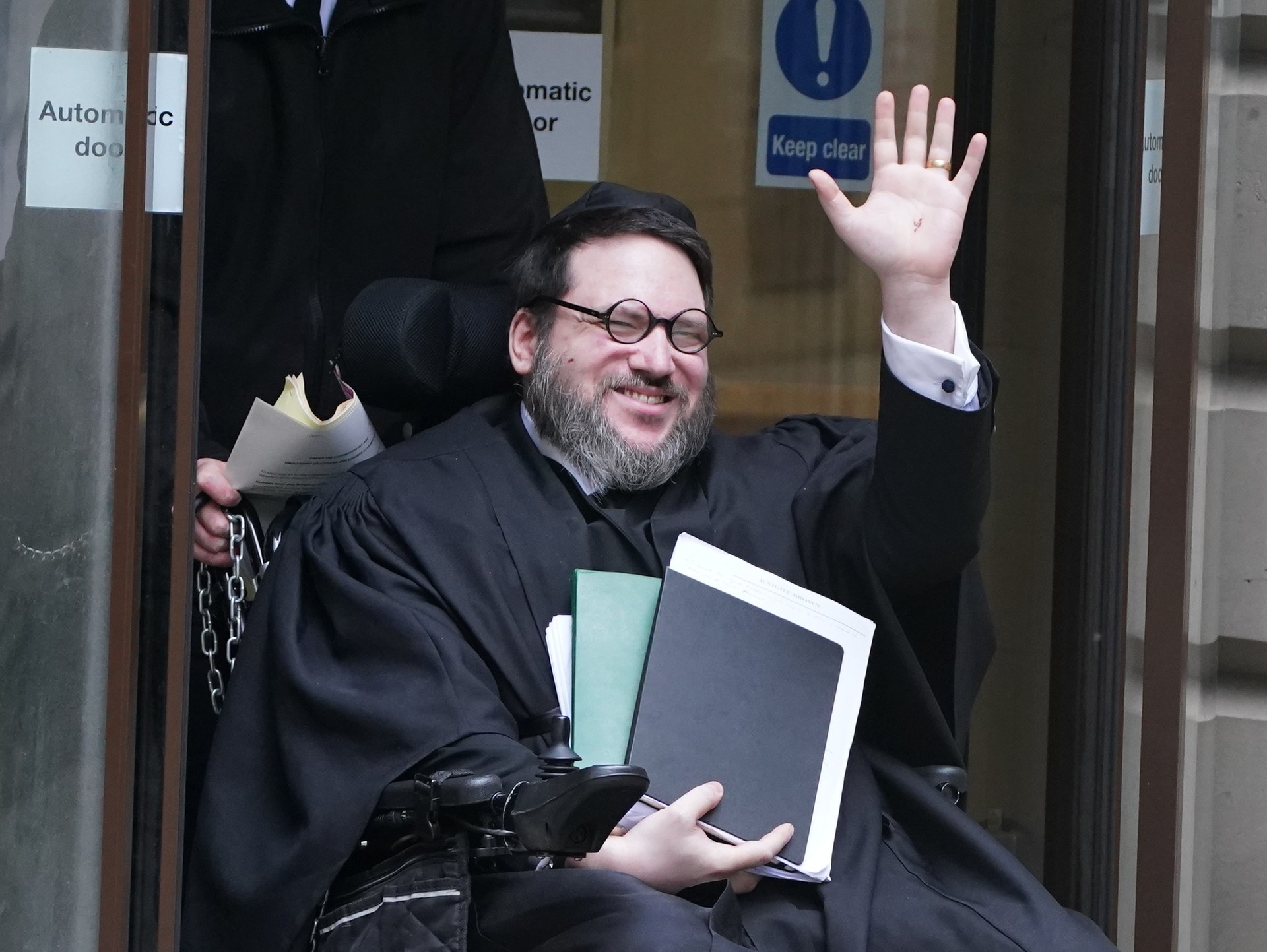 Rossi repeatedly tried to delay the extradition process. He was convicted of assaulting Glasgow hospital staff when they refused to admit him. He repeatedly sacked his lawyers. At least six were dismissed – on one occasion, because the lawyer had used his real name and called him Nicholas Rossi.
Following the death of the Queen, he asked the Sheriff to hold a minute's silence for the late monarch. He also claimed repeatedly he was mistreated and bullied in prison. Throughout the latest hearings in June, he wore a black robe similar to those worn by the legal profession and sat at the table next to his defence team, surrounded by files. He claimed his gown was traditional orthodox Jewish clothing.
The man who described in evidence how health issues had left him unable to lift his arms above his head, would later wave to the waiting cameras as he was wheeled into the prison van.
In the era of true crime podcasts and Netflix series, an elaborate tale of a double life continues to fascinate on both sides of the Atlantic. Documentary makers sat alongside reporters. Those who know Rossi say it's a story concocted by a man they say is "a tornado who tears lives upside down." 
Former Rhode Island politician Brian Coogan, almost adopted Rossi as a teenager, was one of the sceptics when Nick's "death" was announced in 2020. Coogan now hopes the victims affected by Rossi's alleged crimes will finally have their voices heard.
Brian Coogan said: "Nick is very smart but challenging people is what has sealed his fate. It is a game of chess Nick is playing. In the end, it is going to be check-mate guaranteed."
It may still be some time before Rossi is on a plane to Utah, where he is facing sex offences dating back to 2008. These are charges he continues to deny along with his identity. In the United States, they continue to wait for their day in court.