Nurses in every health board across Scotland have voted to strike in a historic first.
Thousands of members of the Royal College of Nursing (RCN) will walk out in what will be its first UK-wide industrial action since it was founded 106 years ago.
Nurses across Scotland joined their colleagues in England and Wales in voting to strike after warnings the profession was "being pushed to the edge, with patient safety paying the price".
No dates for action have been confirmed but it is expected to begin before the end of the year. The mandate to organise strikes runs until May 2023.
NHS Scotland bosses are also bracing for other medical workers including ambulance staff also taking action after they formally rejected their latest pay offer. Unite the union said its members have voted for strike action.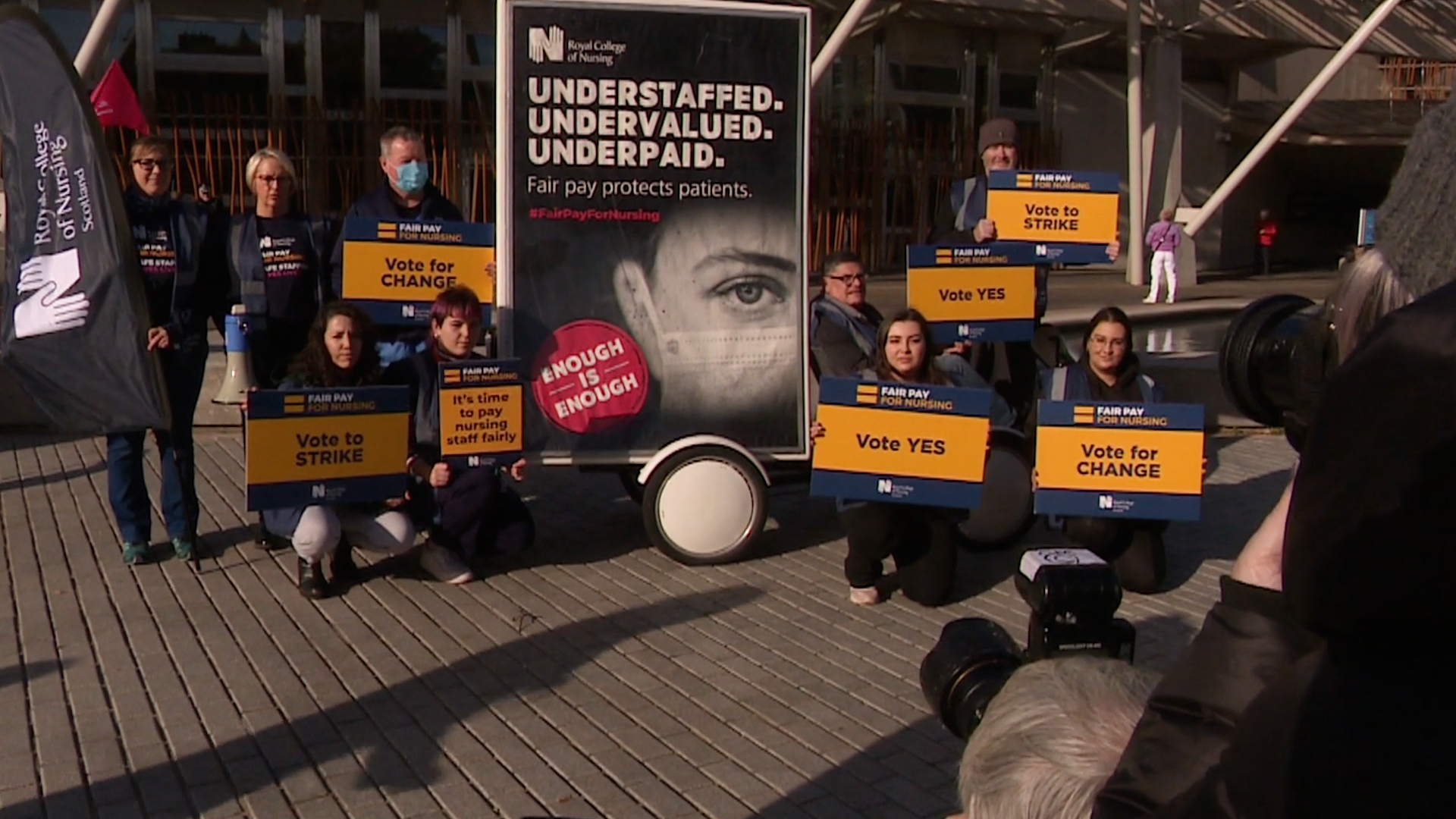 RCN general secretary Pat Cullen said: "Anger has become action – our members are saying enough is enough. The voice of nursing in the UK is strong and I will make sure it is heard. Our members will no longer tolerate a financial knife-edge at home and a raw deal at work.
"This action will be as much for patients as it is for nurses. Standards are falling too low and we have strong public backing for our campaign to raise them. This winter, we are asking the public to show nursing staff you are with us."
Julie Lamberth, RCN Scotland board chair, said NHS pay was a "political choice" and that Scottish Government ministers suggesting increased pay should come at the expense of key services is "insulting both to our members and the people of Scotland".
"The Scottish government needs to face up to the reality that their failure to focus on workforce planning and to properly value those working in health and social care over the last decade is the root cause of the staffing crisis we face," she said.
"The result of our strike ballot is a wake-up call that must not be ignored."
Following negotiations between the Government and NHS unions, a pay rise of £2,205 was offered in a bid to resolve the dispute.
That would be roughly an 8% rise for a newly qualified nurse.
Scotland's health secretary Humza Yousaf has said that the offer is the largest of its kind since devolution.
Deputy first minister John Swinney warned the Scottish Government had "nowhere else to go" in terms of offering further rises to public sector workers – despite inflation reaching a 40-year high of 12.6%.
However, Unite said that the escalation was down to "the Scottish Government failing to dig deep enough".
Teachers across Scotland also poised to strike
Scotland's largest teaching union is counting votes after balloting members across the country.
The Educational Institute of Scotland (EIS) expects to receive the result on Wednesday and its executive committee will meet afterwards to consider it and agree the next steps.
Like nurses, the teachers' dispute is also over pay after the union branded a 5% rise as "wholly inadequate".
The ballot follows a recent consultative ballot, where 94% of EIS members voted to reject a 5% pay offer and 91% said they would be willing to move to strike action.
Speaking to STV News Yousaf expressed disappointment at the RCN's rejections but said "I also respect their mandate that they've been given from members".
He said: "The way out of this is going to be through dialog. We have to live in a world that is based on realism here and we have a finite budget. Therefore, if I'm going to offer a pay offer that's worth almost half a billion pounds, I don't have half a billion pounds sitting at the back of the sofa."
The MSP continued: "I want to see a fair deal for nurses. I suspect the public want to see a fair deal for nurses and clearly nurses want a fair deal for them and for other staff in the NHS too. So, we're all coming from the same place. Our disagreement is about what we're able to offer within a finite budget."
He said called upon the UK Government to act stating: "look, again, as the architects of this high inflation, of this cost crisis, put your hand in your pocket. Help us out. For goodness sake, help yourselves out and help out other governments right across the UK, so that we can do our utmost to avert strike action."
STV News is now on WhatsApp
Get all the latest news from around the country
Follow STV News
Follow STV News on WhatsApp
Scan the QR code on your mobile device for all the latest news from around the country