2023 marks the 75th anniversary of the NHS which was founded on July 5, 1948.
In the years prior to its creation, Scotland had pioneered new forms of organised health care, such as the Highlands and Islands Medical Service (HIMS) in (1913).
Poverty was widespread in the Highlands and Islands and health provision limited.
A committee appointed to examine the problem made stark findings and recommended the Government grants be paid to doctors on condition that they treat those in need and charge minimal fees. In practice, this often meant free treatment.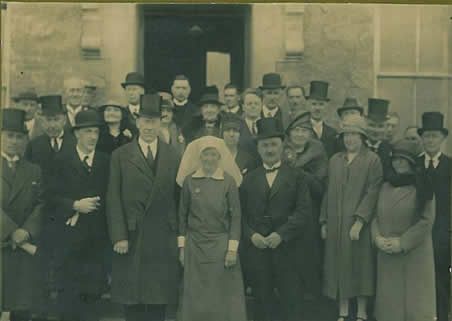 During the inter-war period, concerns grew over the relatively poor state of Scotland's health and of the capacity of the existing patchwork of services to remedy it.
With pre-war health provision in a dire state, new hospitals were constructed to deal with expected civilian air raid casualties and threat of invasion.
Scotland made full use of them in the run-up to the NHS.
In 1942, economist William Beveridge sets out his vision of a post-war Welfare State to banish from Britain the evils of the Five Giants – want, ignorance, squalor, idleness and disease.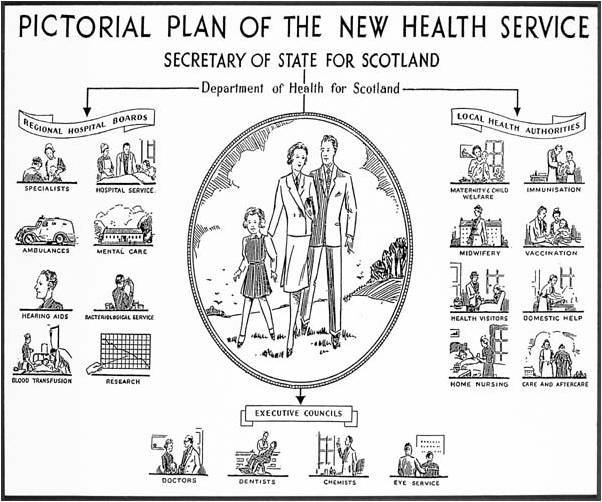 He is appointed by the wartime coalition government and the scale of what he comes up with is totally unexpected – a blueprint for an entire welfare state including a national health service.
Representing the Department of Health for Scotland was Muriel Ritson, a highly experienced health administrator previously involved in the Highlands and Islands Medical Service, while another Scottish woman, Jessy Mair, had a strong influence on Beveridge and the inspirational language which makes his report a bestseller with the public.
The NHS began on July 5, 1948, launched by then health secretary Aneurin Bevan.
For the first time – everyone in Britain has free access to a family doctor, prescription drugs, glasses or dentures. Hospitals mostly carry on their normal daily routines – they have patients to care for.
Then secretary of state for Scotland Arthur Woodburn said: "We have had one-legged patients coming in for an artificial leg who had never had one before. We have sometimes had the tragedy that it is now too late to fit limbs and all we can do is to supply them with wheeled chairs."
In its first full financial year, the total cost of the NHS in Scotland was nearly £42m – around 2s 8d (13p) a week per head of population.
Scotland's health secretary Michael Matheson has led praise for the NHS on its 75th anniversary.
He paid tribute to health service staff who, particularly during the coronavirus pandemic, he said have delivered "extraordinary service".
"We are fortunate beyond words to have an NHS free at the point of need for every single one of us," he said.
"On this day, the 75th anniversary of our NHS, I cannot express enough how grateful I am to the people who have delivered this extraordinary service through all these years.
"Working in the NHS has not always been easy – particularly during the Covid pandemic, but along with their colleagues in social care, NHS staff worked in tremendously difficult circumstances to care for those who needed them. Together they saved countless lives and their contribution will never be forgotten.
"With the continued support of people across the country, and the unwavering dedication of NHS staff, I have no doubt the NHS will be celebrating many more anniversaries in the years to come."
Gillian Mackay of the Scottish Greens said healthcare should never become a "consumer service or commodity".
She said: "It must remain free at the point of use, not just for this generation but for every generation.
"The creeping and gradual erosion of the NHS in England is one that should concern us all. Successive governments have allowed even more of it to slip into private hands.
"With independence the Scottish Greens would put the NHS right at the heart of a Scottish constitution and safeguard its future for decades to come.
"I wish every NHS worker and their families a happy day of celebration, and thank them for everything that they have done for us."
SNP MP Dr Philippa Whitford, who is an NHS breast cancer surgeon, also said independence is key to protecting the NHS.
She said: "As we celebrate the 75th anniversary of NHS Scotland, it's essential that we face up to the damage of catastrophic Westminster policies – and the risk that remaining under Westminster control could prevent our NHS surviving another 75 years.
"Thirteen years of Tory austerity cuts and underfunding have harmed all four national health services in the UK, and meant services were under pressure even before the unprecedented challenge of the Covid pandemic.
"Brexit and the loss of freedom of movement have compounded the problems, with workforce shortages now the number one issue undermining all four healthcare systems."
Scottish Liberal Democrat leader Alex Cole-Hamilton said a plan is needed to bring down waiting times in Scotland's NHS.
He said: "The NHS embodies an ideal: healthcare for everyone, no matter their background or circumstances.
"This 75-year anniversary is a milestone but it is also a personal opportunity for I and many others to thank staff for the incredible work they do right across our NHS.
"NHS workers know better than anyone that it is facing a raft of pressures which require more than just warm words and rounds of applause.
"While this SNP-Green Government fritter away time on all the wrong things, waiting lists spiral, the number of people stuck in hospital soars and staff are left to carry the ever-growing burden."