A Ukrainian student living in Glasgow has told how her friends let her know they love her in case they do not make it through the night when she contacts them back home.
Valeriya Korolachuk, who studies economics and politics at the University of Glasgow, explained how her heart sinks when she sees an air raid alert being issued.
And she urged Scots to "keep talking about us" and not to forget the Ukrainian people.
It comes as Vladimir Putin's Russian forces continue their assault on the country, whilst Ukrainian president Volodymyr Zelensky criticised Nato for ruling out the implementation of a no-fly zone.
Valeriya spoke to STV News at a rally in Glasgow's George Square on Saturday, which she helped to organise.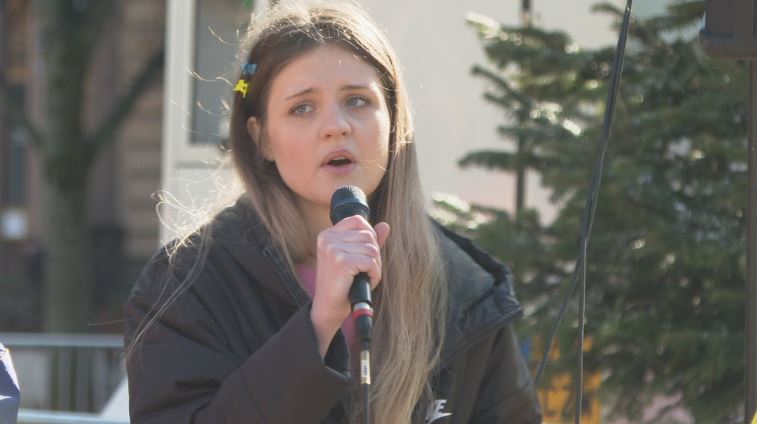 "We wanted people to understand how important it is for help to be given now because our country is getting completely destroyed by a terrorist regime," she explained.
"I spent my childhood there, I have happy memories and it is very, very hard to see innocent people have their lives completely changed. The cities are completely different, nothing is open, everyone is hiding, scared, in shelters.
"It is very hard to see on my phone. I follow the news closely and I see 'Air Raid Alert' for my city, my heart just sinks."
Valeriya expressed her gratitude for the "amazing turnout" and support offered by people in Scotland.
"I have had contact with friends and family but the messages can be hard. My friends will be saying I love you in case I don't make it through the night," she said.
"It has been an amazing turnout and it's great to see the support, it means a lot."
The Glasgow University student also outlined her belief that a no-fly zone should be introduced across Ukraine.
"We really need Nato to close our sky. We really need that. At least then we can defend ourselves without the threat of ballistic missiles doing damage to our streets and homes," she said.
"Children shouldn't have to live in shelters. At least give our soldiers the ability to defend without the threat of losing so many civilian lives."
She added: "The Scottish effort has been great. I want to say thank you, please keep talking about us and not forget about us in a few days."