More than 3000 people under 40 have caught coronavirus in Scotland since the outbreak began, figures obtained by STV News reveal.
The breakdown of confirmed Covid-19 cases show a total of 1308 people diagnosed with the virus were in their 20s.
The Scottish Government statistics report a total of 1511 Scots aged between 30 and 39 have caught Covid, and 118 cases among teenagers aged 15 to 19.
There have been 41 cases of coronavirus among children aged 0-4, 25 among youngsters aged 5-9 and another 41 among those aged 10-14.
It comes as the First Minister used the Scottish Government's briefing on Friday to issue a special plea to young people not to gather indoors with friends ahead of expected poor weather this weekend.
With the country entering phase one of Scotland's route out of lockdown last week, people are permitted to meet members of one other household outside but not inside.
Sturgeon told the briefing she knows many young people will be "desperate" to spend more time with friends.
But she warned them: "You are not immune from this virus, you can get it and it can be very harmful to you.
"Even if you are not seriously affected yourself, you can still pass it on to other young people.
"They might then pass it on to others who are at greater risk of Covid-19 such as their parents or grandparents and that could have really tragic consequences."
At the same briefing, Police Scotland chief constable Iain Livingstone urged the public: "Don't have house parties if the rain comes on.
"Don't get your friends round. It is not the time to do that, it is literally putting lives at risk."
Separate figures published weekly by National Records of Scotland (NRS) show 24 people aged 15 to 44 have died with confirmed or suspected coronavirus so far – 12 male and 12 female.
The new figures from the government, which go up to June 2, also show the split between genders of confirmed Covid-19 cases.
Among children up to 14-years-old, 56 Covid-19 cases were girls (52%) compared to 51 boys (48%).
But this gap widens considerably among older teenagers and young adults.
Three quarters (75%) of cases aged 15 to 29 were girls or women – a total of 1063 – compared to 360 boys or men (25%).
Among those aged 30 to 44, a total of 1608 cases were women (69%), while 31% were men – or 733 cases.
Counting all cases of people aged 44 or under, the divide is 70% female and 30% male.
All numbers on confirmed cases are believed to be significant underestimates, as Scottish ministers have repeatedly stressed.
Conversely, the NRS deaths figures reveal 64% of Covid-19 deaths among people aged 45 to 74 were men.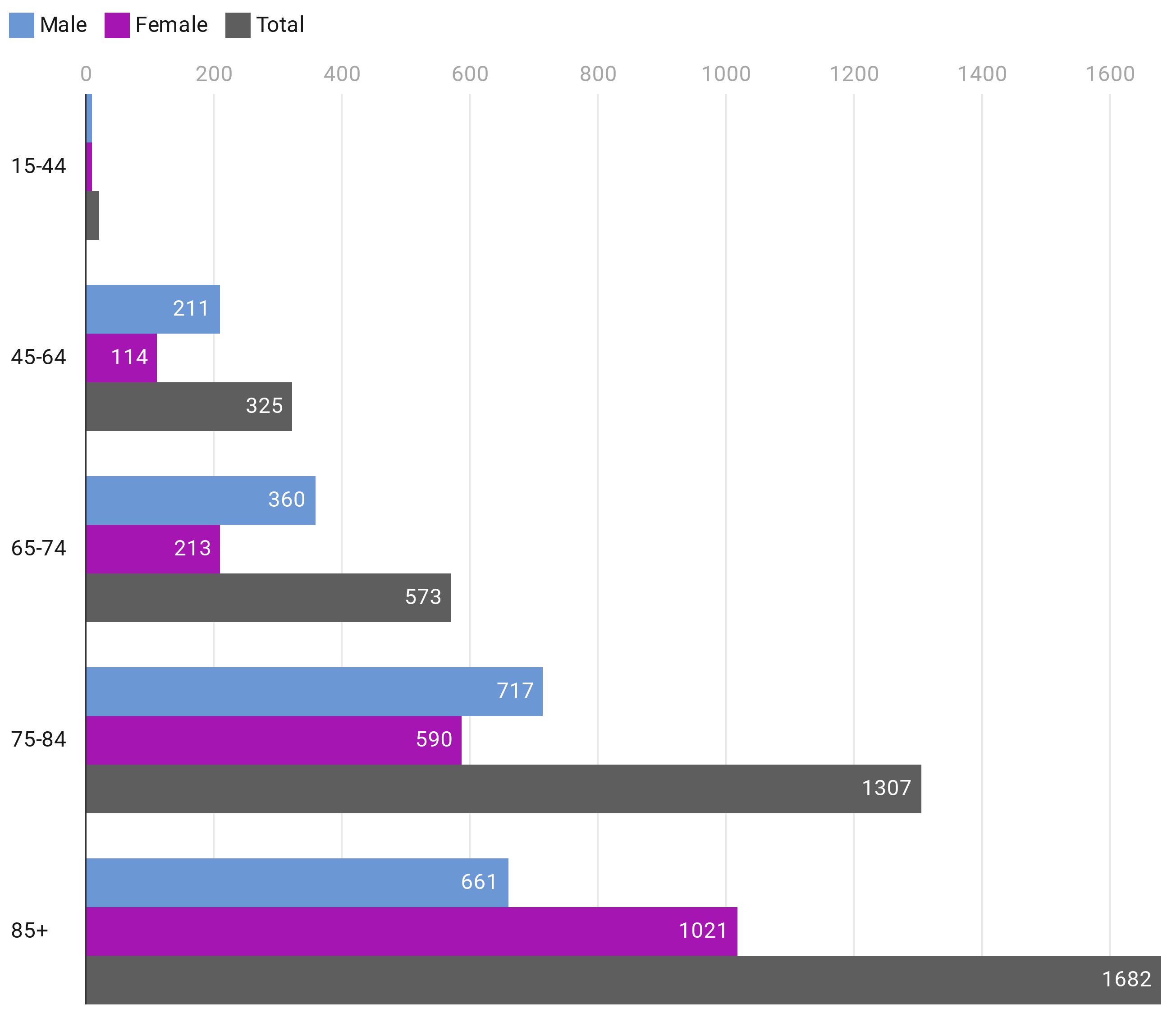 A total of 571 men in that age bracket have died with confirmed or suspected coronavirus compared to 327 women.
That matches up with age-standardised death rates calculated by NRS which suggest the Covid death rate is 50% higher amongst men.
More men aged 75 to 84 have also lost their lives than women of the same age.
However, more than 1000 women aged 85 or older have succumbed to the virus, compared to 661 men.