Parts of Scotland are facing more snow and ice this week as the recent cold snap continues across the country.
A fresh yellow weather warning for ice has been issued between 4pm on Monday and 11am on Tuesday morning.
The latest warning from the Met Office covers much of Scotland with areas such as Strathclyde, Central, Tayside and Fife, Grampian, south-west Scotland, Lothian and the Borders affected.
Experts warned that freezing wet surfaces were likely to cause travel disruption.
The caution comes after a weekend of sub-zero temperatures caused ice skaters to flock to a frozen pond in Glasgow.
STV Weather presenter Philip Petrie said: "The yellow weather warning for ice covers mostly eastern areas, but as seen on Monday morning all parts of the country could be affected by ice as temperatures fall overnight.
"Last night temperatures dipped to a low of -8.5C in Loch Glascarnoch, and tonight temperatures could be even lower.
"Wintry showers are the cause, hitting extremely cold surfaces and turning to ice – and eastern parts such as Moray, Aberdeenshire, Angus, Fife, Perth and down to the Lothians are most likely to see the bulk of the showers over the next day or so, and this is why the warning covers this area in particular.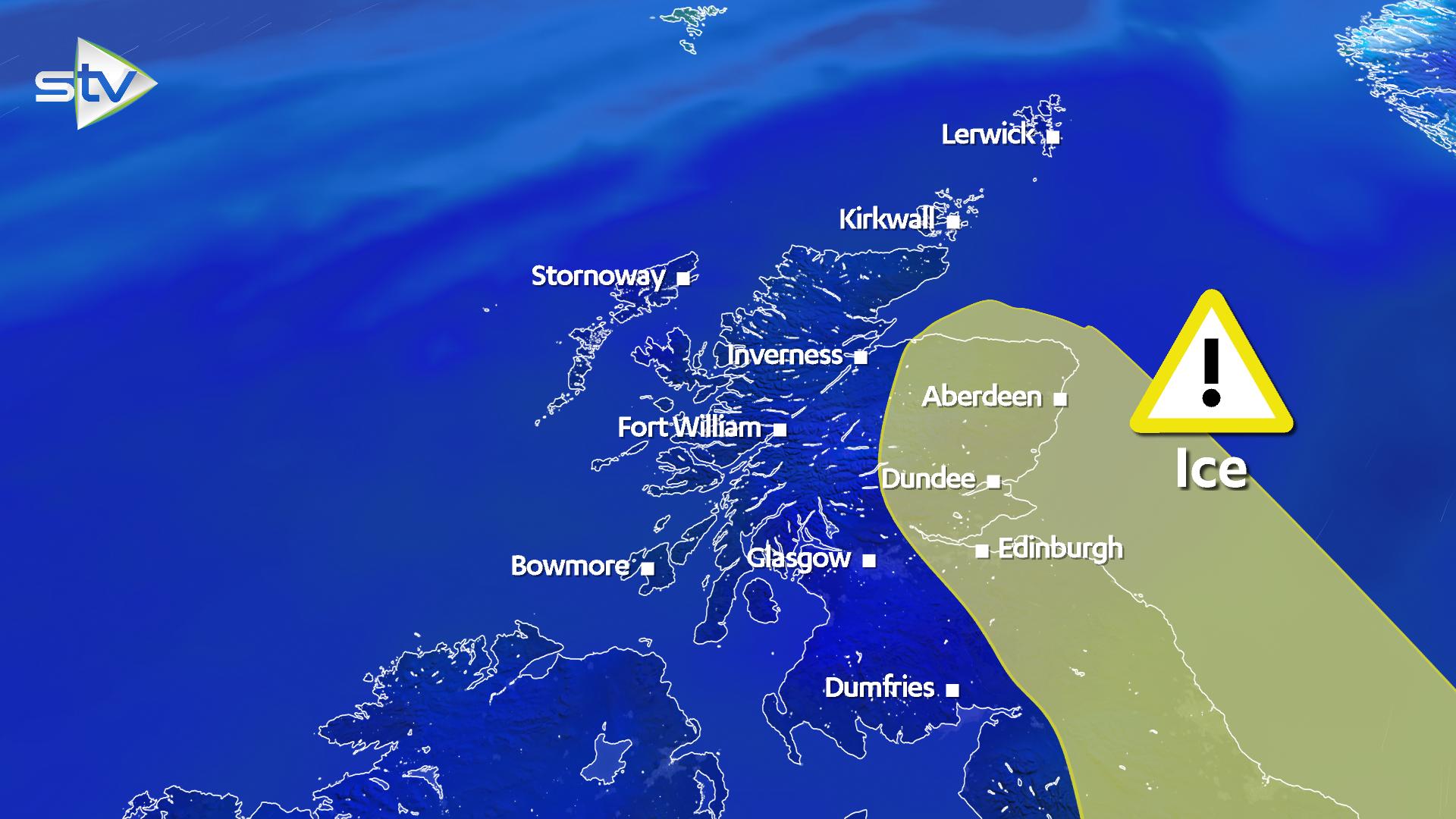 "Any untreated roads or surfaces could cause difficult travelling conditions for anyone heading back to work after the festive holidays, so be cautious if heading out and about."
A statement from the Met Office said: "Icy patches are expected to develop, especially on untreated surfaces, with showers feeding in from east coasts leaving surfaces wet.
"There is also the chance of some freezing rain overnight into Tuesday.
"Further snow is also likely mostly for hills above 200-300m. Some small accumulations are possible with southeast Scotland and northeast England most at risk.
"Here between two to five centimetres is possible in places above 300m and 10cm above 400m though ice looks likely to be the main hazard."
The affected areas are:
Central, Tayside & Fife
Angus
Clackmannanshire
Dundee
Falkirk
Fife
Perth and Kinross
Stirling
Grampian
Southwest Scotland & Lothian Borders
East Lothian
Edinburgh
Midlothian Council
Scottish Borders
West Lothian
Strathclyde
East Dunbartonshire
East Renfrewshire
Glasgow
North Lanarkshire
Renfrewshire
South Lanarkshire
West Dunbartonshire