Scotland's midge population is set to be unusually high later this summer as a result of recent weather conditions.
Colder temperatures in spring followed by a warm spell meant the insects hatched within a shorter timeframe, according to The Scottish Midge Forecast.
Dr Alison Blackwell – director of APS Biocontrol in Dundee, which runs the Scottish Midge Forecast, told STV News that current conditions are ideal for this year's second hatching of midges.
"Their emergence has been delayed this year," she said. "Normally, we would expect the first peak of adults in early to mid May but we had quite a cold start to the summer season.
"Then suddenly it got warm and it has been humid as well, which has helped produce a bumper batch. The heavy rain seen in many areas over the last 24 hours or so has only encouraged their survival.
"The first generation are replaced within about six weeks, so the second generation is expected around mid-July and we should then see a third generation in September."
Midges usually spend the winter in the soil as larvae until the days get longer and warmer in the spring, which initiates them turning into adults.
Scottish Midge Forecast
The Scottish Midge Forecast usually finds there are higher number of midges on the west coast of Scotland.
It creates the forecast using data collected from biting midge traps and mini-weather stations across Scotland.
That is then extended using weather forecast data, giving people a big-picture view of midge levels across Scotland throughout the season.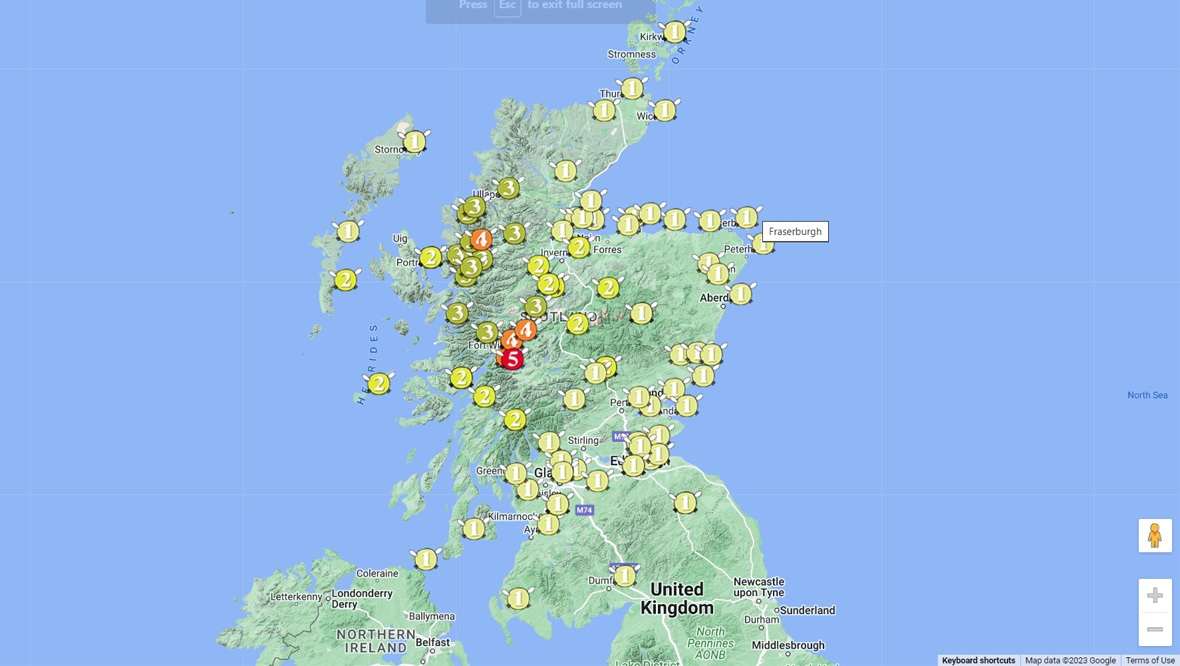 The forecast uses a scale of one to five depending on the number of biting midges there are, level five being the most annoying.
Level five currently applies to the area around Glencoe, where many hillclimbers visit as they look to ascend Ben Nevis.
What are midges?
Midges are tiny flying insects with a wingspan of only 2-3mm. There are over 35 different species of biting midge in Scotland, but it is cculicoides impunctatus, otherwise known as the Highland Midge, that earns its place as Scotland's most ferocious foe.
The Scottish Midge Forecast says it is only the female midge that bites. They emerge with enough fat reserves to mature their first batch of eggs, but need a blood meal to give subsequent batches enough nutrients to grow. Meanwhile, the males suck on plant nectar and in this species are no trouble at all.
Should people be scared of them?
Dr Blackwell says people should not be scared – but they should be prepared.
Light intensity signals feeding time. The Highland Midge is most active in low-light conditions i.e dawn and dusk, or when cloud cover significantly reduces the intensity of the sunlight.
"People shouldn't wear T-shirts or shorts when the sun is going down. They tend to breed in peaty and boggy areas, so places like Glencoe are high risk as they are ideal for midge habitats.
"Midges are an essential part of Scotland's ecosystem and you couldn't get rid of them even if you tried, their breeding sites are just so vast."