MasterChef champion Gary Maclean wants to make it easy to eat healthily at home, no matter how busy life gets.
In his role as Scotland's first national chef, he's determined to make sure the best tips and advice are available to all.
Gary was on Scotland Tonight as the STV current affairs show took a close look at the damaging impact of obesity on the nation's health.
As well as answering questions, the winner of the 2016 BBC cookery contest also shared a tasty and easy-to-follow recipe, which can be found at the end of this article.
Here's what Gary had to say:
How important is healthy eating in the battle against obesity?
I think it's crucial, and it's really important that you cook fresh. There's so much information out there – what's good, what isn't – but my general rule of thumb is if you're cooking yourself, you know exactly what's in there and you're in total control.
You say that it's cheaper than a takeaway, how can that be?
This (the katsu curry he was cooking on Scotland Tonight) is about a quarter of the price – so you're getting about four portions for the price of buying one in. I bought a huge bag of carrots today for 29p, and from that you can get a massive pot of soup for under £1, whereas if you buy a tin it's £1.20.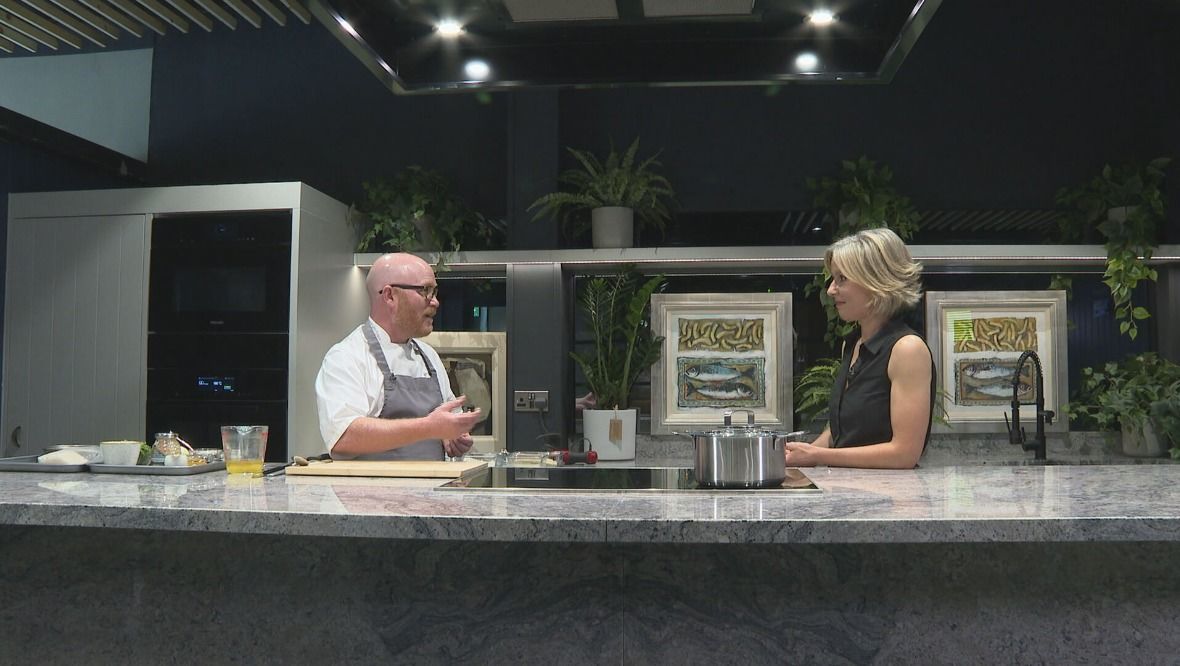 The problem seems to be that a lot of people believe they don't have the time to cook healthy foods from scratch.
I think if you leave it to that day, that's when you fall into 'I'll hit that app and order the same thing as I had last Tuesday'. Most people spend more time googling shoes than thinking about their food shop.
What tips do you have to eat healthily at home?
Batch cooking is most definitely the key, because it takes planning. Before Covid, I was out five or six days a week, sometimes at night, so I made it my thing on a Monday night to batch cook and make seven or eight different things, and I loved it.
I'd get the music on and the kids would chop mushrooms or something. I'd do curries, chorizo stews, steak pie, shepherd's pie and fish pie. So on that Tuesday night when you can't be bothered cooking, you can just shove that in the oven.
You've been reappointed Scotland's national chef, part of your role is to educate people, what's been your experience?
Health and wellbeing when it comes to food is crucial and something we need to talk about, but giving people the skills crosses that as well. I've been in nurseries where they have kitchens for the kids, I've been in secondary schools where they have a professional cookery kitchen to teach the skills that we desperately need in hospitality. So there is a lot going on in Scotland that even I didn't know.
I think home economics needs to be taken more seriously, I'm a product of an incredible home economics teacher and I don't think I'd be working with food otherwise.
Calories on menus – is it a good idea?
I think it is – the more information you put out there, the more knowledge people get, and then can make informed choices.
Are you optimistic about tackling this huge problem through education?
Most definitely, I wouldn't volunteer my time as Scotland's national chef if I didn't think that we could. We're a tiny country and when we put our minds to doing things properly, we do it really well.
Gary Maclean's chicken katsu curry
For the sauce
Ingredients
1 onion, chopped
2 whole garlic cloves, peeled
2 carrots, peeled and chopped
2 tbs plain flour
1 tsp Madras curry powder
600ml chicken stock (2 chicken stock cubes)
2 tsp honey
1 tbs soy sauce
1 bay leaf
½ tsp Garam masala
Method:
To make the sauce, heat the oil in a small pan.
Add the chopped onion and garlic and sauté for two minutes, then add in the carrots and sweat slowly for ten minutes with the lid on, stir until softened and has started to caramelise.
Stir in the flour and curry powder and cook for a minute.
Slowly pour in the stock until combined.
Add the honey, soy sauce and bay leaf and bring to the boil.
Reduce the heat and simmer for 20 minutes, so the sauce thickens but is still of pouring consistency.
Add the Garam masala, then pass the sauce through a sieve.
For the crispy chicken
Ingredients:
2 chicken breasts
200g Panko bread crumbs
2 eggs
20ml milk
100g plain flour
Method:
Lay the chicken breasts flat on the chopping board. Place your hand on top of the chicken and carefully slice through creating two pieces of chicken.
The next thing you need to do is to bread crumb the chicken. To do this you will need what's called a pané system. This consists of a tray with seasoned flour, one with an egg and a little milk and a third tray with bread crumbs.
We pass the chicken through the flour first then the egg wash and lastly the bread crumbs.
Pre-heat your oven to 180C.
The idea is that the flour will stick to the chicken, the egg sticks to the flour and the crumbs stick to the egg wash.
To cook bush a little oil onto an oven tray, place the breaded chicken onto the tray and brush the chicken with a little oil, and pop into the oven until the chicken is crispy and cooked through, 15 to 20 minutes should be enough, but double check.
For the rice:
This recipe is amazing, it's completely fail safe every time because everything is controlled. Measuring the rice and the stock, then setting the temperature makes it the same every time. When I refer to a cup, I don't mean the American measuring system, it's literally a cup or a mug. If you have a lot of people to feed, use a bigger mug, around 60-70g of rice per person is perfect.
Ingredients:
1 cup long grain rice or sushi rice
1 ¼ cups stock (1 stock cube)
1 onion finely diced
1 bay leaf
20ml vegetable oil
Method:
Use a pan with a tight-fitting lid. Heat the pan and add the oil then add onion and sweat for four to five minutes without colour.
Add rice and toast for one minute, coating rice in the butter. Now add stock bring to the boil, put a tight-fitting lid on.
Place in a pre-heated oven 170C for 18 minutes or until the rice has absorbed all the stock. Allow rice to stand once out and fluff up with a fork.