MP Margaret Ferrier has pleaded guilty to breaching Covid rules by travelling on a train between Scotland and London.
During a hearing at Glasgow Sheriff Court on Thursday, she admitted to "culpable and reckless conduct" after being told to self-isolate in September 2020.
Ferrier, who was elected as an SNP MP but now sits as an independent MP for Rutherglen and Hamilton West, was accused of wilfully exposing people "to the risk of infection, illness and death" by visiting various places in the Glasgow area and London.
STV News takes a look at how events unfolded in the run-up to Ferrier's guilty plea.
Timeline
Ferrier said she experienced "mild symptoms" of Covid-19 on the afternoon of Saturday, September 26, 2020, and took a test.
Any person experiencing Covid symptoms, however mild, in Scotland at that time was required to self-isolate for at least 10 days and book a test.
But Ferrier travelled to London by train on Monday, September 28. Transport Scotland guidance was that you should stay at home if you or anyone in your household is experiencing coronavirus symptoms or is self-isolating.
Ferrier received a positive test on Monday night while she was in London. At 7.15pm, she gave a four-minute speech in the House of Commons during a debate on coronavirus.
Prosecutor Mark Allan told Glasgow Sheriff Court on Thursday that Ferrier wore a face mask in the Commons, and after speaking in the chamber at about 7.30pm had sat at a table with DUP MP Jim Shannon, where they conversed for 20 minutes.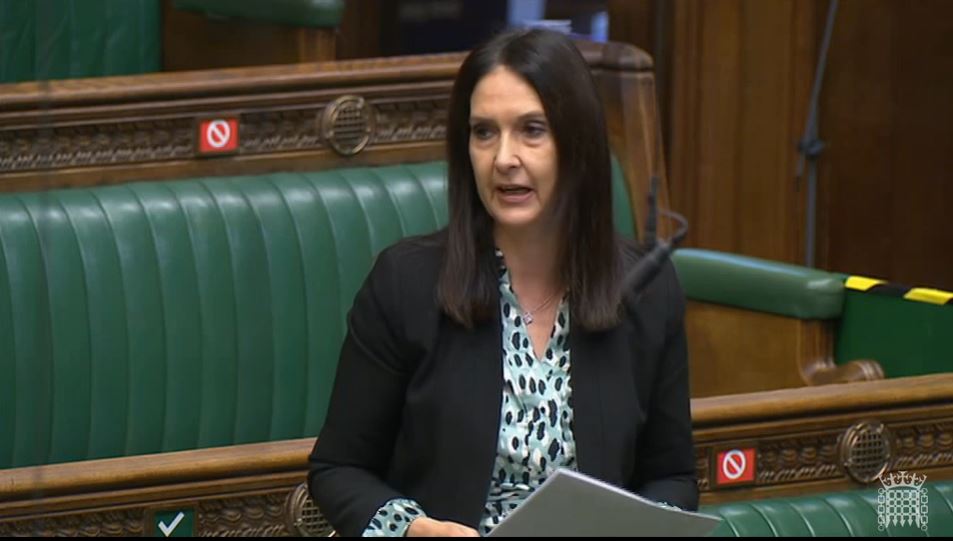 Allan added: "The positive result from the test was delivered at 8.03pm by text and email. She attended the SNP whips' office and spoke to then chief whip Patrick Grady MP. She informed Mr Grady that she would return to Scotland in the morning."
On Tuesday September 29, Ferrier boarded a train from London to Glasgow in the morning without seeking advice, and began self-isolating when she got home.
Contact tracers for NHS Test and Protect attempted to contact Ferrier on four occasions but were unable to do so, leaving two voicemails.
Ferrier informed the SNP she had tested positive on Wednesday, September 30, with Commons Speaker Sir Lindsay Hoyle then being informed around 4pm and parliamentary authorities starting contact tracing.
The SNP insists it did not know at this stage she had taken a test before travelling to London.
Ferrier reported herself to Police Scotland on Thursday, October 1. SNP leader Nicola Sturgeon said she learned of Ferrier's actions "shortly after First Minister's Questions" in the Scottish Parliament that ended at approximately 1.35pm that afternoon.
Sturgeon also revealed SNP Westminster leader Ian Blackford spoke with Ferrier. The party said it was at this point it became aware she had taken a test before departing for Parliament and had travelled back to Scotland knowing she was infected.
At 5.50pm, Ferrier released a statement saying she was "very sorry for my mistake" and acknowledging she should have self-isolated while awaiting her test result.
Later that evening, Blackford announced the SNP had withdrawn the whip from Ferrier amid widespread calls for her to resign as an MP.
The House Of Commons press office, in a statement on Twitter, revealed one close contact of Ferrier had been identified and asked to self-isolate.
The pressure intensified on Friday, October 2, when Sturgeon and Blackford both called for Ferrier to resign as an MP.
In a phone call to Ferrier, Sturgeon said she made it "crystal clear" that her "friend and colleague" should stand down.
She added Ferrier was unable to give a "cogent explanation" for her actions. Blackford said Ferrier's position as an MP was untenable following the "tremendous error of judgment".
On Sunday, October 11, Ferrier made a public statement on the issue for the first time since she first admitted her actions, telling The Scottish Sun on Sunday that she had no intention of standing down and had "panicked" on finding out she tested positive.
The MP then told The Scottish Sun on Monday, October 12, she felt she was "hung out to dry" by the SNP, claiming the party whip was removed around an hour after the publication of her admission statement, which she said was prepared for her by party officials.
Scotland Yard said on Thursday, October 15, they would take "no further action" against Ferrier after their investigation found the regulations on self-isolation came into force after she was tested.
Police Scotland, however, said it "will now assess the circumstances and consult with the Crown Office and Procurator Fiscal Service before taking a decision on next steps".
On January 4, 2021, Police Scotland said Ferrier had been charged in connection with "alleged culpable and reckless conduct".
What was the prosecution's case?
Prosecutors alleged that having booked a test for Covid-19, Ferrier "culpably and recklessly" put people at risk by visiting several places in Rutherglen, South Lanarkshire, including Lifestyle Leisure Centre, Vanilla Salon (a beauty salon), and gift shop Sweet P Boutique.
She also visited St Mungo's Church in Glasgow and Vic's Bar in Prestwick, South Ayrshire.
Glasgow Sheriff Court heard Ferrier booked a test online in late afternoon on Saturday, September 26. She stated in her application that she was "symptomatic" with a "cough" she experienced that day and later attended a test centre.
Prosecutor Mark Allan said: "Ferrier subsequently failed to isolate pending the outcome of her test."
The hearing was told Ferrier attended a midday mass on Sunday, September 27, at St Mungo's parish church where she gave a reading to the congregation of 45 people.
Social distancing measures were in place and Ferrier wore a mask when she was not speaking. Ferrier then attended Vic's Bar in Prestwick where she stayed for two-and-a-half hours.
The following day, Monday, September 28, Ferrier took a ten-to-15-minute taxi journey from her home in Cambuslang, South Lanarkshire, to Glasgow Central station while wearing a face mask.
She entered a Marks and Spencer at the station before boarding a train with 183 people on board to London Euston.
Ferrier checked into the Park Plaza Hotel, Westminster Bridge, before attending the Houses of Parliament at 7.15pm. Ferrier returned to her hotel at 9.20pm where she spent the night before heading back to London Euston.
The hearing was told at its busiest time, that train held 153 passengers.
What were the Covid rules at the time?
Coronavirus restrictions were reintroduced in seven of Scotland's biggest council areas, covering more than 1.75 million people, in September 2020.
Residents in Glasgow, North and South Lanarkshire, East and West Dunbartonshire, Renfrewshire and East Renfrewshire were unable to make indoor visits to other households because of a rise in cases.
Indoor visits to hospitals and care homes were limited to essential visits in those areas, while outdoor visits to care homes were restricted to three people from a maximum of two households.
Anyone displaying symptoms of Covid-19, or contacted by Test and Protect team as a close contact, had to self-isolate for ten days and book a test.
Were there any political repercussions?
Ferrier had the SNP whip removed in 2020 after the allegations emerged and has come under pressure to resign from her seat, but remains an MP, sitting as an independent.
First Minister Nicola Sturgeon said the SNP "could not have been clearer" in its response to Ferrier's breach of coronavirus rules.
Speaking in October 2020, she said: "What she did was not defensible because it potentially put people at risk and was a clear and flagrant breach of the rules.
"So she had the whip removed and she was suspended from the SNP, there is a process now – political parties have to comply with due process – that process will be gone through.
"And I think she should resign from the House of Commons but I don't have the power to force her to do that."