Eight Scottish National Lottery winners have come together to help deliver heartfelt festive treats to more than 400 isolated elderly and vulnerable people around the country.
The winners and their partners took time to pen personalised cards and pack luxury Christmas puddings that will be delivered to two Scottish charities, Glasgow's Golden Generation and The Boomerang Club in Dundee.
Both organisations work hard to tackle loneliness in older adults, offering services such as virtual events and providing meals to those who are isolated from friends and family.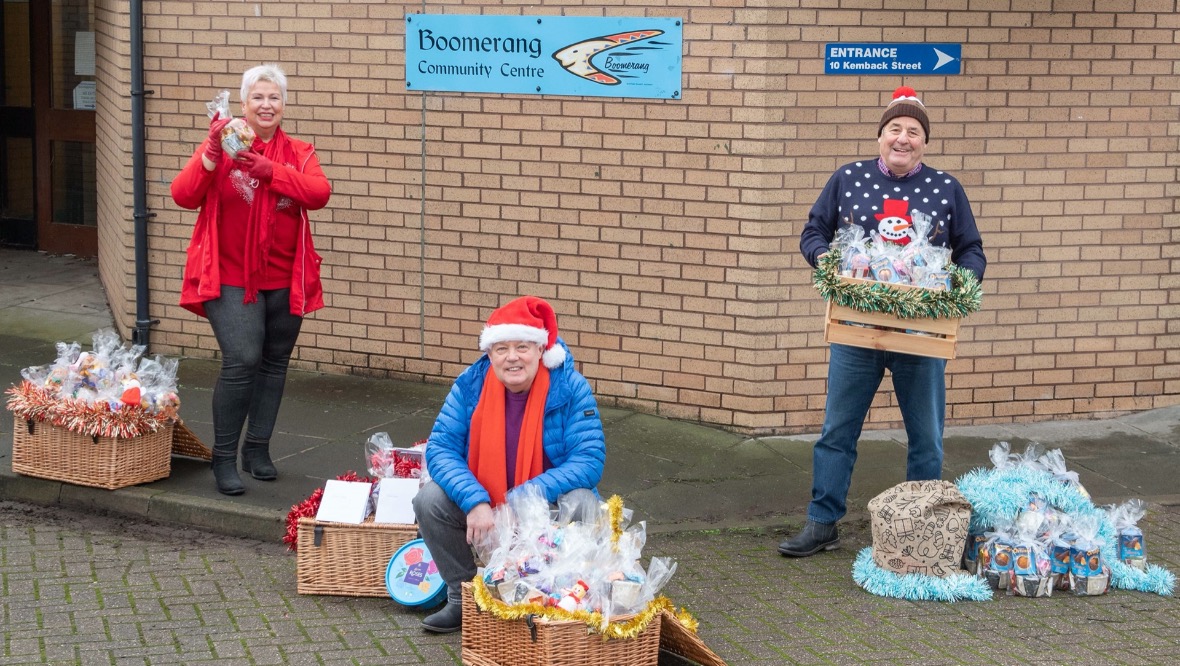 The lotto winners, who combined are worth more than £19m, jumped at the opportunity to help out with the National Lottery scheme – especially as many people this year will be spending Christmas away from family.
The group included Sandra Devine from Johnstone in Renfrewshire, who scooped £300,000 on a scratchcard just last month.
Taking inspiration from her postman husband, Martin, Mrs Devine was thrilled to personally deliver the goodies to Glasgow's Golden Generation on Tuesday.
She said: "Christmas is my favourite time of year, and while me and my family are looking forward to celebrating together, there are many elderly and vulnerable people around Glasgow who will be spending it on their own.
"I really hope our personalised cards put a smile on some faces and, most importantly, let them know that we are thinking of them over the festive period.
"It was a real pleasure to be involved, not only writing cards and packing Christmas puddings, but being able to visit Glasgow's Golden Generation to deliver them in person.
"They really do a fantastic job of supporting vulnerable people in the local community, making sure that no one feels alone."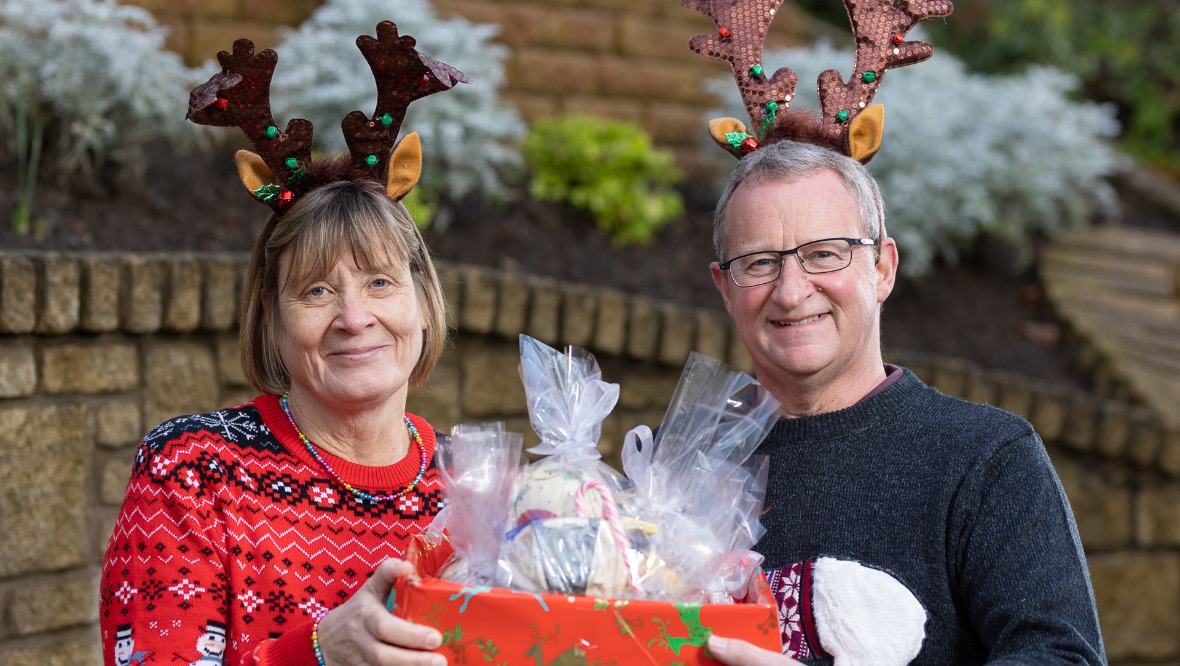 In Dundee, Ray Storey who won £1,050,000 on the EuroMillions in 2014, was joined by fellow winners Libby Elliott, who won £2,159,664 on the Lotto in 2012, and Jake Bowman who scooped £10,317,199 on the Lotto in 2016.
The trio delivered their Christmas parcels to the Boomerang Club, which aims to combat loneliness in older adults as well as offer support veterans, something especially important to Mr Storey as he himself served in the army from 1970-1976.
He said: "As a Dundee resident, I have been aware of the Boomerang Club for a long time, so it was a privilege to be able to visit them.
"It really is a wonderful local charity; they work tirelessly to provide meals for elderly and vulnerable people in Dundee.
"I hope our Christmas treats also mean that some of the amazing volunteers manage to take some time off to enjoy the festivities.
"We had so much fun writing Christmas cards and packing puddings. Everyone could use a bit of festive cheer right now."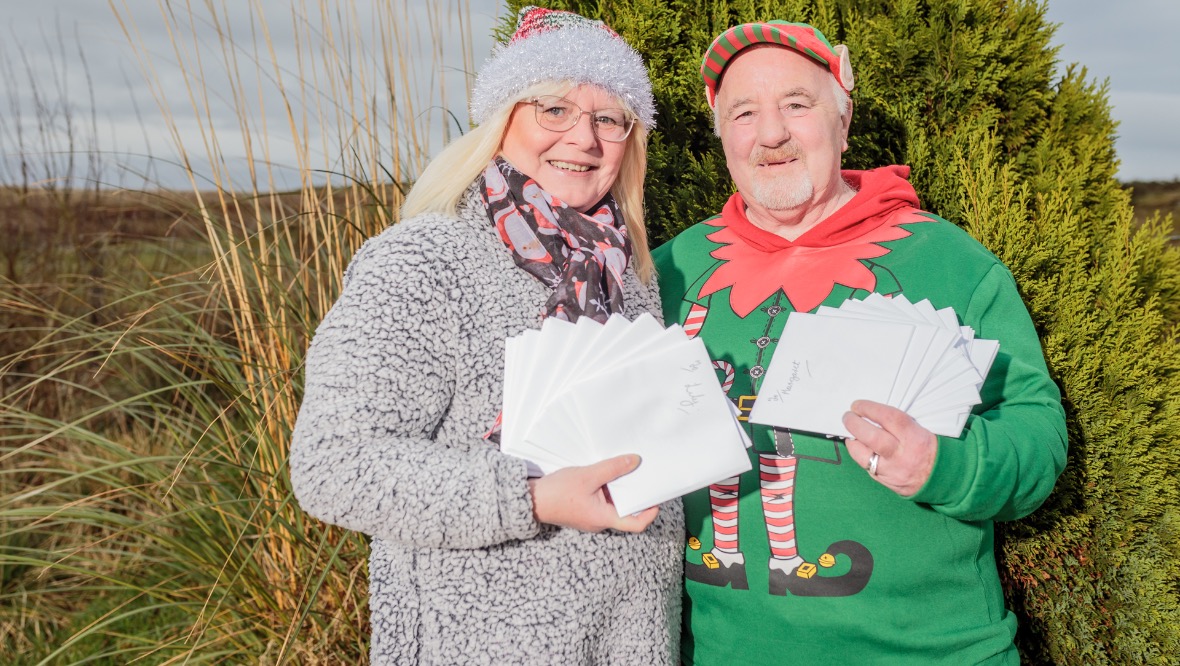 Other lotto winners donning their Christmas elf hats at home to write cards and wrap gifts included Brian and Ann Sharp who won £2,033,705 in June 2010, Alan and Claire Gray who won £1m in July 2019, Bill and Fiona McKenna who won £1,187,959 in October 2012, and Ken and Jannette Wedgeworth who won £1,055,923 in November 2016.
In the past lotto winners have always looked to come together during the festive season to support charities across Scotland, however Covid-19 restrictions have meant that The National Lottery had to think differently this year.
Adapting to the current tier systems in place across Scotland, winners wrote bespoke Christmas cards designed by Edinburgh artist Amy Nash, and packed puddings from their own homes.
These were then quarantined before being taken to Glasgow's Golden Generation and The Boomerang Club, both of which have received funding from The National Lottery in the past, for distribution.
Glasgow's Golden Generation is a leading charity for the elderly and has been serving the city for almost 70 years.
With a mission to tackle loneliness, the charity offers a wide variety of support services to the older population including day centres, befriending services and social clubs.
With face-to-face services closed or operating over the phone, the charity recently developed an app to help users to keep in touch, with support from The National Lottery Community Fund.
Richard Donald, chief executive of Glasgow's Golden Generation, said: "Glasgow's Golden Generation passionately believe that no older adult in Glasgow should be affected by poverty, loneliness or isolation and are working hard to provide support, particularly with increased restrictions.
"We're extremely grateful to The National Lottery winners for these beautiful cards and puddings. We know that our older people will truly appreciate the extra Christmas joy."
The Boomerang Club operates from the Boomerang Community Centre in Dundee and carries out several support functions in the local community.
Since the start of the pandemic the organisation has been providing meals for isolated elderly and vulnerable people in the area.
Neil Ellis, centre manager for the Boomerang Club, said: "Our users are the heart of our charity – we are so proud to have been able to continue to support them, particularly with Covid-19 and regional lockdowns bringing more challenges and increasing isolation.
"Thanks to the puddings from The National Lottery winners, our users will be able to enjoy a festive treat with their Christmas dinners and the cards are sure to bring a smile or two."