Scots are being told to avoid all "non-essential" contact and travel in a bid to slow the spread of coronavirus.
We've been told to work from home if we can, while the schools may close in matter of days.
Whether it's business, travel or sport, we'll have all the latest updates for you right here throughout the day.
9pm: Oxfam to close all high street shops
Oxfam has announced it will close all of its high street shops until the worst of the coronavirus pandemic has passed in a bid to protect its staff and customers.
The international aid charity has around 600 outlets across the UK, each with a volunteer workforce of about 30 people.
The shops will close at the end of trading on Saturday and remain shut until further notice.
Oxfam's deputy trading director, Anne Webb said: "It is with a heavy heart that we have decided to shut our shops until the danger of the coronavirus has eased.
"But it's absolutely the right thing to do as the safety of our staff, volunteers and shoppers comes first.
"Some of our volunteers are elderly, and especially vulnerable to the infection, and we are acutely conscious of our responsibilities towards them."
The charity has asked people not to leave donations outside its shops, and is planning to set up a network of hubs where items can be left as its online store will remain open.
7.12pm: Marie Curie charity cancels all collections
Marie Curie, which provides support to those living with a terminal illness, has cancelled all its charity collections due to the coronavirus outbreak.
Collections for the charity's Great Daffodil Appeal, which runs throughout March, have been stopped.
The charity has estimated that it will lose £1m of funding from these vital collections alone.
6.05pm: Edinburgh Council prepared learning resources for pupils during closures:
Edinburgh City Council has prepared online learning resources for pupils so teaching can continue during school closures.
Council leader Adam McVey said: "Obviously the health and safety of young people and all the staff working in our schools is paramount and we fully support the Scottish Government's decision.
"Our dedicated school staff have been planning in depth for such a scenario and a huge amount of work has gone into preparing online resources so pupils' learning and teaching can continue.
"I've been so proud of the amazing resilience shown by everyone working in our schools – teachers, support assistants, cleaners and catering staff – they have demonstrated tremendous dedication in keeping our schools open during these recent challenging weeks.
"As a Council, we're determined to do everything we can to protect our communities especially the most vulnerable in our society.
"We've been working on plans to continue to support our young people who currently get Free School Meals during school closures and more details will be announced later in the week."
5.44pm: Prime Minister announces all schools in UK to be closed after Friday.
School closures will be enforced across the UK as parents are advised not to leave children with elderly relatives.
Education Secretary Gavin Williamson told MPs that schools across England will be closed from Friday until further notice.
5.30pm: The Scottish Government confirmed that there will be no IndyRef2 this year with all efforts focused on dealing with the outbreak.
In a letter to the UK Government, constitution secretary Mike Russell said ministers had halted work on the plans as a result of the pandemic.
He said: "Because of this crisis, the Scottish Government has paused work on preparing for an independence referendum this year."
4.17pm: The moment Nicola Sturgeon announced school closures
3.58pm: £2bn to tackle 'economic emergency'
The Scottish Government has announced drastic measures to pump nearly £2bn into businesses to keep them afloat during the coronavirus outbreak, mirroring the economic package set out by the Chancellor.
Scottish ministers are treating the impact of Covid-19 as an "economic emergency" and say "every penny" of money sent to Scotland as a result of the UK Government's stimulus package will support Scots businesses and employers.
3.00pm: Appeal to adopt cats as rescue home forced to close
A home for rescued cats has appealed for people to adopt a new pet after being told it must close imminently due to coronavirus.
The Arbroath and Central Angus Cats Protection Centre is to close its doors on Monday and is looking for homes for a number of pets. The animals will have to be moved into cages if homes cannot be found.
A spokesperson for the centre said: "We have several cats still looking for their forever homes who will have to be transferred to the Glasgow Adoption Centre if not offered a home by then.
2.58pm: Nicola Sturgeon announces school closures
Schools and nurseries will close on Friday, and may not reopen before the summer holidays, the First Minister announced earlier.
Sturgeon said: "I want to be as open and transparent as possible.
"My view is that it is now inevitable that we will close schools and nurseries.
"My planning assumption now is schools will close to pupils at the end of this week and I wanted today to give parents notice of that now."
2.30pm: Scottish Tories pledge support to government
The Scottish Tories have given the Scottish Government their "full support" after school closures were announced.
Shadow education secretary Jamie Greene said: "This is an unprecedented move which was unfortunately inevitable as each of the UK's devolved governments take advice relevant to their own circumstances.
"This will undoubtedly be of huge concern to parents who rely on their children attending school to allow them to go to work as well as those facing imminent exams.
"Given those challenges, it is vital that we put normal politics aside to support these decisions and work together on practical solutions to minimise the disruptive consequences of them.
"There remain questions over how key workers in emergence services will be supported with childcare but we will support both the UK and Scottish government as they take these very difficult decisions."
1.36pm: BREAKING: Third coronavirus patient dies in Scotland
First Minister Nicola Sturgeon said: "It is with sadness this afternoon that I have to confirm the death of one more patient."
She said her thoughts were with the families of those who have died.
As of today, there are 227 confirmed positive cases of Covid-19 across Scotland.
1.30pm: BREAKING: Schools to close on Friday
Schools in Scotland are to close at the end of this week, Nicola Sturgeon said.
Schools have now lost too many staff to continue as normal, she said, adding that she couldn't promise they would reopen before the summer holidays.
Sturgeon said she wanted to reassure teachers and school staff that the government would work with them.
12.33pm: Scot Lib Dem conference postponed
The party's spring conference, which was set to take place in Peebles on May 22-24 has been postponed due to the coronavirus pandemic.
Scottish Liberal Democrat leader Willie Rennie said: "In light of recent events and the latest advice from health experts, it would not be appropriate for us to go ahead with our conference in May.
"Our first priority has to be the health of our party members and the exhibitors and staff at the conference venue."
12.19pm: National Trust closes historic buildings
Historic buildings run by the National Trust for Scotland are to close and events including weddings and Easter egg hunts will be postponed amid the coronavirus pandemic.
The organisation said "gated properties" – historic buildings, visitor centres, visitor facilities, cafes, shops and toilets – will be closed and events suspended across the country from Friday.
The suspension of events also applies to commercial bookings, such as weddings and some holiday lets and volunteer Thistle Camp working holidays, subject to ongoing review.
12.10pm: Primary school and nursery closes
A primary school and nursery in Aberdeenshire has been closed due to staff shortages.
Dunnottar School in Stonehaven is shut from Thursday with parents being advised the closure will remain in place 'indefinitely'.
Head teacher Lisa William said: "In response to the critical staffing situation at Dunnottar School, the decision has been made to close the school to all indefinitely.
"I have taken this decision due to guidance for people who should now practice social distancing/self-isolation."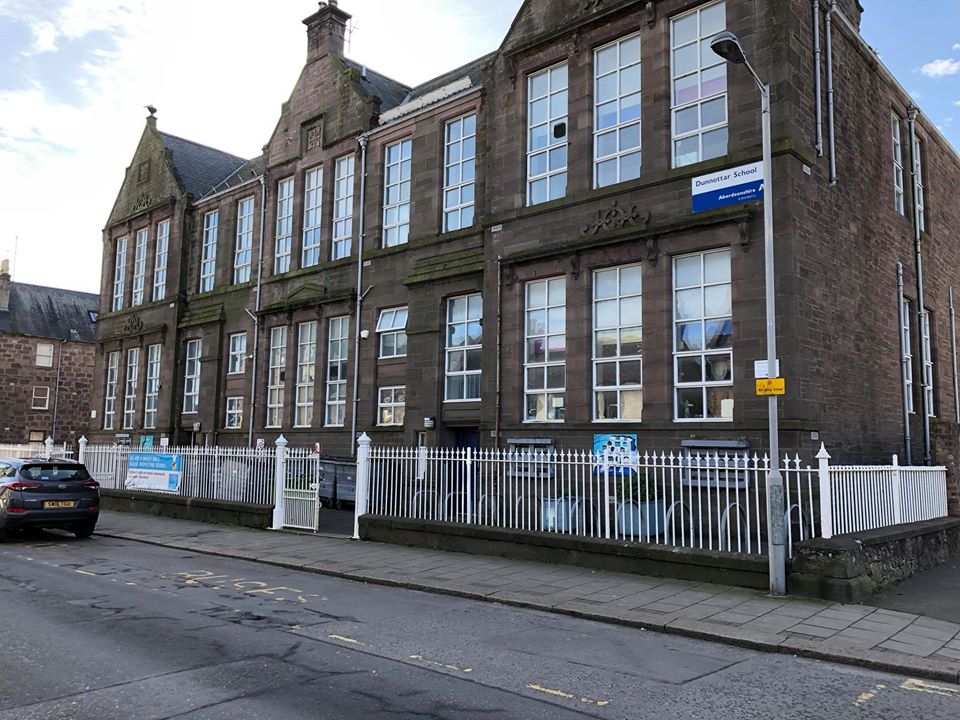 11.29am: Early morning queues as shoppers stock up
Shoppers didn't waste any time getting out and about this morning.
Queues were pictured queueing outside Tesco, Asda and M&S stores after both companies announced a reduction in opening hours to allow their staff to restock shelves.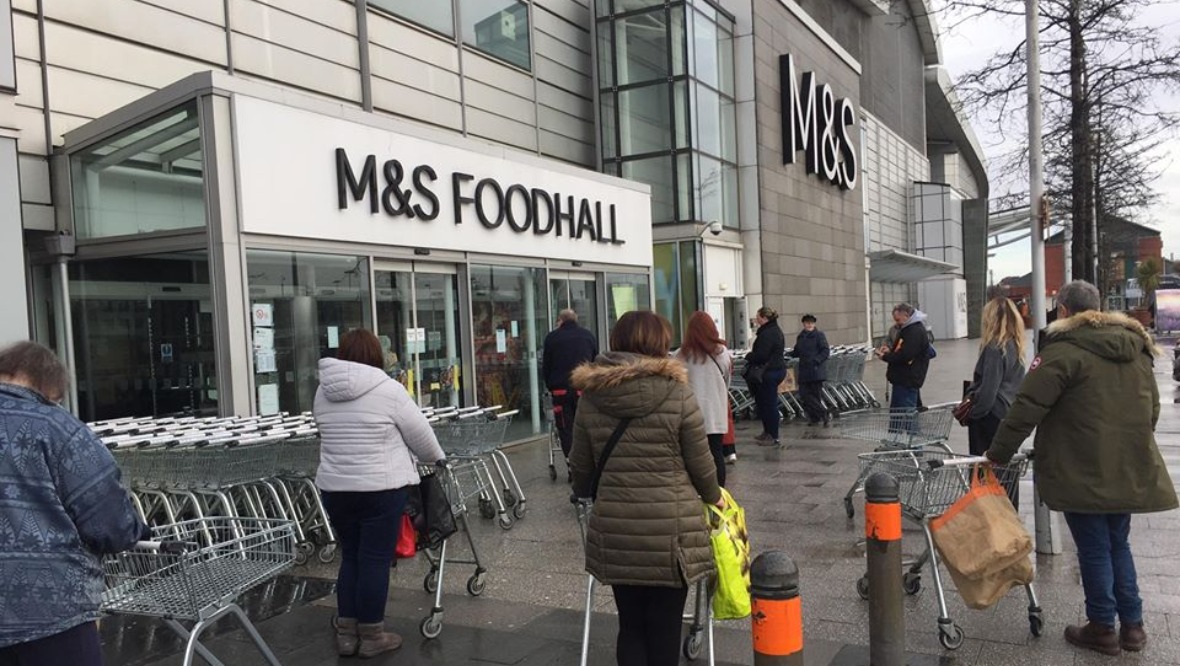 11.20am: Dundee United want football season to be completed
Championship leaders Dundee United say the remaining fixtures have to be completed.
Talks are ongoing over what happens next in football across the world, with fixtures almost everywhere currently suspended.
Yesterday, the 2020 European Championships scheduled this summer were postponed until next year, freeing up time for domestic leagues to be finished – if the coronavirus spread slows.
10.53am: Edinburgh International Film Festival cancelled
This summer's Edinburgh International Film Festival has been postponed, while the capital's Filmhouse cinema and the Belmont Filmhouse in Aberdeen have closed.
EIFF organisers said they hoped some elements of the festival could go ahead later in the year.
Festival CEO Ken Hay said: "As the longest running film festival in the world we are keen to continue even through these hard times, and we are looking at which elements of it may be delivered later in the year.
"For now, we would like to thank our funders, sponsors, partners, staff, donors, patrons, filmmakers, sales agents, distributors, members and audiences for their loyalty, support and understanding in these unprecedented times."
10.50am: More than 1000 sign up for charity effort
Chest Heart & Stroke Scotland says more than 1000 volunteers have joined its Scotland Against Coronavirus campaign in the last 48 hours.
It wants people to use their smartphones to share the latest health information with others.
10.23am: Catholic church stops all public masses
The Catholic Church in Scotland has suspended all public masses due to the coronavirus pandemic.
A statement from the country's bishops said that priests will continue to celebrate Mass in private with "the particular intention of praying for those suffering from Covid-19 and those who care for them".
Churches will remain open for personal prayer and the bishops encouraged parishioners to make donations to charities online.
The statement added: "As government advice changes, we will update our guidance accordingly in the hope of restoring the public celebration of Mass.
"In the meantime, please ensure that no one feels abandoned in our communities and do what you can in practical terms to help those who are alone."
10.13am: Loch Lomond food and drink festival postponed
The Springfest Food and Drink Festival will no longer take place on the shores of Loch Lomond on April 4-5.
Organisers are hoping it can be rescheduled for July and said they would announce a new date in the coming weeks.
9.58am: NHS Lothian launches video call assessment service
9.48am: Show goes on (line) for film festival
A film festival postponed due to the coronavirus is going virtual and moving part of its programme online to ensure that audiences do not miss out.
The Glasgow Short Film Festival (GSFF) was due to take place from March 18-22 but has now been rescheduled for August 19-23.
Organisers have also announced that ten films from the programme will be shown virtually, with two films per day making their online premiere from Wednesday onwards.
9.41am: Loganair cuts more Scottish flights
Loganair says it's implementing an "emergency timetable" after bookings fell by 75%.
Routes to and from Scottish islands are all affected, are as its flight to airports elsewhere in the UK.
The full details can be found on the Loganair website.
9.30am: Gin distilleries make hand sanitiser
Scottish distilleries have started producing hand sanitiser to help with the national demand from care homes and charities as the coronavirus outbreak continues.
Demand for sanitiser is 'critical' according to an organisation which represents independent care providers.
Scottish Care says it has been "overwhelmed" by the response of distilleries which have moved from making gins and whisky to the hygiene product.
STV News is now on WhatsApp
Get all the latest news from around the country
Follow STV News
Follow STV News on WhatsApp
Scan the QR code on your mobile device for all the latest news from around the country