5.35pm: NHS staff drive-through covid-19 testing centre records almost 100 coronavirus cases
More than 90 people have been reported positive for coronavirus at a drive-through testing centre set up for NHS Lothian staff.
Workers are being checked in their cars at the Chalmers Sexual Health Centre in Edinburgh in a bid to reduce unnecessary absence and bolster front-line services.
So far 670 people – including doctors, nurses and their household contacts – have attended appointments at the facility, with 14% of people testing positive.
Dr Tracey Gillies, the health board's medical director, said: "Providing access to staff testing is critical. It not only gives our colleagues reassurance but enables staff, if they feel well enough, to return to work.
"Across NHS Lothian, we have seen fantastic co-operation, flexibility and willingness from all our teams, and this staff testing facility really does encapsulate that.
4.30pm: Ferry operators 'need urgent support to save routes'
Ferry companies and port operators need urgent support to stop routes being axed as a result of the coronavirus outbreak, Scotland's Transport Secretary Michael Matheson has said.
He said the lockdown has led to significant losses in recent weeks and warned companies may soon have to make "difficult commercial decisions".
A joint letter from the Scottish, Welsh and Northern Irish Governments has urged UK Transport Secretary Grant Shapps to take action to prevent companies from collapsing.
Suggested measures include relaxing competition rules to allow ferry operators to work together and confirming seafaring companies can take advantage of the coronavirus job retention scheme.
3pm: World Pipe Band Championships 2020 cancelled.
The World Pipe Band Championships 2020, due to take place at Glasgow Green on August 14 and 15, have been cancelled.
Organisers of the 2020 Piping Live! Glasgow International Piping Festival have today announced that this year's festival will no longer take place – hours after reaching out to thousands of pipers across the world to pipe up as a poignant salute to key workers in the battle against the Covid-19 virus.
The festival, which was due to take place August 8 to August 16, was expected to welcome 40,000 visitors to the city, with 5,000 performers due to put on over 150 events throughout the city.
The championships, which attract around 200 bands from around the world to compete, have been held in the city every year since 1986.
Organisers say it will return in 2021.
Ian Embelton, Chief Executive of the Royal Scottish Pipe Band Association said: "The safety of everyone taking part and the integrity of the competition at all grades were the key factors in taking this decision now.
"Although very disappointed we will look forward to being back at Glasgow Green in 2021."
2.06pm: Queen to address UK and Commonwealth
On Sunday, The Queen will address the nation in a televised broadcast.
As well as on TV and radio, the address will also be shown online.
Buckingham Palace said in a statement: "Her Majesty The Queen has recorded a special broadcast to the United Kingdom and the Commonwealth in relation to the coronavirus outbreak.
"The televised address will be broadcast at 8pm on Sunday.
"The address was recorded at Windsor Castle."
1.30pm: Lifeline service for vulnerable people
Vulnerable people who are "shielding" from coronavirus for 12 weeks will be able to receive deliveries of food and other essential items through a text messaging service, Nicola Sturgeon has confirmed.
Speaking at a Scottish Government press briefing on Friday, the First Minister said 8000 people had already signed up for the initiative.
Information on how to register for the service was included in a letter to people who were advised to shield.
1pm: William and Kate's phone call 'real morale boost' for hospital
Hospital staff have said it was a boost to receive a phone call from the Duke and Duchess of Cambridge.
William and Kate chatted to staff from University Hospital Monklands in Airdrie and Queen's Hospital Burton in the West Midlands this week.
Eight members of staff from the North Lanarkshire hospital, including doctors, nurses, physiotherapists and a domestic assistant, were all present during the call.
Some of them initially thought it was an April Fools' joke but were delighted when they realised the call was genuine.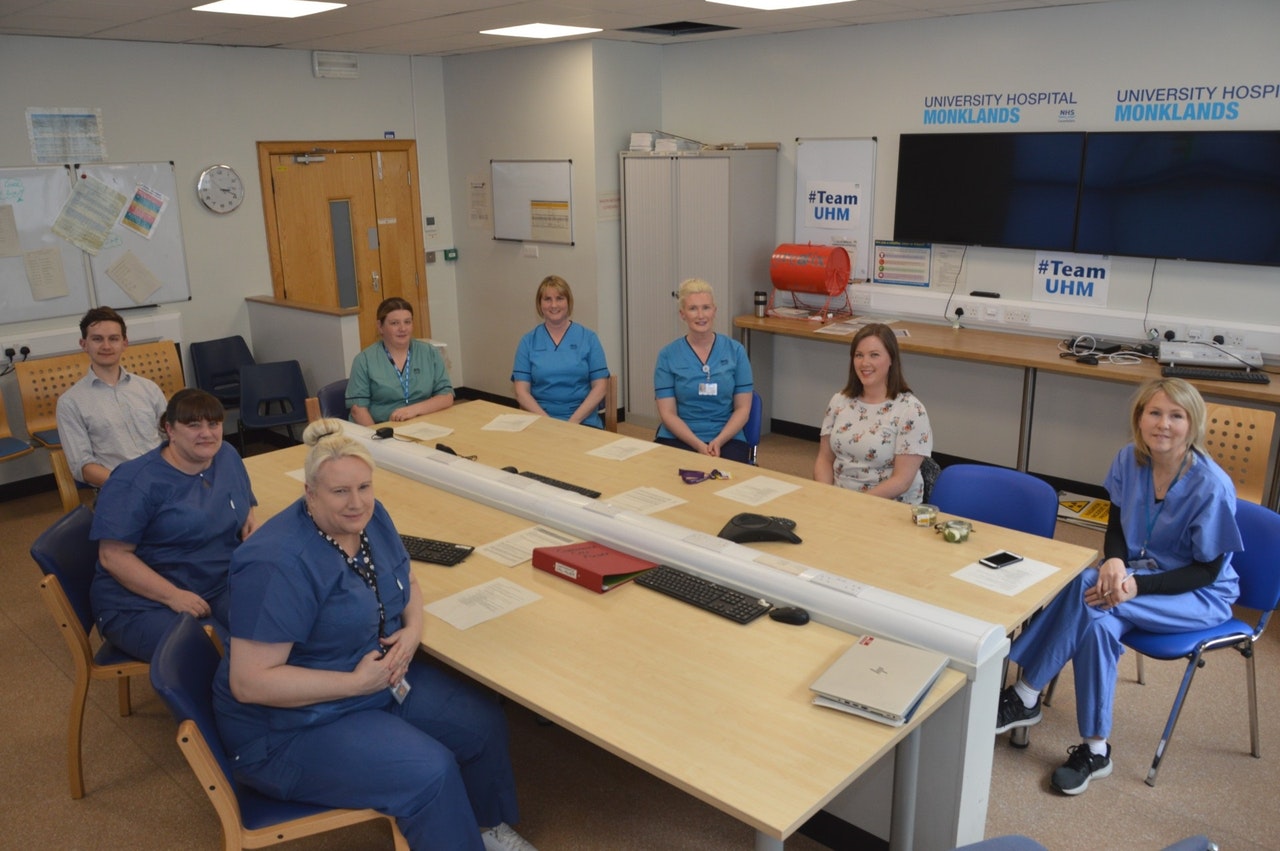 Donna Marie McGroarty, infectious diseases charge nurse, said: "We were so honoured to receive a call from Their Royal Highnesses.
"It has been a tough time for all our staff. However, the support we have received from colleagues and the community has been overwhelming.
"The telephone call from the duke and duchess was totally unexpected and a real morale boost."
Members of the royal family have used phone calls and video conferencing to conduct some of their royal duties as the country observes the coronavirus lockdown.
During the phone call on Wednesday afternoon, Kate urged the staff at the hospital to look after themselves while they are being pushed to the limit.
The duchess said: "You're stretched in all sorts of ways looking after the patients in your care under such extreme circumstances.
"But you also need to be able to make sure you support yourselves, and each other.
"It must be so hard but I'm glad to hear that you're currently getting all the support you need."
Dr Marion Devers, deputy chief of medical service at University Hospital Monklands, said: "It was a pleasure to speak with Their Royal Highnesses.
"There was a real sense of excitement in the room and I was struck by how touched the staff were by the opportunity to speak with them.
"All of the staff at the hospital have been impacted to some extent over the past eight weeks, both personally and professionally, and we are planning for the weeks and months ahead."
12.50pm: Prime Minister to remain in self-isolation
Boris Johnson has said that he will remain in self-isolation, having tested positive for coronavirus last week.
In a video on social media, the Prime Minister said: "In my own case, although I'm feeling better and I've done my seven days of isolation, alas I still have one of the symptoms, a minor symptom, I still have a temperature.
"And so in accordance with Government advice I must continue my self-isolation until that symptom itself goes.
"But we're working clearly the whole time on our programme to defeat the virus. You'll have seen the big announcement yesterday about 100,000 tests a day by the end of the month."
Mr Johnson also urged people to stick to the regulations over the weekend and not to be tempted by the forecast of good weather.
He said: "I just want to say one crucial thing, one quick thing to everybody thinking about this weekend and what may be some fine weather.
"I reckon a lot of people will be starting to think that this is all going on for quite a long time and would rather be getting out there, particularly if you've got kids in the household, everybody may be getting a bit stir crazy, and there may be just a temptation to get out there, hang out and start to break the regulations.
"I just urge you not to do that. Please, please stick with the guidance now.
"This country has made a huge effort, a huge sacrifice, done absolutely brilliantly well in delaying the spread of the virus.
"Let's stick with it now – remember that incredible clapping again last night for our fantastic NHS. We're doing it to protect them and to save lives."
12.30pm: Forty-six more deaths as cases reach 3000
A further 46 people have died after being diagnosed with coronavirus in Scotland, taking the country's death toll to 172.
First Minister Nicola Sturgeon also confirmed total confirmed Covid-19 cases in Scotland have risen by 399 in the past day to stand at 3001.
Of those reported patients, 176 of them are in intensive case in Scottish hospitals, the FM said, a rise of 14 in the last 24 hours.
11.40am: Staff create face shields for frontline staff
Staff at a north east academy have been busy creating more than 100 face shields for frontline workers during the coronavirus pandemic.
The equipment was made at Banff Academy by principal teacher of Design & Technology Caroline McFarlane and her colleagues Caitlin Paton and Roisin Steele.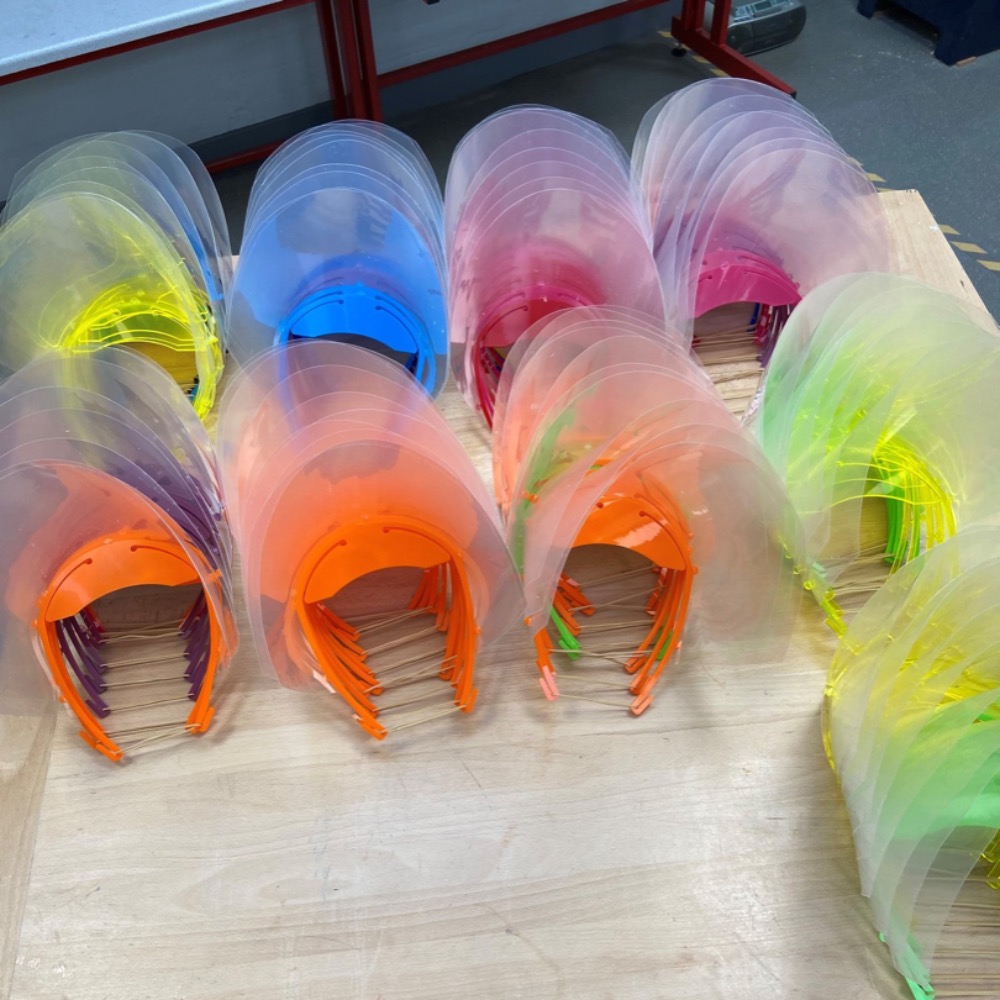 The masks were created using material found at the school and a laser cutter.
Ms McFarlane said: "Reading the emails from the community, either offering donations or requesting masks has been really moving and we are delighted that we are able to put our skills and abilities towards producing something that will have such a benefit."
The masks will now be distributed locally by Aberdeenshire Council.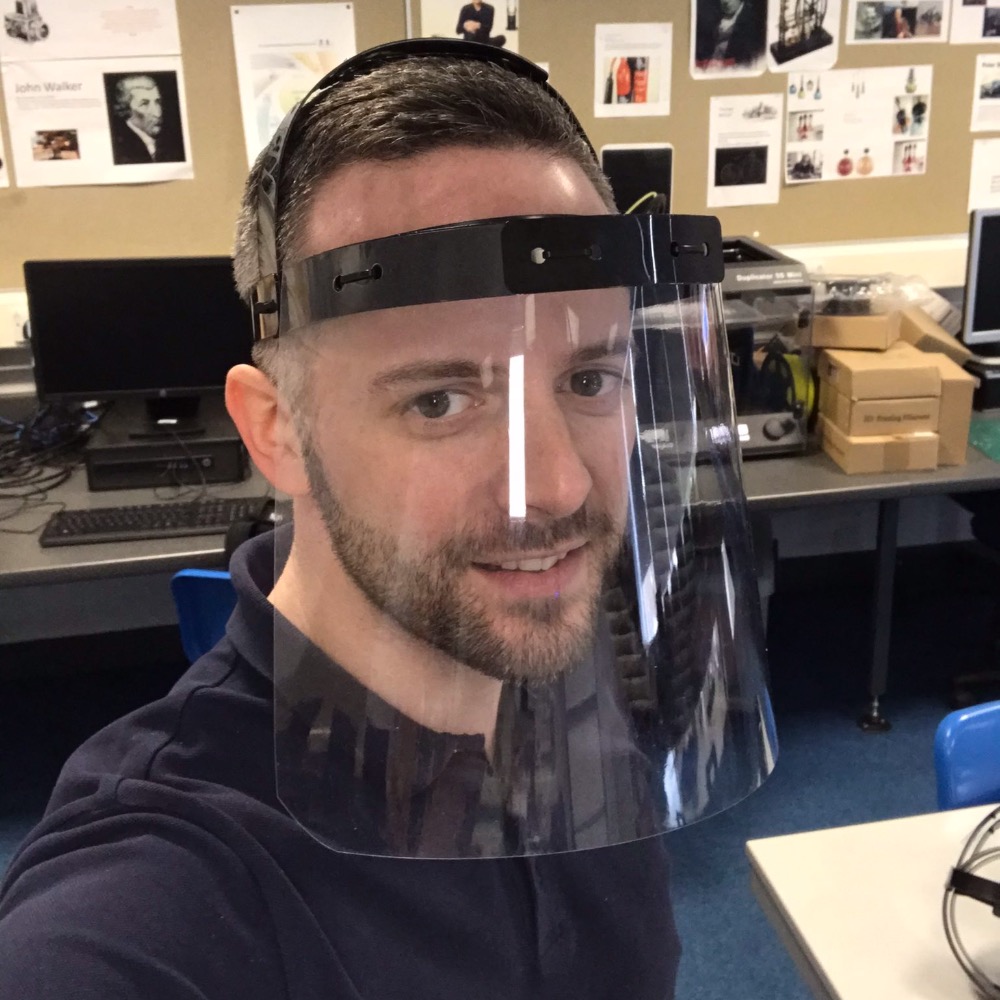 Teachers in schools across East Lothian are also producing visors in their classrooms to protect health workers.
The project, which was spearheaded by Preston Lodge High School's craft, design and technology (CDT) teacher John Troup, has been inundated with requests from carers and people working with patients with Covid-19.
Mr Troup said: "We felt the need to do something practical to support frontline workers at this difficult time.
"We're really happy to be able to put our skills and knowledge to good use supporting our community, and we've already had a lot of requests from frontline workers keen to quickly get hold of personal protective equipment."
The visors will be distributed by East Lothian Council.
11.30am: Support service for those most in need
Charities and community groups have been crucial in helping Falkirk Council deliver a telephone service to get help to those most in need during the Covid-19 crisis.
The Support for People service is designed to help those who have no other access to obtain food, medicines/prescriptions and other essentials because of health conditions or self-isolation.
Support officers pass the queries onto the third sector team that is best placed to provide support.
So far the service has been supported by 14 different organisations.
Councillor Cecil Meiklejohn, leader of Falkirk Council said: "The voluntary sector across Falkirk deserve huge praise for their work in delivering this service.
"While we can coordinate requests, it is their volunteers who are out on the streets supporting vulnerable people who are unable to do anything about their situation."
Those that require help can call 0808 100 3161 or visit the council's website.
The helpline is active every day between 9am and 6.30pm.
To volunteer, call 0300 311 9700 or visit CVS Falkirk.
11am: Bosses at Primark owner ABF take pay cut
Bosses at Primark owner Associated British Foods (ABF) said they will take a temporary pay cut as the coronavirus pandemic dents the group's finances.
It said executive directors at the business will also not receive bonuses for the current financial year.
Chief executive George Weston, finance director John Bason and Primark chief executive Paul Marchant will all see their base salaries temporarily cut in half.
The firm added non-executive directors, such as its chairman Michael McLintock, will see their fees reduced by 25% for the time being.
ABF said it is "acutely aware that many Primark employees will see their livelihoods affected by Covid-19", after the retailer shut all of its UK stores.
10.33pm: Pictures as construction begins at NHS Louisa Jordan
More than 500 people including contractors and clinicians are working to get Glasgow's temporary Covid-19 hospital up and running.
The Scottish Event Campus (SEC) is being repurposed into the new NHS Louisa Jordan facility, which will initially be able to treat 300 people if needed.
It is hoped it will be ready within two weeks.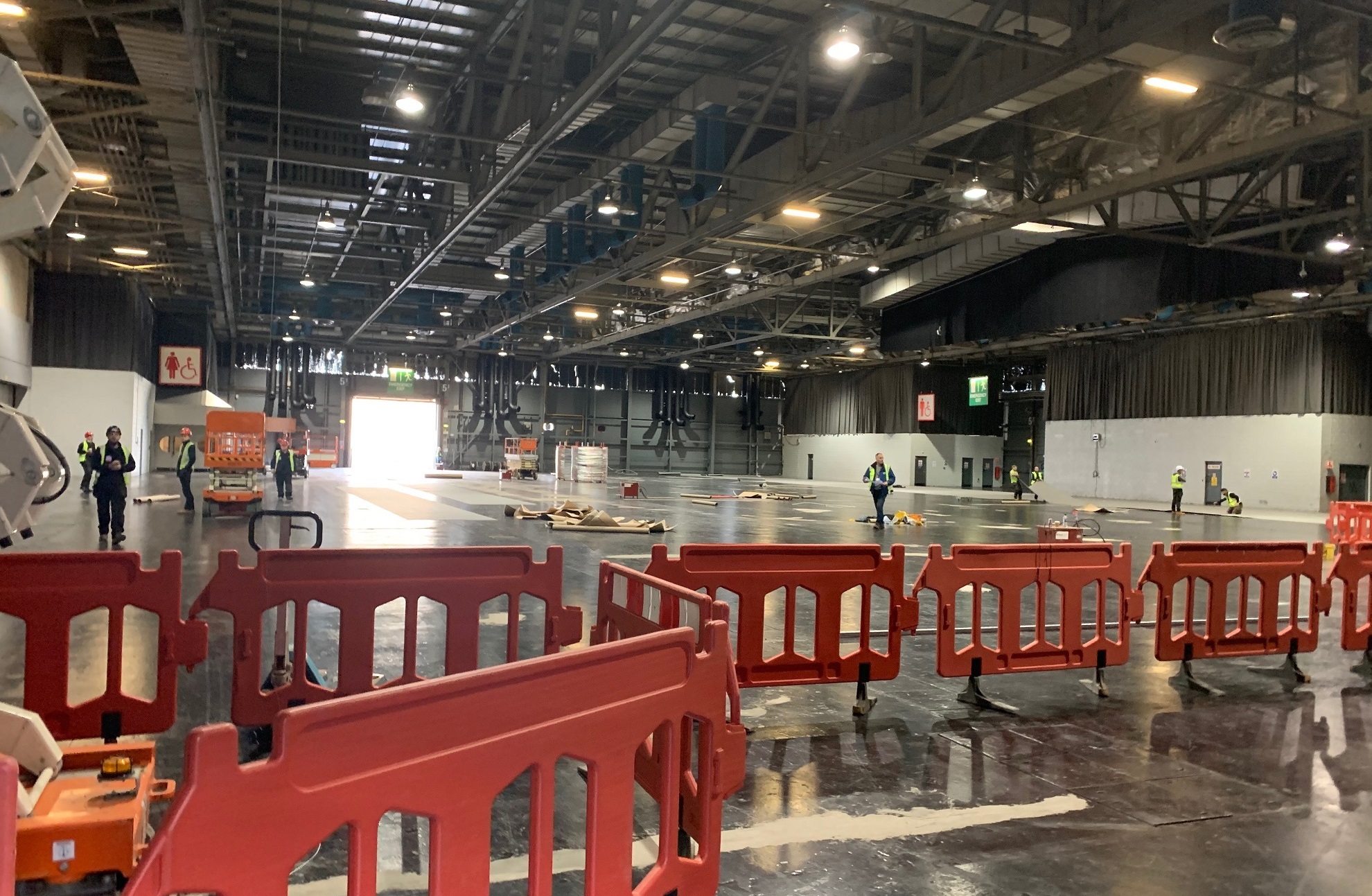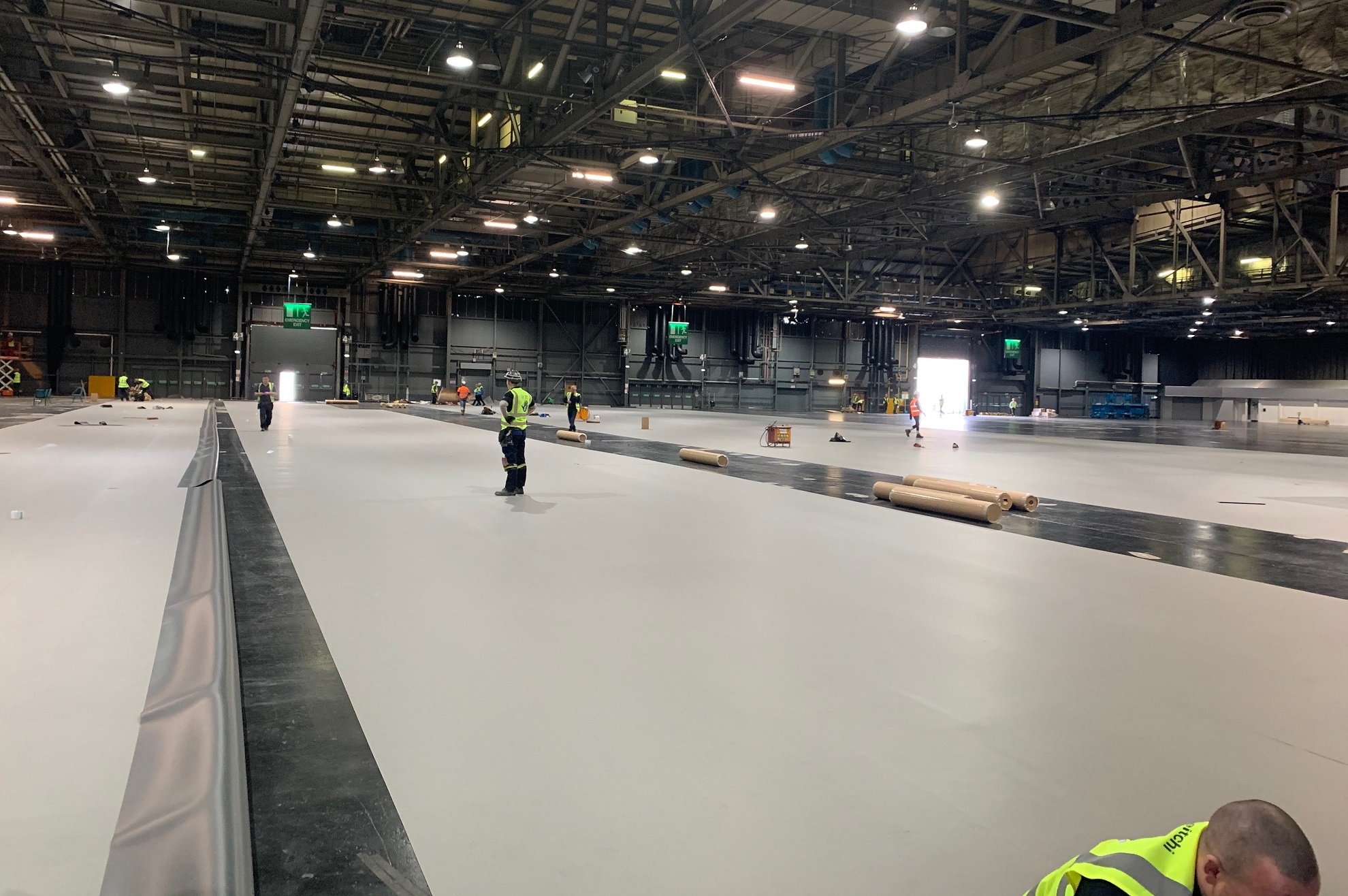 9.50am: Summer events in Glasgow to be rescheduled
The Glasgow Mela and Merchant City Festival will not be held on their scheduled dates in 2020.
Organisers are exploring ways to deliver the events either on later dates or in different formats.
The Glasgow Mela was due to be held on Sunday, June 7 in Kelvingrove Park while the Merchant City Festival had been due to run from Thursday, July 2 to Sunday, July 5, with this year marking the 30th anniversary of the Glasgow Mela.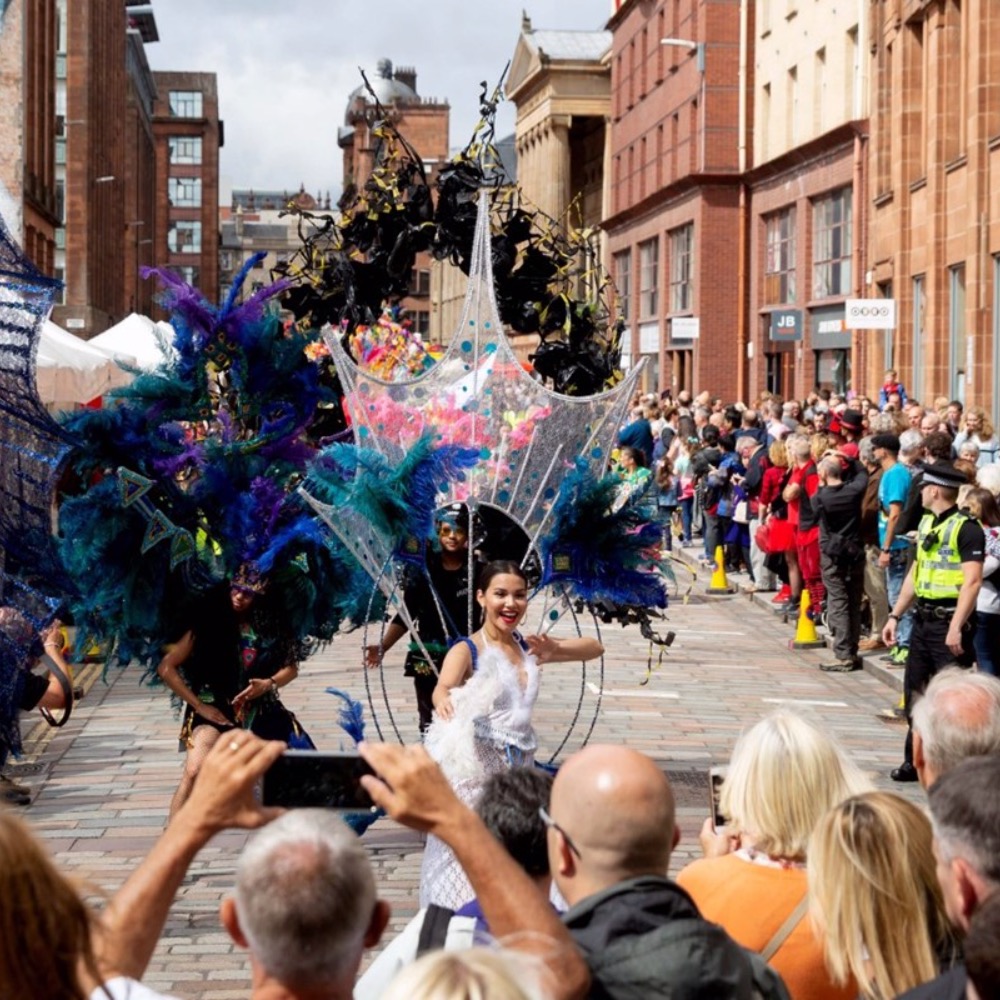 Councillor David McDonald, chair of Glasgow Life and depute leader of Glasgow City Council, said: "We know this decision will not be a surprise but we are conscious that tens of thousands of people who love attending The Glasgow Mela and the Merchant City Festival will still be disappointed.
"However with the current restrictions on all of us, we could not delay a decision. I very much hope we will see the Mela and Merchant City Festival in some form this year, if circumstances allow."
9.30am: Police issue 140 fixed-penalty notices
Police have issued more than 140 fixed-penalty notices to people flouting coronavirus lockdown rules in Scotland in the week since new powers came into force.
It is now a criminal offence to flout the public health guidance on social distancing to prevent Covid-19.
Police Scotland chief constable Iain Livingstone said the "overwhelming majority" of people in Scotland have been doing the right thing and following the rules.
But he warned police officers will not hesitate to take action against those who refuse to comply.
He said: "We've had to use the powers very infrequently. The level of cooperation and support from the public in terms of social distancing has been vast, overwhelming, everyone is stepping up and doing their duty.
"I said at the outset that we would use these powers only as a last resort and our approach would be to engage with people, to encourage people to comply with the social distancing guidelines, but where people refuse, where there's absolute refusal to do the right thing by their fellow citizens, we will take action.
"We've issued more than 140 fixed-penalties right across the whole of Scotland in the first week, which is very low numbers in terms of enforcement, but I do think it's important to know that when people refuse to cooperate, when people refuse to do the right thing, then police will take action."
He said most of the fixed penalties had been issued to people in groups such as a gathering at a house party.
8.30am: Harry Potter bridge turns blue for NHS staff
The iconic Glenfinnan Viaduct – which featured in the Harry Potter films – was lit up in blue on Thursday night in support of the NHS staff and other key workers working tirelessly in the fight against coronavirus.
8am: Ryanair expects 'minimal if any' traffic for two months
Ryanair expects to carry "minimal if any" traffic this April and May as the coronavirus pandemic forces its fleet to stay largely grounded.
Both depressed demand and government restrictions have forced Ryanair to stop flying, slashing the number of passengers it carries.
The company said that the number of passengers it carried in March was 48% lower than the same month last year.
It is currently flying less than 20 daily flights, compared to its usual 2500.
It operated 33,000 scheduled flights in March, carrying 5.7 million passengers, though 64,000 flights had been budgeted.
The budget carrier revealed it would not be able to give guidance for the next financial year and warned that its profit was likely to be in the lower end of guidance for the 12 months that just ended.
It expects pre-exceptional profit after tax will fall between £830m to £875m in the 2020 financial year, which ran until March 31.
7am: Warning over abusers looking to exploit coronavirus lockdown
At least 300,000 people in the UK pose a sexual threat to children as paedophiles look to exploit the coronavirus lockdown, the National Crime Agency (NCA) has warned.
Investigators have identified offenders discussing opportunities to abuse children during the Covid-19 crisis in chats online.
And police are warning of a spike in abuse with schools closed and youngsters spending more time on the internet.
Chief constable Simon Bailey, the National Police Chiefs' Council (NPCC) lead for child protection, said: "It is sickening to think that some criminals are looking to exploit the coronavirus crisis to cause harm online.
"Despite the issues that the pandemic will cause for law enforcement, child protection is still a priority and we remain totally committed to keeping our young people safe."
It comes after the NSPCC warned that children stuck at home using the internet during lockdown creates a "perfect storm" for offenders to abuse online.
The NCA estimates a minimum of 300,000 people in the UK pose a risk of committing physical or online child abuse, while investigators were able to find child sexual abuse material on the open web in just three clicks.
6.45am: Charles to open new NHS Nightingale Hospital from Scotland
The Prince of Wales is to officially open London's new NHS Nightingale Hospital which will treat intensive care Covid-19 patients, Clarence House has said.
Charles, who earlier this week completed self-isolation following his Covid-19 diagnosis, will launch the 4000-bed temporary facility at the ExCel convention centre in east London on Friday, via video-link.
From his Scottish home of Birkhall in Aberdeenshire, the prince is expected to say a few words in tribute to all those who have worked to create the new medical facility, and to people across the UK who continue to deliver frontline care to those affected by the coronavirus crisis.
6.40am: High street stores suffer worst month on record
Britain's high street retailers suffered their worst month on record in March as they were hammered by the Covid-19 lockdown, according to new figures.
The latest monthly BDO high street sales tracker saw total like-for-like sales dive 17.9% for the month as shoppers stayed indoors.
In-store sales were particularly badly hit, plunging 34.1% after non-essential stores were told to shut their doors in the face of the pandemic.
Reduced footfall due to social distancing protocols also hit stores during the month, while shoppers' attentions were diverted to essential items, such as groceries.
Fashion stores saw sales dive 40.4% over the month, while lifestyle shops also reported a 24.6% decline.
Shoppers turned their attentions online, with non-store like-for-like sales increasing by 13.7%.
However, this online growth was not consistent for all retailers, with fashion retailers also reporting lower online demand.
6.30am: Coronavirus-hit cruise ship docks in Florida
A cruise ship on which four people have died, including a 75-year-old British man, has docked in a port in Florida – after previously being denied entry.
The cruise-ship Zaandam, which was carrying 200 Britons, recorded nine confirmed cases of Covid-19 on board as well as around 200 people who reported flu-like symptoms.
Earlier this week the ship offloaded its healthy passengers onto its sister-ship, the Rotterdam, which has now also been given permission to dock.
Operating company Holland America said that following arrival in Port Everglades, all guests would be health screened and also cleared for entry by US Customs and Border Protection.
It added that disembarkation is expected to be completed by Friday evening, with priority given today to those who need immediate care.
6.30am: Lockdown may see 'rise in dangerous drugs'
A drop in the purity levels of illicit drugs could lead to an increase in overdoses as dealers see disruption to their supply chain, according to a charity.
We Are With You claims providers may begin to "cut" their substances to increasingly dangerous levels as the Covid-19 lockdown measures impact their ability to get drugs.
The drugs and mental health charity also claims users have been stockpiling drugs to see them through the social distancing restrictions brought in.
6.30am: Construction of NHS Louisa Jordan under way
Construction of the NHS Louisa Jordan in Glasgow to help cope with the Covid-19 outbreak is now under way.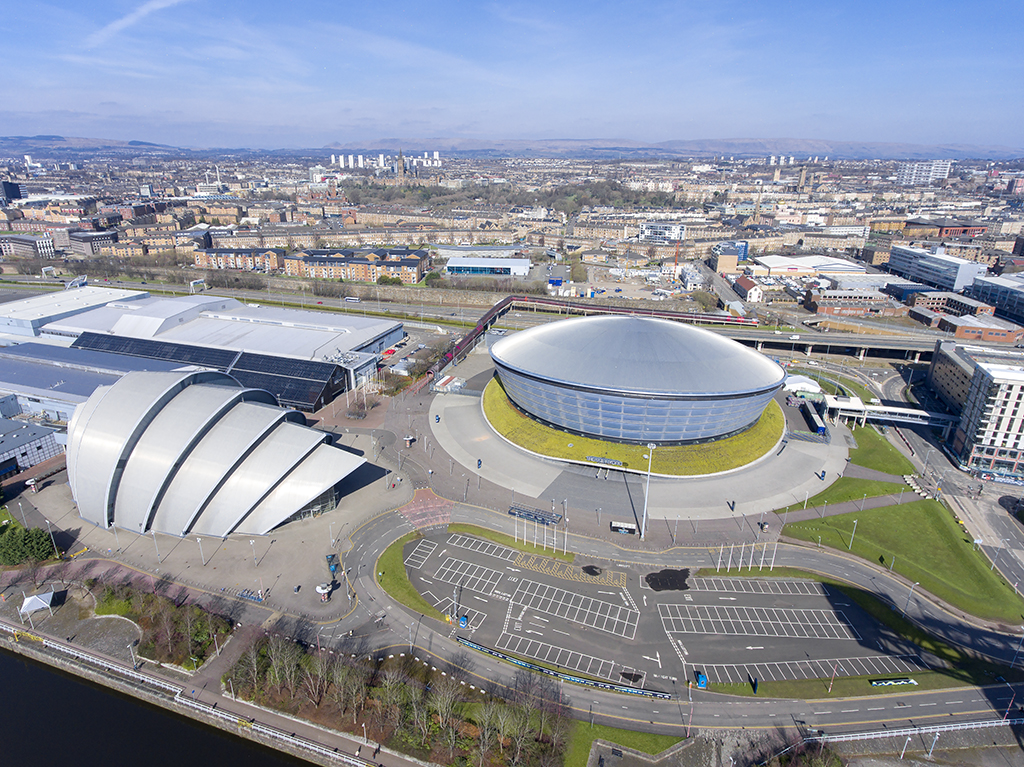 More than 400 contractors are working alongside nearly 150 clinicians and operational staff to establish the new temporary hospital.
It is being built at the Scottish Events Campus (SEC) in Glasgow to help deal with the Covid-19 outbreak.
6.30am: The fight against coronavirus continues
People are expected to remain at home in an effort to stop the spread of coronavirus.
Eleven days ago, Prime Minister Boris Johnson announced Britons should only go out for exercise once a day.
Gatherings of two of more people are banned, except for members of the same household.
People should only go to the shops for essentials like food or medicine as infrequently as possible, and should not go out to see friends or family members who do not live in the same house.
STV News is now on WhatsApp
Get all the latest news from around the country
Follow STV News
Follow STV News on WhatsApp
Scan the QR code on your mobile device for all the latest news from around the country