7.30pm: First Scots NHS worker dies
A district nurse from Inverclyde has become the first NHS worker in Scotland to die from coronavirus.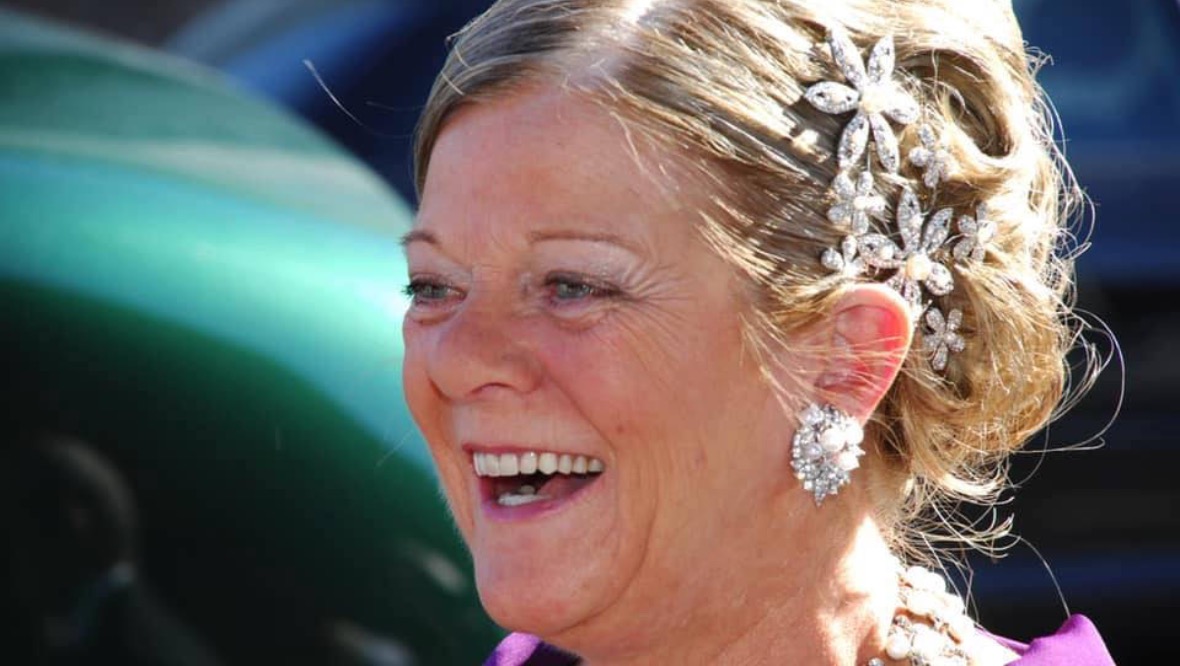 Janice Graham, 58, was described as a "beautiful woman with the biggest heart" by her heartbroken friends.
Ms Graham, a health care support worker and district nurse, died at Inverclyde Royal Hospital due to Covid-19 on Monday.
6.30pm: FM to take questions from party leaders in virtual session
Nicola Sturgeon will take questions from party leaders in a virtual question and answer session on Thursday.
It will go ahead at 12.30pm and is expected to last for around 40 minutes.
The First Minister said it would replace the usual coronavirus briefing – which is held daily.
It is expected that the session will mirror the first part of the First Minister's Questions, where Ms Sturgeon takes questions from her opposite numbers.
5.45pm: New rules 'could prevent prisoners from keeping clean'
New guidance issued to governors could prevent Scottish prisoners from keeping themselves clean during the coronavirus outbreak, opposition parties have said.
Changes to the rules around prisoners and young offenders mean they are entitled to showers at least "twice a week" as opposed to the current rules allowing showers at least once every other day.
Books and newspapers could also be restricted during the Covid-19 outbreak, as well as other activities, recreation and counselling.
MSPs were notified of the new rules on Tuesday.
Scottish Labour said prisoners must be treated with dignity during the pandemic.
The party's justice spokesman James Kelly said: "The World Health Organisation has made clear that prisons must ensure that the human rights of those in their custody are protected when implementing measures to deal with coronavirus, and that they should not be cut off from the outside world and retain access to information and healthcare.
"These new powers raise concerns that this may not be the case on the Scottish prison estate."
Scottish Liberal Democrat justice spokesman Liam McArthur MSP added: "It's hard to see how preventing prisoners from showering will help slow the spread of this virus.
"Prisons face particular difficulties in terms of containing and responding to the virus, while healthcare provision that was already under stress becomes even more so in the context of over-crowding and self-isolation.
"In the midst of this crisis, prisoners still deserve to be treated with compassion and dignity."
5.20pm: Government unveils £750m support package for charities
Charities struggling during the coronavirus pandemic will be given a £750m bailout to keep them afloat, the Chancellor has announced.
Rishi Sunak said charities, including those supporting domestic abuse victims and hospices, will receive cash grants to ensure they can meet increased demand as a result of the virus.
Some £360m direct from Government departments will go to charities providing key services, while smaller charities will benefit from £370m, including through a grant to the National Lottery Community Fund.
The Government has also pledged to match the public's donations to the National Emergencies Trust, guaranteeing a minimum of £20m.
It will also match fund whatever the public decides to donate to the BBC's Big Night In charity appeal on April 23.
5.15pm: Prime Minister remains in intensive care
Prime Minister Boris Johnson remains in intensive care.
At the UK Government's daily briefing on Wednesday, Rishi Sunak, the Chancellor of the Exchequer, said he was "sitting up in bed" and was engaging positively with NHS staff at St Thomas' Hospital in London.
Johnson was taken into intensive care on Monday, a day after going into hospital for treatment to coronavirus.
An official spokesman earlier said he was receiving "standard oxygen treatment" and was "breathing without any other assistance".
5.10pm: More than 7000 deaths across the UK
A total of 7097 patients have died in hospital after testing positive for coronavirus in the UK as of 5pm on Tuesday, the Department of Health said, up by 938 from 6159 the day before.
The Department of Health said, as of 9am on Wednesday, 232,708 people have been tested of which 60,733 tested positive.
Overall, 282,074 tests have concluded, with 14,682 tests on Tuesday.
The overall test figure excludes data from Northern Ireland and test data from Charing Cross and Southampton has not been included because of a processing delay, the department added.

5.04pm: FM warns ending lockdown early would be 'monumental mistake'
Nicola Sturgeon has warned it would be a "monumental mistake" to ease the coronavirus lockdown measures too early and said parents should not expect schools to reopen any time soon.
The First Minister said "prematurely" lifting current restrictions on social distancing and school closures risked undermining efforts to contain the disease and told the public: "We are in this for some time yet."
Speaking at the daily press briefing in Edinburgh, Ms Sturgeon said: "Obviously we will seek to get back to normal as quickly as possible, but it would be a really monumental mistake for us to lift these measures prematurely because all the hard work people are doing right now would be jeopardised if this virus just got out of control again.
"We will continue to be open with people as our understanding and our decision-making around these things continues to develop, but I will repeat the message today: we are in this for some time yet to come, people have to be prepared to stick with this in order for it to have the impact we want it to have."
She said she hoped not to have to introduce stricter measures, such as closing public parks, and added that the more people who comply with the guidance, "the quicker we will get to point where we can be starting to lift this".
On the issue of school closures, Ms Sturgeon acknowledged that many parents and children were eager to return but she said there were no plans to reopen schools after Easter.
4.50pm: 3D printers used to help create protective masks
Staff at Culture Perth and Kinross Libraries have used 3D printers to produce components that will be used to create protective masks for NHS workers.
The printers – bought as part of Leader-funded project Digital Maker_Spaces – were used to make headframes and stiffeners.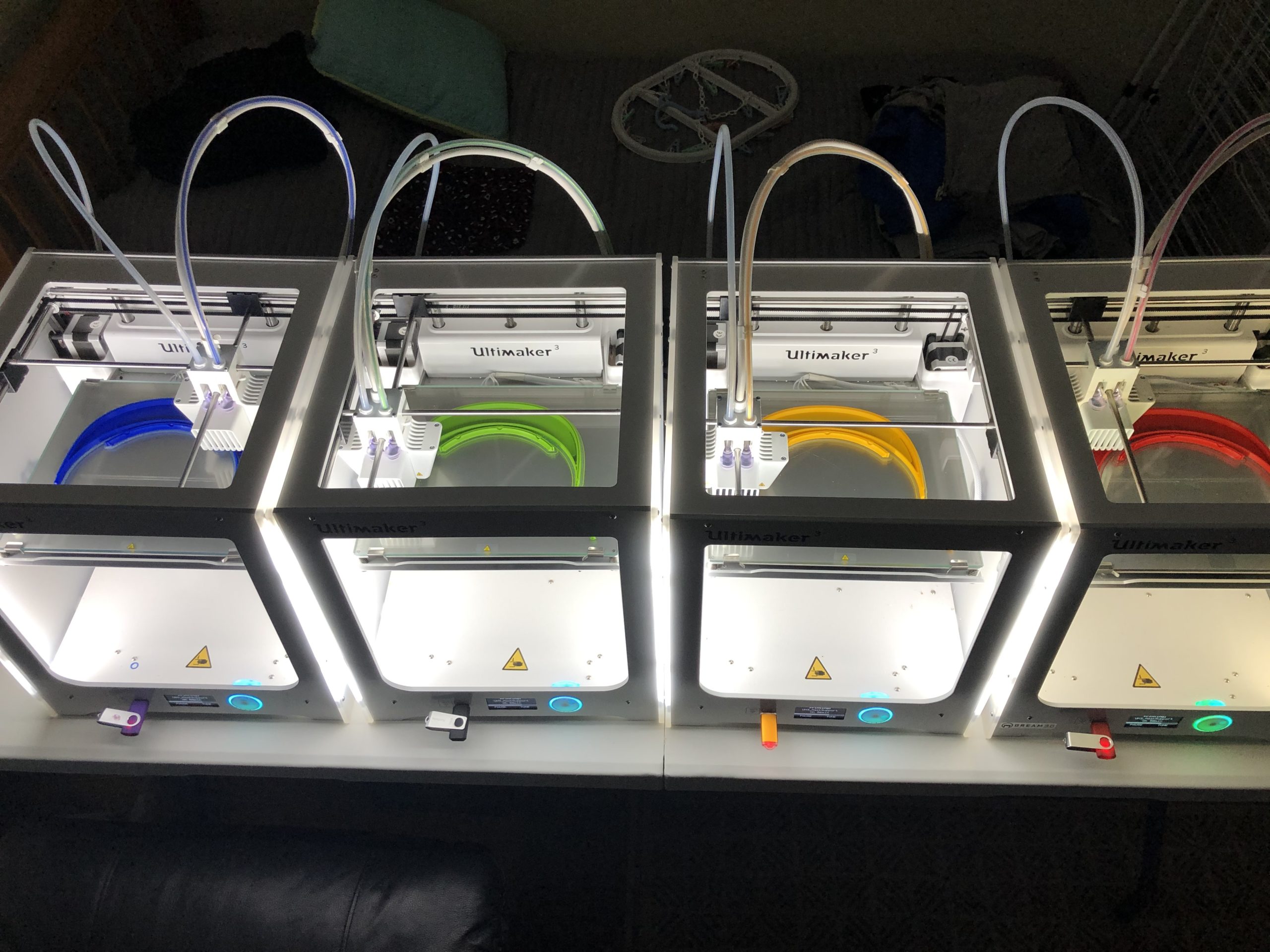 Working with Men's Sheds and other partners across the region, these items will have a laminated shield and elastic headband added to them, creating protective masks.
The final product will then be given to the NHS Tayside Testing Centre.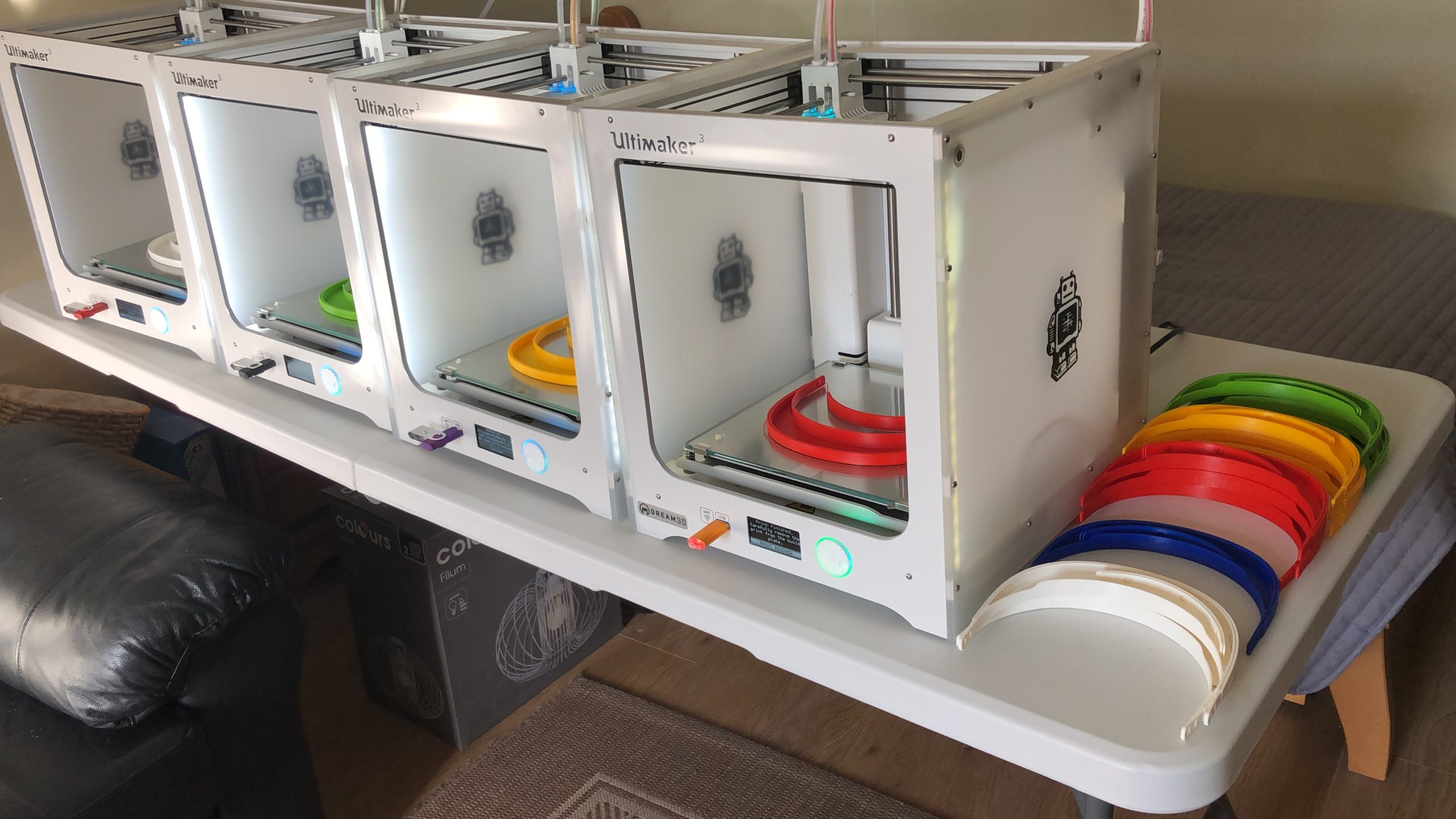 Jackie Brierton, chair of Rural Perth & Kinross Leader Local Action Group, said: "This is a great repurposing of resources to help combat the coronavirus crisis.
"We're delighted that the Leader programme, which is made up of EU and Scottish Government monies, can support Culture Perth and Kinross' innovative project.
"The Leader team was able to help the project align the remainder of its funding contribution to respond to the call for help."
4.32pm: Scottish Parliament explores remote working for MSPs
The Scottish Parliament is exploring remote working in response to the coronavirus outbreak, which could involve party leaders questioning the First Minister virtually on Thursday.
In a letter to MSPs on Wednesday, Presiding Officer Ken Macintosh said the parliamentary bureau – a group of MSPs which decides the business of the parliament – is currently hoping to hold a session similar to First Minister's Questions.
Testing was due to be undertaken by officials on Wednesday to assess how the process would work.
The Presiding Officer wrote: "Like other legislatures, colleagues here have been very busy in recent weeks examining and testing a range of options for virtual working and I am pleased to say that the progress they are making is very encouraging indeed.
"In the first instance, the Parliamentary Bureau is exploring holding a leaders' virtual question time where party leaders can question the First Minister."
If the first session on Thursday worked, the Presiding Officer said there would be scope to allow questions to come from all MSPs in the following weeks.
3.30pm: Emergency funds offered to students during coronavirus outbreak

A £5m package of emergency financial support is being put in place to help students facing hardship as a result of the coronavirus (COVID-19) outbreak.
Extra cash will be available to any university and college students now struggling as a result of COVID-19, including those attending private institutions.
University and college students will be able to apply for any emergency discretionary payments directly to their own institutions.
Further and Higher Education Minister Richard Lochhead said: "We are ensuring students studying in Scotland should have access to emergency support should they be facing financial hardship as a result of COVID-19 or the social distancing and isolation measures that have been introduced.
"All bursaries, grants and loans are continuing to be paid as planned but the current unprecedented situation has resulted in increased hardship.
"That is why we are making extra funding immediately available for students most in need, to help alleviate concerns around accommodation costs, mental health issues, general living costs and wellbeing.
"Institutions will be provided with specific guidance on the discretionary funding related to COVID-19, to explain all relevant details while students can access the latest information on COVID-19 on the Student Information Scotland website."
3.15pm: Lib Dems say PPE is an "absolute basic"
Following an open letter send to the government expressing serious concerns about supplies of PPE equipment to frontline workers and the quality of that being received which was signed by over 100 medics in Scotland, Scottish Liberal Democrat health spokesperson Alex Cole-Hamilton MSP has issued a statement.
"We are now weeks into this crisis. It's outrageous that our health professionals are being sent out on the frontline without the protection they need. These supplies are an absolute basic," he said.
"Medics should not feel the need to turn to the media for their concerns to be listened to. This daily fight for adequate protective equipment is distressing and distracting at a time when it should be all hands on deck.
"In both primary and community care we need to see high quality supplies getting to the people who need it right now."
1.15pm: Prime Minister 'clinically stable' and responding to treatment.
Prime Minister Boris Johnson remains 'clinically stable' and is responding to treatment.
Downing street say he is in 'good spirits' in St Thomas's hospital in London where he is in intensive care.
Johnson's official spokesman said: "The Prime Minister remains clinically stable and is responding to treatment.
"He continues to be cared for in the intensive care unit at St Thomas's Hospital. He's in good spirits."

The PM continues to receive "standard oxygen treatment" and is "breathing without any other assistance", he said.
Downing Street confirmed the PM is not working while in intensive care and thanked the public for messages of support.
Asked if anyone has been in contact, the spokesman said: "The PM is not working, he's in intensive care, he has the ability to contact those that he needs to, he's following the advice of his doctors at all times.
"We are hugely grateful for the messages of support that the Prime Minister has received.
"I think the public response to coronavirus throughout has been fantastic and that has been best exemplified by the applause they've been giving to NHS staff every week."
12.58pm: Death toll from coronavirus rises by 70 to 366
The death toll from coronavirus in Scotland has risen by 70 overnight to 366, with more than 4500 confirmed cases, Nicola Sturgeon has said.
Total confirmed cases are up by 336 to 4565, while there are 210 patients with Covid-19 in intensive care and 1711 in hospital overall.
It comes as the National Records of Scotland (NRS) published new weekly figures providing more detail on coronavirus-linked deaths.
Speaking at a Scottish Government press briefing on Wednesday, the First Minister confirmed the numbers.
11.51am: Scottish Government responds to 'grave concerns' of medics over PPE
The Scottish Government has said that the protection of frontline healthcare workers is the 'highest priority' after medics raised 'grave concerns' over the issue.
Over 100 medics signed an open letter questioning if protective equipment provided to them was adequate for the job hand.
In response a government spokesperson said: "We attach the highest priority to the protection of our frontline social care and healthcare workers, and the detailed clinical guidance issued last week was jointly prepared by senior expert clinicians across the UK, was jointly agreed by Scotland's Chief Medical and Nursing officers and contains specific detail about what PPE should be worn, by which staff and when.
"As the Health Secretary announced last week, we have introduced four direct supply lines for PPE, a streamlined ordering system for all staff who need PPE and a new dedicated email address for any health or social care worker who has any concerns about PPE supply to make contact with us immediately. Where we are alerted to any local issue about PPE availability, we act immediately to address these.
"We are clear that appropriate eyewear protection must be provided in accordance with UK four nation guidance. We have adequate supplies of PPE in place and our new supply line measures are ensuring that the right equipment reaches the right locations with the highest possible urgency.
"The Health Secretary had discussions with Andrew Buist and Lewis Morrison of the BMA, last week, on key issues including PPE and will continue to engage with them both regularly during this time."
11.16am: Glasgow Warriors star returns to NHS as a physio to help fight against covid-19.
Rugby star Petrus de Plessis has announced he will return to the NHS as a physio.
The Glasgow Warriors player-coach, who has been at the club since 2018, made the announcement on Twitter.
The 38-year-old South African has registered as a respiratory physiotherapist in a bid to help the fight against covid-19.
He said: "I've registered to go back to the NHS as a respiratory physiotherapist. I strongly believe it's important to have all hands on deck to overcome this virus!"
10.16am: Pub's tribute to health workers
Grace's Bar in the Merchant City area of Glasgow has paid a striking tribute to NHS workers.
The venue, known as a Celtic pub, is closed during lockdown and wanted to brighten its boarded-up windows.
Bar owner Paul Kelly said: "We felt the need to board up the windows as a precaution for extra safety and security and it suddenly hit us that everything we have worked for as a team and a community was in ruins.
"We could have advertised our venue but that wasn't right either when there are people out there fighting for their lives and others on the frontline battling this virus.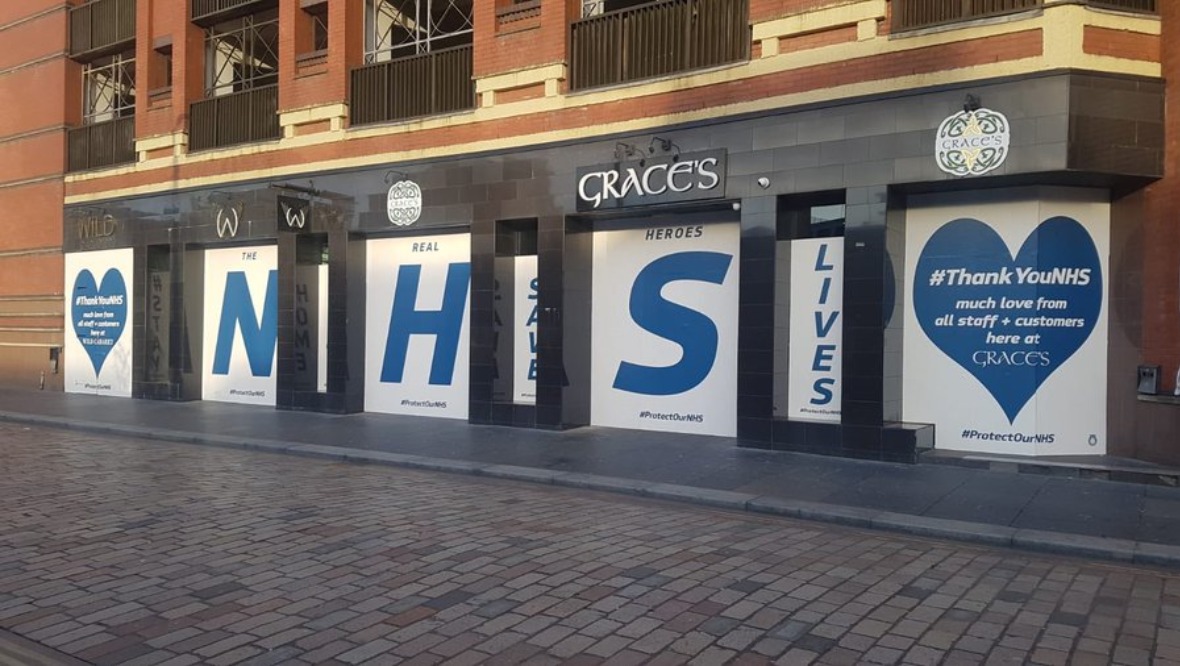 "We are a sports bar, mainly Celtic fans but we have many fans from other teams who visit regularly too and we'll all really miss the place during this closure.
"However the message is still the same, we want to help remind everyone to stay at home. It is Easter weekend which is meant to be a holiday, a time of joy and it would be easy to forget our commitments to stay safe, so we wrote this message as a reminder that it is more important than ever to stay home and help in this fight. We are all in this together."
9.50am: Half of those diagnosed with covid-19 in Forth Valley 'fully recovered and back home'
Around half of the 243 people who have had a confirmed coronavirus diagnosis in Forth Valley are already fully recovered and back home.
Dr Graham Foster, Forth Valley's director of public health, said it was important to get the message out that people had been discharged when it was safe to do so.
As the Scottish and UK death tolls rise, and the Prime Minister himself in intensive care, more and more people are facing up to just how deadly covid-19 can be.
And some have been nervous about those who have had the illness returning to their communities.
But Dr Foster said: "We want to be reassuring that these people are not a big infection risk and they don't need to be treated any differently.
"They will obviously do the self-isolation that everyone else is doing and obey the same rules as everyone else but people don't need to worry about them.
"People need to get used to the idea that the normal path of covid is that you become unwell for a period of time, usually seven days, and then you are safe after that to be discharged."
9.27am: Emergency £500 grant available to those impacted by coronavirus
People in financial crisis caused by the ongoing covid-19 pandemic can now receive immediate help in the form of a cash grant.
The initiative comes thanks to the launch of an emergency coronavirus grant fund by national poverty charity, Turn2us.
A one-off crisis grant of £500 will be approved and paid within just three working days of an application, as long as they meet the grant fund's eligibility criteria.
The grant will not need to be paid back and is intended to be a financial lifeline in a time of crisis.
One million people came to Turn2us for help in the last three weeks alone, representing a 520% increase, and 1800% increase amongst the self-employed.
8.50am: 'Video visiting' launched for Western Isles hospitals
A new 'video visiting' service is to be launched in the Western Isles on Wednesday, which will enable hospital inpatients and their friends and family to keep in touch via a video link.
In a statement, NHS Western Isles said that since the closure of local hospitals to visitors as a measure to control the spread of Coronavirus, staff had been working on a new system enabling video connections for hospital patients.
The service will initially be available for calls seven days a week between 2pm and 4pm to patients in Western Isles Hospital in Stornoway, with a roll-out of the scheme to all Western Isles hospital sites over the next two weeks currently being considered. Calls will be ten minutes in duration.
8.46am: Entrepreneur gives £100,000 to fund free meals
Scots entrepreneur Marie Macklin has donated £100,000 to help people in need during the coronavirus outbreak.
She has launched a community fund called Lift Up Your Hearts, which aims to deliver 20,000 free meals.
The project has teamed up with charity Centrestage and company Braehead Foods to prepare and deliver free meals to homes in Kilmarnock and across East Ayrshire.
Marie, who founded the HALO urban regeneration company, said: "It is a very proud day for not just me but everyone at the HALO to see so many people come together to support the Lift Up Your Hearts campaign which we hope will help local communities that need it the most during these unprecedented times.
"I'd like to thank the team at Braehead Foods and everyone at Centrestage for their support and dedication to making the first deliveries of these 20,000 meals happen so quickly.
"I am confident that together we will help as many people as possible get through these difficult times."
8.32am: Scottish football clubs set for crunch coronavirus talks
Scottish clubs will hold further talks with league officials on Wednesday in a bid to secure more clarity on the fate of the current season.
A number of clubs have already called on the Scottish Professional Football League to declare the standings as they are.
But Hearts have threatened legal action if they are relegated with eight games left and Rangers vowed to challenge any attempt to declare Celtic champions.
8.20am: Medics raise 'grave concerns' over protection equipment in open letter to Scottish Government
More than 100 medical professionals have signed an open letter to the Scottish Government raising "grave concerns" over personal protective equipment.
The open letter states that the virus has caused "upheaval" and lives have been "turned upside down" with people suffering from "fear and anxiety".
It goes on to say that many working for the health service have concerns about the adequacy of the protective equipment needed in the "frontline battle" against an "invisible enemy".
The medics wrote: "Health care workers are falling ill and dying due to covid-19. We believe it is vital that essential workers are given adequate PPE at the very least, to protect themselves and in-turn their patients from this new virus."
7.50am: UK coronavirus strategy questioned
Questions have been asked over the UK's covid-19 strategy in the absence of the Prime Minister who remains in intensive care with the virus.
Concerns were raised over when the lockdown measures will be reviewed – and leading officials have admitted the UK has "a lot to learn" from Germany's expansive testing scheme.
Earlier, foreign secretary Dominic Raab, who is deputising in Boris Johnson's absence, suggested the review of the lockdown announced by the PM when he set out the restrictions would not go ahead on Monday as scheduled.
7.35am: Prime Minister spends second night in intensive care
Boris Johnson has spent a second night in intensive care being treated for Covid-19.
Downing Street said the PM's condition remained "stable" on Tuesday night as they confirmed he would be staying in St Thomas's hospital for "close monitoring".
The 55-year-old is said to be in "good spirits".
7.05am: Report warns that GDP could shrink by 25% if lockdown continues
The Scottish economy could contract by up to a quarter if the current lockdown restrictions continue for a three-month period, according to the Fraser of Allander Institute.
The report from the economic research institute at Strathclyde University found there is likely to be "a long road to recovery" from the "unprecedented" impact on GDP from the coronavirus pandemic.
The estimates are predicted on a three month period of restrictions and are not an "exact prediction for growth" in Q2 of 2020, but "simply an illustration of the scale of the shock" to the economy.
The report adds that "it might be many months or even years before we actually know the full extent of the effect of the shut down on the Scottish economy".
7am: Jobs market sees greatest drop in permanent starts since global crash
Permanent job appointments across Scotland in March fell at the fastest rate since the global financial crash, according to a study.
The latest Royal Bank of Scotland figures show the country saw the steepest decline last month in these job starts since April 2009, with a drop of 10.7 points from the "no change" base rate of 50.
Permanent job placements in April 2009 had a rating of 33.6, some 16.4 points below the 50 standard.
Temporary billings also fell 19.3 points – the steepest rate on record – as the Scottish jobs market was hit by the coronavirus pandemic.