8.15pm: Six children in secure units test negative
Six children in secure care units in Scotland have tested negative for coronavirus.
The figures were revealed by justice minister Humza Yousaf in a letter to the Scottish Parliament's justice committee.
The letter outlined work to maintain policing and the justice system during the Covid-19 pandemic.
Mr Yousaf said six young people across Scotland's five secure centres have recently been in isolation, with each testing negative for the virus.
7pm: Boris Johnson to spend another night in hospital
Prime Minister Boris Johnson will be spending another night in hospital where he is being treated for coronavirus.
A Downing Street spokesman said: "The Prime Minister's condition is stable and he remains in intensive care for close monitoring. He is in good spirits."
No further updates on his condition are expected until Wednesday.
6.30pm: Annie Lennox sings message of support
Glasgow Caledonian University has shared a message from its chancellor, singer Annie Lennox.
6.10pm: Coronavirus advice sees A&E attendances fall to record low
Attendances at A&Es across Scotland have reached a record low for the second week running.
Health secretary Jeane Freeman has thanked the public and health and social care service as A&E statistics have shown a record low number of attendances.
During the week ending March 29, there were 11,020 attendances in A&E services – down from 16,425 the previous week.
Some 92.2% of those were seen within four hours, although this is still less than government targets of 95% of patients being seen in that timeframe.
More than 60 people waited eight hours or more and ten patients spent more than 12 hours in the A&E department.
6pm: Scots doctor 'felt like she was drowning' in coronavirus battle
A Scots doctor working in London is warning people to take the social distancing and quarantine measures seriously after falling ill from coronavirus.
Geraldine McGroarty, who is originally from Greenock, Renfrewshire, said she must have been exposed to Covid-19 on the frontline at work, but added: "It's a choice I gladly made and will gladly do so again to help in this pandemic.
"However it's also possible to have caught it from the many groups of people I see still wandering London."
Sharing her story online, she described the moment she was taken to the emergency department and during her struggle to breathe she felt like she was "drowning".
5.39pm: No rapid acceleration in UK hospital admissions
The UK's chief scientific adviser has – cautiously – suggested that the steady rather than rapid rise in coronavirus-related hospital admissions suggests the rate of cases "could be moving in the right direction.
Figures for the last 24-hour period show hospitalisations for Covid-19 patients have risen by 2%.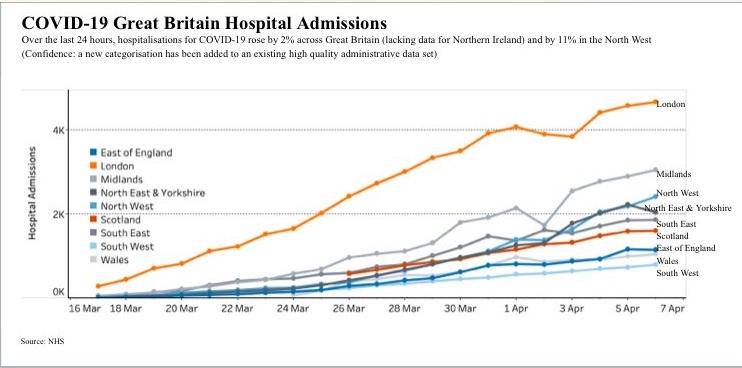 Sir Patrick Vallance told the daily Downing Street press conference: "It's possible that we're beginning to see the beginning of change in terms of the curve flattening a little bit.
"We won't know that for sure for a week or so.
"There hasn't been the accelerated take-off and again it's possible that we're beginning to see the start of a change where we might see numbers flattening off.
"It does begin to suggest that things might be moving in the right direction in terms of numbers and it's important that we carry on with the measures that we have got in place in order to make sure that this does go in the right direction."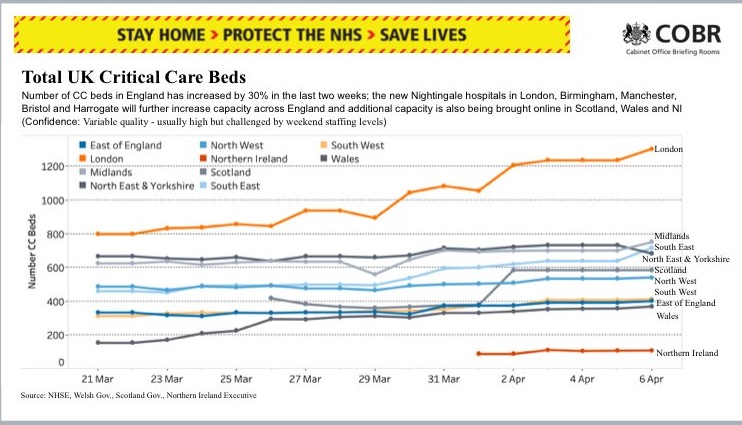 He also praised the UK's health services for boosting intensive care beds, saying he hope there will not be an overall increase in demand above the number of ICU beds available.
He said: "There are always times in every winter when ICU beds top out in individual hospitals, and that may happen and I can't guarantee it won't.
"What we can say, though, is that the numbers as we look at them now look as though we should come in about right, there shouldn't be an overall increase above the number of beds available.
"The NHS, I think, has done an amazing job in terms of increasing the capacity of ICU and so things seem to be tracking in the right direction, but I don't think I can say more than that."
5.20pm: Dominic Raab confident 'fighter' PM will pull through
Boris Johnson is a "fighter" who is "receiving the very best care" and remains in good spirits after spending the night in intensive care, Dominic Raab has said.
The Prime Minister was moved to intensive care on Monday night following a worsening of his coronavirus symptoms, but is reported to be stable.
Speaking at the daily Number 10 briefing: Raab said: "He is not just the Prime Minister. For all of us in cabinet, he is not just our boss.
"He is also a colleague and he is also our friend."
The foreign secretary continued: "All our thoughts and prayers are with the Prime Minister at this time, with Carrie (Symonds) and his whole family.
"And I'm confident he will pull through because if there is one thing that I know about this Prime Minister is he is a fighter and he will be back leading us through this crisis in short order."
Raab is deputising for Johnson while he is unwell.
4.13pm: Pharmacies asked to stay open over the Easter weekend
The health secretary is asking community pharmacies across Scotland to stay open on Good Friday and Easter Monday "where possible".
Additional funding of £5.5m will be provided to pharmacies to help them cope with increased pressures from coronavirus, the Scottish Government has pledged.
Pharmacy workloads almost doubled in March due to Covid-19 – with increased prescriptions, staff overtime and a higher level of consultations all resulting in additional costs for the service.
The additional funding will be added to the network's March payments.
Health secretary Jeane Freeman said: "I want to thank all community pharmacy teams for their incredible hard work throughout this pandemic.
"They are doing an invaluable job to ensure people continue to receive vital medicines and care through this period of unprecedented challenge for the NHS".
"Given the exceptional situation we are in, I have taken the unusual step of asking community pharmacies to remain open on Good Friday and Easter Monday – where it is possible to do so.
"This will help to alleviate some pressure from out-of-hours services."
4.01pm: Sturgeon: Intense focus on PPE for care home workers
Providing adequate personal protective equipment (PPE) for care home workers is an "issue of intense focus" for the Scottish Government, Nicola Sturgeon has said.
It follows concern over PPE available to staff looking after elderly and vulnerable Scots during the coronavirus outbreak.
3.52pm: Hunt for salmon poachers ignoring travel advice
Police are on the hunt for poachers ignoring the coronavirus travel restrictions to fish for salmon on the River Don.
Investigating officers said they have received reports of poaching on the river near Kemnay, Aberdeenshire.
The men are believed to be using rod and line to fish for salmon without a permit.
3.22pm: Biotechnology firm to test hundreds of Covid-19 patient samples daily on behalf of NHS
Censo Biotechnologies claims it will be the first firm north of the border to provide direct Covid-19 testing support for the NHS.
It said NHS Scotland has accepted its offer to test a minimum of 15,000 samples per month for coronavirus.
3pm: Warning after warm weather sees people flock to beauty spots
East Dunbartonshire council has warned residents against breaking social distancing measures by travelling to beauty spots for exercise.
It said "spring-like" weather drew in crowds to visit places such as Milngavie Reservoir, Mugdock Country Park and the "Car Park in the Sky" at the Campsies.
It has now issued a reminder to residents to remain close to home for their daily exercise to minimise the potential spread of Covid-19.
2.07pm Sturgeon tells PM: 'we are all willing you on, get well soon.'
Nicola Sturgeon has wished the Prime Minister well as he battles coronavirus in intensive care, saying: "We are all willing you on Boris, get well soon."
The First Minister issued the message of support to Johnson and his family on behalf of the Scottish Government and the people of Scotland while he continues to fight the Covid-19 infection.
Speaking at the daily press briefing, in which she announced the recorded death toll from coronavirus in Scotland had risen by 74 to 296, Sturgeon said the Prime Minister's illness showed that the virus "simply doesn't discriminate".
12.58: Sturgeon confirms 74 more deaths as numbers rise to 296
There have been 74 more deaths of people with Covid-19 reported in the last 24 hours in Scotland, taking the country's death toll to 296.
First Minister Nicola Sturgeon stressed the spike is partly due to fewer deaths reported at the weekend.
Total confirmed cases of the virus in Scotland are up by 268 to stand at 4229.
12.27: UEFA president warns that league decisions must be approved
UEFA president Aleksander Ceferin has warned football authorities, including the SPFL and SFA, decisions on the outcome of competitions are not to be made without consultation.
Leagues across Europe are suspended because of the coronavirus pandemic, with no return date set and little prospect of competitive games before July at the earliest.
UEFA have already postponed the European Championships by a year and suspended their club competitions but have said they hope to see competitions played to a conclusion when circumstances allow.
11.40am: Minister offering online memorial services in place of public funerals.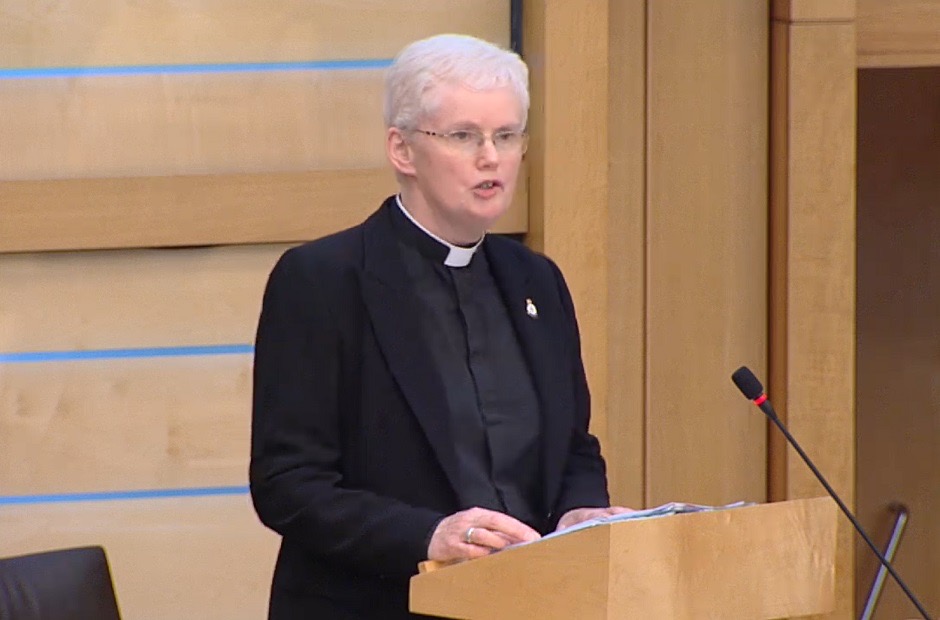 A Church of Scotland minster is offering online memorial services in place of public funerals due to the Coronavirus pandemic.
The services will be recorded by Rev Dr Marjory MacLean alone in a church after consultation with bereaved families.
It will then be posted online on the same day as the committal service.
Dr MacLean, minister of Abernyte, decided to act after restrictions on traditional funerals were put in place by the Church of Scotland due to the Covid-19 crisis.
She said: "Often a funeral in our tradition consists of what is essentially a memorial service and a separate very short committal service, often attended only by the family.
"While committal services are very constrained at the moment, this idea allows the memorial service to be attended by anyone."
11.14am: Michael Gove in self-isolation after family member develops coronavirus symptoms
Michael Gove is self-isolating after a family member began experiencing symptoms of coronavirus.
The Chancellor of the Duchy of Lancaster, part of the government's lead team giving advice on Covid-19, remains "well" but must stay in self-quarantine, as per public health instruction.
With Prime Minister Boris Johnson in intensive care after his coronavirus symptoms worsened, it had been expected Gove would continue to play a leading role in the government's response to the outbreak.
He will continue to work from quarantine and in morning interviews before his isolation was revealed, he said the "work of government goes on".
10.20am: Queen sends message to healthcare workers on behalf of Royal Family
The Queen has marked world health day by sending a message of support to healthcare workers around the world.
As well as thanking them for their "selfless commitment and diligence" she also hailed nurses, midwives and other health workers as "an example to us all".
10.10am: Uni makes courses free to 'support NHS and global fightback'
The University of Edinburgh has made a number of its courses available online for free in a bid to support frontline NHS staff in the fight against Covid-19.
The information, curated by experts in critical care and respiratory medicine, is designed to equip clinical staff and healthcare providers with the tools to combat the virus and save lives.
The resources will support those who are treating critically ill patients for the first time and clinicians who are returning to the frontline after some time away.
The University's MSc Critical Care team, in conjunction with the Royal College of Physicians of Edinburgh, has developed an online training and education hub called the Covid-19 Critical Care Education Resource.
The hub provides access to professional knowledge and expertise covering routine critical care activities, as well as Covid-19 specific education.
It also provides practical tools for self-care and staff wellbeing.
9.47am: Firm to test hundreds of Covid-19 patients samples daily for the NHS
A biotechnology firm will test hundreds of patient samples daily on behalf of the health service.
Censo Biotechnologies claims it will be the first firm north of the border to provide direct Covid-19 testing support for the NHS.
It said NHS Scotland has accepted its offer to test a minimum of 15,000 samples per month for coronavirus.
The Edinburgh-based company has offered the use of their team and laboratory at Roslin, equipped with seven specialist machines for amplifying DNA.
Chief executive officer Mike Hawthorne said: "As soon as mass testing was recommended by the World Health Organisation (WHO), we knew we could offer significant support to deliver this.
"While we are continuing our existing research with a skeletal staff every available resource is being directed to the Covid-19 effort."
9.27am: Scottish Consevative leader says PM is a 'fighter'
The leader of the Scottish Conservatives has said Boris Johnson is a "fighter" who will be incredibly frustrated during his time in hospital.
Jackson Carlaw thanked those around the world who had sent their best wishes to the Prime Minister during his treatment for coronavirus.
Carlaw told the BBC the PM is in intensive care as a precaution.
He said: "It's an alarming moment. He is a strong, physical, robust man but, as we know, this virus is no respecter of anybody."
9.23am: Labour will work 'constructively' with government to get through crisis
Keir Starmer said his party will work "constructively" with the Government to get through the coronavirus crisis.
The new Labour leader said: "I know I speak on behalf of the whole country when I say our thoughts with the Prime Minister, his fiance and his family.
"We have amongst the best staff doctors and nurses in the world in the hospital he is in so I know he will be well looked after. But people are clearly anxious.
"I know the business of government will continue. I was in touch with the Foreign Secretary last night, and I want to say that the Labour Party will act in the national interest.
"That's why I have offered to act constructively with the Government and support them where that's the right thing to do, and push them further where we need to do it."
9.20am: Government will 'carry on in fight against covid-19' – Gove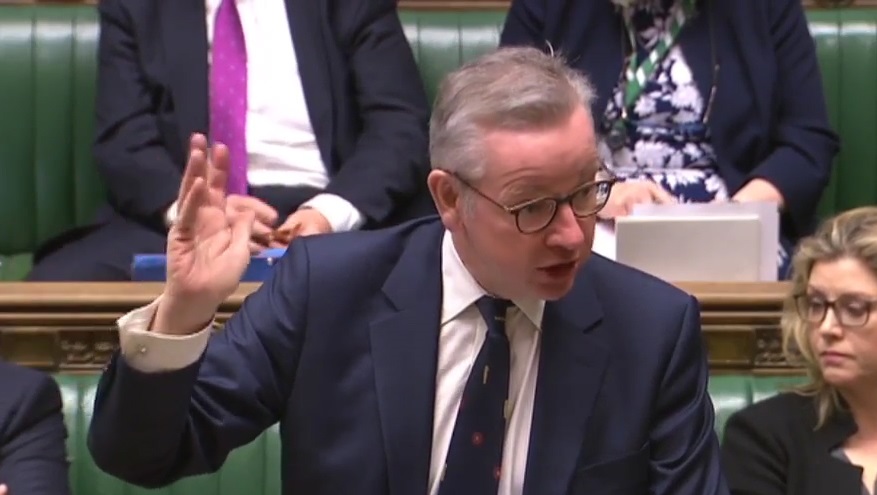 Ministers have insisted the business of government will carry on after Boris Johnson was admitted to intensive care following a worsening of his coronavirus symptoms.
The Prime Minister was transferred to the intensive care unit at St Thomas' Hospital on Monday evening as what was said to be a "precaution" in case he needed to be put on a ventilator.
The senior Cabinet minister Michael Gove told LBC radio: "He is kept, of course, under close supervision.
"By being in intensive care if there is further support he needs it is there at hand.
8.15am: Prime Minister received 'oxygen support' but not on ventilator
Cabinet minister Michael Gove said Boris Johnson has received "oxygen support" at St Thomas' Hospital but has not been on a ventilator.
"He is not on a ventilator. The Prime Minister has received some oxygen support," Gove told LBC.
"He is kept, of course, under close supervision. By being in intensive care if there is further support he needs it is there at hand. But the Prime Minister has not been on a ventilator."
7.25am: Gove rejects request to halt Brexit talks
The UK Government has rejected a call from Scotland's constitution secretary to pause Brexit negotiations.
Mike Russell wrote to Michael Gove, the Chancellor of the Duchy of Lancaster, requesting a halt to the withdrawal process during the coronavirus pandemic.
But the UK Government said it had "no intention of changing" the December 31 date for ending the transition period.
7.15am: Raab to lead government as PM battles coronavirus
Dominic Raab will take charge of the Government's response to the coronavirus crisis after the Prime Minister was transferred to intensive care.
The Conservative Party leader ceded control "where necessary" to the Foreign Secretary and First Secretary of State, who will deputise for the PM.
The developments follow repeated questions to Downing Street about how the PM was ill enough to be allotted a hospital bed but deemed fine to lead the Government.
Raab's first job as stand-in PM on Tuesday will be to lead the Government's emergency daily coronavirus "war Cabinet" meeting with senior colleagues and the UK's chief medical officer, Professor Chris Whitty, and chief scientific adviser, Sir Patrick Vallance.
7.10am: PM 'very likely' to need ventilator, professor says
The Prime Minister is "extremely sick" – with many coronavirus patients who need intensive care requiring invasive ventilation, an expert has said.
Boris Johnson was moved to the critical unit at St Thomas' Hospital on Monday evening as part of his ongoing treatment for Covid-19.
He was understood to be conscious when he was moved to intensive care at about 7pm, as a precaution should he require ventilation to aid his recovery.
Derek Hill, professor of medical imaging at University College London (UCL), said the PM could be given a breathing aid known as continuous positive airway pressure (CPAP), which bridges the gap between an oxygen mask and full ventilation.
Dr Hill said: "There is no doubt this turn of events means Boris Johnson is extremely sick.
"It illustrates three of the important healthcare needs of Covid-19.
"Firstly, many patients need help breathing, and there is a shortage of the mechanical ventilators that can do this – and in particular a shortage of the high quality intensive care ventilators most suitable for Covid-19 patients who might need help breathing for over a week.
"Secondly, Covid-19 patients need a huge amount of oxygen to help them breathe – which is potentially going to be in short supply.
"Thirdly, looking after people in intensive care requires skilled staff, and the experience of New York has been that finding enough skilled staff has been the greatest challenge."
7am: Prime Minister Boris Johnson in intensive care
Boris Johnson has spent the night in a London hospital intensive care unit after his coronavirus symptoms worsened on Monday.
The Prime Minister was admitted to St Thomas' Hospital in London on Sunday after his Covid-19 symptoms persisted for ten days.
Johnson is understood to be conscious and was moved to intensive care at about 7pm on Monday as a precaution should he require a ventilator.