10.15pm: Hundreds of student nurses join fight against Covid-19
Hundreds of student nurses have joined the fight against coronavirus.
More than 500 third-year students from Glasgow Caledonian University (GCU) have begun their inductions with health boards across Scotland.
It follows a call from the Scottish Government for student nurses to lend their support to the NHS early.
The students, who are in their final year, are working at hospitals including NHS Greater Glasgow and Clyde, Golden Jubilee National Hospital, NHS Dumfries and Galloway and NHS Ayrshire and Arran.
9.50pm: National Records of Scotland to publish weekly figures
National Records of Scotland (NRS) will begin publishing weekly official figures on deaths involving Covid-19 from Wednesday.
The figures will include deaths that have occurred in the community – with plans for potential additional analysis to include more specific locations of where the deaths occurred.
A Scottish Government spokesperson said: "National Records of Scotland will begin publishing weekly official figures on deaths involving Covid-19 on Wednesday, April 8.
"These figures will include deaths that have occurred in the community.
"We are working closely with NRS as they develop their publication plans going forward, including the potential for additional analysis on location including care homes."
8.16pm: Prime Minister Boris Johnson moved to intensive care
Boris Johnson has been moved to intensive care after his coronavirus symptoms worsened, Downing Street has confirmed.
The Prime Minister was admitted to St Thomas' Hospital in London on Sunday after his Covid-19 symptoms persisted for ten days.
Following tests and observation, he was moved into intensive care on Monday night.
7pm: Care home confirms eight deaths linked to Covid-19
A care home has confirmed eight residents have died after showing coronavirus symptoms as it denied accusations of locking protective equipment away from staff.
Management at Castle View Care Home in Dumbarton, West Dunbartonshire, are facing accusations they "belittled" carers by telling them they were "overreacting and causing panic" by taking residents' temperatures.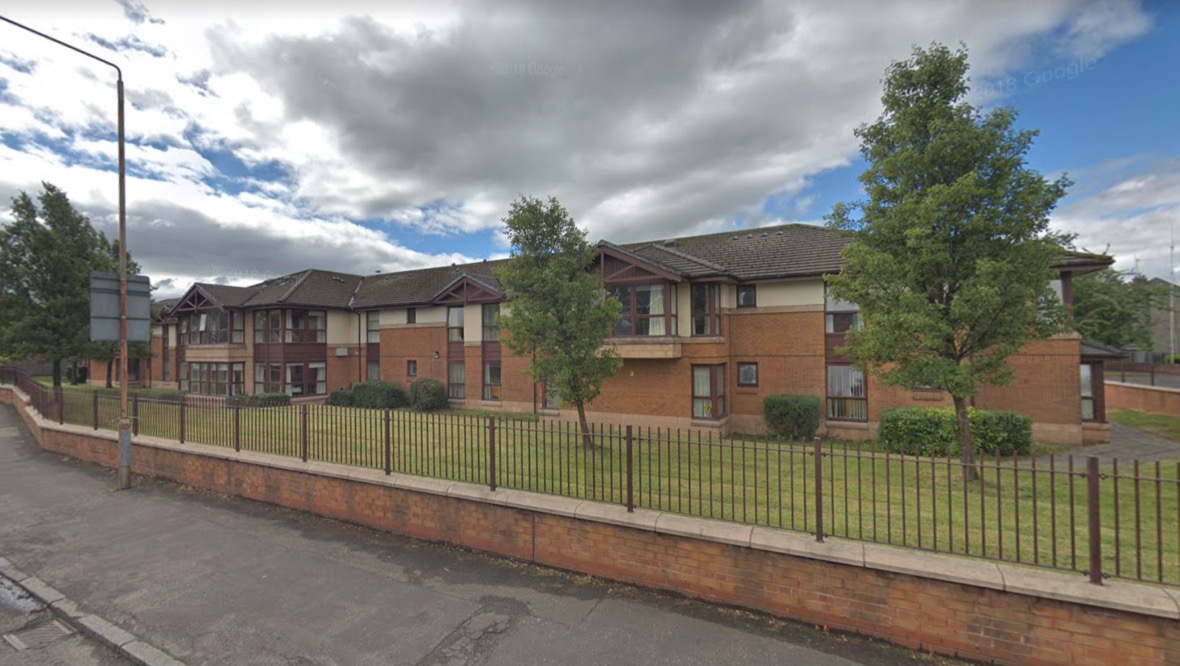 The care home operator HC-One said eight residents with confirmed or suspected coronavirus symptoms have died, and two other deaths are currently not linked to the virus.
In a letter to the Dumbarton MSP Jackie Baillie, the GMB's regional secretary Gary Smith said that – at the start of the outbreak – protective face masks were "locked away by management, and staff were told they did not need to use them" – allegations strongly disputed by the care home operator.
HC-One said the allegations are "categorically untrue" and it is "well stocked" with PPE available to all staff.
6.52pm: EasyJet secures £600m Government loan
EasyJet said it has secured a £600m Government loan as its founder warned it will "run out of money by around August".
The funds are from the UK's corporate financing facility to help firms during the coronavirus pandemic.
The airline also announced it will borrow a further $500m from commercial creditors as part of its "focus on maximising liquidity".
The moves come as founder Sir Stelios Haji-Ioannou renewed calls to cancel a £4.5bn order with Airbus and demanded that the company removes chief finance officer Andrew Findlay.
On Friday, easyJet rejected a request by Sir Stelios – who holds the biggest stake in the carrier – for a meeting of the company's shareholders to decide whether to remove another director, Andreas Bierwirth.
Sir Stelios has now called for Mr Findlay to be sacked, as he said it would be "the best way to stop him writing billion-pound cheques-plus to Airbus every year".
EasyJet has grounded all of its planes as demand for flights collapsed due to the coronavirus pandemic.
5.45pm: Scottish secretary praises military after island airlifts
Scottish secretary Alister Jack has praised the role of the military during the coronavirus outbreak.
It comes after three patients were airlifted from the islands in recent days, from Orkney and Shetland, to hospitals in Glasgow and Aberdeen – with the latest taking place on Monday.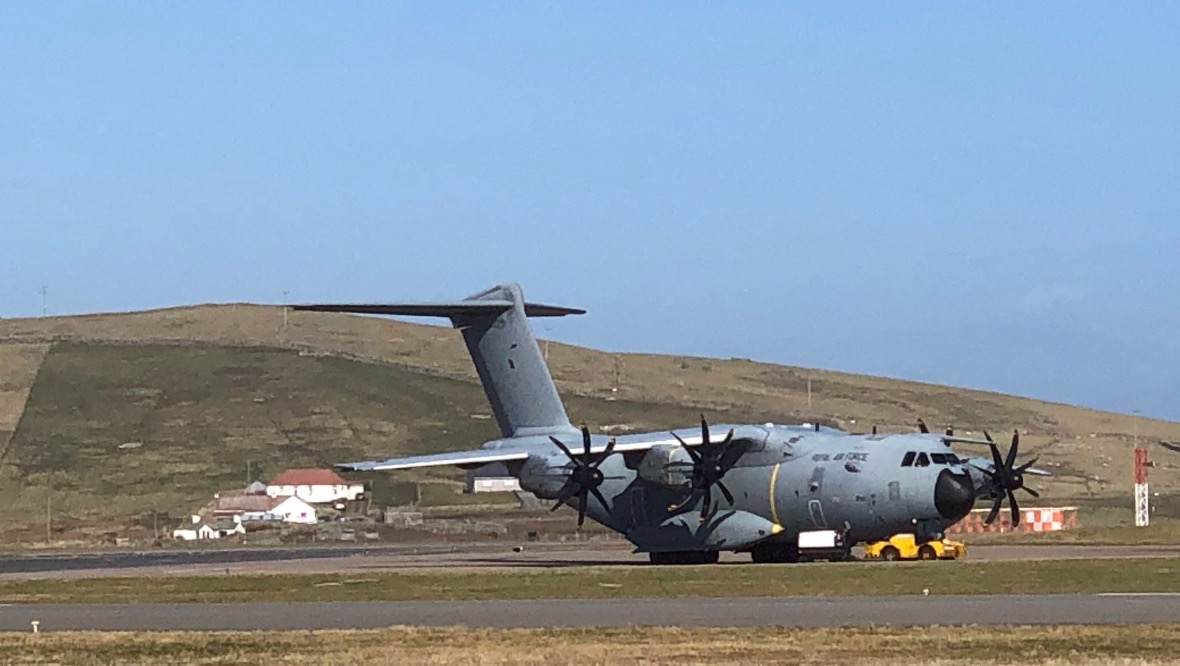 As well as the airlifts, military personnel are supporting the creation of the NHS Louisa Jordan hospital at the Scottish Event Campus in Glasgow, as well as supporting the Scottish Government from its emergency coordination centre in Edinburgh and having officers based within 14 of Scotland's health boards.
Mr Jack said: "On behalf of the whole of Scotland, I would like to offer heartfelt thanks to the UK's armed forces for their work in supporting the country's efforts to tackle coronavirus.
"In Scotland the military is providing both the Scottish Government and the NHS with additional specialist skills and expertise.
"Our armed forces' personnel are doing a fantastic job, showing commitment and dedication, at this challenging time. We are incredibly grateful to them."
5.10pm: Government's chartered flights help more than 2000 home
Foreign secretary Dominic Raab has given an update on the number of people the Foreign Office has helped to return to Britain.
He told a press briefing on Monday that his department had helped 200,000 return on commercial flights from Spain alone since the crisis began, 13,000 from Egypt and 8000 from Indonesia.
Chartered flights by the UK Government from seven countries had helped more than 2000 British nationals return home, while another 1500 had been repatriated from cruise ships.
And the Cabinet minister promised all was being done to return those still stuck abroad, with more flights from India, South Africa, Nepal and the Philippines flying in later this week.
5pm: 'Essential' construction work defined by Scottish Government
The Scottish Government has set out what it considers to be "essential" construction work which is allowed to continue during the coronavirus lockdown.
New guidance for the industry restates that work on sites should stop immediately with certain key exceptions.
Projects allowed to continue include those creating or repurposing facilities for the Covid-19 response, or accommodating key workers.
"Essential public services" and the maintenance of "critical infrastructure" is also allowed to continue.
However, workers on these sites must practice social distancing and adhere to other safety regulations, the Scottish Government said.
4.45pm: Coronavirus deaths in UK rise to 5373
A total of 5373 patients have died in hospital after testing positive for coronavirus in the UK as of 5pm on Sunday, the Department of Health said, up by 439 from 4934 the day before.
The Department of Health said that, as of 9am on Monday, 208,837 people have been tested of which 51,608 are positive.
So far, 252,958 tests have concluded, with 13,069 tests carried out on Sunday, excluding data from Northern Ireland.
4.30pm: Warning to stay away from 'dangerous' beach bridge
Moray Council is warning residents to stay away from Lossiemouth's East Sands bridge.
The crossing was closed due to safety concerns in July 2019 and is yet to be repaired.
Following reports of people jumping the safety barriers at the weekend – and with the nicer weather tempting people to the beach for their daily exercise – the local authority wishes to reinforce that East Sands should not be accessed from the town.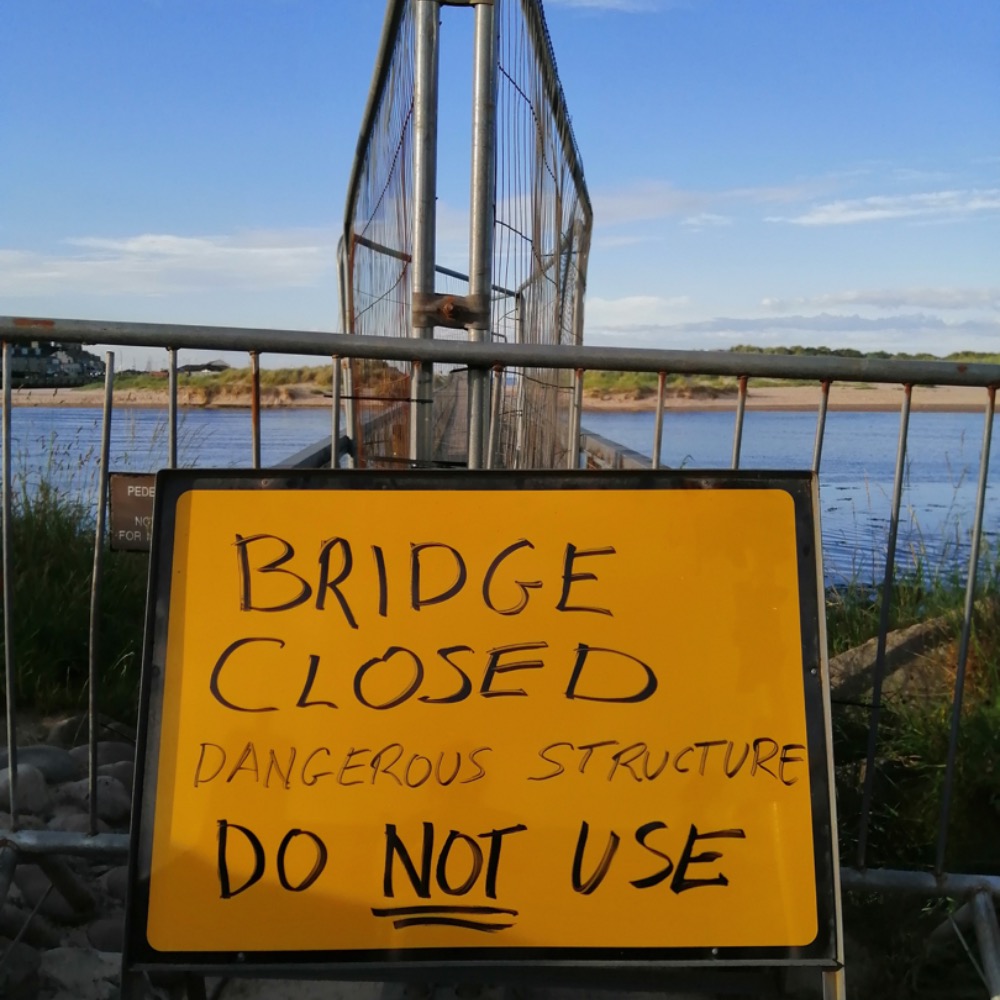 Council leader Graham Leadbitter said: "The footbridge across to the East Beach is dangerous to use and crossing the water below shouldn't be attempted either.
"We don't want accidents on the bridge or risk becoming stranded by crossing the water.
"The emergency services in Moray have enough to deal with at the moment, people shouldn't put even more pressure on them, particularly the NHS, by taking risks that could result in injury or worse."
3.50pm: Harry Potter author fully recovered
JK Rowling has said she is "fully recovered" after suffering "all symptoms" of coronavirus.
The Harry Potter author said she had not been tested but used a breathing technique to get air into the bases of her lungs and shared a video of a doctor advising how to do it.
In the video the doctor shows how to take deep breaths, hold the breaths and then cough, before lying flat on the stomach to allow air into the lungs.
After sharing the message, Rowling received a string of supportive messages, including from Fifty Shades Of Grey author EL James.
Rowling later tweeted: "Thank you for your kind and lovely messages. I really am completely recovered and wanted to share a technique that's recommended by doctors, costs nothing, has no nasty side effects but could help you/your loved ones a lot, as it did me.
"Stay safe, everyone."
3.38pm: Festival cancelled due to coronavirus pandemic
Westfest's Big Sunday 2020 in Dundee has been cancelled due to coronavirus.
The festival which celebrates cultural arts and music performances at Magdalen Green was due to celebrate its tenth anniversary on Sunday, June 7.
Westfest chairman Martin Hay said: "The Westfest committee got together via an online video meeting to consider the current pandemic issues and how they would affect this year's Big Sunday.
"A discussion was held and it was decided reluctantly that we feel that there is no option but to cancel this year's event.
"This decision wasn't taken lightly as the committee's volunteer members work hard throughout the year and preparations were almost complete for this year's event.
"Everyone associated with Westfest would like to pay tribute to the doctors, nurses, health and social care professionals on the frontline and to everyone else still working to keep the country going.
"Our hearts also go out to those who have been directly affected by this pandemic.
"Keep safe everyone."
3.20pm: Nationwide boss volunteers to have pay slashed
The boss of Nationwide is to take a sizeable pay cut to show solidarity with staff and customers affected by the coronavirus pandemic.
Joe Garner, chief executive of the UK's largest building society, has opted to slash his pay and pension by a fifth.
The chief has also sacrificed any bonus which may be due for him for the financial year 2019-2020.
Nationwide said the reduction in his base salary and pension equates to a cut of around £228,000 from his current pay packet.
It is understood the move will make Mr Garner the first boss of one of the UK's biggest financial institutions to volunteer for a pay cut in response to the outbreak.
Nationwide also confirmed that it will make no compulsory redundancies during 2020, despite the impact of coronavirus.
3.17pm: Open Championship cancelled
The 2020 Open Championship has been cancelled.
The event was due to take place at Royal St George's in Kent from July 12-19 but the coronavirus pandemic has forced organisers to abandon plans to hold the major this year.
Royal St George's will host the competition next year instead – from July 11-18 – with St Andrews still hosting the 150th Open, but a year later than scheduled in 2022.
R&A chief executive Martin Slumbers said: "Our absolute priority is to protect the health and safety of the fans, players, officials, volunteers and staff involved in the Open.
"We care deeply about this historic championship and have made this decision with a heavy heart.
"We appreciate that this will be disappointing for a great many people around the world but we have to act responsibly during this pandemic and it is the right thing to do."
3.10pm: Emergency coronavirus Bill given royal assent in just five days
Emergency coronavirus legislation passed by the Scottish Parliament has been given royal assent in just five days.
The Coronavirus (Scotland) Bill was unanimously agreed to on Thursday after an 11-hour long sitting of MSPs at Holyrood.
The legislation aimed to make changes to the justice system, housing sector and the operation of public services.
One of the Bill's most controversial provisions proved to be an attempt to remove juries from some of Scotland's most serious criminal cases, a move which was criticised by opposition MSPs and the legal profession, before it was withdrawn from the Bill during Thursday's deliberations.
In most circumstances, a Bill has to wait four weeks to allow for legal challenges, however the legislation was fast-tracked to the Queen to allow it to be finalised.
On Twitter, constitution secretary Mike Russell said the time was "record breaking".
3pm: Chief medical officer 'did not reveal second holiday home visit'
Scotland's former chief medical officer Dr Catherine Calderwood failed to reveal a second visit to her holiday home during the coronavirus lockdown when the news broke, Nicola Sturgeon has said.
Dr Calderwood resigned on Sunday night, a day after photos emerged showing her flouting social distancing measures by visiting her second home in Fife with her family.
The Scottish Government had initially claimed in a statement that she "took the opportunity this weekend to check on a family home in Fife as she knows she will not be back again until the crisis is over".
However, at Sunday's press conference the CMO admitted she had visited the holiday home twice in the past two weekends, in direct contradiction of her guidance for Scots to remain at home and avoid unnecessary travel.
Questioned about the discrepancy on Monday, Ms Sturgeon revealed Dr Calderwood had only told her about one of the two visits on Saturday night, only disclosing the second trip the following day.
Ms Sturgeon said: "The statement that went out was a reflection of our understanding at that time of the reasons for her visit that weekend.
"That reflected the understanding we had, but she later made clear that there had been a second visit and, of course, made that clear at the briefing yesterday."
The First Minister said the reasons for Dr Calderwood making the 44-mile journey between homes were "irrelevant" because "there was no justification for her having been at the house at one or two occasions because it was in breach of the guidance and advice that was issued".
3pm: Pharmacists facing rise in abuse
Pharmacists across Scotland have reported an increase in abusive and aggressive behaviour during the coronavirus pandemic.
As pressure increases to deal with the virus, pharmacists are dealing with "unacceptable behaviour" towards members of staff, according to the Royal Pharmaceutical Society Scotland (RPS Scotland).
Chairman Jonathan Burton said: "I have been shocked to hear of pharmacy teams being verbally abused. I have also heard of fights starting outside pharmacy premises. This is totally unacceptable behaviour."
2.42pm Extra support announced for addicts during coronavirus outbreak
The Scottish Government has announced a package of measures to support drug and alcohol addicts during the Covid-19 spread.
Speaking at a briefing at St Andrew's House, the First Minister said there would be a fund of £166,000 made available to support those with addiction issues.
A public awareness campaign about where to seek help will be funded by the money, along with increasing the capacity of the Know the Score advice service and linking those going through recovery together with the Scottish Recovery Consortium.
The funding boost will also increase stocks of naloxone, a drug which counters the effects of a drug overdose, helping it to reach more settings.
2.35pm: Entrance of new coronavirus hospital at SEC in Glasgow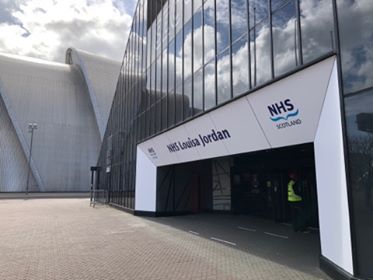 The entrance to the NHS Louisa Jordan at the Scottish Events Campus in Glasgow.
2.16pm: PM still suffering symptoms of coronavirus.
Boris Johnson has said he is still suffering the symptoms of coronavirus.
The Prime Minister was admitted to hospital on Sunday, more than a week after he first tested positive for the disease.
2pm: Oil and gas operator confirm seven suspected coronavirus cases on North Sea platform
Oil and Gas operator TAQA is responding to seven suspected cases of Covid-19 on its North Cormorant platform.
The individuals reported to the medic yesterday with mild symptoms and are now self-isolating.
The onboard medic is providing care for them and plans have been made for them to be brought onshore by helicopter today.
In a statement TAQA said: "Our main priority is to ensure the safety and welfare of everyone on board and we have clear procedures in place for handling suspected cases of Covid-19.
"We are working with the relevant authorities and agencies to assess and respond to the situation in line with UK Government and Health Protection Scotland guidelines.
"TAQA has robust business continuity plans in place to ensure the safe and sustainable continuation of our operations."
1pm: First Minister confirms two more coronavirus deaths.
The First Minister has confirmed two more deaths from coronavirus overnight.
Scotland's death toll now stands at 222, however Nicola Sturgeon stressed again this would not be a "true figure" and would be "artificially low" as officials change the way deaths are reported.
Sturgeon also confirmed the death of a care worker in West Dunbartonshire from the virus.
12.30pm: SEPA warns businesses of 'uncompromising' response to Covid-19 rulebreakers
A public body has warned businesses they will meet an "uncompromising" regulator if they try to flout relaxed environmental standards during the coronavirus outbreak.
The Scottish Environment Protection Agency (Sepa) has told firms to focus on protecting the environment over administrative matters amid the spread of Covid-19.
It has recognised that many businesses will be unable to meet all standards due to restrictions during the pandemic but warned against abusing the temporary rule relaxation.
Sepa chief executive Terry A'Hearn said: "We know that all businesses we regulate are trying to operate in extraordinary circumstances.
"So, where businesses are unable to fully meet their compliance obligations, they should prioritise conditions which directly protect the environment over those of an administrative nature."
12.03pm: Dundee researchers study protein to tackle coronavirus spread
Researchers at Dundee University are studying a protein that aids the spread of coronavirus in the hope of finding ways of blocking its function.
Teams are looking at an enzyme found within the SARS-CoV-2 virus that causes the Covid-19 infection.
Leading the programme is Dr Yogesh Kulathu: "Our approach is to target an enzyme that the virus makes and relies on for its assembly and capacity to infect cells.
"Blocking its function could lead to an efficacious drug to treat Covid-19 and related diseases that may arise in the future.
"Our work provides a complementary approach to antibody and vaccine strategies conventionally developed to combat viral infections."
11.20am: SEC not charging rent to use venue as emergency coronavirus hospital
The SEC will not be charging rent for the event centre to be used as an emergency hospital during the coronavirus crisis, the Health Secretary has said.
The Scottish Events Campus in Glasgow is being turned into a temporary hospital to treat up to 1000 patients with Covid-19.
Construction has started on what will be called the NHS Louisa Jordan – named after a First World War nurse from the city – but the venue has confirmed that the government will not be charged rent for the use of the site.
A short video of the site being prepared was posted on to the NHS Louisa Jordan Twitter account.
10.35am: Dundee Science Centre launches home learning programme
Dundee Science Centre has launched a new "fun and engaging" programme aimed at supporting parents and carers in home schooling.
The free to use Home Learning Programme is based on weekly themes designed to provide fun, interactive activities based around videos, worksheets, challenges and weekly competitions.
Carlene Cara from Dundee Science Centre said: "While set tasks are allocated by teachers themselves, it's also important to mix that up a little which is where our Home Learning Programme comes in, providing fun, interactive activities while sneaking in a bit of science learning!
"Although most of the activities can be done with limited supervision, we're also offering a family activity so families can get together, while vying for some great prizes!"
To take part in the activities visit www.dundeesciencecentre.org.uk/.
10.30am: 'Firing chief medical officer immediately may have been easier'. says Sturgeon.
Nicola Sturgeon has said it "may have been easier" to sack Scotland's chief medical officer immediately after it emerged she had not been adhering to social distancing advice.
Dr Catherine Calderwood apologised and was backed by the Scottish First Minister to remain in the role, despite twice recently visiting her second home in Fife.
However, after further conversations with Sturgeon, Dr Calderwood said on Sunday night that she had resigned "with a heavy heart".
Speaking on the BBC on Monday, the First Minister said that, by Sunday night, she had formed the "firm view" that Dr Calderwood should leave her post because guidance to stay at home was at risk of being "drowned out or undermined".
9.45: Jason Leitch 'pleased' with interim appointment of Dr Gregor Smith as he offers 'full support'.
The national clinical director of Scotland says he is "pleased" with the interim appointment of Dr Gregor Smith to lead the government's coronavirus team.
Speaking on Twitter on Monday Leitch said: "I have a job and have known and worked with Gregor for years and very closely during this pandemic.
"I am pleased we have someone skilled to be interim CMO when our focus now, as always, is to keep the country safe.
"Dr Gregor Smith will have the full support of Fiona McQueen and I."
9.20am: Council issues lockdown advice to parents with Easter Holidays under way.
Fife council have issued lockdown guidance for parents as the Easter Holidays are approaching.
Fife's Educational Psychology Service (EPS) provides assessment, consultation and advice to schools and parents about children's wellbeing, learning and behaviour.
A spokesperson for the council said: "For our children and young people these changes can be especially unsettling.
"This can lead to all kinds of unusual reactions, which as parents we might not feel able to deal with alone.

"Under normal circumstances we specialise in the children identified as having Additional Support Needs but recognise that stay home situation has led to children and families experiencing challenges that may not normally arise."
The Easter Holidays were due to start on Monday but schools remain closed due to the coronavirus outbreak.
8.55am: Dr Gregor Smith to lead Scottish Government coronavirus team.
Dr Gregor Smith will lead the Scottish Government's coronavirus team.
Dr Smith has been working under chief medical officer Catherine Calderwood as her deputy.
Calderwood resigned from her role on Sunday.
Health secretary Jeane Freeman confirmed to the BBC that Smith will take over on an interim basis.
7.55am: First Minister wishes 'speedy recovery' to Prime Minister.
Nicola Sturgeon has wished Boris Johnson a "speedy recovery" after the PM was taken to hospital with coronavirus.
Johnson was taken in for tests on Sunday as symptoms continues to persist.
It has been described as a "precautionary step" after he was first diagnosed over a week ago.
7.45am: Sturgeon: Continuity important but message must be 'crystal clear'.
Speaking on Good Morning Britain the First Minister said she had hoped to continue to rely on the "good high quality advice" from Catherine Calderwood but it was not a "risk she was willing to take".
Sturgeon says the clarity of the message is "absolutely vital" as the chief medical officer left her role after being criticised for visiting a second home.
Sturgeon said: "It is not ok, there can't be one rule for some and another rule for others.
"The reason that she ultimately resigned last night is that I am not prepared to have that vital public health message undermined and that is not a risk I am willing to take."
7.30am: Scotland's chief medical officer has resigned.
Catherine Calderwood has left her role as chief medical officer after being criticised for not adhering to social distancing advice by visiting her second home.
7.30am: Charity's fears over virus in refugee camps.
Oxfam has expressed fears over the spread of coronavirus in refugee camps, with up to 250 people sharing one tap in some places that are already struggling for food.
STV News is now on WhatsApp
Get all the latest news from around the country
Follow STV News
Follow STV News on WhatsApp
Scan the QR code on your mobile device for all the latest news from around the country