There are fears of an increase in road accidents caused by changes to The Highway Code set to come into force.
The law is being changed to give pedestrians and cyclists priority over drivers at junctions on January 29.
The new system being introduced has been called a "hierarchy of road users".
Previously, vehicles had priority over pedestrians and the road positions of those on bikes was not mentioned.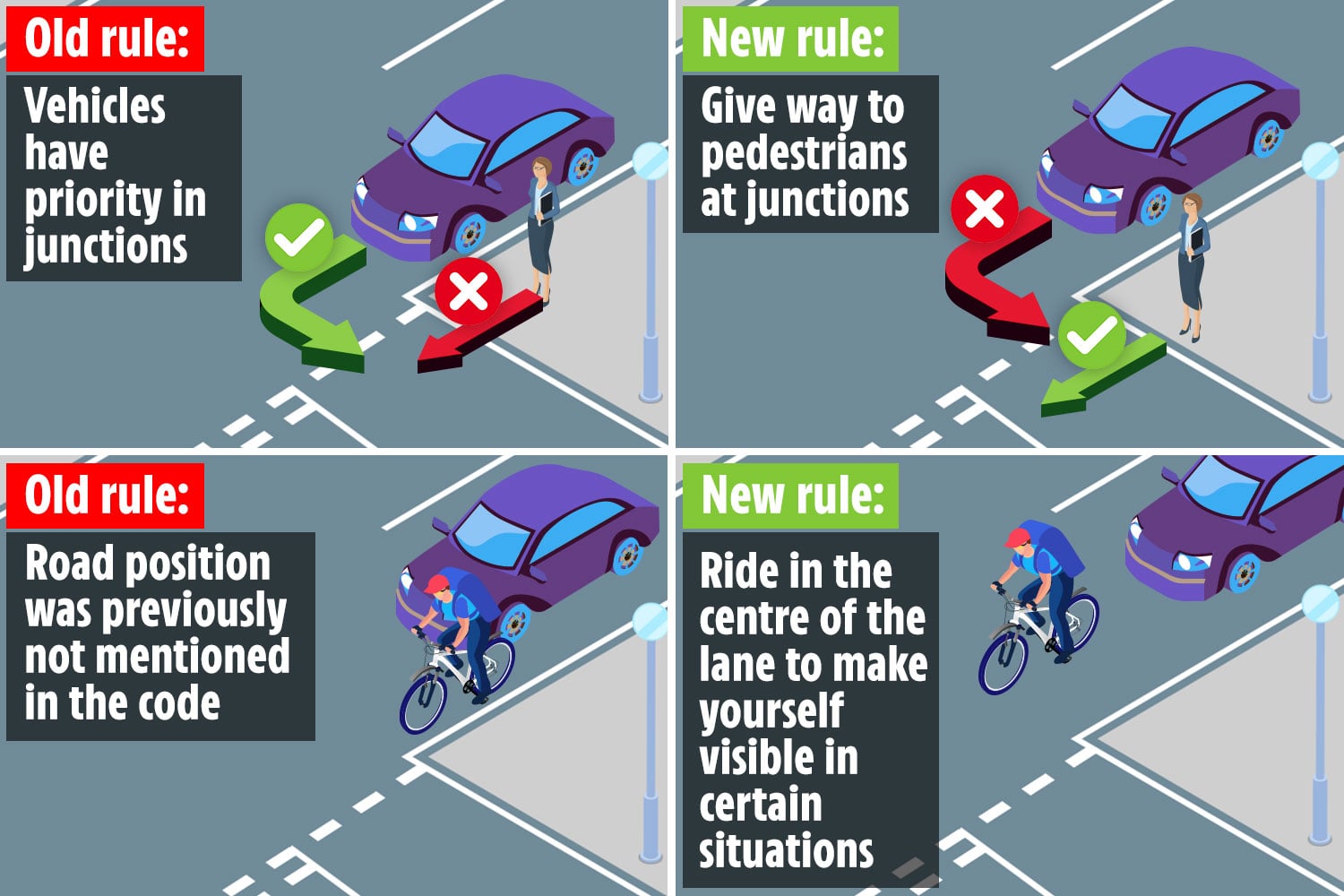 In the old code, pedestrians only had right of way at a junction if they were already crossing the road.
Now drivers will have to give way at crossings and cyclists will be told to ride in the centre of the lane to make themselves more visible.
Cars wanting to turn at a junction will have to wait to let cyclists behind them pass before doing so.
Although the majority of people who responded to the consultation on the changes agreed with them, there are concerns that the public is unaware of them and that they could cause traffic disruption.
A cycling campaign group warned of conflict on roads if there is not widespread understanding of The Highway Code changes.
"This puts the most vulnerable on our roads at unforgivable risk," Duncan Dollimore, head of campaigns at Cycling UK, said.
"Now is the time to right the misunderstanding on our roads, not tomorrow when it is too late."
Motoring association The AA polled more than 13,000 members and found that just a third (33%) knew the changes were being introduced, with a fifth (20%) believing the plans were simply "false".
Edmund King, AA president, said: "The government needs to up the ante on getting the message out to drivers about these changes. These are fundamental changes to the Highway Code and it is imperative road users understand them ahead of time.
"We had hoped that once the changes were initially announced back in June and finalised in December, there would be a big education push to alert drivers to these plans. This hasn't happened, although we would still welcome it."
The new Highway Code hierarchy puts "vulnerable" road users at the top.
Pedestrians, in particular children, elderly adults and those with disabilities, are in the first position followed by cyclists, horse riders and motorcyclists.
Cars, vans and minibuses, larger passenger vehicles and HGVs make up the lower half of the hierarchy.
A UK Department for Transport spokesperson said: "The proposed upcoming changes to The Highway Code will improve safety for cyclists, pedestrians and horse riders and were announced to national press.
"The department has established a working group of key organisations to ensure that messages about the changes are as widespread as possible and our well-established THINK! campaign will continue to ensure all road users are aware both when these changes come into effect and beyond."
STV News is now on WhatsApp
Get all the latest news from around the country
Follow STV News
Follow STV News on WhatsApp
Scan the QR code on your mobile device for all the latest news from around the country