A Central Scotland MSP is calling upon the Scottish Government to hold an "emergency summit" over pro-life protests outside medical clinics offering abortions.
On Tuesday, Scottish Labour's Monica Lennon confronted anti-abortion protestors from the 40 Days for Life group as they gathered outside Glasgow's Queen Elizabeth University Hospital (QEUH).
The protest – which the group claim is a prayer vigil – came weeks after over 100 anti-abortion protestors lined Hardgate Road outside the hospital and sparked a letter co-signed by over 75 consultants to the Scottish Government's Women's Health Minister Maree Todd urging her to introduce protest-free buffer zones outside hospitals.
Lennon, who is a supporter of buffer zone campaign group Back Off Scotland, said that there is an "urgent need" to implement the protest-free zones across the country, adding that Scotland was "not a million miles away" from America as the Supreme Court's draft to overturn the Roe v Wade ruling which legalised abortion in the US was leaked.
Lennon commented: "News that the US Supreme Court intends to overturn the Roe v Wade ruling that legalised abortion almost 50 years ago is truly shocking.
"All women, regardless of where they are in the world, should have safe access to abortion healthcare – whether that is a personal choice or a medical need.
"I think most people will view the Supreme Court's move as extremist – yet, with anti-abortion protests in Scotland and the Scottish Government's inaction on buffer zones, we are not a million miles away from it here.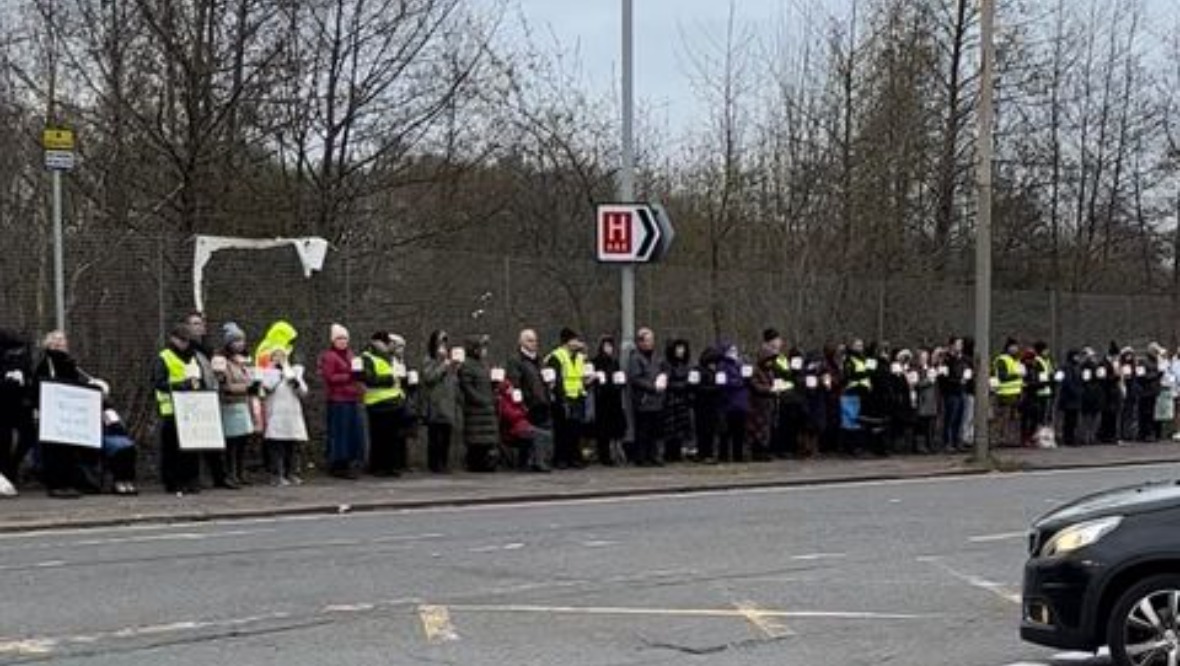 "There is an urgent need for buffer zones to ensure harassment-free access to abortion healthcare. Buffer zone legislation has already been brought in in Northern Ireland, so there should be no reason for the Scottish Government not to do the same.
"An emergency summit should be called, led by the Scottish Government, with contributions from MSPs, women's organisations, people with lived experience and clinicians.
"This is really serious. We need urgent action from the Scottish Government – and we need it now."
Scottish Libdems leader Alex Cole-Hamilton said the Scottish Government had "stalled and dissembled" women's right to access abortion without "intimidation and shame", with regards to calls for 150m 'buffer zones' around medical centres.
He said: "For years campaigners including myself have been calling for buffer zones around abortion clinics to ensure that people in a time of need are not faced with intimidation and shame at a time when they deserve support and empathy.
"No one thinks that Nicola Sturgeon and Maree Todd have anything in common with the US Republican party and its legal assault on personal freedoms, but the fact is that they have stalled and dissembled over these buffer zones for far too long."
Campaigners from Back Off Scotland have also expressed shock that Maree Todd MSP has so far not commented on the Roe v Wade leak, and have backed up Lennon's calls for action.
Lucy Grieve, co-founder and director of Back Off Scotland said: "Back Off Scotland fully supports Monica Lennon's calls for an emergency summit on the ongoing anti-abortion protests occurring across Scotland.
"We are shocked that in addition to a lack of action, there has been no comment about the Roe v Wade leak from Scotland's women's health minister.
"There are real, tangible threats to abortion access in Scotland that are going unchallenged under her jurisdiction.
"We have heard countless stories over the past few weeks from women who have experienced harassment when accessing abortion services here in Scotland.
"How many more women need to come forward with their stories before the government listens to them?
"The women's health minister, Maree Todd, claims that she wants Scotland to be world leading on women's healthcare, yet her inaction is emboldening these protestors.
"If she cannot show courage and legislate on this issue, then she must step aside for somebody that will."
Dr Greg Irwin, lead signatory on the joint letter to Maree Todd and consultant paediatric radiologist, added: "The unwelcome return of the protestors outside my hospital yesterday confirms that buffer zones are needed, and needed urgently.
"The women of Glasgow are being harassed and intimidated right now, and it has to stop. "Government action is long overdue, and I fully support the call for an emergency summit to urgently protect our patients, sisters and daughters."
A Scottish Government spokesperson said: "The Scottish Government is committed to women being able to access timely abortion without judgement or fear, when they need those services.
"We are working across a number of areas to improve access to abortion services, including considering policy on buffer zones around healthcare facilities.
"We condemn, in the strongest possible terms, any attempts to intimidate women as they choose to access abortion services and are seeking to make progress on this complex issue as quickly as is possible whilst ensuring any measures taken are able withstand legal challenge."
Maree Todd MSP today responded to the letter which Dr Irwin and the co-signatories wrote to her on April 14.
In her letter, she said: "Like all of you, I was dismayed to hear of the protests outside Queen Elizabeth University Hospital. There is no place in our society for the harassment, abuse, and intimidation of women and girls accessing healthcare services.
"I am heartened to hear of Gillian MacKay MSP's intention to bring forward a member's bill on buffer zones, and have agreed to work constructively with her on this. Ms MacKay recently attended the Ministerial Working Group on Buffer Zones to discuss plans for her member's bill with members of the group, and to seek their input.
"The issues surrounding protests and vigils are complex, and it is important that any action taken is proportionate, balancing everyone's rights under the European Convention of Human Rights. However, despite that, please be assured that I take the concerns you have raised very seriously, and am committed to finding a permanent solution that will address them."
Ms Todd invited Dr Irwin and his colleagues at NHS Greater Glasgow and Clyde to a meeting to discuss the matter further.