Billionaire Jeff Bezos has spoken of his experience of going to space as he said "we must all stand together to protect our world".
The Amazon founder spoke at COP26 on Tuesday as he set out his climate credentials at the Glasgow summit.
Whilst praising Boris Johnson, Bezos said that travelling to space had changed the way he views the world.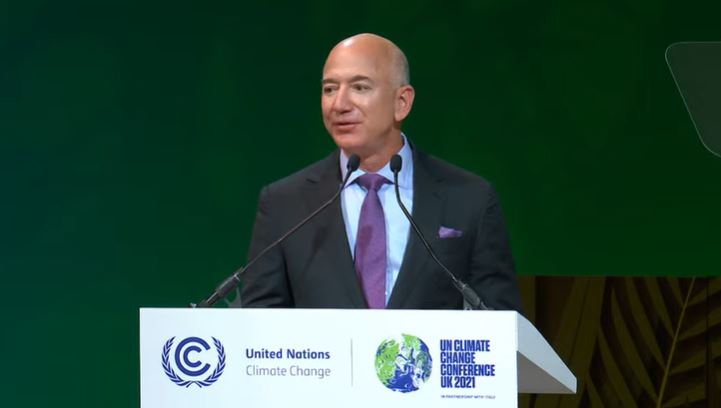 "Let me commend you Prime Minister Johnson for placing nature firmly on the agenda at COP26," said Bezos.
"Nature provides all the food we eat, the water we drink, and the oxygen we breathe. It gives us life. It is beautiful, but it is also fragile.
"I was reminded of this in July when I went into space with Blue Origin.
"I was told that seeing the earth from space changes the lens through which you view the world.
"But I was not prepared for just how much that would be true. Looking back at earth from up there, the atmosphere seems so thin, the world so finite and so fragile.
"Now, in this critical year, in what we all know is the decisive decade, we must all stand together to protect our world."
Bezos also pledged $2bn (£1.47bn) for land restoration in Africa.
His contribution is part of £5.3bn in private investment and public funding worth £8.75bn backing a declaration by 110 nations – covering 85% of the world's forests – to halt and reverse deforestation and land degradation by 2030.
Bezos added: "Climate change gives us a powerful reason to invest in nature. Each year, forests and landscapes absorb 11 billion tonnes of CO2 from the atmosphere, helping to slow climate change.
"As we destroy nature, we reverse this process. Cut down a forest, destroy the mangroves, pave over the prairies, and instead of sequestering carbon, we emit it."