Clark Gillies has made this journey many times before. Entering the vast bowl of Hampden Park, surrounded by fluttering saltires and fellow fans wearing kilts and glengarries.
But when he takes his seat in the North Stand for Wednesday's crucial World Cup play-off semi-final, he'll cast a glance over to an away section filled with more than 2,000 Ukrainians who have been on an emotional journey on a whole other level.
Among the sea of yellow and blue will be his wife Victoria.
She has become a regular in the Tartan Army since their relationship blossomed into marriage and children – but Wednesday for her is about a lot more than football.
"I think it will be very emotional for me," Victoria told STV News.
"It will be like I'm back in time basically, back in the past, before the war started. It will be nice, like a party, and freedom."

Victoria Gillies
"It will be great to see so many Ukrainians from all over the world inside Hampden, and even to see the team, just making sure they managed to get here safely and are managing to play, just to see the Ukrainian colours and flags, singing our anthem and songs.
"It will be like I'm back in time basically, back in the past, before the war started. It will be nice, like a party, and freedom."
Ukraine are gearing up to play their first competitive football match since Russia invaded on February 24.
The country has been at war for almost 100 days, with thousands of civilian lives lost. Football has understandably not been at the forefront of the nation's thoughts.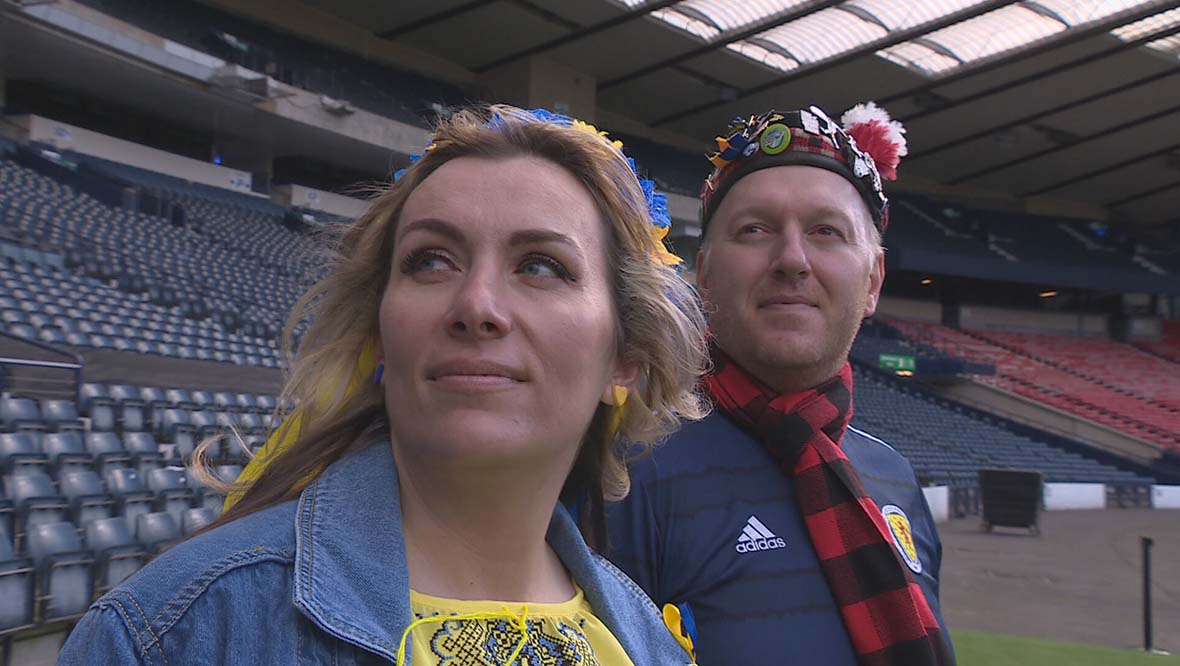 However, Victoria, 40, believes the Hampden match is an opportunity to keep the conflict fresh in people's minds.
She said: "I am really scared that people are going to forget, that they'll be like 'oh, the war is still going on, we've got bored about this war, we need to live our life'.
"But for me, I want to make people aware it's going on, it's happening. It's not all about money, but even praying or thinking about Ukraine, just anything to help."
Scotland have been placed in an unenviable position. The Tartan Army haven't appeared at a World Cup since France 1998 and a victory on Wednesday would take leave them one step from ending a 24-year exile from football's most prestigious event.
But victory arguably carries a degree of guilt, at being the ones responsible for crushing the dreams of a nation that is already having to endure great suffering.
"We're going to be the most hated team in the world if we win on Wednesday," Clark told STV News.
"I've got lots of friends in Ukraine and many of them are football journalists due to our shared passion. When they were in the bunkers of Kyiv and Odessa getting bombed, I was texting them, just small talk about football.
"Everybody I've spoken to in Ukraine has said the same thing – basically saying 'we don't want any pity, stop this talk of stepping aside for Ukraine and letting us go to the World Cup, we want to get to the World Cup on merit'."
Clark, 39, met Victoria on a Tartan Army jaunt to Lithuania in 2003. She was working for Christian Aid and he was watching Berti Vogts' Scotland go down 1-0 in Kaunas.
They kept in touch and Clark attended Victoria's graduation ceremony in Ukraine. The Tartan Army theme continued and they met again for what was to be Vogts' last match as manager – an infamous 1-1 draw against Moldova in Chisinau.
The couple then attempted an ill-fated journey from the Moldovan capital back to Victoria's hometown of Ternopil, in western Ukraine.
Their bus broke down and they had to embark on a much-longer-than-planned journey.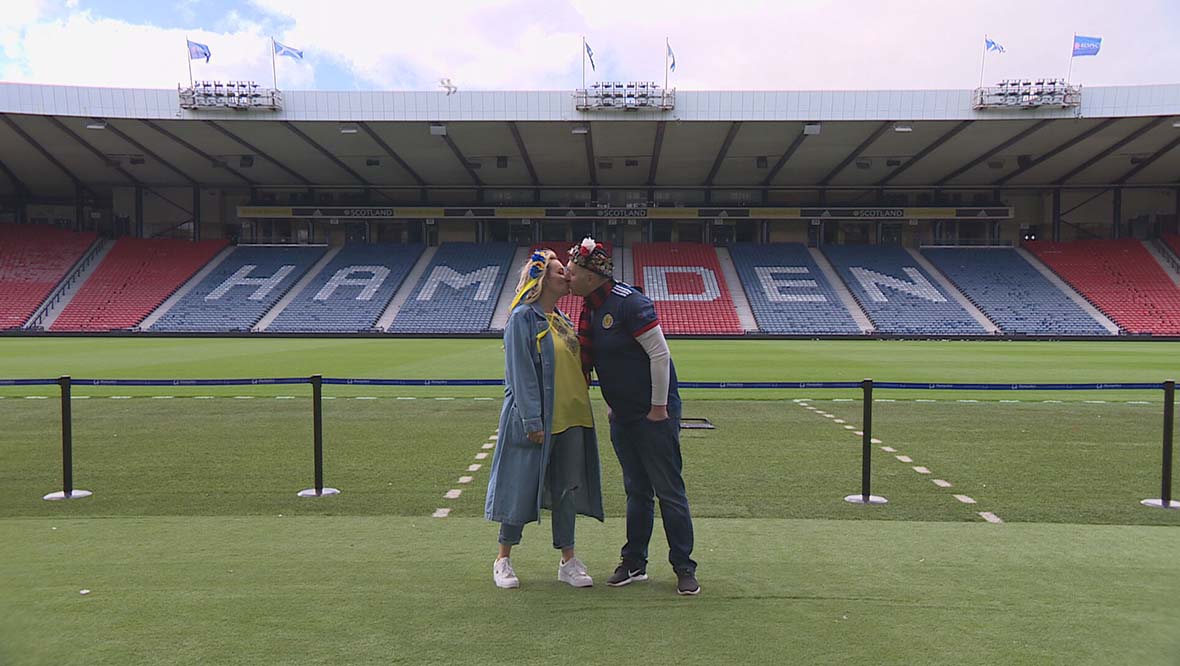 Clark thought the combination of a poor Scotland performance and disastrous journey home would spell the end of Victoria's affinity for the Tartan Army.
Not so, however, as they met once again in Minsk for a 0-0 draw against Belarus in June 2005, and a year later wedding bells were ringing.
"I was accepted (into the Tartan Army) straight away," explains Victoria. "It's an amazing bunch of people and they were all very friendly and very loving and caring, they are just really great people.
"To be honest, I think I was more popular than my husband. They were like 'Where's Victoria, we don't want to spend time with Clark, let's spend time with Victoria.'
"For me, it's just a great party atmosphere. There's like a family unity, you don't need to know each other but they all kind of unite together and are very helpful – this is the best Scottish party, they are all singing songs and drinking and having a great time."
The couple have two daughters now – Nicole and Charlotte – and that has led to Victoria spending less time with the Tartan Army as she raises her own.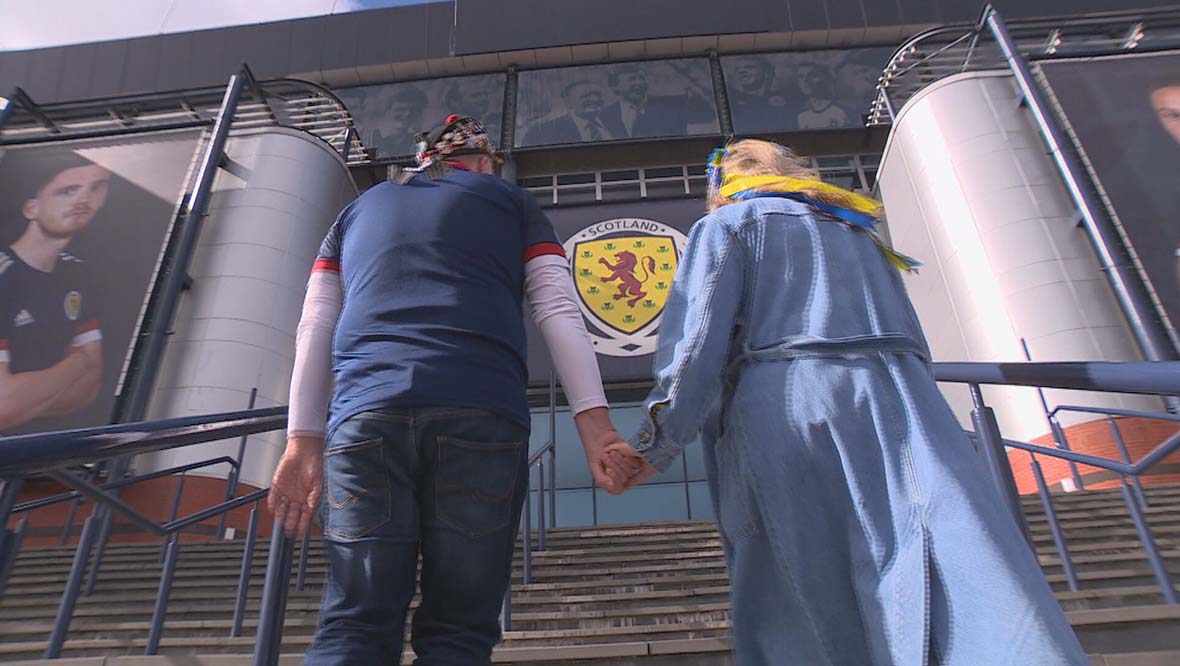 Ukraine's visit to Hampden wasn't on her radar when the draw was made last November, but following the onset of war in her homeland, she felt she had to be inside the stadium.
Clark said: "When the game was first announced during peace time, just after November, I asked Victoria if she wanted to come along. She didn't show much interest at that time so I got a ticket for myself.
"Then the war happened and emotions started boiling. Victoria got the fire in her belly and started chatting to other Ukrainians in Glasgow and they all got tickets.
"She'll be in the Ukraine section on Wednesday night with 2,000 other Ukrainians."
Clark thinks the match will go to extra time and penalties, whereas Victoria is predicting a 2-0 win for Ukraine.
"Last time we played Ukraine here, Victoria didn't talk to me for three days afterwards, so I imagine I'll be spending Wednesday night on the sofa no matter what the result."

Clark Gillies
Whatever happens, there could temporarily be some awkward moments in the family home after the full-time whistle.
"Last time we played Ukraine here (Scotland won 3-1 in 2007), Victoria didn't talk to me for three days afterwards, so I imagine I'll be spending Wednesday night on the sofa no matter what the result."
Victoria responds, jokingly, that she doesn't think Clark will need to head for a separate room as football seems fairly insignificant in the wider context of the ongoing conflict.
"Yeah, of course, I'll be a little bit upset, but to be honest it's like 'let the best team win' because it's not about politics, it's about a good game, that's what I care about."