Hundreds of iconic red phone boxes are currently for sale across Scotland for just £1.
As next year marks 100 years since the original K2 red kiosk was designed by architect Sir Giles Gilbert Scott, BT have announced 162 red boxes are up for grabs within communities.
Since 2008, around 550 phone boxes have been "adopted" by Scottish communities under the BT scheme for just £1 each.
Neighbours can take over a kiosk if they are a recognised public body, such as a parish council, community council or town council.
They can also be adopted by registered charities or by individuals who have a payphone on their own land.
BT will continue to provide electricity to power the light for adopted phone boxes, free of charge.
The first incarnation of the famous red phone box was designed for a competition in 1924.
While the first exterior phone box, produced in concrete and known as the K1, was introduced in small numbers in 1921, the red phone box we know today was designed by architect Sir Giles Gilbert Scott for a competition in 1924.
This design, the K2, was introduced in 1926, predominately in London. In 1936, Scott refined his design for the famous K6 introduced across the UK to mark George V's Silver Jubilee.
However, despite their landmark status, there has been significant decline in the usage of payphones across the UK with 98% of the adult population now using mobile phones.
There are currently around 2,200 remaining working payphones across the country, 470 of these are traditional red kiosks.
Across the UK, around 20,000 working payphones remain in operation. The number of phone boxes across the UK peaked in the 1990s at around 100,000.
Across the UK, more than 7,200 have been adopted so far with communities in Scotland being urged to come forward.
Boxes have been transformed into a range of useful and cultural spaces from defibrillator units and libraries, to mini art galleries and local museums.
The remaining estate of BT payphones is continuously under review in line with rules set out by Ofcom.
The regulator revisited guidance last year and introduced a consistent set of criteria aimed at protecting those phones that are most needed from removal. The criteria includes where payphones are in a location without coverage from all four mobile network providers.
Michael Smy, head of street at BT, said: "With the vast majority of people now using mobile phones, and significant improvements to mobile coverage across the UK, we've continued to see a big drop in the number of calls made from payphones.
"That's why we're continuing to review our payphones estate, making sure we're prioritising the removal of those not being used, in line with Ofcom's latest guidance.
"With the iconic red kiosk about to turn 100, it's a great opportunity to remind communities that would still like to retain their local kiosk to take it on for just £1 through our Adopt a Kiosk scheme.
"We've already seen some great kiosk conversions across the UK that have become valuable community assets."
The 201 Telephone Box Gallery near St Andrews
One redundant red phone box was adopted by Fife-based artist Lada Wilson in the village of Strathkinness near St Andrews.
She hatched a plan to turn the space into a mini art gallery with the support of the local Strathkinness Community Trust.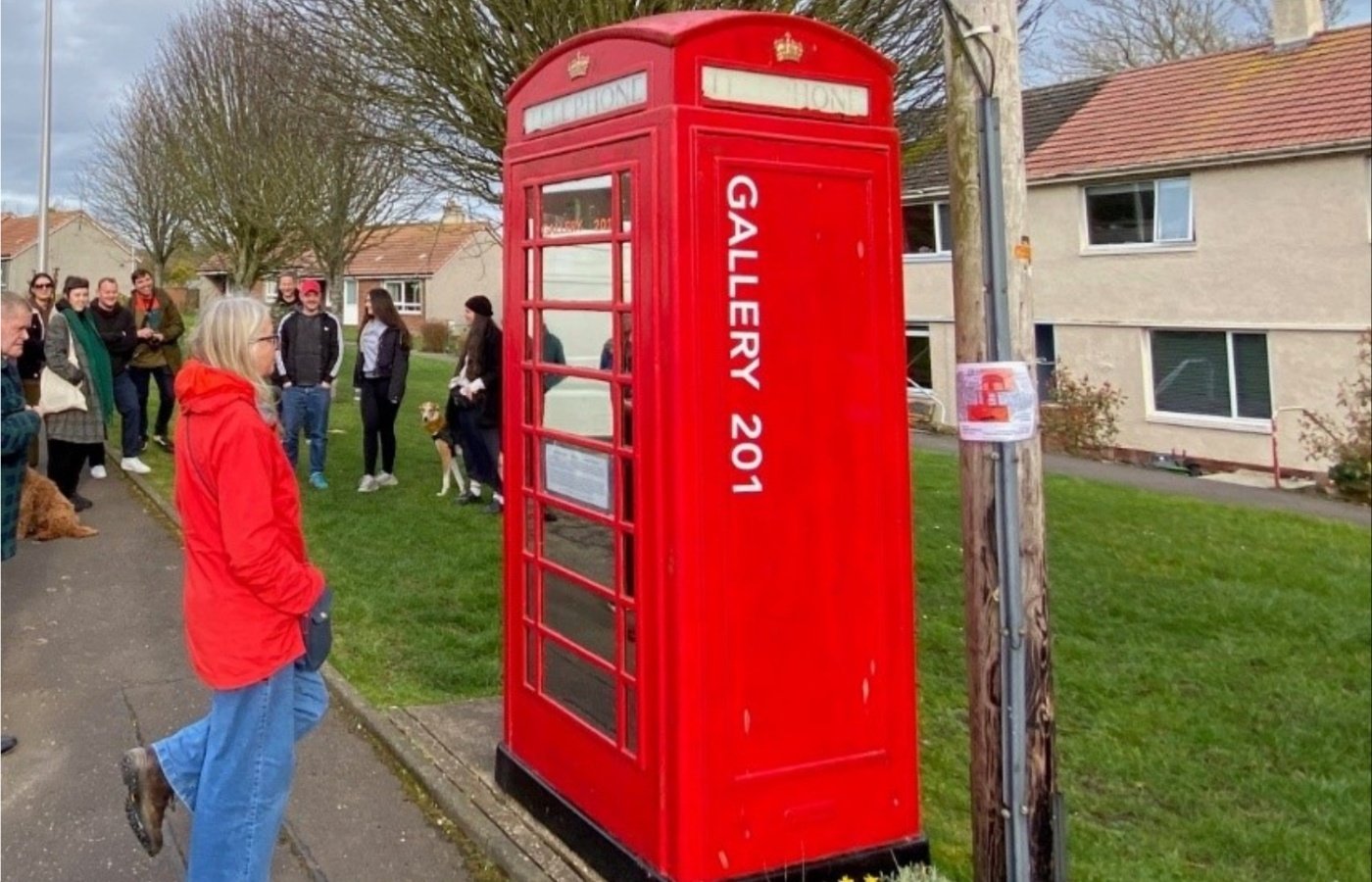 The phone box was taken on by the community for £1 through the Adopt a Kiosk scheme and turned into the 201 Telephone Box Gallery.
Since opening in 2018, there have been more than 25 exhibitions in the mini art space which showcases community-based, contemporary art by local, national and international artists.
Artist-curator and founder Lada said: "It's been great to take this historic and underused, iconic red kiosk and turn it into a community asset.
"The gallery turned five years old earlier this year and as an artist-curator, I'm really proud of the role it's played in bringing contemporary art to the village."
She said the 201 Gallery has since helped to inspire other kiosk galleries across the UK.
She added: "I've been really pleased with the level of support it gets and I've had people coming to me from across the country asking how I did it.
"Thanks to BT's Adopt a Kiosk scheme, we were able to make it happen in the first place, so I'd encourage any other communities interested in doing something similar with the redundant phone boxes in their areas to go for it."
Red kiosks currently available to adopt in Scottish council areas:
Scottish Borders 32
Highland 31
City of Edinburgh 24
Argyll and Bute 17
Shetland 11
Fife 7
Angus 6
Aberdeenshire 5
Orkney 4
Clackmannanshire 4
Na h-Eileanan an Iar 3
Perth and Kinross 3
South Lanarkshire 3
Dundee City 2
Moray 2
East Dunbartonshire 2
Glasgow City 1
North Lanarkshire 1
Midlothian 1
Stirling 1
East Ayrshire 1
South Ayrshire 1
For further information on how to apply to Adopt a Kiosk, go to www.bt.com/adopt where application forms and information can be found.