Face coverings are no longer a common sight in supermarkets, mass testing has come to an end and airports are bursting at the seams following the easing of travel restrictions.
It's easy to forget the trauma of the coronavirus pandemic as life returns to full normality.
But Covid-19 infections in the UK are no longer falling, with some parts of the country showing early signs of an increase, according to figures released by the Office for National Statistics.
Many of us have received at least three doses of vaccination and much of the population has antibodies having contracted the virus, so how worried should we be about Covid making yet another resurgence in Scotland?
What do the latest figures show?
A total of 989,800 people in the UK are estimated to have had the virus in the week ending June 2, up from 953,900 the previous week, according to the Office for National Statistics (ONS).
It is the first time total infections have risen week-on-week since the end of March, when the number hit a record 4.9 million at the peak of the Omicron BA.2 wave.
In Scotland, 124,100 people were likely to have had the virus last week, or one in 40, up from 105,900, or one in 50.
The ONS estimates that 2.36% of the Scottish population (124,100 people) tested positive for Covid-19 on nose and throat swabs from May 27 to June 2.

All four nations have seen a slight rise in the prevalence of the virus, though the ONS describes the trend in Scotland and Wales as "uncertain".
In England, 797,500 people were likely to test positive for Covid-19 last week – the equivalent of about one in 70.
That is up week-on-week from 784,100, which was also about one in 70.
Wales has seen Covid-19 infections increase very slightly to an estimated 40,500 people, or one in 75, up from 39,600, also one in 75.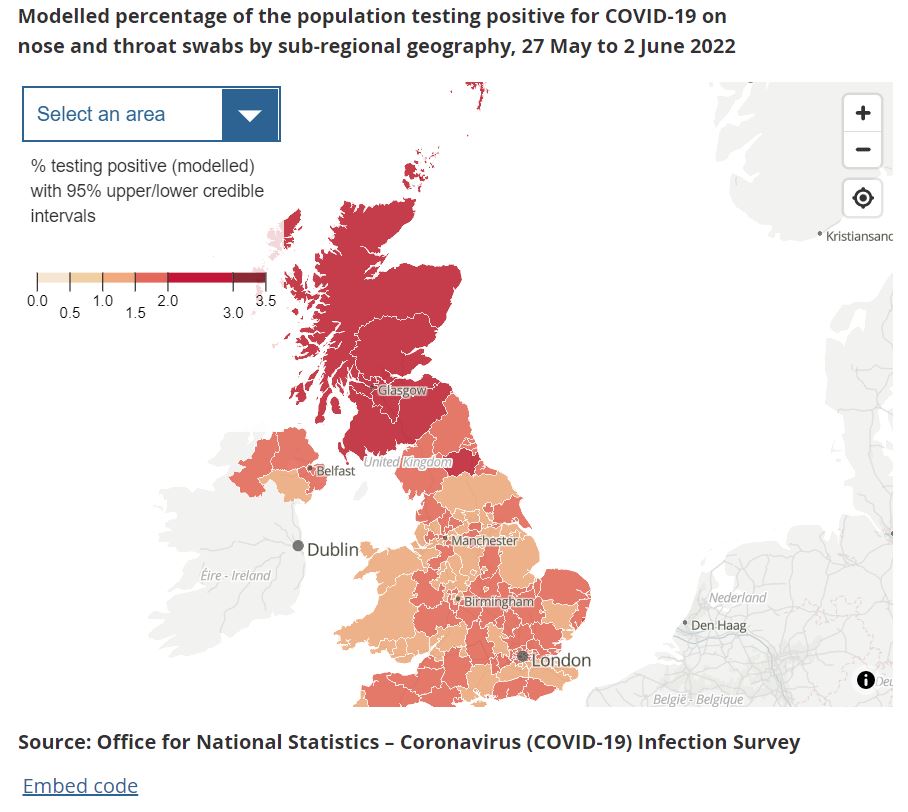 What is causing the rise?
The rise is likely to have been caused by a jump in infections compatible with the original Omicron variant BA.1, along with the newer variants BA.4 and BA.5.
Omicron BA.1 is the original variant of Omicron that caused a surge in infections across the UK in December and early January.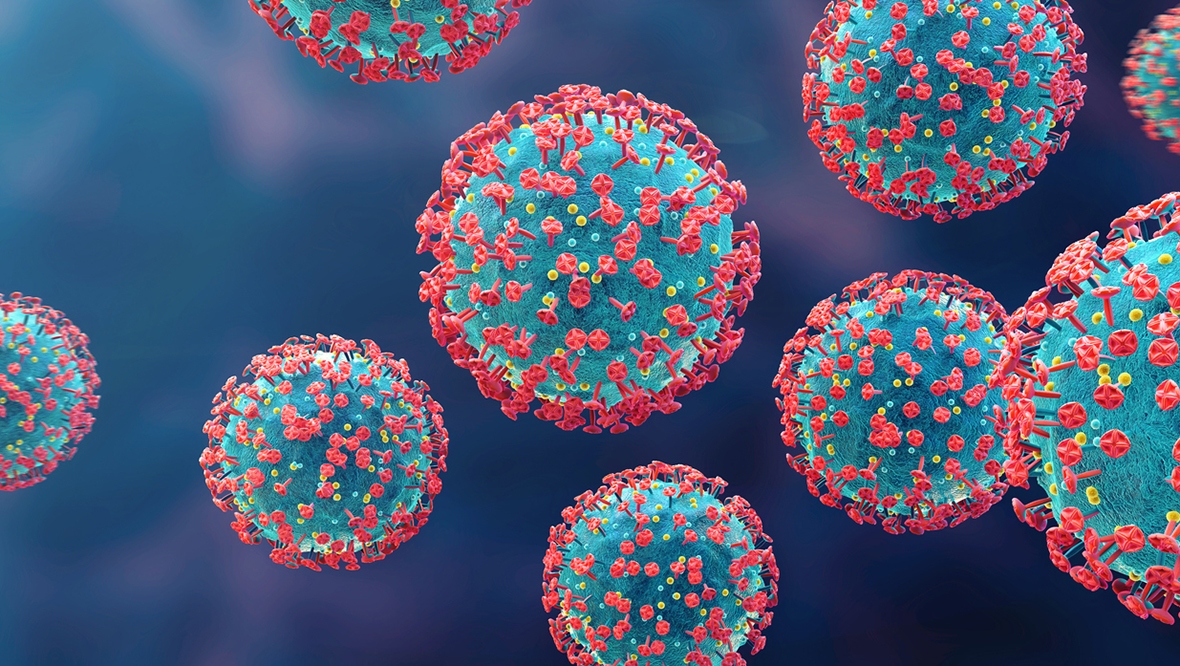 BA.4 and BA.5 are newer variants that were recently classified by the UK Health Security Agency as "variants of concern", after analysis found both were likely to have a "growth advantage" over BA.2, which is still the dominant strain in the country.
Initial findings suggest BA.4 and BA.5 have a degree of "immune escape", meaning the immune system can no longer recognise or fight a virus, which is likely to contribute to their growth advantage over BA.2, the UKHSA said.
How many people are being treated for Covid in hospital?
The latest estimates for Covid-19 infections come as separate figures show hospital numbers may no longer be falling.
In the latest week ending May 31, the number of new Covid-19 admissions to hospital increased from 409 to 415 (1.5%), according to Public Health Scotland. The highest number of admissions are now in those aged 80+ (20.0%).
In the week ending June 5, there were 12 new admissions to intensive care with a laboratory-confirmed test of Covid-19.
There were on average 614 patients in hospital with Covid-19, a decrease of 2.2% from the previous week (628).
Some 4,082 patients in England had Covid-19 on June 9, up 6% on the previous week, while in Scotland 637 patients were recorded on June 5, the latest date available, up 8% week on week.
Patient numbers in both nations had previously been on a steady downwards trend since early April, following the peak of the Omicron BA.2 wave.
What are the experts saying?
Professor Linda Bauld, a public health expert from Edinburgh University, told STV News: "We always expected cycles of infection so it does look like we're heading into a period where more people will become unwell with Covid again.
"We could have these cycles every few months but I'm not panicking about this and I don't think we should be overly concerned, and indeed my colleagues are not.
"We need to keep up the vaccination programme and recognise that that is absolutely the key component of our response, along with – where possible – people adopting protective behaviours when needed.
"We have to strike a balance. What we're trying to do is manage this virus and it's with us, it's not going away. I think scaremongering is unhelpful, I think 'give people good information'."
Bauld said people can play a key role in keeping infections low by continuing to wear a face covering in crowded spaces and coming forward to get their vaccination if they haven't done so already.
She said: "If you remember earlier in the spring, and indeed in the Christmas period, we had one in 10, one in 15 people, in Scotland who potentially had the virus – that really affected our schools, our workplaces, the NHS. We're not at that level at the moment."
Health secretary Humza Yousaf said the Scottish Government was "concerned" about the recent rise in infections.
"We're concerned. We're not panicked by any stretch of the imagination, but clearly concerned, any rise in cases, a rise in infection levels, does concern us," he said.
"What I would say is we've got a highly vaccinated population and high levels of natural immunity.
"And both of those things should keep us in good stead, but it's of course concerning."
How many people have been vaccinated?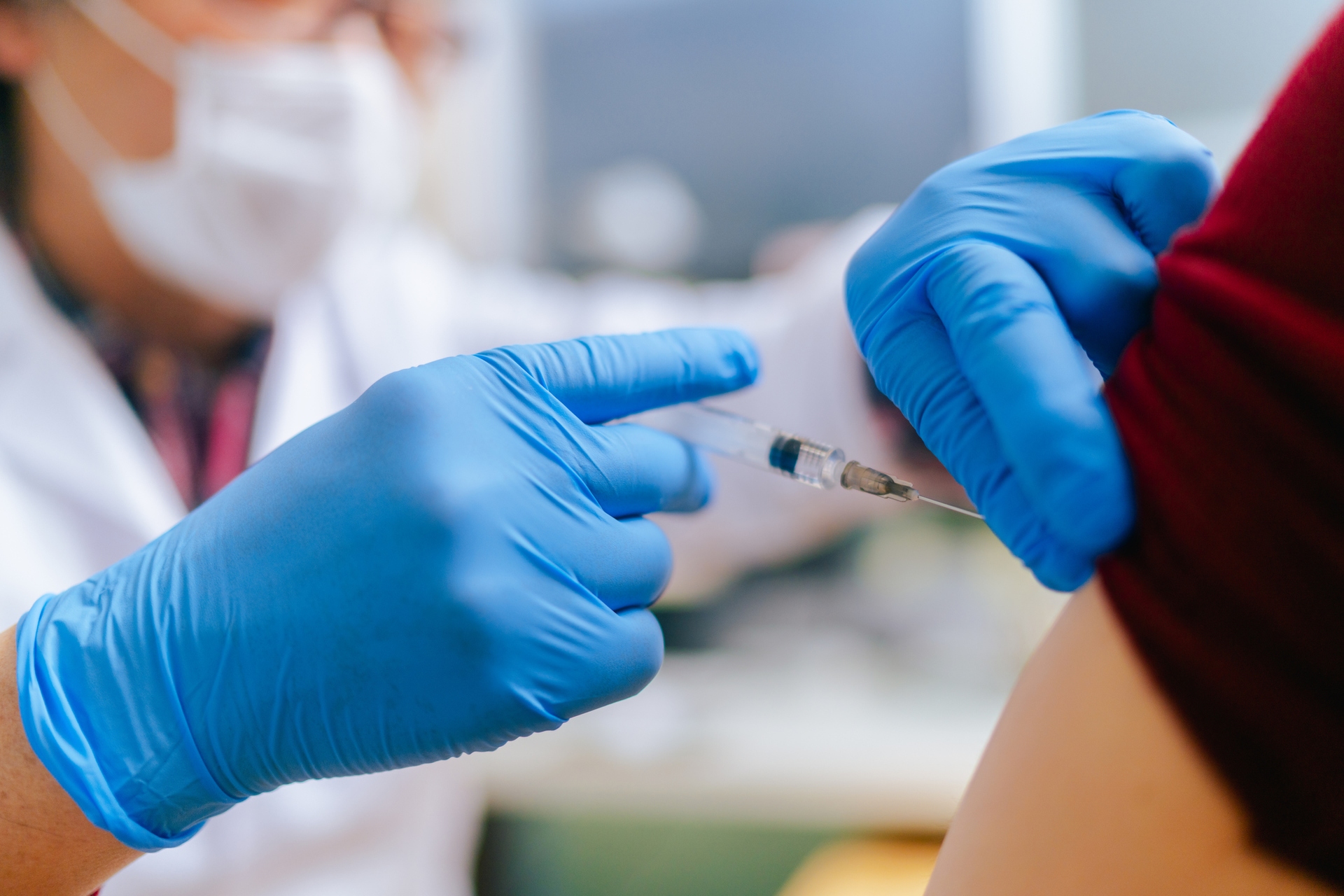 The number of people who have received three doses of vaccine (or three doses and a booster) stands at 3,554,213, as of Monday.
Some 4,215,736 people have received two doses of vaccine and 4,524,633 people have received one dose.
When did restrictions ease in Scotland?
From May 1, people in Scotland were no longer required to self-isolate if they displayed symptoms of Covid-19.
It had never been a legal requirement to self-isolate in any instance, but updated guidance states that people feeling unwell with Covid should now stay at home until they feel better.
All contact tracing also came to an end in May, with the Protect Scotland app closed down and the NHS taken off an emergency footing.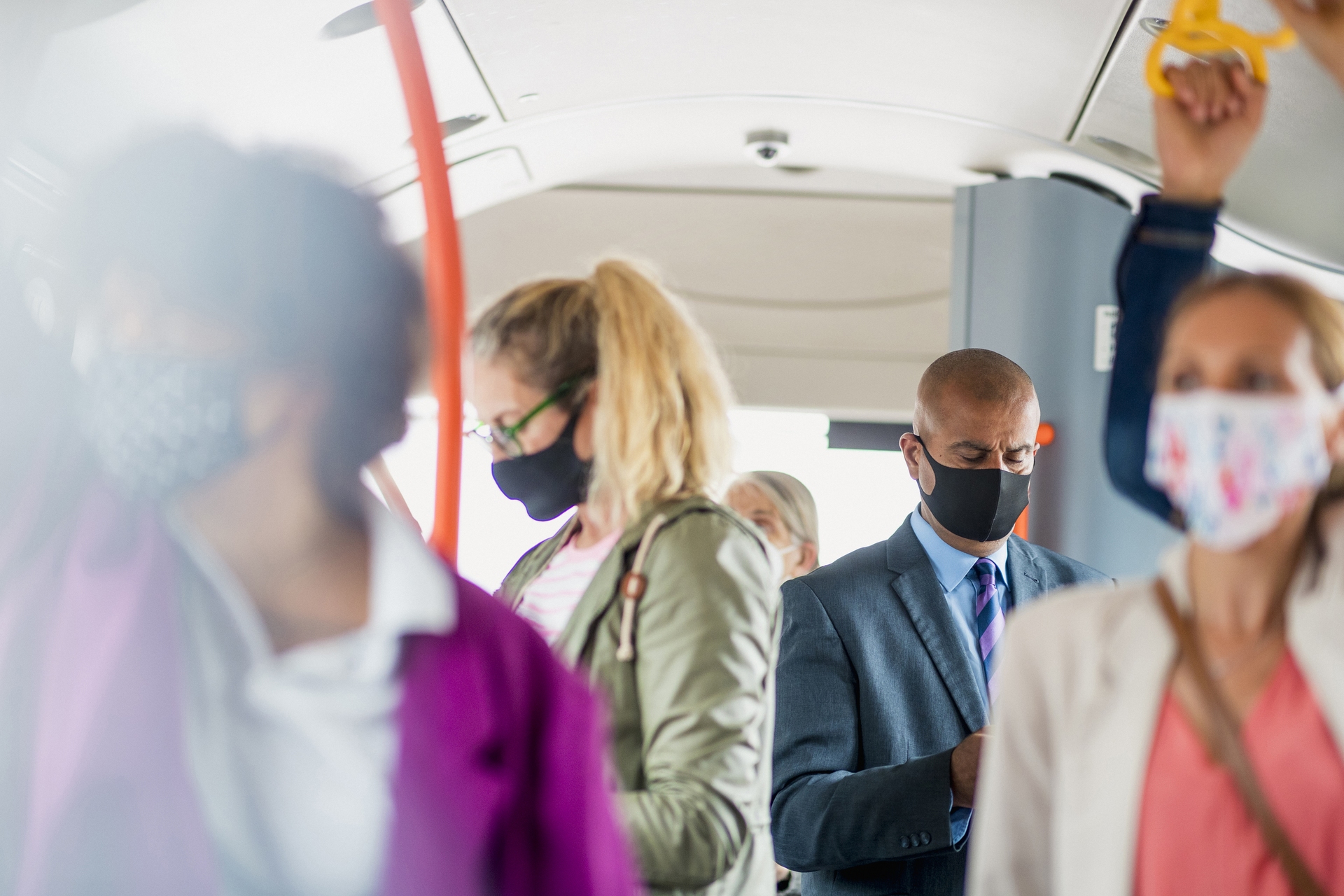 The Scottish Government's vaccine passport scheme was scrapped in February and travel rules for people arriving from abroad ended at 4am on March 18.
A further easing of restrictions came on April 18 with the lifting of the legal requirement to wear face coverings in many indoor settings.
How many people have died with Covid-19 in Scotland?
As of June 5, 2022, there have been a total of 14,820 deaths registered in Scotland where Covid-19 was mentioned on the death certificate.
There were 20 deaths linked to Covid-19 in week 22 of 2022 (May 30 to June 5), which was 26 fewer than the previous week.

The provisional total number of all deaths registered in Scotland during the same period was 836 (18% below the five-year average).