First Minister Nicola Sturgeon led tributes to the late Duke of Edinburgh at Holyrood.
The Scottish Parliament was recalled on Monday for only the sixth time in its history so as MSPs could show their respect to Prince Philip in a motion of condolence.
The 99-year-old, Queen Elizabeth II's husband, passed away on Friday morning at Windsor Castle.
The Duke and the Queen were married for more than 70 years and Philip dedicated decades of his life to royal duty, serving the nation at the monarch's side.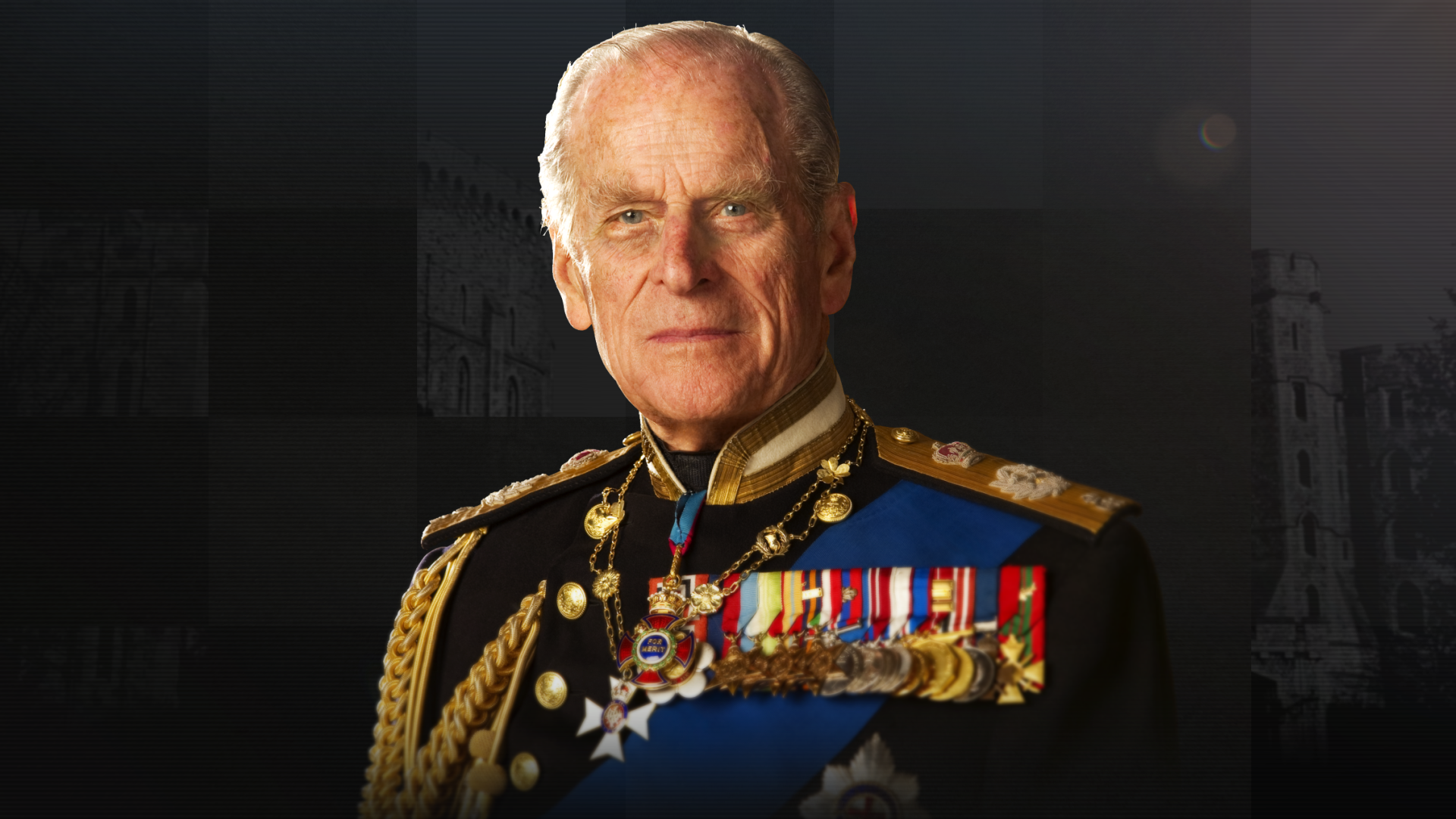 Following a one-minute silence in remembrance, Sturgeon said: "The tributes paid to the Duke of Edinburgh over these last three days show the affection in which he was held here in Scotland, across the United Kingdom and indeed around the world.
"On behalf of the people of Scotland I express my deepest sympathy to Her Majesty The Queen, who is grieving the loss of her strength and stay, her husband of almost 74 years, and also to the Duke's children and to the wider Royal Family."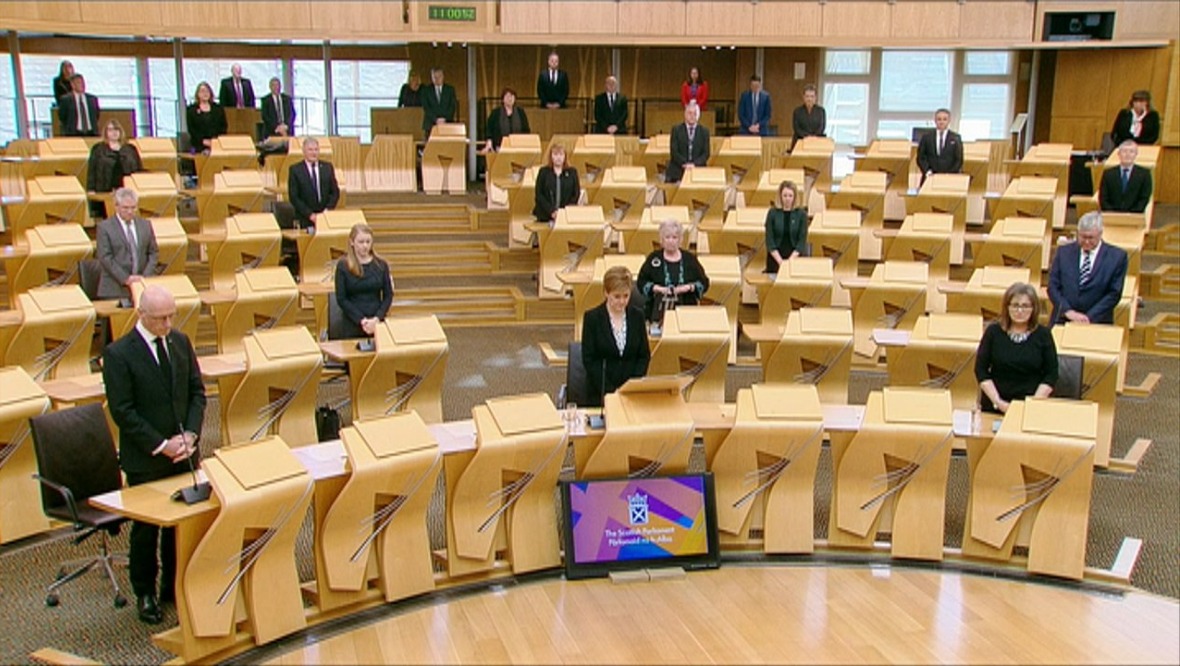 The First Minister highlighted his life-saving efforts during the Second World War, and like so many of his generation the Duke had "endured difficulties and faced dangers that generations since can barely comprehend".
Sturgeon described the relationship between The Queen and the Duke as a "true partnership".
She said: "He faced the additional challenge of being the husband of a powerful woman at a time when that was even more of an exception than it is today.
"That reversal of the more traditional dynamic was highly unusual in the 1940s, 50s and 60s, and even now isn't as common as it might be.
"Yet, the Duke of Edinburgh was devoted to supporting the Queen – they were a true partnership."
The FM said she enjoyed speaking to the Duke about the books they were reading when she would stay at Balmoral.
She added: "He was a thoughtful man, deeply interesting and fiercely intelligent.
"He was also a serious book worm, which I am too, so talking about the books we were reading was often for me a real highlight of our conversations."
Sturgeon highlighted his interest in industry and science and said he was "far-sighted" in his early support for conservation.
She added: "Indeed, as far back as 1969 in a speech here in Edinburgh he warned of the risks of 'virtually indestructible' plastics.
"Of course, in 1956 he founded the Duke of Edinburgh Award scheme which now every year provides opportunity, hope and inspiration to more than one million young people in more than 100 countries across the world."
The First Minister said "it is right that our parliament pays tribute" to the Duke.
She added: "In doing so, we mourn his passing and we extend our deepest sympathy to Her Majesty The Queen and her family.
"We reflect on his distinguished war-time record, his love and support for The Queen and his decades of public service to Scotland, the United Kingdom and the Commonwealth.
"Above all, we celebrate and we honour an extraordinary life."
The Scottish Conservatives' Ruth Davidson said she couldn't imagine what "it is like to be married to someone for 73 years".
She added: "And I can't imagine what it is to have to get up and face every future day without them – what that absence feels like.
"And I think the recognition of the enormity of such a loss is what has led so many over the past few days to look past the titles and the 41 gun salutes and have such a sense of feeling for Her Majesty on such a human level."
Davidson described the Duke as a "dashing young naval officer" who went on to become a "palace moderniser".
She said: "He was a man that was born before the discovery of penicillin, before the creation of the United Nations or the invention of the television or the jet engine.
"But a moderniser he was in life, as well as in work. How many men in the 1950s gave up their job for their wife's career?"
She also recalled how he had once asked former Scottish Tory leader Annabel Goldie about her underwear, at an event in Holyrood held to mark Pope Benedict's visit to Scotland.
Davidson said: "Seeing Iain Gray [former Scottish Labour leader] sporting a tie in the papal tartan, the Duke turned to Tory leader Annabel Goldie to ask if she had a pair of knickers made out of this.
"Quite properly, Annabel retorted, 'I couldn't possibly comment, and even if I did I couldn't possibly exhibit them'."
Scottish Labour leader Anas Sarwar said he'd "never had the privilege" of meeting Prince Philip, so didn't have a personal anecdote to share.
However he retold the story of a man called Jon Watts, who was jailed at the age of 17.
Sarwar said: "Jon recalled 'there was lots of alcohol and no aspirations for people like me', is what he said.
"But while in prison he came across the Duke of Edinburgh's award, which he said gave him a new sense of direction.
"He camped out for his first award not on a Scottish mountainside, but in a tent on the artificial grass of a prison football pitch.
"Jon went on to get the bronze, silver and gold award while serving a six-year sentence.
"The skill he learned during the programme was cooking, and upon leaving prison he set up his very own catering business, now helping other young people to learn new skills and find jobs. 'It saved my life', Jon said last week.
"That's just one life that the Prince helped save; there will be countless others from different walks of life."
Patrick Harvie, co-leader of the Scottish Greens, also paid tribute despite the party wishing for an elected head of state.
Highlighting all the lives lost during the coronavirus pandemic, he added: "Today is a moment to extend our thoughts to Prince Philip's family and to all those who are grieving for their loved ones in a spirit of respect for the equal value of every human life."
Scottish Lib Dems leader Willie Rennie recalled a meeting in which Prince Philip asked him about a "little blue man" badge he used to wear.
He said: "The Duke of Edinburgh spotted it at a reception. He bounced up, demanding to know what it was. 'To show support for the prostate cancer campaign', I said.
"He looked at me closely. He says, 'have you got it or are you against it?' Then he bounced off again.
"The engagement was only 30 seconds long, but it has stayed with me and to be retold numerous times over the years.
"It seems that he left lasting impressions with so many others too. Some less repeatable than others, but so many were fun and memorable."
STV News is now on WhatsApp
Get all the latest news from around the country
Follow STV News
Follow STV News on WhatsApp
Scan the QR code on your mobile device for all the latest news from around the country