Hate crimes aggravated by sexual orientation and disability in Scotland have reached an all-time high.
Charges against people accused of committing crimes motivated by their victim's disability climbed by 3% in 2022-23, taking it to the highest level since current laws came into force in 2010.
The proportion of charges involving sexual orientation-based prejudice more than doubled from 16% in 2013-14 to 33% in 2022-23, according to a report by the Crown Office and Procurator Fiscal Service (COPFS).
There were also 55 reports of hate crimes against those of transgender identity in 2022-23.
While this figure is lower than the 86 in 2021-22, it is the second-highest recorded number since 2010.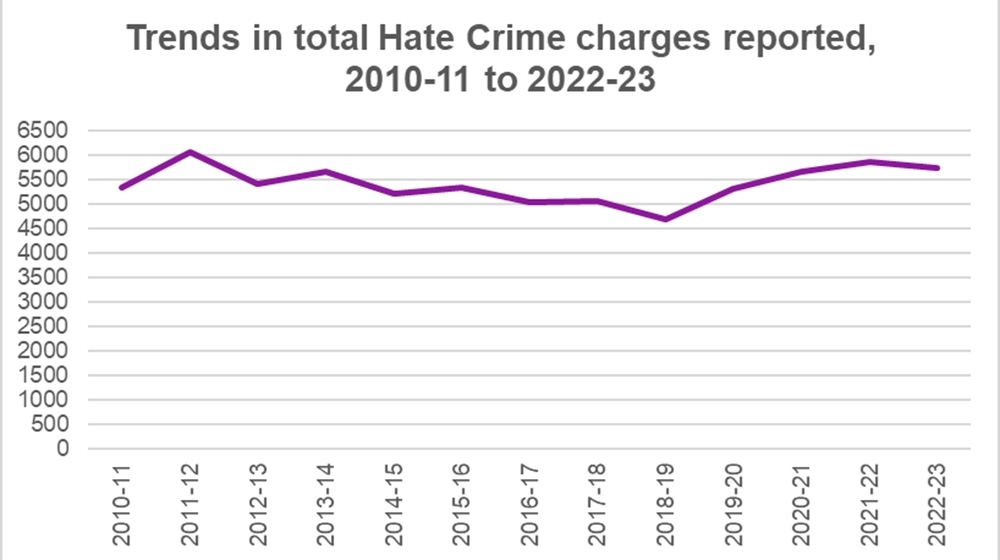 Racial crime remains the most commonly reported hate crime, with a total of 3,145 instances reported in 2022-23 – a decrease of 2% compared to the previous year.
Overall, however, there was a 2% drop in hate crime-related charges reported to the COPFS in comparison to last year, from 5,851 in 2021-22 to 2022-23 in 5,738
Commenting on the report's publication, Lord Advocate Dorothy Bain KC said crimes motivated by intolerance or prejudice "will not be allowed to blight our communities".
She said: "We will not tolerate crime which damages the fundamental right of an individual to be exactly the person they are.
"As prosecutors, we take very seriously our responsibility to protect victims and members of the public from these hate-fuelled offences."
Cabinet secretary for justice, Angela Constance, said: "The Scottish Government is clear that any form of hatred or prejudice is completely unacceptable and will not be tolerated.
"Hate crime has hugely damaging effects on victims, their families and the wider community and we must all play our part to challenge it. These latest figures show that we all must redouble efforts to tackle hatred and prejudice in Scotland.
"Our new Hate Crime Strategy – based on the views and needs of people with lived experience – sets out a vision for a Scotland where everyone lives free from hatred and prejudice."
The Scottish Government's Hate Crime Strategy intends to develop prevention and also supports the implementation of the Hate Crime and Public Order (Scotland) Act 2021, which once in force will "consolidate, modernise and extend" the country's hate crime legislative framework.