Advertisements by three Scottish distilleries have been banned for "irresponsible" messaging which claimed nutritional and therapeutic benefits to drinking alcohol.
British chef Gordon Ramsay's collaboration with Eden Mill Distillery resulted in advertising for Ramsay's Gin which claimed the spirit contained "a range of micro-nutrients" and favourably compared it to fruits.
The ad, posted to the Ramsay's Gin Instagram and Facebook pages on March 20, featured an image of a bottle of the product with text stating: "Honeyberries from the botanical foundations of Ramsay's Gin… the farmer follows a philosophy of natural growth meaning the Honeyberries retain the rich flavours and micro-nutrients that come from Scotland's wonderful terroir.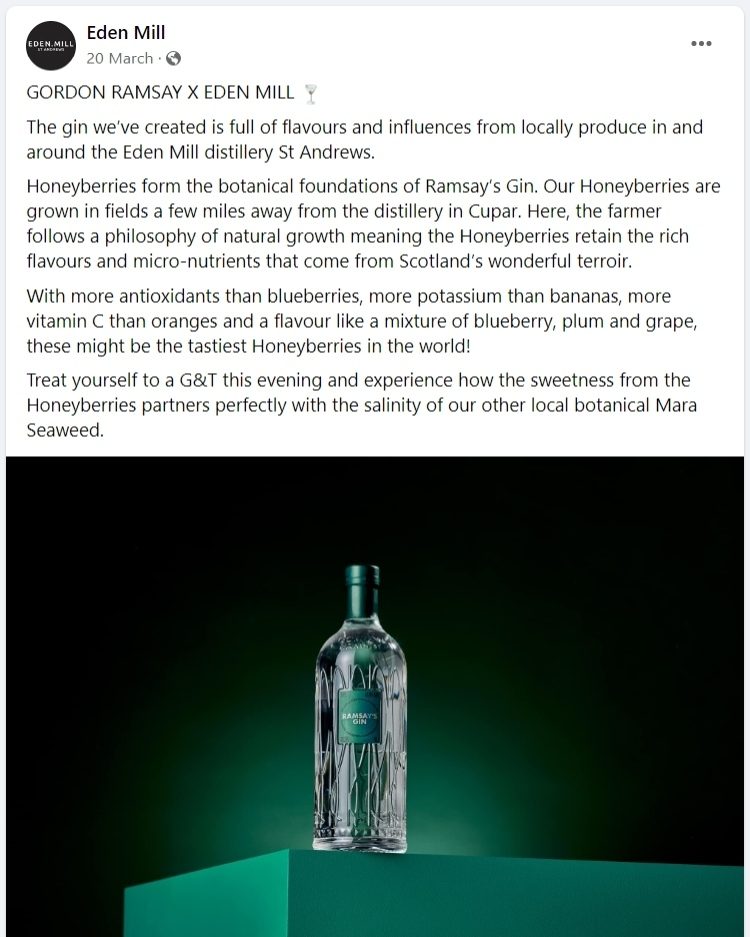 "With more antioxidants than blueberries, more potassium than bananas, more vitamin C than oranges and a flavour like a mixture of blueberry, plum and grape, these might be the tastiest Honeyberries in the world!"
The Advertising Standards Authority (ASA) ruled that the claims implied a "favourable comparison between the nutrient content of the product and the fruits listed".
It said: "While we welcomed the action Ramsay's Gin had taken to withdraw the ads, because the claims 'retain […] micro-nutrients' and contained 'more antioxidants than blueberries, more potassium than bananas, more vitamin C than oranges' were nutrition claims that were not permitted for alcoholic drinks, we concluded the ads breached the Code."
Eden Mill Distillery said the ads had only been posted once, and subsequently delete. It credited an oversight in due diligence to being "excited by the opportunity to work with Gordon Ramsay", and provided an assurance it would not happen again.
In another case, the ASA questioned whether an Instagram post for Smokehead Whisky in June was irresponsible, because it linked alcohol with driving and an activity or location in which drinking would be unsafe.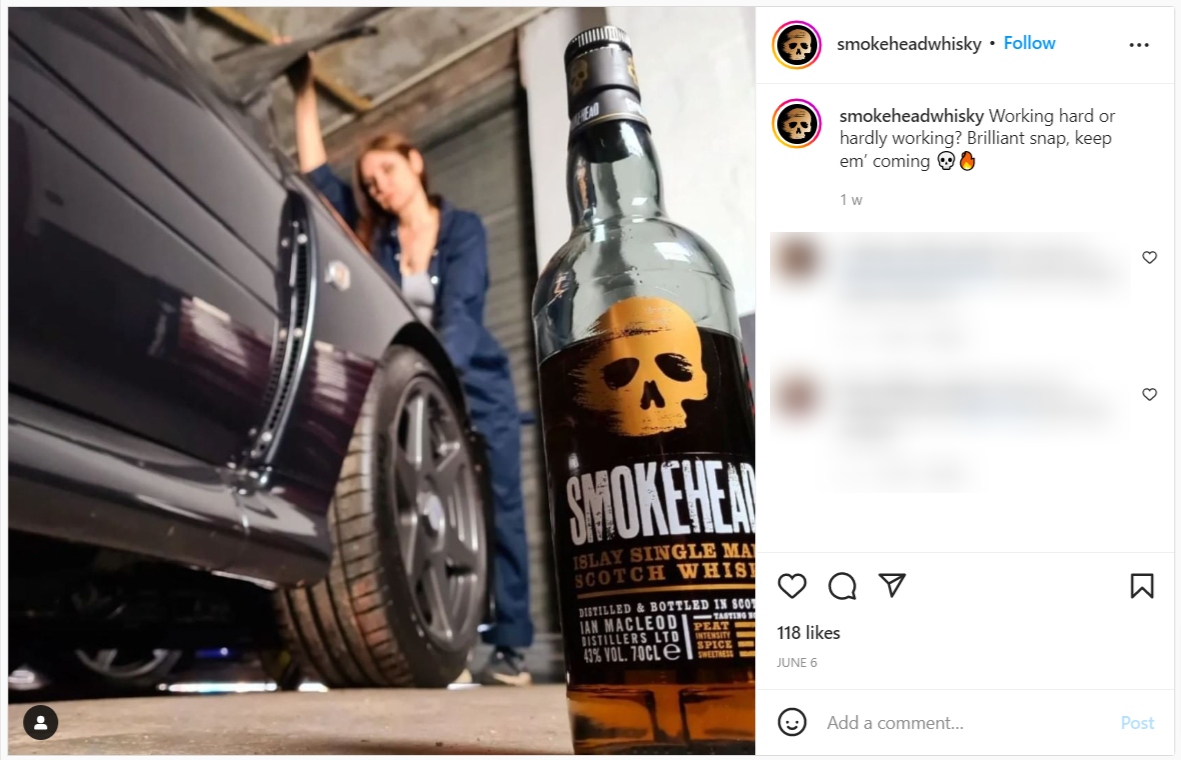 It featured an image of a partially full bottle of whisky, alongside a woman dressed in work overalls in front of a car with an open bonnet.
Text stated "Working hard or hardly working? Brilliant snap, keep em' coming" accompanied by a skull and fire emoji.
The ASA ruled that the ad implied the woman was a mechanic, at work in a garage – considering that while the car was stationary, it would be expected that a mechanic would operate machinery and potentially would have to drive the car to manoeuvre it while working on it.
It said: "While we acknowledged that the post did not show the mechanic drinking from the bottle, we noted that the bottle of whisky was partially full, and, as such, we considered that gave the impression that the mechanic had been drinking the whisky while at work.
"We considered that the reference to "hardly working" also added to that impression."
Finally, a Scottish Liqueur brand came under fire for its June 10 ad which "implied that drinking alcohol could overcome problems and had therapeutic qualities".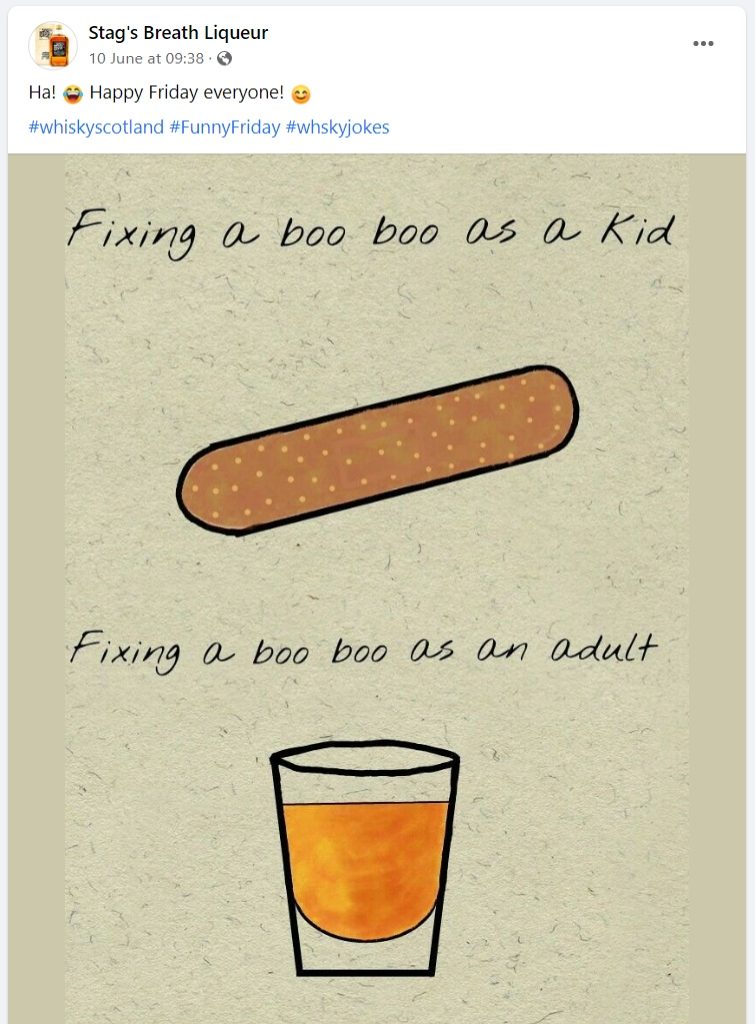 A Facebook post on the Stag's Breath Liqueur's page stated, "Ha! Happy Friday everyone! #whiskyscotland #FunnyFriday #whskyjokes" [sic] accompanied by smiling face emojis.
Below this, it featured text which equated using a plaster as a child to drinking alcohol as an adult.
The ASA found that consumers could interpret the ad to mean that while a child would need only a plaster to "fix" a mistake or minor injury, in adulthood, alcohol could be used instead.
It acknowledged that those who saw the post would understand it was supposed to be light-hearted and humorous for the end of the working week, however, it was found to present drinking alcohol as a solution for difficulties.
The watchdog banned the ad in its complained of form, and told Meikles of Scotland to ensure that future advertising did not imply that alcohol "could help with overcoming problems in life and had therapeutic qualities".