A filmmaker turned campaigner wants to be the "spark" that helps prisoners turn their lives around.
Fritzi Horstman is running a pilot project in three Scottish jails, having previously helped male inmates in California heal from childhood trauma.
She believes her work can contribute to ending the cycle of reoffending after release.
STV News was given exclusive access as she addressed 32 prisoners at HMP Edinburgh, challenging them to talk about damaging life experiences for the first time.
She asked them: "Prior to your 18th birthday, did a parent or adult in your household often or very often swear at you, insult you, put you down or humiliate you, or act in a way that made you afraid that you might be physically hurt? If yes, step inside the circle."
Almost everyone in the prison gym hall stepped forward, before Fritzi asked more questions, 20 in total, from the ACEs quiz; standing for Adverse Childhood Experience.
The questions were deeply personal, focused on physical, sexual and emotional abuse, and the vast majority of inmates admitted to multiple such experiences.
'You can turn this around'
Fritzi, 59, founded the Compassion Prison Project in 2019 to help prisoners in California, and is now turning her attentions to Addiewell, Barlinnie and Edinburgh jails in Scotland.
The visit to the capital saw her work with female inmates for the first time, many of whom had already taken part in recovery programmes run by the prison.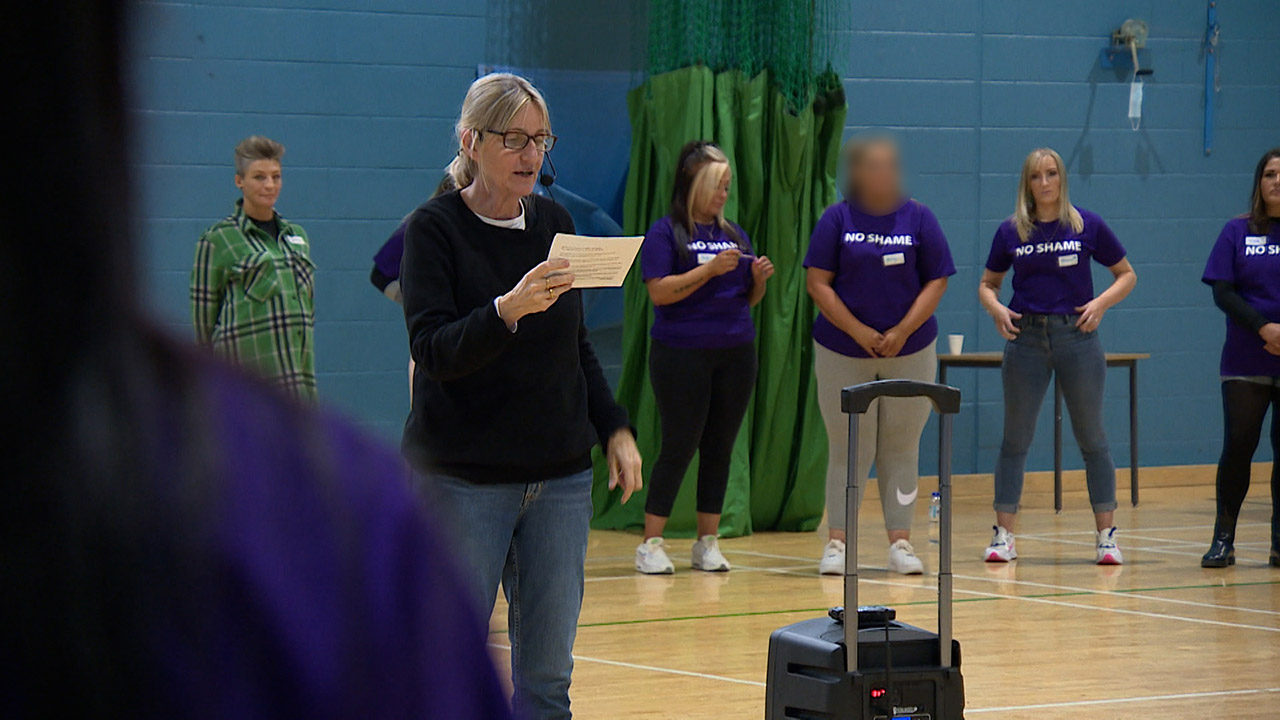 "We have 35 prisons in California, almost 100,000 people that are incarcerated," she said. "Scotland has 8,000, you can turn this around in a few months if you decide to. And that's going to change the communities and that's going to change children's lives. Isn't that what we want?
"Don't we want a bright future, not only for ourselves and our children, but for Scotland? That's what I'm talking about. That's what's possible."
All of those who spoke to STV News were emotionally affected by the work they carried out with Fritzi to acknowledge childhood trauma.
Some of the responses included:
Ashleigh: "I felt embarrassed by the fact I've been through certain things. As much as they've gone through it as well, I still hold a degree of shame and embarrassment within myself. I think that was the hardest bit for me."
Sophie: "My mum died not long before I came in here, due to drugs, same as what I'm in here for, and that would have definitely been me. So, it's probably a good thing, a blessing in disguise that I'm here."
Paige: "I've always resorted to violence but things like this will change the way I react and think in the future. I did a drug recovery coaching course recently and that has flicked a switch in my head to deal with things differently.
"If you have kids of your own, being in prison away from them is trauma-triggering for them. It changes the way you think about things."
Jade: "It's making me feel different about being a parent. It's making me feel I can open up and speak more to my kids and be there more emotionally for them, instead of hiding everything all the time."
'Current system isn't working'
Natalie Logan MacLean runs the recovery café at Barlinnie through SISCO, the charity that helps inmates prepare for release.
They provide 12 weeks of 'aftercare' following Fritzi's sessions and are desperate for the current system to change.
"Everything that we are doing in Scotland is not working and we know that because there is an increase in suicide and we have the highest drug deaths per capita," she said.
"We want to try something radical and new, something brave and that's what Fritzi brings to the table."
HMP Edinburgh governor David Abernethy believes the work can be transformational for the prison population.
He said: "I certainly didn't join the prison service to turn this prison into a warehouse where you just incarcerate people like battery hens.
"If people want to have fewer victims of crime, then we need to something for people that commit crimes. There is no way around that.
"We are not going to keep people in prison indefinitely, so when you are letting people out, you want them to be better and less likely to come back."
Drugs policy minister Angela Constance was due to speak at the Compassionate Prisons Conference on Wednesday.
She said: "We recognise that growing up with adverse childhood experiences (ACEs) and trauma – such as abuse, neglect, parental imprisonment or growing up in a household where adults are experiencing harmful drug use – can have a long-lasting effect on people's lives.
"ACEs and traumatic life experiences in childhood or adulthood increase the risk of poorer mental and physical health and other outcomes. In particular, ACEs have been found to be linked to increasing likelihood to be a victim of crime, commit crime, and spend time in prison.
"The National Trauma Training Programme aims to support our workforces and services to respond in ways that help prevent further harm and support recovery and can address inequalities and improve life chances."