Parts of Scotland have been warned to expect more flooding amid forecasts of heavy rain.
The Met Office has issued yellow weather warning for downpours between 1pm and 9pm on Tuesday.
Central, Tayside and Fife, the Highlands, south west Scotland, Lothian Borders and Strathclyde are expected to worst hit by showers.
The Met Office anticipates around 50mm of rain could soak certain areas in just a three-hour period.
Homes and businesses could be flooded while travel disruption is also expected.
The warnings come a week after flash flooding across the country as thunderstorms caused torrential downpours overnight.
STV Weather reporter Philip Petrie said: "Tomorrow we will see a frontal system moving northwards across the country, bringing a grey, grotty start to the day.
"The front wraps around itself, with the tail end bringing the risk of further showery rain to central and southern areas later on in the day.
"By late afternoon/early evening the rain becomes slow moving – turning more heavy persistent – and this is why the Met Office have issued a yellow weather warning for rain.
"Some places are likely to see 20-25mm of rainfall within one hour, or 50mm of rain within three hours.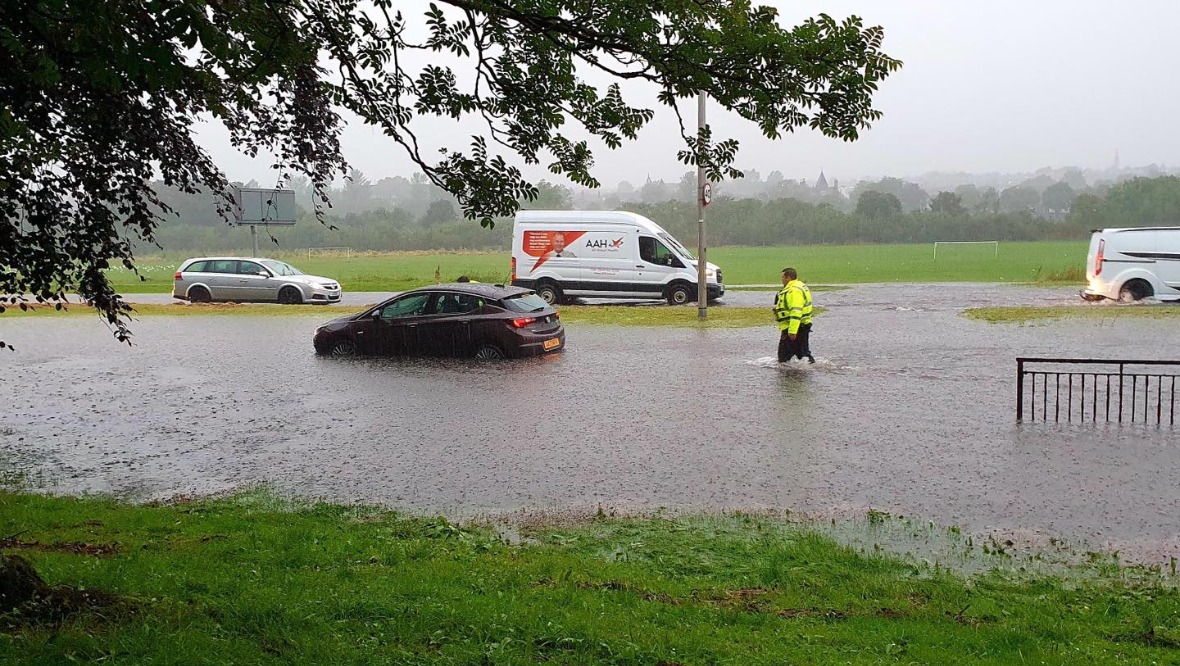 "However, the weather warning only lasts until 9pm tomorrow night, at which point the showers should have eased considerably.
"Areas most affected will be parts of the highlands, Stirling, Perth, the central belt towards the borders."
A Met Office spokesperson said: "There is a small chance that homes and businesses could be flooded, causing damage to some buildings along with fast flowing or deep floodwater.
"Spray and flooding could lead to difficult driving conditions and some road closures.Where flooding occurs, there is a chance of delays or cancellations to train and bus services
"There is a slight chance of power cuts and loss of other services to some homes and businesses. There is a small chance that some communities become cut off by flooded roads."
Scottish Environment Protection Agency (SEPA) has issued flood alerts for areas including Caithness, Sutherland, Easter Ross, Great Glen, Findhorn, Nairn and Moray.
A spokesperson said: "The greatest risk is during Tuesday afternoon and if the heaviest showers fall over built up areas prone to flooding, small watercourses or transport networks.
"Possible impacts could include significant travel disruption, flooding affecting properties, communities and key infrastructure.
"Due to the localised nature of the heaviest showers, impacts may be isolated with not all locations being affected."