The first snow of the season could fall in northern parts of Scotland this week after record-breaking rainfall caused flooding over the weekend.
An Arctic wind is forecast to bring freezing temperatures below the averages for this time of year come Saturday and Sunday.
"There will be an increased chance of snow on higher ground, and perhaps even down to lower levels on Orkney and Shetland," said STV weather presenter Philip Petrie.
"The freezing level drops by Friday night and, where we do see showers then and into the weekend, they could turn wintry, but as always the weekend is still quite a while away and things could change."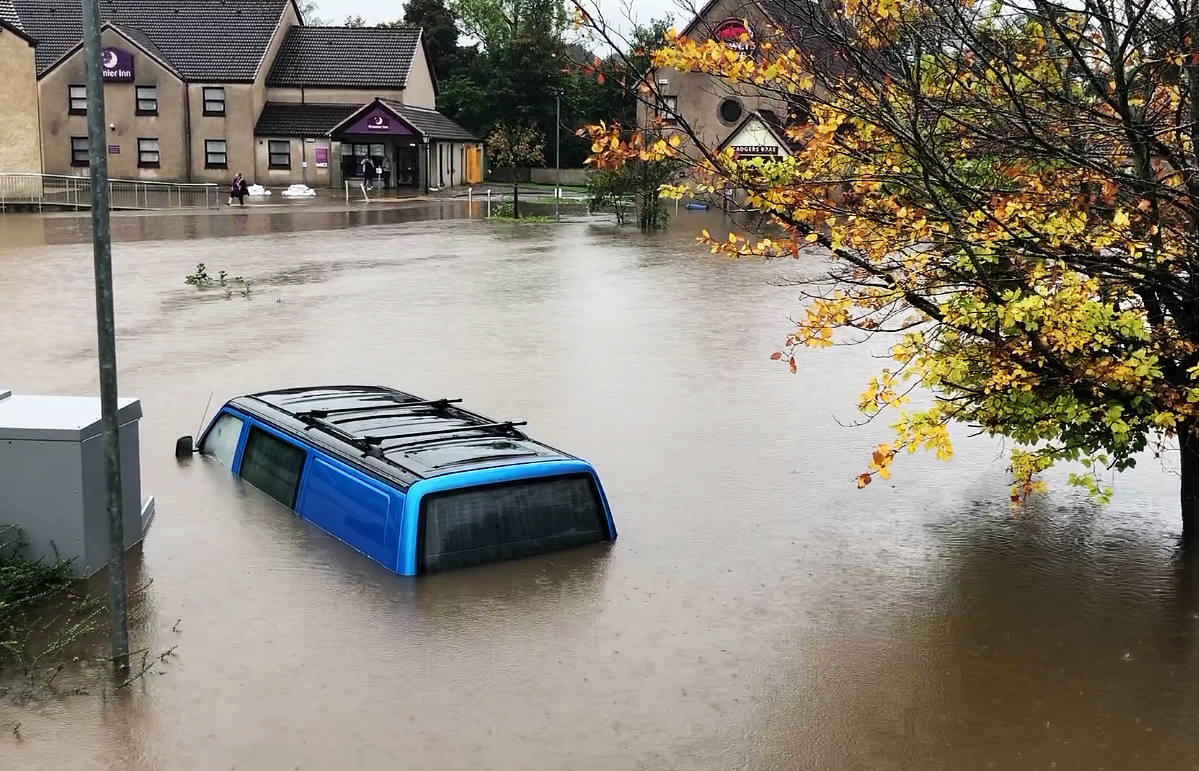 On Saturday, several locations broke the previous wettest October day on record.
Dunstaffnage, in Argyll and Bute, recorded 68.8mm of rainfall in 24 hours, beating the previous record of 59.5mm held since October 1971.
Aviemore saw 47.2mm of rainfall, its wettest October day since 2014.
While Strathallan in Perthshire recorded 59.6mm.
"As the STV weekend weatherman, it was quite the weekend to be off," said Philip.
"But as with many jobs it was hard to switch-off and impossible to avoid the weather considering it was making so many headlines, and causing so much disruption, upset and chaos across Scotland.
"The country saw some torrential, heavy and persistent rain moving through across the weekend, that in some spots felt never-ending, and which caused some major impacts including landslips around the A83, flooding, closures to railways and train stations, and for some spots nearly a month's worth of rain falling in the space of 24 hours.
"We didn't quite break the record for Scotland's wettest ever day, which was on January 17, 1974, when the country saw 238mm of rainfall in 24 hours."
The Met Office has said it doesn't anticipate more flooding but there is still another yellow weather warning in place for Tuesday covering parts of Perth and Kinross, Stirling, Falkirk, Glasgow, Argyll and Bute, Ayrshire, Renfrewshire and Lanarkshire.
"Heavy rain is expected once again, mostly affecting these western parts, but unlike the weekend gone when we saw non-stop persistent rain, there will actually be some drier and brighter interludes through the day," Philip said.
"Wednesday and Thursday things aren't too bad, a couple of days of sunshine and showers, with the showers most frequent in the north.
"However, things will be turning colder as our winds come from an Arctic origin, meaning temperatures will be dropping below our average values and there will be an increased chance of snow on higher ground, and perhaps even down to lower levels on Orkney and Shetland."
STV News is now on WhatsApp
Get all the latest news from around the country
Follow STV News
Follow STV News on WhatsApp
Scan the QR code on your mobile device for all the latest news from around the country