First Minister Nicola Sturgeon has formally apologised to women in Scotland who were forced to give up their babies for adoption.
The recognition is the first official apology in the UK to tens of thousands of unmarried mothers "shamed" and "coerced" into having their babies adopted.
It is estimated around 250,000 families in Scotland have been affected by the historical practice throughout the 1950s, 1960s and 1970s.
Sturgeon fought back tears as she offered the "sincere, heartfelt and unreserved" apology on Wednesday – one of her final acts in government.
"The horror of what happened to these women is almost impossible to comprehend"

Nicola Sturgeon
She said adoption practices in Scotland during the 20th century were among the "worst injustices in our history".
The First Minister recounted the stories of three women who had their babies taken away to be adopted by other families.
"The horror of what happened to these women is almost impossible to comprehend," she said.
"It is the stuff of nightmares, yet these were not isolated cases – far from it."
She said the mothers were made to feel "worthless" as they were "lied to".
"Some women were never even allowed to hold their babies, most never got the chance to say goodbye, and many were threatened with terrible consequences if they ever tried to make contact with a child," she added.
The heartfelt apology was met with a lengthy applause across the chamber, from cross-party MSPs and campaigners who sat in the gallery to listen alike.
Scottish Conservative deputy leader Meghan Gallacher MSP, said: "It was a humbling to be joined in the chamber by the courageous campaigners of historic forced adoption.
"Today would not have been possible without them and their determination to seek a sincere national apology after 60,000 women were forced to give up their babies for adoption, simply because they were young or unmarried.
"Although a national apology cannot right the wrongs of the past, I hope that it will be the start of a healing process for those suffering lifelong trauma.
"My only regret is that some campaigners have sadly died before this apology was made.
"We must ensure that the support being offered is meaningful and needs-based. We have a duty to make sure that this part of our history never repeats itself and that we protect the rights of women and girls across Scotland."
Scottish Labour deputy leader Jackie Baillie said: "These appalling cruelties are perhaps among the most heinous of injustices that our society has inflicted on women and their children.
"Marion McMillan from Paisley is one of those mothers, she is now in her 70s and terminally ill. Her dying wish is that victims in Scotland receive the apology they deserve.
"Marion has worked with other victims of forced adoption from around the world, has reunited mothers with children and has given evidence that helped to secure the world's first Government apology for forced adoption, in Australia in 2013.
"I commend the brave and tireless work of Marion and all the other women who have fought for so long.
"I also want to mention the tenacious work of Marion Scott at the Sunday Post and the cross-party MSPs who have put pressure on the Scottish Government. It was my colleague Neil Bibby who first raised this scandal in the chamber, and this campaign has been supported by others such as Monica Lennon and Miles Briggs.
"It is right that there is formal apology in Scotland for the injustice of forced adoption here and it is beyond time to confront this shameful chapter in Scotland's history.
"For some this will provide closure, but for many this will just be the beginning.
"This apology must be backed up by a firm timetable to deliver the real action these women and their children deserve – including access to the necessary health services, including trauma informed counselling, and easier access to adoption records."
A decade ago, Australia issued the world's first formal government apology for forced adoption.
Despite calls from the Joint Committee on Human Rights for the UK Government to issue an apology to women who had their babies taken from them for adoption, there has been no official recognition.
In a report which was published in July the committee argued that the Government "bears ultimate responsibility for the pain and suffering caused by public institutions and state employees that railroaded mothers into unwanted adoptions".
It added: "An official recognition that what happened to these mothers was dreadful and wrong… would go some way to mitigate the pain and suffering of those affected".
However, in its response to the report, the Government said, while it was sorry for the way the women had been treated, it did not think a formal apology was appropriate "since the state did not actively support these practices".
In a statement the UK Government said: "The Government agrees with the Committee that the treatment of women and their children in adoption practices during this period was wrong and should not have happened.
"Whilst we do not think it is appropriate for a formal Government apology to be given, since the state did not actively support these practices, we do wish to say we are sorry on behalf of society to all those affected."
Campaign group the Movement for an Adoption Apology responded to the UK Government, stating: "We are appalled at the dismissive 'response' from the UK Government to the JCHR Parliamentary Inquiry and report. That report, titled 'The Violation of Family Life', called for significant change and for the government to issue a formal apology to all those whose lives had been blighted by the awful treatment received, often at the hands of those who should have known better.
"Mothers were treated with such cruelty and callous disregard that many could not conceive again and remain traumatised decades later."
The group added that the UK Government's "pathetic response" was "an insult" to mothers and children who "have been shown to have been the victims of a terrible injustice, at the hands of the state, the medical profession, social services and other professional state-run bodies".
Ahead of the apology, Scottish Labour deputy leader Jackie Baillie said: "It is of the utmost importance that all of those affected by the forced adoption scandal get a full and frank apology today.
"Righting this historic wrong is long overdue.
"For years, these women have fought for justice and for years that justice has been denied.
"The fact that the deeply harmful drug known as DES or Stilbestrol was used on these women is nothing short of horrifying.
"The entire nation has been moved by the heartbreaking emotional testimony given by the women affected.
"I would like to thank all of those who have campaigned tirelessly to make this happen, and I would like to record my admiration for the women for whom this apology will be too late."
Fiona Aitken, Adoption UK Scotland director, commented: "We're gratified to see the First Minister acknowledge and formally apologise for the impact that forced adoption had on those involved. We wholeheartedly support the apology for those who had their children removed and are particularly pleased to see this extend to the individuals who were adopted through this practice, whose lifelong needs have gone unacknowledged and unsupported.
"Adoption UK now calls on other UK governments to follow Scotland's lead in issuing a formal apology to all those who have been affected by forced adoptions, and to meet the needs of all adopted individuals who would benefit from support."
'Years and years of feeling terrible'
In 1962, 16-year-old Elspeth Ross gave birth to her son in a mother and baby home in Glasgow.
Although she would go on to have two more children with the baby's father, the fact that she was unmarried was seen as shameful.
She had no idea that her baby boy would be taken from her.
Reacting to the Scottish Government's decision to issue a formal apology, Ms Ross said: "Just to get here is just absolutely amazing. I've never thought this would happen."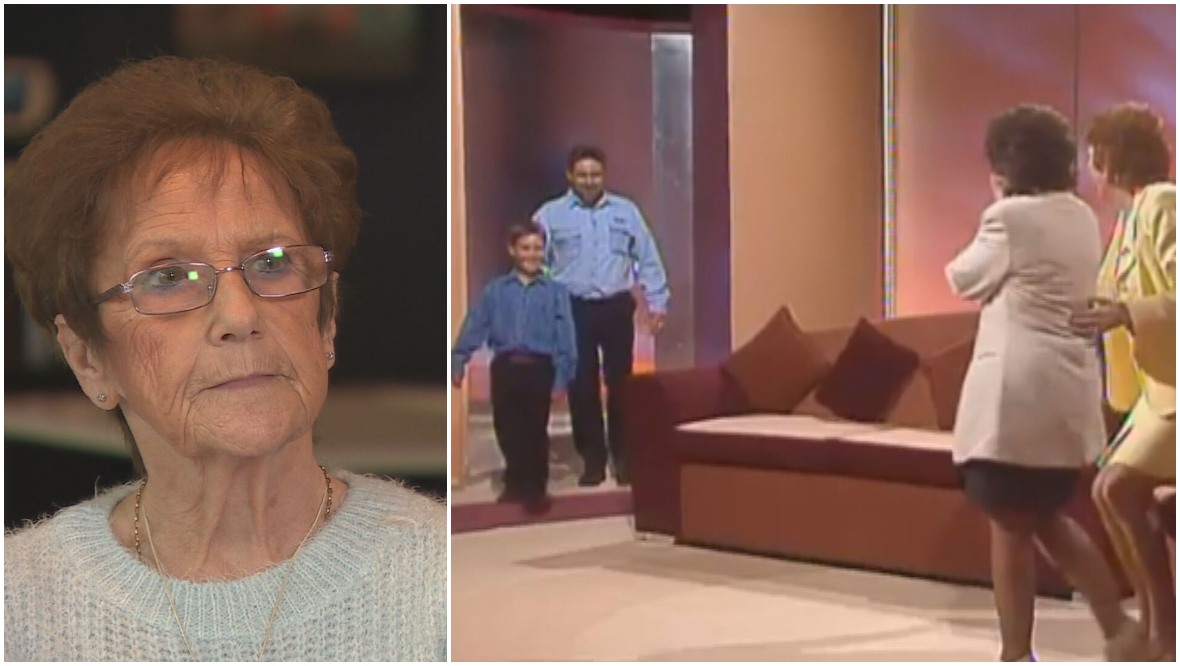 She kept her ordeal a secret but said the memory never left her, fearing people would think badly of her.
"I was just frightened of what people would think about me," she told STV News.
"Even very close friends I still have today, I was always frightened if they'd maybe not like me anymore or whatever, so I just lived with that. It was horrible.
"It was years and years of feeling terrible. I was told to come home after nursing my baby for six weeks, night and day, not just feeding them. And when I came down these stairs that day,
"I've said to Jeannot, 'What if I had gone to the left and never went into the nursery and taken my baby, what would have happened? Would they have taken him back from me?'
"Being so young, I just had to go in. I never spoke about it for a minute."
Some 30 years later, Ms Ross was reunited with her son Eric for the first time on television show Surprise Surprise, where she also met her grandson.
"About the only thing he did say the very first time I found him was, 'I don't know what you put into me those six weeks, but it never, ever left me.'
"He said, 'You were always with me'. So, that was great.
"The minute we met again, it was instant. It was just like he had never been away. Except he had."