Nicola Sturgeon has branded the process of granting visas to Ukrainian refugees as "unacceptably slow".
Statistics published by the UK Government on Friday show that a total of 32,200 applications have been made to the UK Homes for Ukraine scheme.
However, only 4700 have so far been issued, with just 210 specifically relating to Scotland.
The First Minister has previously pledged that Scotland "stands ready" to take in 3000 Ukrainian refugees.
Thousands of people across the county have already signed up to host those fleeing from the war with Russia.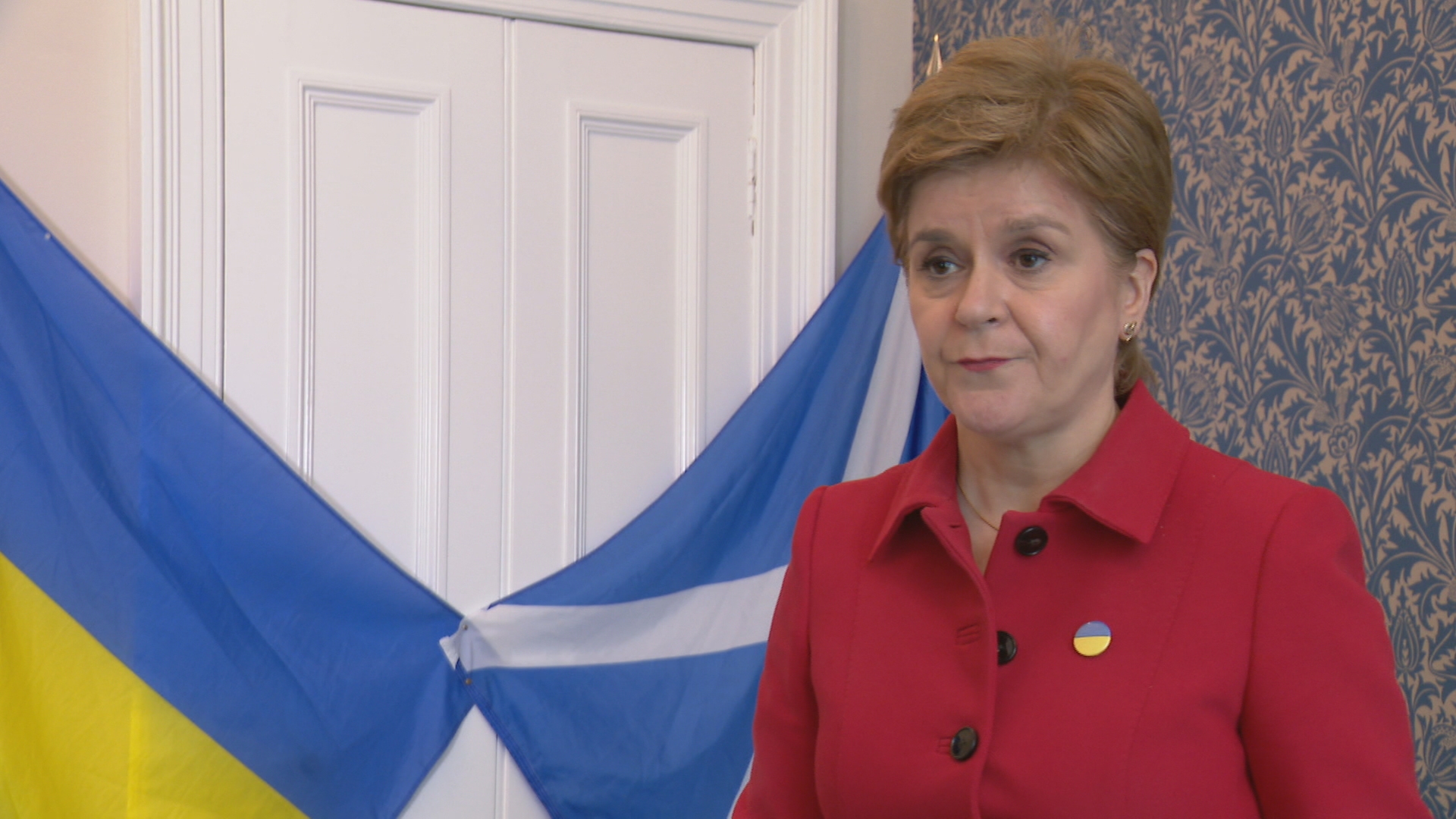 And Sturgeon said that the UK Government is "letting down the people of Ukraine" and those in Scotland who have opened their homes due to the lower number of visas granted.
"Our Warm Scottish Welcome programme stands ready to support people fleeing the illegal war in Ukraine and provide a place of safety," said the SNP leader.
"However the latest figures show that the number of visas granted is woefully small.
"Two weeks on from opening the Homes for Ukraine scheme, the process of translating applications into visas is unacceptably slow.
"There are well over three million displaced Ukrainians – a few hundred visas just isn't good enough.
"The UK government is letting the people of Ukraine down and also letting down people across Scotland who have opened their homes."
The First Minister insisted that the lengthy delays must be addressed by the Government.
Sturgeon also suggested that it is not too late for ministers to choose to waive visas for those fleeing to the UK.
She said: "There is a clear and urgent need to speed up the processing of applications and the granting of visas.
"It is essential that the UK Government addresses these lengthy delays to provide rapid support to those in need.
"In the midst of a harrowing conflict, it is neither reasonable nor morally acceptable to expect people fleeing a brutal invasion to go through the bureaucratic processes being put in their way and wait weeks to be given a visa.
"We have called for the need for visas to be waived so displaced people could immediately reach a place of safety, just as our European neighbours have done.
"The UK Government could still do that – it would solve the delays immediately and allow people to reach the UK and find the safety and support they need."
'I can't believe it's easier for these people to escape a war than it is for them to come to the UK'
Victoria Walker applied within an hour of the Homes for Ukraine scheme opening, in order to bring a family she knows into her home in Scotland.
She has been waiting two weeks and the issue hasn't been resolved.
Victoria met Nataliia and her son through the Chernobyl Children's Lifeline Charity. It's been supporting children affected by the nuclear disaster for 3 decades.
Their village of Borodyanka was flattened by Russian shells at the start of March, with Nataliia fleeing.
Her husband and 21 year-old son stayed to help with the Ukrainian war effort.
The pair have been living in hotels in Warsaw, moving every so often due to the increasing cost of hotel accommodation.
Victoria and her North Lanarkshire based family are paying for the hotels with the help of thousands raised through a fundraising campaign.
Victoria has been supporting the family through the whole application process.
She said: "I can't believe it's easier for these people to escape a war without being killed, than it is for them to come to the UK"
"All Nataliia wants is to go back to her husband and her family, they've left because they've not really had a choice and she's only left because she's coming to us.
"We've become friends with them over the years. They've become like part of the family. We talk to them regularly.
"It's just heartbreaking to see what they're going through.
"The messages we receive is really difficult."